When writing a resume from scratch, in addition to your resume format and design, the font you choose is key to making a good impression.
When asked about his experience reviewing resumes, Geoff Scott, Hiring Manager and CPRW at Resume Genius, said:
I like to see fonts that are easy to read like Arial since I'm on a computer all day and it's something I'm familiar with. Essentially, fonts shouldn't distract me from the content of your resume, so as long as I don't think "what's going on with this resume's font?" then your choice of font and font size was good.
If your resume is difficult to read or doesn't look professional, hiring managers might inherently become biased against your application, even if you're qualified. This bias may even cause you to miss out on a great job opportunity.
To prevent that from happening, we'll take you through the best resume fonts to choose from, guidelines for resume font size, and tips for using multiple fonts on your resume.
Our free-to-use resume builder can make you a resume in as little as 5 minutes. Just pick the template you want, and our software will format everything for you.
10 Professional Resume Fonts
In 2023, there's no one best font for your resume. Just make sure you choose a professional resume font and font size that are easy to read both on screen and on paper.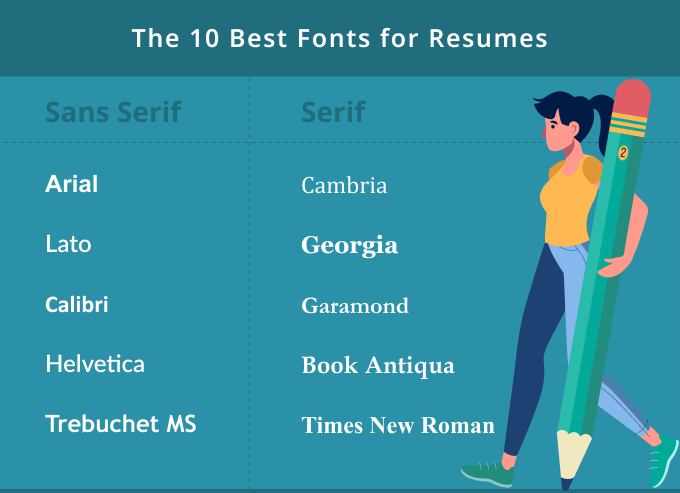 Some people argue that serif fonts are best for printed resumes, while sans serif fonts are optimal for digital resumes. But these days hiring managers are used to reading both font styles on paper and on screens.
The following fonts are great to use on a resume:
1. Arial
Arial is a popular sans-serif font that ensures your resume is easy to read. It's one of the most widely available fonts and the default font for Google Docs.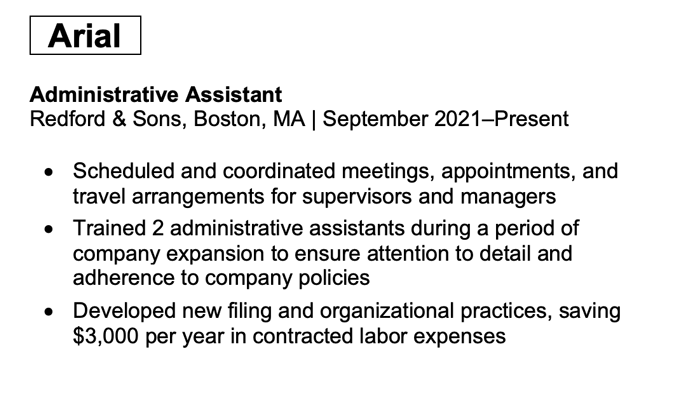 Arial is a good choice if you want a clean, no-nonsense look to your resume.
2. Lato
Lato was designed to be "serious but friendly" according to its designer. This balance makes it a perfect font for your resume if you want to bring a touch of originality while keeping a neat, professional look.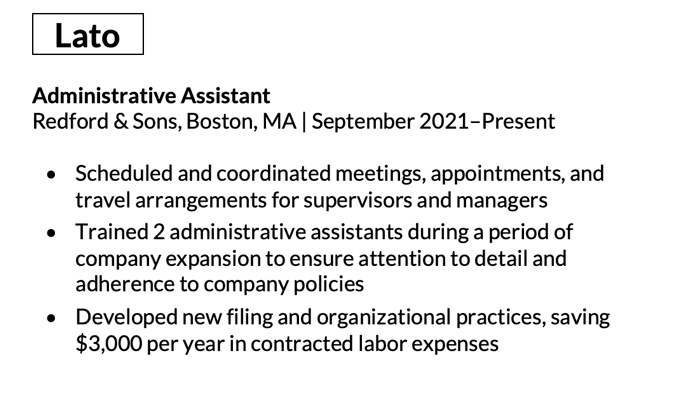 One nice feature of Lato is that some unique character comes through at larger font sizes, so your section headings will naturally look a bit more stylized than the body content.
3. Calibri
Calibri is the default font for Microsoft Office (Word, Powerpoint, Excel, etc.), so it's a font we already associate with a business environment.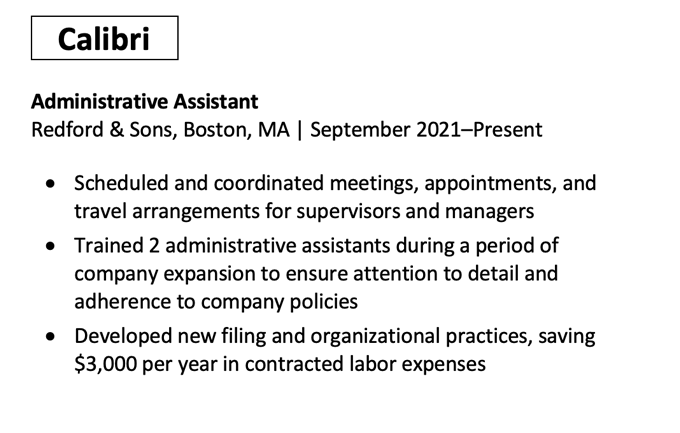 Compared to other modern sans-serif fonts, Calibri is more rounded, and was created specifically to look great on digital displays.
4. Helvetica
Helvetica is another classic sans-serif font option that's widely used in logos and signs all over the world. The Helvetica typeface is so famous, it even has its own documentary, which was released on the 50th anniversary of the font in 2007.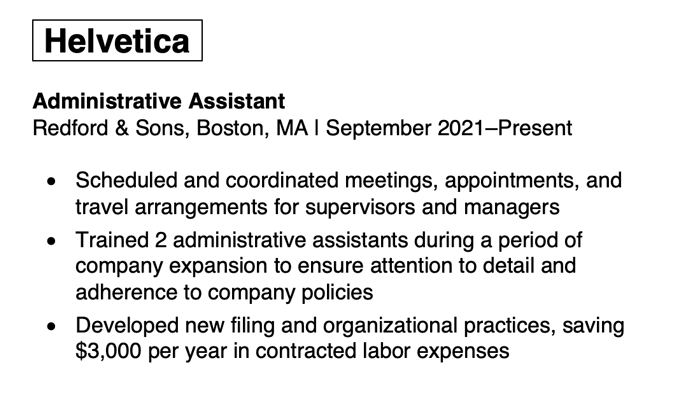 On a resume, Helvetica is refined and professional. The density of the font makes bolded subheadings stand out but still easy to read.
5. Trebuchet MS
Designed for on-screen reading, Trebuchet MS is an excellent sans-serif font that adds some creativity without sacrificing clarity.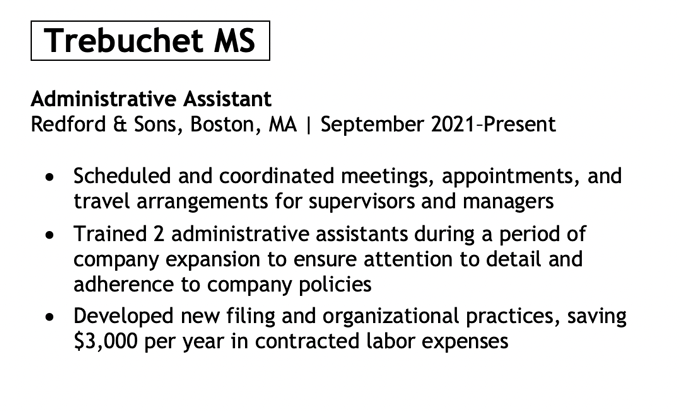 If you want to bring a bit of personality to your resume, consider Trebuchet MS as one of the more unique, yet still professional, options.
6. Cambria
The first of the serifs on this list, Cambria is known for its even proportions that make it easy to read even at smaller sizes.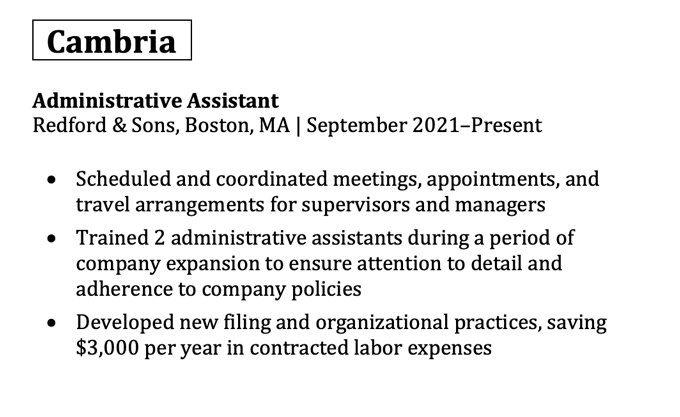 If you want to use Cambria at over 20 points, it will look a bit spaced out, so we recommend it mainly for body text.
7. Georgia
Georgia is very similar to Times New Roman, but works slightly better on digital display because it's easy to read even in low resolution. It was commissioned by Microsoft in 1993 and is the main font for the New York Times.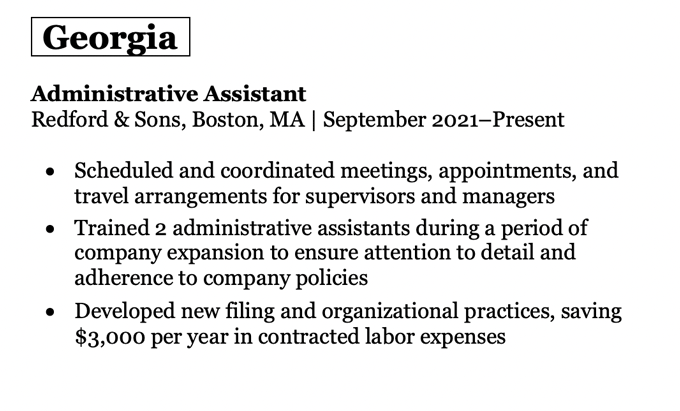 Georgia's readability makes it a great choice for any resume, but it also "exudes a sense of friendliness" according to Microsoft.
8. Garamond
Based in Roman type, Garamond is a lighter serif font that brings a bit of formality to your resume.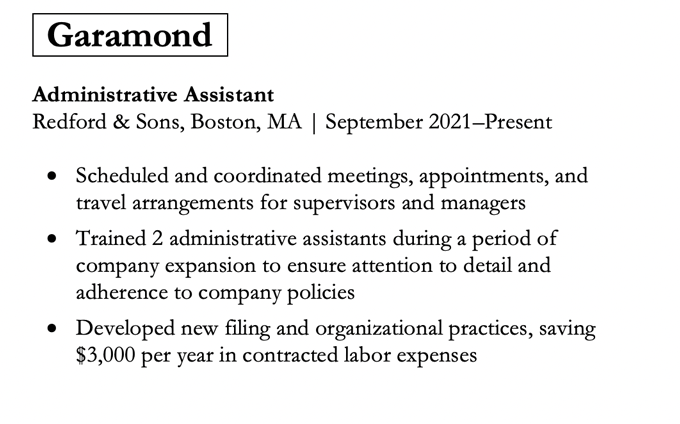 Garamond is a thinner font, so it's great for saving space if you need to fit a lot of information on your resume or if you're creating an academic CV.
9. Book Antiqua
Book Antiqua is another popular resume font choice if you prefer the look of a serif.
One of the more elegant fonts on this list, Book Antiqua is perfect for fields like law and academia. And if you don't work in those fields, look at resume examples from your industry to see if it makes sense for your situation.
10. Times New Roman
Times New Roman is a classic serif font that was created in 1931 for The Times newspaper and has since become one of the most popular fonts.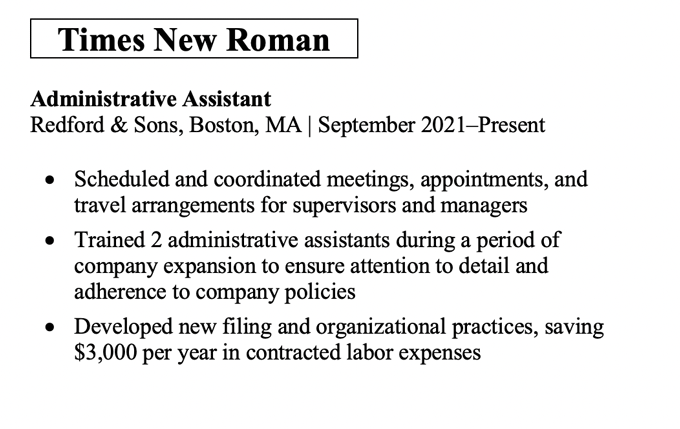 Times New Roman is a great choice for your resume if you want to give a sense of professionalism akin to the countless books, magazines, and reports that have used this font.
The ideal font size for your resume
The standard font sizes for resumes are as follows:
Header (your name): 28-35pt
Section headers: 14-16pt
Body content: 10-12pt
Readability is the most important part of choosing your resume font size. So while 10–12 points works for most resume fonts, the truth is that each font varies.
To find a perfect balance:
pick a font style
adjust the font size until your resume appears filled (but not stuffed) with text
ask someone else to read your resume to see if the text looks too big or small
Fonts vary in width and spacing, so some of them will take up more space on your resume, even at the same font size. To help you, we've included our recommended font size for the 10 best resume fonts on this list.
Ideal font sizes for your resume body content
| Font | Size |
| --- | --- |
| Arial | 10.5-11 |
| Lato | 10.5-11 |
| Calibri | 11-12 |
| Helvetica | 10.5-11 |
| Trebuchet MS | 10-11 |
| Cambria | 11-12 |
| Georgia | 10.5-11 |
| Garamond | 12-12.5 |
| Book Antiqua | 10.5-11.5 |
| Times New Roman | 11-12 |
Not all font sizes were created equal. In the video below, our career expert Eva explains why picking the right font and size for your resume is essential:
Pairing fonts on your resume: 3 examples
One of the best ways to make your resume stand out is to use multiple complimentary fonts so you get some variation between the headers and content.
And you don't need to be a design expert or typographer to choose a great font pairing. Using a high-quality resume template with pre-selected fonts makes it easy to get an aesthetically pleasing resume that's sure to leave a positive first impression on hiring managers.
Below, we've selected a few examples of resume templates that use stylish font pairings. You can download each of these templates (plus their fonts!) for free and customize them with your information.
1. The Unique Template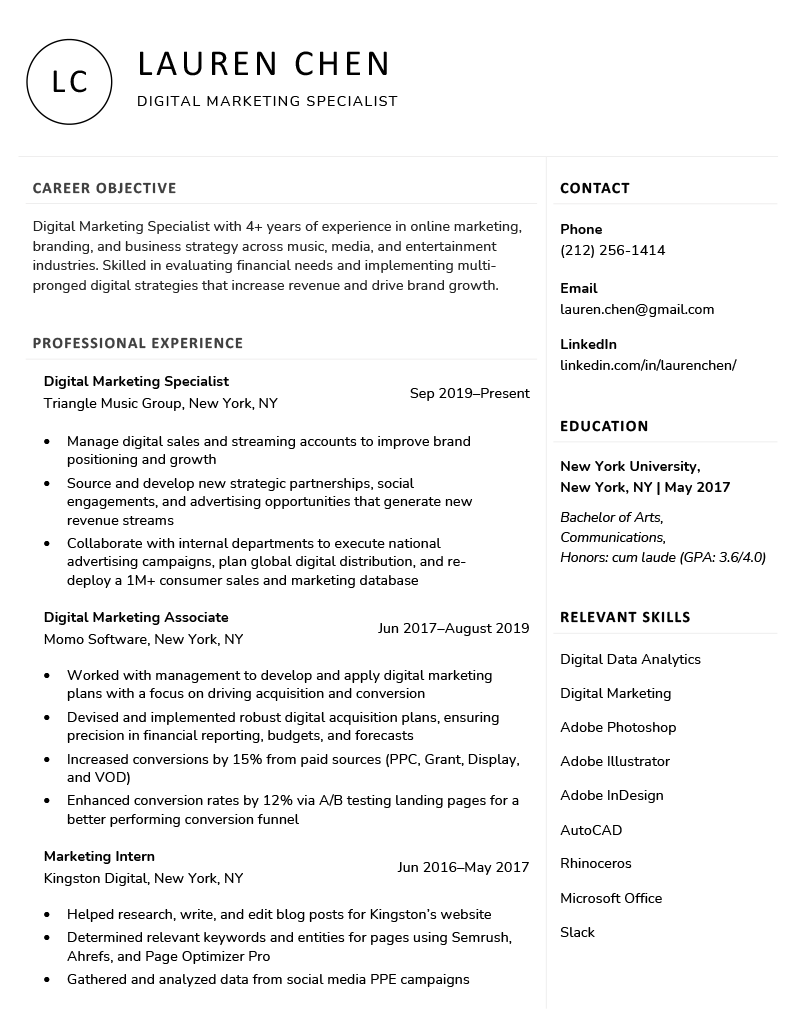 Heading font: Lora
Content font: Nunito Sans
These fonts work together seamlessly to create a sleek, modern look in our Unique template, which also features a simple monogram detail in the header.
2. The Current Template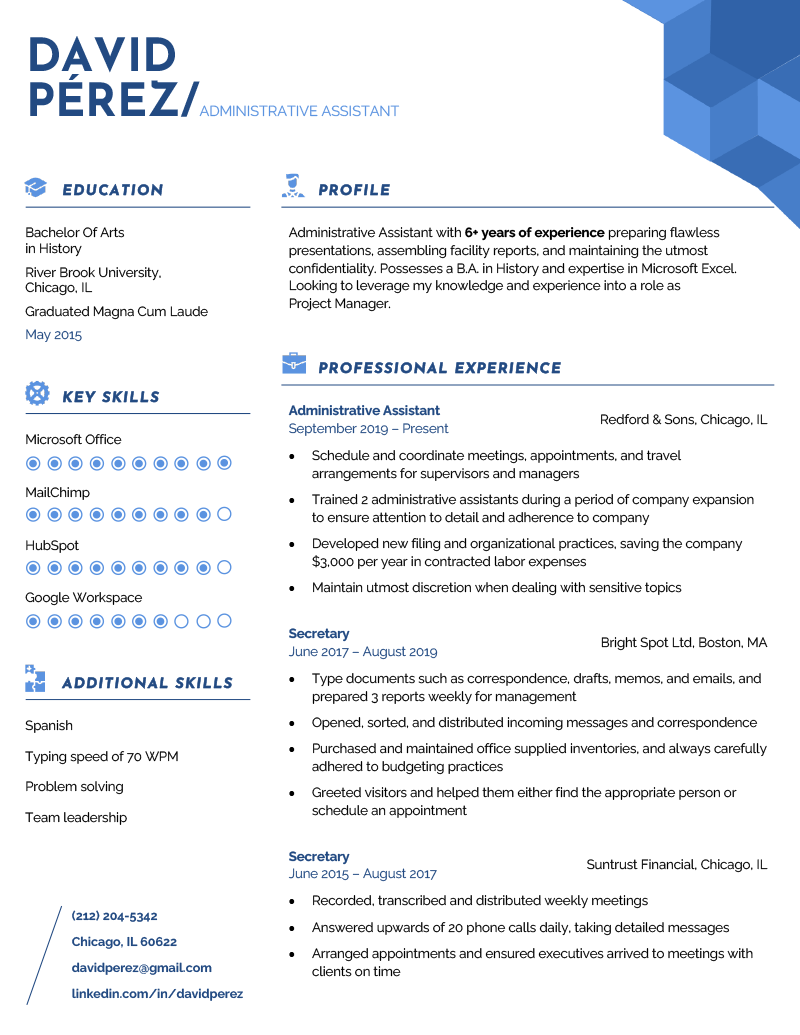 Heading font: Josefin Sans
Content font: Raleway
The modern design of our Current template uses clean fonts to balance out the stylized heading. This font pairing is perfect for industries like tech or design.
3. The Windsor Template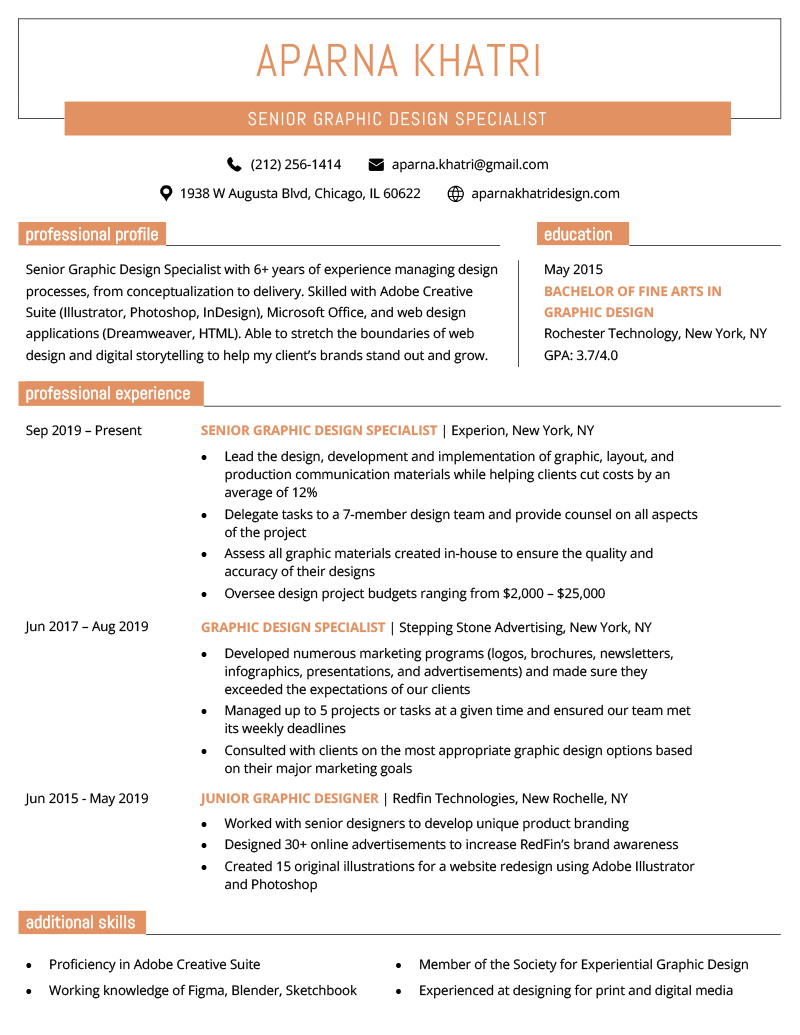 Heading font: Abel
Content font: Open Sans
The sleek structure of our Windsor template allows for a more playful heading font while prioritizing readability in the body content.
Frequently asked questions about resume fonts
Here are some commonly asked questions about fonts on resumes:
Does a resume have to be 12 font?
No, a resume does not have to be 12 font. While 12 point font is the standard size for most resumes, picking the right font size for your resume depends on what font you're using and how much extra space you have on the page. Each font varies in size, so while one might look better at 12 points, another font might look too large or too small. Ultimately, readability is the most important thing to consider when choosing the font size on your resume.
What font size should a resume be?
A resume should be font size 10 to 12. Most fonts between size 10 and 12 make the content of your resume clear enough for an employer to read.
However, some fonts look small at font size 10 (like Garamond), and big at size 12 (like Merriweather). As you make your resume, try different fonts at different font sizes to see what works best. Before sending out your resume to a company, print it out. If it's easy to read and looks professional, then you've chosen the right font and font size.
What kind of font should I use on my resume?
You should use an easy-to-read, professional kind of font on your resume. Hiring managers quickly scan resumes for relevant information, so one of the following professional fonts is your best bet:
Times New Roman
Cambria
Georgia
Garamond
Helvetica
Calibri
Didot
Arial Narrow
Trebuchet MS
Lato
You can pick a font based on the job to which you're applying. For example, Calibri's warm, soft design makes it perfect for healthcare and education resumes, while Cambria's formality is best for law or academia applications.