Resume buzzwords can give your application the boost it needs to get noticed. But it's important to steer clear of outdated or vague buzzwords that come across as cliche or meaningless.
To help you choose the right buzzwords that will make a positive impression on hiring managers, we've listed some of the top 100 buzzwords to include in your resume in 2023.
Additionally, we break down exactly what resume buzzwords are and show you how to use them properly.
Our free-to-use resume builder can make you a resume in as little as 5 minutes. Just pick the template you want, and our software will format everything for you.
What are resume buzzwords?
Resume buzzwords are terms from the business world that you include in a resume to demonstrate your most important skills and attributes. They can be action verbs or adjectives, and should describe your abilities or contributions at work.
Buzzwords on a resume can also be industry-specific jargon that references emerging trends and best practices.
Used appropriately, relevant buzzwords quickly communicate a lot of information. For instance, when hiring managers see buzzwords like "data-driven" or "streamlined" on your resume, they have an idea of the skills and processes you used to achieve a desired result (as long as you gave enough context).
If you want to learn more about resume buzzwords, check out this video where Career Expert, Eva Chan, explains how to target the job description with your resume.
Start watching at 1:04 to learn which buzzwords can actually hurt your application:
Remember that using
too many buzzwords
can be a
resume red flag
for employers. When it comes to using buzzwords in your resume, moderation is key.
10 common cliches & good resume buzzword alternatives
To help you make a great resume that wins interviews, we've compiled a list of 10 overused or generic resume buzzwords (or cliches) to avoid. Under each cliche, we provide useful alternative resume synonyms you can use.
1. Natural leader
Leadership skills are important to employers, especially when you're applying for a managerial position. But simply stating that you're a "natural leader" or a "great manager" isn't enough. You'll need to show it with your past experience on your resume.
Leadership: resume buzzwords to use instead
The best way to convey your leadership skills is by using action verbs when describing your experience. Here are some great options to consider:
Direct
Mentor
Train
Counsel
Initiate
Guide
Organize
Launch
Influence
Produce
Persuade
Enact
Cultivate
Mobilize
2. Great communicator
Being able to communicate your ideas effectively is essential for almost any job. But simply claiming to have great communication skills won't get you far.
Instead, choose a more specific adjective that shows how you used those skills.
Communication: resume buzzwords to use instead
Here are ten resume buzzwords that are better than "great communicator":
Articulate
Persuasive
Diplomatic
Empathetic
Amicable
Adaptable
Collaborative
Supportive
Cooperative
Tolerant
Conscientious
3. Seasoned professional
Everyone loves their food perfectly-seasoned, but hiring managers aren't as keen on self-proclaimed "seasoned professionals" as you might think.
Professionalism: resume buzzwords to use instead
Use one of the following positive buzz words for your resume to demonstrate your expertise:
Qualified
Savvy
Adept
Enthusiast
Efficient
Expert
Gifted
Specialized
Talented
Competent
Accomplished
Proficient
4. Highly motivated
If you're a recent college graduate or preparing an internship resume, it's perfectly fine to describe yourself as "highly motivated".
However, there are better buzzwords that can give your resume a boost and show the hiring manager that you're dedicated and ready to start contributing to their company.
Motivation: resume buzzwords to use instead
Here are some resume buzzwords to use as an alternative for "highly motivated":
Driven
Enthusiastic
Keen
Tenacious
Confident
Eager
Earnest
Inspired
Productive
Focused
Prepared
Devoted
Dedicated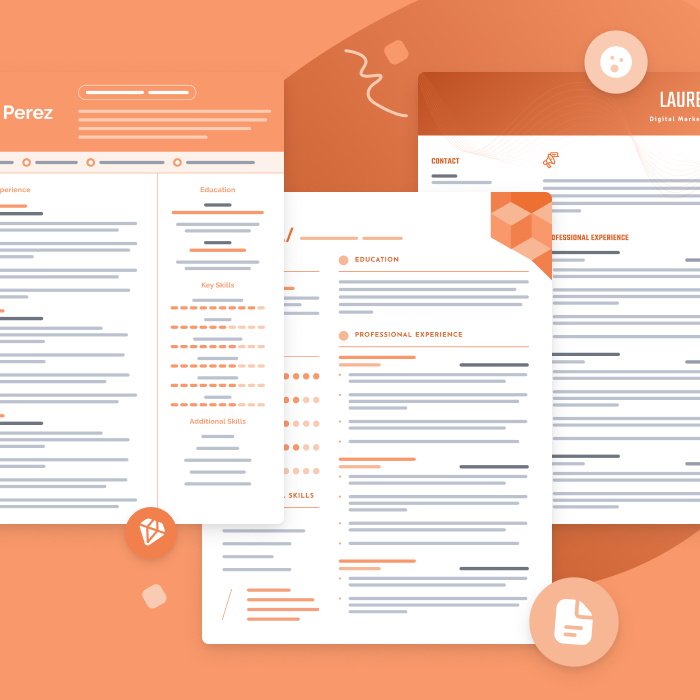 One of the best ways to make your resume is by filling out one of our free resume templates. All our templates are designed by experts and free to download for Microsoft Word or Google Docs.
5. Creative
Employers want you to be creative, especially in fields like graphic design that require innovation and artistry. However, the word "creative" on a resume isn't impactful enough on its own because it's too generic.
Creativity: resume buzzwords to use instead
Instead of simply describing yourself as "creative", try using of the following effective buzzwords for your resume:
Artistic
Original
Progressive
Imaginative
Visionary
Expressive
Resourceful
Inventive
Adaptive
Curious
Perceptive
Experimental
6. Passionate
Hiring managers love to interview candidates who are passionate about their work, but your resume will be much more effective if you show your passion through experience.
Passion: resume buzzwords to use instead
Don't just state it — try using these action verbs on your resume to show how dedicated you are:
Champion
Cultivate
Invest
Empower
Mobilize
Spearhead
Persevere
Pursue
Enrich
Dedicate
7. Strategic thinker
Being strategic is essential for a number of careers. Unfortunately, calling yourself a strategic thinker is a cliche that hiring managers are tired of seeing.
Critical thinking: resume buzzwords to use instead
Consider these  more effective alternatives to show off your critical thinking abilities:
Analytical
Observational
Decisive
Contemplative
Logical
Methodical
Tactical
Insightful
Calculated
Measured
8. Multitasker
No matter what your profession is, multitasking skills are a valuable attribute.
But without context, hiring managers won't know whether your ability to multitask actually helps you do your job more effectively.
Multitasking: resume buzzwords to use instead
Try using any of the following action-oriented buzzwords to show you can juggle a variety of tasks:
Coordinate
Prioritize
Balance
Optimize
Streamline
Integrate
Consolidate
Merge
Delegate
Orchestrate
Synchronize
Direct
Assign
9. Innovative
If innovation is important to your field, chances are "innovative" is overused on applications.
Innovation: resume buzzwords to use instead
Show hiring managers that your work stands out by using some of the following more original buzz words for your resume:
Pioneering
Unconventional
Visionary
Original
Forward-thinking
Adaptable
Disruptive
Inventive
Trailblazing
Resourceful
10. Skilled
It's important to display your specific skillset throughout your resume, but it's better not to describe yourself as "skilled" because this sounds nonspecific. The best way to show hiring managers what you're capable of is through action words and examples.
Skills: resume buzzwords to use instead
Use these strong resume verbs to highlight some of your most important job skills:
Developed
Implemented
Managed
Optimized
Achieved
Resolved
Presented
Analyzed
Negotiated
Trained
Assessed
Facilitated
How to effectively use buzzwords in your resume
Now that you've seen some of the best buzzwords, here are some examples of how to best work them into your resume:
Fit them in your resume summary
Your resume summary should give an overview of your most important qualifications, so it's a natural place for some standout buzzwords hiring managers are looking for.
See how the following candidate used buzzwords appropriately in a receptionist resume summary:

Add them to your experience section
You can also include good buzzwords in the experience section of your resume to give hiring managers some context for how you used key skills. One of the best ways to use buzzwords in this section is to start each sentence or bullet point off with an action verb.
Take a look at how this physical therapist used action verbs and buzzwords throughout their experience section:

Use them in your skills section
Your resume's skills section is a great place to highlight the most important skills employers are looking for, particularly if they're mentioned in the job description.
To make your skills section more effective, try including a few resume keywords from the job description or buzzwords relevant to your industry.
Here's an example of how one applicant used education buzzwords in their skills section to apply for a teaching position:

Even with eye-catching buzzwords, your resume needs to be well-organized to make a good impression on hiring managers. Make sure yours follows the proper resume formatting before you submit.
Frequently asked questions about resume buzzwords
Here are a few of the most commonly asked questions and answers about including buzzwords on your resume:
What words should not be used in a resume?
Here are some kinds of words that shouldn't be used in a resume:
Words that make you sound like you're bragging, like "exceptional" and "best"
Overused words and phrases, such as "responsible for" and "team player"
Industry jargon that isn't commonly understood
Pronouns, including "I" and "my," because they're repetitive and take up space
What are the best active words for your resume?
Here are some of the best active words for your resume:
Achieved
Initiated
Managed
Implemented
Led
Created
Resolved
Improved
Analyzed
Developed
Spearheaded
Innovated
Negotiated
Orchestrated
Oversaw
Streamlined
Optimized
Collaborated
Mentored
Exceeded
What are overused buzzwords on a resume?
Overused buzzwords on a resume are phrases like "team player," "detail-oriented," and "results-driven." Because they're used so often by job seekers everywhere, these terms have lost their impact and instead cause hiring managers to roll their eyes.
We recommend replacing them with concrete examples and quantifiable achievements that showcase your skills and abilities more convincingly. This approach helps your resume capture attention and better communicates your value to hiring managers.