Have you applied for dozens of job listings but haven't received a callback? It's possible that your resume is holding you back.
Recruiters and hiring managers have a keen eye for sneaky resume red flags that you might overlook when writing your resume.
In a recent interview with Jen Emmons, Senior Talent Strategist, she told us all about what resume red flags job seekers should look out for. Check it out in the video below:
And don't worry! We're here to guide you through the most severe resume mistakes so you can impress employers and land that dream job. Get ready to navigate these top nine resume red flags like a master:
1. Excessive job hopping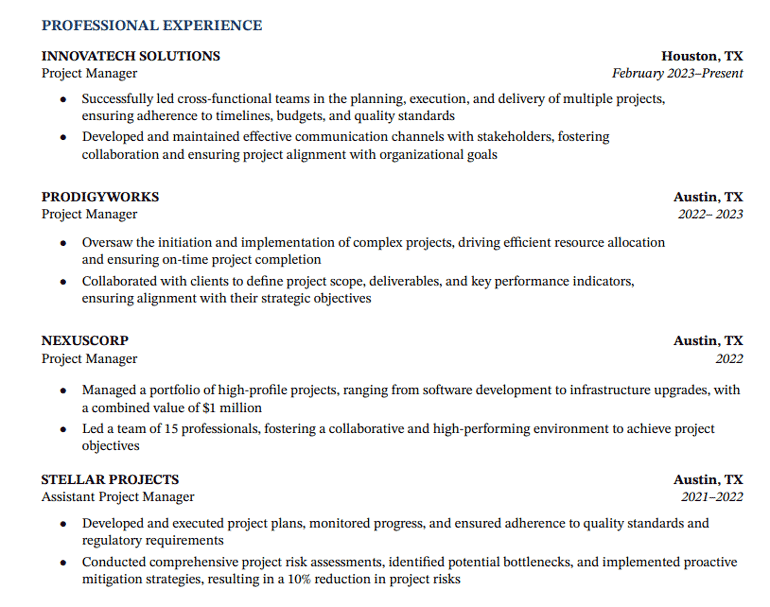 If you've had multiple jobs in the past few years or have a history of leaving positions quickly, you might look guilty of "job hopping."
One of the most common resume red flags that immediately captures my attention is a pattern of short-term employment stints at various firms. While change can be positive, excessive job hopping can indicate a lack of commitment or potential issues adapting to new environments.

- Rich Lesser, Director at EC1 Partners
Frequent job hopping on your resume can make employers question your reliability as an employee, which makes them less inclined to hire you.
While the candidate in the example may have valid reasons for each one of those transitions, their job hopping could be a sign that they don't manage projects effectively or build lasting relationships with clients and team members. It's a big risk to invest time, resources, and energy into someone who may quickly jump on the next opportunity.
If you're concerned your resume makes you look like a chronic job hopper, use a well-written cover letter to convince employers you'll be a dedicated employee.
Otherwise, try using a resume format that makes the dates you held each job less noticeable, or consider combining similar roles together to demonstrate a specific skill (like "customer service").
2. Overload of irrelevant jobs
If you include too many different jobs on your resume, you risk looking unfocused and indecisive.
Having varied experience can definitely be a strength, but it doesn't always come across that way to employers. Listing too many unrelated jobs on your resume makes it difficult to see how you're qualified for the specific job you're applying for, and makes it harder for employers to find the information they're looking for.
What employers want to see is a demonstration of career progression, preferably within their industry. Your resume should be a focused collection of your most relevant qualifications and experience, not a timeline of every job you've held.
Unless you've got decades of relevant work experience in your field, it's best to limit the number of jobs on your resume. Pick the most relevant ones and make sure your resume sticks to one or two pages, depending on your experience level.
3. Oversharing personal information
You'd probably be stunned by just how much personal detail people sometimes include on a resume, but a quick search of resume red flags on Reddit will confirm – it's way too much.
Including too much personal information on a resume can be a red flag for employers who just want an overview of your qualifications.
Not only does including too many personal details come across as unprofessional, it also raises concerns about privacy and discrimination. Employers are supposed to ensure fair hiring practices, and it makes their job easier when candidates don't include information that has the potential to elicit bias.
Here are some bits of information better left off your resume:
Marital status
Date of birth or age
Religious or political affiliations
Any sensitive information (such as an ID number)
Health or medical conditions
Salary history or requirements
4. Lengthy employment gaps
While they're not as taboo as they used to be, long employment gaps on a resume can raise red flags for employers for a couple of reasons:
Employment gaps indicate a lack of current knowledge and skills. Jobs are constantly evolving, and employers want candidates with up-to-date skills. When employers see a significant gap on your resume, they might be concerned that you'll have trouble adapting to industry changes or that you'll need extra training to catch up.
Lengthy employment gaps can raise doubts about your commitment and work ethic. Employers want to see consistency and dedication to your career. If your resume shows extended periods of unemployment, employers may worry that you lack motivation or that there might be other reasons for your inability to secure a job.
Address gaps in your resume by highlighting relevant experience, such as freelance work, volunteer positions, or professional development activities like continuing education or skill advancement.
This demonstrates your engagement and commitment to professional growth, which will ease potential employers' concerns.
5. Lies or embellishments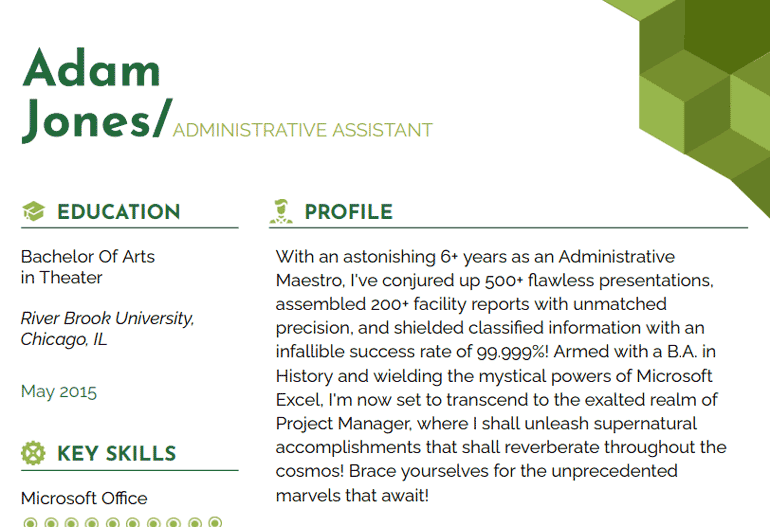 Embellishing your accomplishments or lying on a resume is a major red flag for employers and can have real consequences for your career. Here's why:
Lying on your resume erodes trust. Employers rely on resumes to evaluate your qualifications and make informed hiring decisions. If employers discover you've misrepresented your skills or achievements, they'll question your integrity and honesty.
You might be unprepared for the job. If you lie on your resume and get the job, you might not have the skills needed to handle the demands of the position. This can result in poor performance, missed deadlines, and potentially damaging outcomes for both you and the organization.
Embellishing your accomplishments isn't as damaging as flat-out lying, but is still a major red flag for employers.
Whether it's claiming that you single-handedly led a multi-million dollar project when you were just part of the team, or using too many resume buzzwords to impress employers, it's best to be straightforward and honest on your resume.
6. Careless mistakes

A simple mistake on a resume is one of the most common resume red flags, and can be enough to get your resume tossed out.
Resume mistakes like typos and spelling or grammar errors indicate to employers that you have poor attention to detail or haven't given your application the time and effort it deserves.
It's really easy to overlook a mistake on your resume, especially when you've been staring at it all day. So here are some tips to help you catch any errors before you submit your application:
Proofread your resume, and then proofread it again
Use Grammarly or spellcheck in Word to correct errors
Have a friend or family member check your resume
7. Glaring inconsistencies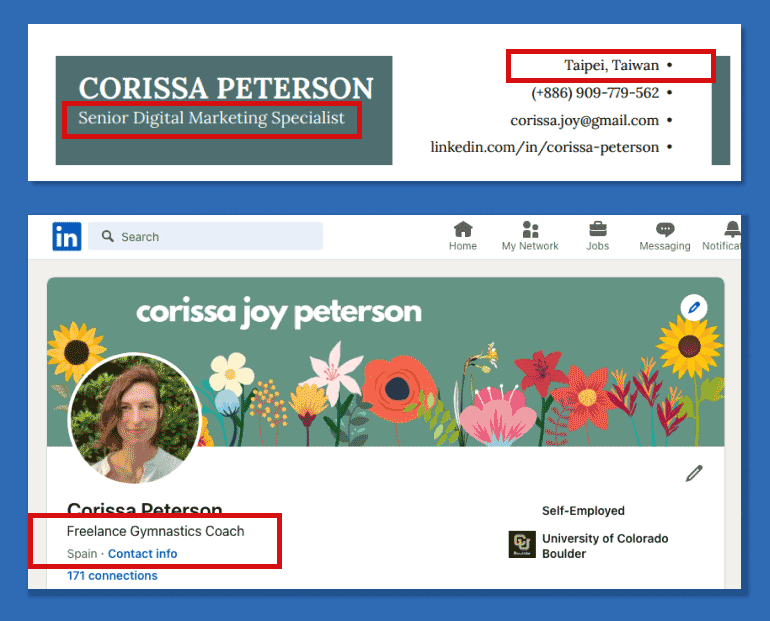 Everything about your employment history and experience should line up perfectly. If there are overlapping dates between jobs, for example, you need to explain the situation.
This is particularly important in the age of social media. If you write one thing on your resume and something different on your LinkedIn profile, that's a huge red flag for employers because it looks like you're misrepresenting your work history.
When a prospective employer receives your resume, one of the first steps they'll often take is reviewing your LinkedIn profile. If there are discrepancies between your job titles, companies, or employment dates, it can raise concerns.

- Dr. Kyle Elliott, Founder and Tech Career Coach at CaffeinatedKyle
Imagine this: you're a hiring manager reviewing a candidate's resume, which lists a recent administrative position with a non-profit company. But when you visit the candidate's LinkedIn profile, you find this position listed as a volunteer role. You'd probably be concerned about the accuracy of the candidate's resume, right?
To prevent any confusion that could hurt your chances of getting an interview, make sure all of your professional profiles are in agreement and align with what's on your resume.
8. Vague and untailored content
If your resume's vague about your experience or doesn't quite align with the job ad, this is a red flag to employers because it signals that you're sending out resumes en masse and aren't especially interested in the role you're applying for.
Plus, the less specific and targeted your resume is, the smaller the chances are it'll grab the attention of a hiring manager who's scanning your resume for keywords.
The extremely vague resume summary above is a great example. It's difficult to take away any real understanding of the candidate's skills or experience from this resume summary because it doesn't include any specifics. If you want to create a compelling resume, it's worth putting in the effort to tailor it to the position with targeted skills, achievements, and credentials.
9. Poor formatting and design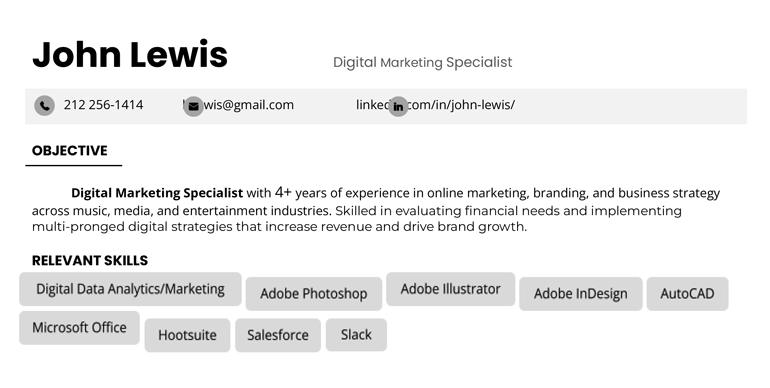 It's no secret that a poorly-formatted resume can land your application in the "no" pile, and there are plenty of bad resume examples out there that show you what not to do.
A poorly formatted resume is an instant red flag to employers because it sends the message that you have poor attention to detail and don't care about the quality of your work.
To come across as the professional you are, make sure your resume follows best resume formatting practices and keep your design simple.
One of the best ways to ensure your resume looks professional is to use a professionally-designed resume template.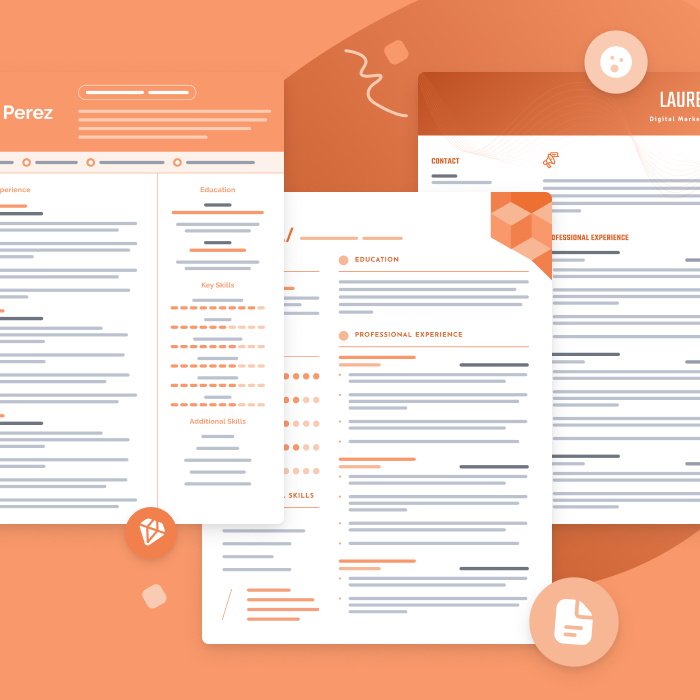 One of the best ways to make your resume is by filling out one of our free resume templates. All our templates are designed by experts and free to download for Microsoft Word or Google Docs.
Now you're all set to avoid red flags on your resume. Just make sure you don't forget about those pesky cover letter red flags!
Frequently asked questions about resume red flags
Still have questions? Check out our answers to these common questions about red flags on a resume:
What should you avoid on a resume?
Here are some things you should avoid on a resume:
Irrelevant information
Personal information (such as age, marital status, ethnicity, and gender)
Photos (if you live in the US)
Unprofessional email addresses
Grammar and spelling errors
Poor formatting
Overcrowding (allow for adequate space between sections)
Too much white space
Exaggeration
Too many buzzwords
Highly-specialized industry jargon or acronyms
What is one of the main reasons resumes fail?
One of the main reasons resumes fail is a lack of relevance and alignment with the job requirements. When a resume doesn't directly address the employer's needs and expectations, it loses impact and doesn't make a favorable impression.
When candidates provide a generic overview of their skills and experiences, they miss the opportunity to highlight relevant qualifications and achievements that will resonate with the employer.
Lacking clear alignment, hiring managers may struggle to see how a candidate's background makes them a good fit for the role, and instead prioritize applicants with more targeted resumes.