Is it illegal to lie on a resume?
It's not illegal to lie on a resume because a resume isn't a legal document. However, while lying on your resume isn't a criminal offense, you can quickly lose your job or even be sued if an employer finds out.
In many states, if you write a resume and list a fake degree, then your former employer can sue you for fraud if they can prove that your lie hurt their business.
Such lawsuits can lead to thousands of dollars in fines. In the worst-case scenario, they can even end in jail time.
Our free-to-use resume builder can make you a resume in as little as 5 minutes. Just pick the template you want, and our software will format everything for you.
What happens if you lie on your resume?
Even if it's not illegal to lie on your resume, it's still a bad idea. Statistics show there's a good chance you'll get caught, and then face consequences like:
Losing the trust of your employer
Getting fired
Taking a hit to your reputation
Being unable to receive a reference from your employer
Getting sued
The consequences are severe in part because lying on your resume can hurt a business and its customers. For instance, if you say you're a CPR-certified lifeguard when you're not and then can't perform CPR during an emergency, the result will likely be legal repercussions for you.
It's also easy to get caught in a lie. For example, if the information on your resume contradicts your LinkedIn profile, the hiring manager will notice. Or you may claim something on your resume that your previous employer says isn't true. These are huge resume red flags for employers.
Most common resume lies
According to a 2017 survey, 75% of HR managers claim they've caught a lie on a resume. These are the most common resume lies that job seekers try to pull off:
Lying about their job title on their resume
Claiming fluency in a language
Exaggerating skills
Changing dates of employment
Lying about their degree on their resume or adding fake certifications
Concealing a criminal record
Making up work experience
Changing their GPA on their resume
While some of these are worse than others, each one counts as a lie to hiring managers.
Instead of exaggerating or straight-out lying, follow this simple resume tip to enhance your resume: include additional experience like volunteer work and relevant coursework. You can also try choosing a resume format that better highlights your strengths and downplays your weaknesses.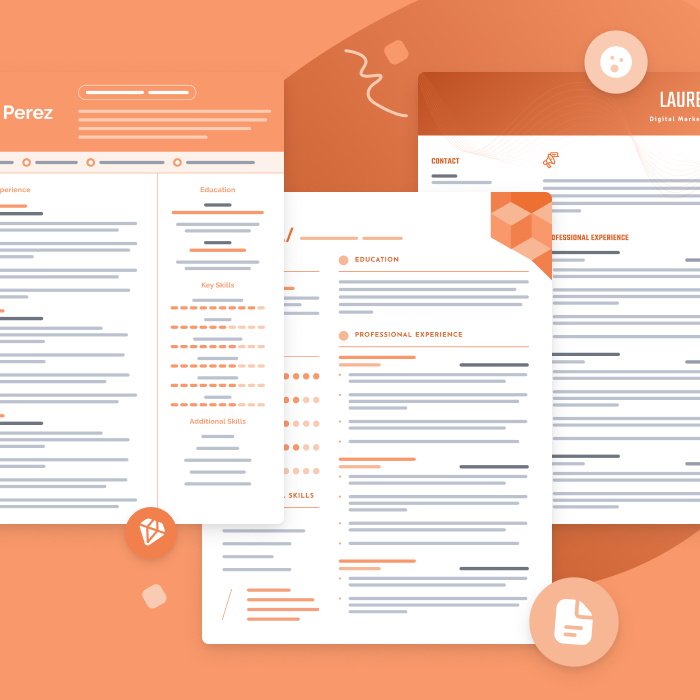 One of the best ways to make your resume is by filling out one of our free resume templates. All our templates are designed by experts and free to download for Microsoft Word or Google Docs.
How to avoid getting in trouble for lying on your resume
If you've lied on your resume, there are several ways to protect yourself:
1. Turn that lie into the truth: Particularly with skills-based lies, if you can learn the skill you said you have, then you make yourself more employable by actually learning it. For example, if you said you know COBOL without actually knowing it, you should try to learn it as quickly as possible. Not only will it be useful for you in the future, but you'll "undo" the lie on your resume.
If you lied about a skill you can't learn quickly, update your application with one of the resume skills you do have.
2. Explain you noticed an error on your resume: Then, send in an updated version. If you inflated quantifiable data, fixing a few numbers may be all that's necessary.
3. Own up to lying on your resume: This option makes it less likely you'll be hired. But if sending in an updated resume isn't an option, owning up to lying on it might at least save your reputation from being destroyed before you're found out.
When you own up to lying on your resume, be courteous, professional, and speak to the company directly. Never send out a mass email to correct this kind of mistake.
Here's an example of how to politely correct a lie on your resume:
4. Withdraw your application: When you withdraw your application, you don't have to provide a reason. This allows you to avoid having to explain the lie on your resume. You can also apply for other positions at the same company in the future.