It's not easy to find a job as a teenager. Many jobs have age or experience requirements that you might not meet.
On top of that, you need to juggle schoolwork, extracurriculars, and your social life. Finding a position that fits into your schedule and pays decently is challenging.
Fortunately, there are still plenty of opportunities for teens to make some extra money and gain valuable experience, both in-person and online.
Jobs for teenagers: best overall
We scoured the internet for the best teen jobs that offer decent pay, are willing to hire young workers without experience, and just might be enjoyable.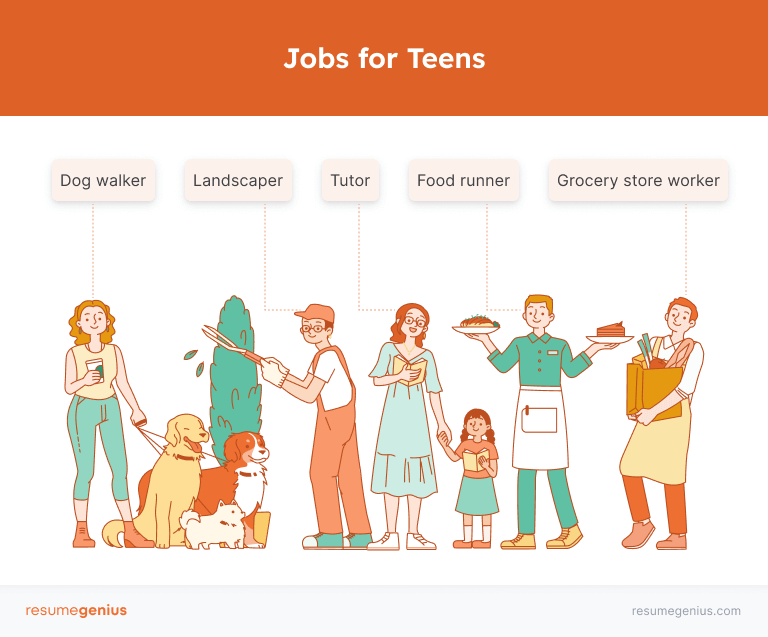 Here are 14 good first jobs for teenagers to start gaining working experience:
1. Babysitter
Babysitting is one of the easiest jobs to get as a teenager because there's no age requirement, you can set your own rate, and it fits well into a busy schedule.
If you feel comfortable looking after young children, there's a good chance family friends or people in your neighborhood need a reliable babysitter. And if you don't have much experience working with kids, try starting with older kids as they tend to be easier to care for and can communicate their needs and routine to you better.
Average pay: The average pay for a babysitter is $22.68 per hour for one child. However, your pay rate will differ depending on where you live, the number of children, and how much experience you have.
2. Ice cream shop worker
Working at a local ice cream shop is a fun and easy job for teens. You may have to deal with the occasional cranky toddler, but generally it's a fun and easy job. Plus, you get to serve something that makes people happy.
Average pay: At an average of about $12 per hour, ice cream shop worker salaries are at the lower end of this list, but it's also one of the easiest jobs we've included.
3. Restaurant host or food runner
In the restaurant industry, hosts and food runners are some of the most entry-level positions, and very rarely require past work experience – which makes them ideal first jobs for teenagers.
As a host, you'll be responsible for making sure the restaurant runs smoothly by keeping track of reservations, greeting guests, and getting them seated. Food runners assist servers and other restaurant staff by carrying plates and trays of food out to tables and bussing tables as needed.
As long as you're responsible and have reliable transportation, most restaurants will be willing to train you in these roles without prior experience.
Average pay: Typically bussers make a minimum hourly wage. However, you might get a percentage of servers' tips on top of your hourly rate, so it's possible to make more depending where you work.
4. Dog walker
Love dogs? Confident that you could handle more than one at a time? Then a position as a dog walker is the perfect fit for you.
Dog walking requires no work experience and has flexible hours, making it a good job for teens. You can commonly find dog walking jobs through apps like Wag! or Rover, or through a dedicated service.
Average pay: The average salary for a dog walker is $17.79 per hour, making it one of the better paying jobs for teens.
5. Tutor
Straight-A student? Then a job as a tutor might be the best option for you.
Helping younger students with their homework is a great way to put what you've studied to good use and make some extra money. Additionally, tutoring is usually done after school, helping it fit nicely into any teenager's schedule.
Average pay: Tutors make an average amount of $19.40 per hour. However, this will vary depending on your experience and the minimum wage in your state.
6. Grocery store cashier or stocker
Working in a supermarket or grocery store makes a great first job for teens because they offer good pay for the work you do, and usually have flexible shifts to suit your schedule.
Both of these positions require no experience and are commonly staffed by teenagers. If you're younger (14 to 16 year-olds) you're probably better off starting as a bagger or stocker.
But if you think you're cut out to operate the cash register, then cashier positions typically pay slightly better. Just be sure to emphasize your math and customer service skills on your resume for a grocery store cashier position.
Average pay: The average wage for a supermarket cashier is about $10.75 per hour, but in states with higher minimum wages, you might make more.
7. Fast food worker
While working at McDonald's or Subway isn't glamorous, a position as a fast-food worker comes with a reliable paycheck and flexible shifts. Additionally, fast food restaurants frequently hire teenagers who are still in school, so you don't need previous experience to apply.
Fast food restaurants are also notoriously fast-paced environments, which is sure to give you some good time management skills for your future career.
Average pay: The average pay for an entry-level fast food worker is $13.50 per hour, and will vary depending on your state's minimum wage.
8. Landscaper
If you don't mind physical labor, landscaping is a great job for teens because it requires no former work experience and pays relatively well.
Work as a landscaper can include anything from mowing your neighbor's lawn to working with a professional landscaping company. However, the more professional landscaping jobs typically require prior experience or some kind of connection with the hiring manager.
Average pay: The average hourly rate for a landscaper is $16.
9. Golf caddy
Live near a country club and interested in golf? Then a position as a caddy might be a good starting job for you.
While caddies are less common now at public golf courses, country clubs still frequently hire teens as caddies. This job involves helping club members carry their bag, cleaning their clubs, and calculating their yardage to the pin.
Although caddy jobs are hard to come by, they can pay very well, and are a good first job for a teenager, especially one who's passionate about golf.
Average pay: The majority of a caddy's pay comes from tips, which adds up to an average rate of $30 per hour. This makes a position as a caddy one of the highest paying jobs for teens.
10. Movie theater worker
Working at a movie theater can be a fun job for teens, especially if you enjoy seeing movies in your free time.
While you'll probably make minimum wage, movie theater workers get perks like free snacks, soda, and movie tickets. Plus, the work itself is pretty easy.
Average pay: The average rate for movie theater workers is roughly $12 per hour.
11. Personal shopper
Shopping for other people requires no prior experience and typically is done on a freelance schedule. This makes personal shopping an ideal side hustle for teenagers.
As a personal shopper, you'll be assisting clients by giving product recommendations, offering advice, and making purchases.
There are many different types of personal shoppers. While the more professional personal shoppers help clients buy clothing, you can also help people buy groceries, furniture, or other types of items through apps like Instacart.
Average pay: Personal shoppers make about $16 per hour. However, if you're working through an app, you'll make closer to $7-$10 for each order you complete.
12. Barista
If you're a coffee lover or just want to learn a new skill, then a job as a barista might be a great first job for you.
Aside from some on-the-job training, working as a barista at most coffee shops requires no prior experience, making it a good job for teenagers.
Average pay: The average pay for baristas is about $14 per hour.
13. Retail sales associate
Next time you're at the mall, visit your favorite store and ask if they're looking for sales associates.
Retail businesses are often happy to hire hard-working teenagers in need of some extra cash.
Additionally, retail experience is a great addition to your resume because working as a sales associate helps you develop great customer service skills.
Average pay: Retail sales associates make about $14.06 per hour on average — relatively high pay for a teenage job.
14. Library assistant
Check with your local library to see if they have any open positions for library assistants. If you love to read, it's a great opportunity to discover new authors while practicing your customer service skills.
Depending on the specific needs of the library, you'll get to help with anything from checking in and out materials to giving your best book recommendations.
Average pay: The average pay for a library assistant in the US is $14.49 per hour.
Best online jobs for teens
Can't fit a part time job into your schedule or just want to avoid having to interact with other people? There are plenty of jobs online that teenagers can do.
Here are 10 good online jobs for teens:
1. Online tutor
If you prefer to work from the comfort of your room, online tutoring can be a great option for making some extra money.
Many online tutoring websites require tutors to be at least 18 years old, so you'll need to get creative with marketing your tutoring services if you're not a legal adult.
Try creating a social media account dedicated to your tutoring services and give some fun examples of what types of lessons and activities your students can expect. You can also check out sites like Care.com to get connected with families looking for an online tutor.
2. Proofreader
If you have excellent grammar and an eye for detail, proofreading can be a great way to make some extra money online.
Companies and individuals need people with strong writing skills to review their work, especially if they're not native English speakers.
Consider signing up for any major freelancing site and start by offering a slightly lower rate than competitors so you can build your profile. As you gain more experience, you can raise your rates accordingly.
3. Data entry clerk
Many companies need freelancers to do simple data entry tasks for them. These tasks could be anything from organizing spreadsheets to transcribing documents.
As long as you understand the software needed for the job, there's no experience or degree requirements, making freelance data entry a good position for teenagers.
You can often find freelance data entry jobs on freelancer sites like Upwork. Just search for "data entry" and you'll get a list of available jobs:
Typically, you can expect to earn $10 to $15 per hour as a freelance data entry specialist.
4. Freelance designer or digital asset creator
If you enjoy basic graphic design, you can use your skills to sell digital assets on websites like Fiverr.
In-demand digital assets include:
Custom digital art (think pet portraits)
Printable planners, calendars, to-do lists, coloring books, and more
Logos
Graphics for social media posts
It's a good idea to research the competition to figure out a good starting price for your designs. You should also try to think of a unique angle or feature that you can offer to stand out.
5. Streamer or vlogger
If you have a niche topic you're interested in (anything from crafting to gaming to music) streaming or vlogging your hobbies can be a fun way to make some extra money.
The amount of money you make on streaming services such as YouTube and Twitch is directly impacted by ad revenue, so you need to be seen first to make money. To grow your audience when you're just starting out, consistency is key — make sure you're able to set aside enough time each week to regularly produce content.
You can start out with basic equipment and upgrade as your channel becomes more successful, so you don't need to worry about a big investment up front.
Best summer jobs for teens
It's summer vacation – you have free time, and lots of seasonal businesses are starting back up. What better time to make extra money and get some work experience?
If there are any summertime attractions near you (such as ice cream shops, water parks, or beaches), make sure you check if they need new employees.
Here are some of the best summer jobs for teens available:
1. Lifeguard
Lifeguards need to be strong swimmers. If you spend a lot of time at the beach or pool, this could be a good job for you.
However, to become a lifeguard you need to be at least fifteen years old and first aid-certified. Check out the Red Cross website to find a course in your area.
Additionally, lifeguarding positions are mostly only available during the summer. So working as a lifeguard isn't ideal if you need a year-round part time job.
Average pay: Lifeguards make an average of $13 dollars per hour.
2. Camp counselor
If you enjoy working with children, check out local summer camps that are in need of reliable counselors.
There are plenty of opportunities available, and you can look for camps that match your interests and skills, whether that's art camp, sports camp, or nature camp. Start by researching what's available in your area, and what kind of requirements they have for counselors.
Keep in mind, many summer camps begin their hiring process as early as February, and competition can be high for counselor positions at popular summer camps.
3. Concessions stand worker
For a fun and easy job for teens, consider working at the concessions stand or snack bar at your local stadium, pool, or drive-in theater.
You typically don't need to have any prior experience to work at a concessions stand, and it'll leave you with some downtime for reading, drawing, or catching up on your favorite video series during the quiet periods.
4. Amusement park worker
Why not spend your summer at the nearest amusement park, and enjoy the benefit of park access on your days off?
If you don't mind being outdoors and on your feet for most of the day, amusement park work can be a great way to develop customer service skills and make extra money over the summer.
5. Youth sports coach or referee
If you love sports, you can make great money doing something you enjoy by becoming a coach or referee for youth sports.
Local recreation centers, sports leagues, and organizations like the YMCA often have opportunities for teen coaches and referees, though you may have to complete some basic training first. Check out their websites or ask in person about summer job opportunities.
How to get a good job as a teenager
The biggest obstacle to getting work as a teen is finding a position you're qualified for and convincing the hiring manager that you're the right person for the job (even though your resume has no experience).
Fortunately, these obstacles are easily overcome with a little effort. Here are three tips for job hunting as a teenager:
Where to search for jobs
To find employers in your area looking for entry level employees, use an online job board like Indeed, Monster, or Glassdoor. On Indeed, simply type "teen" into the search bar, select your city, and click the "Find jobs" button:

This search will pull up a list of any job that hires teenagers, from fast food positions to dishwashers: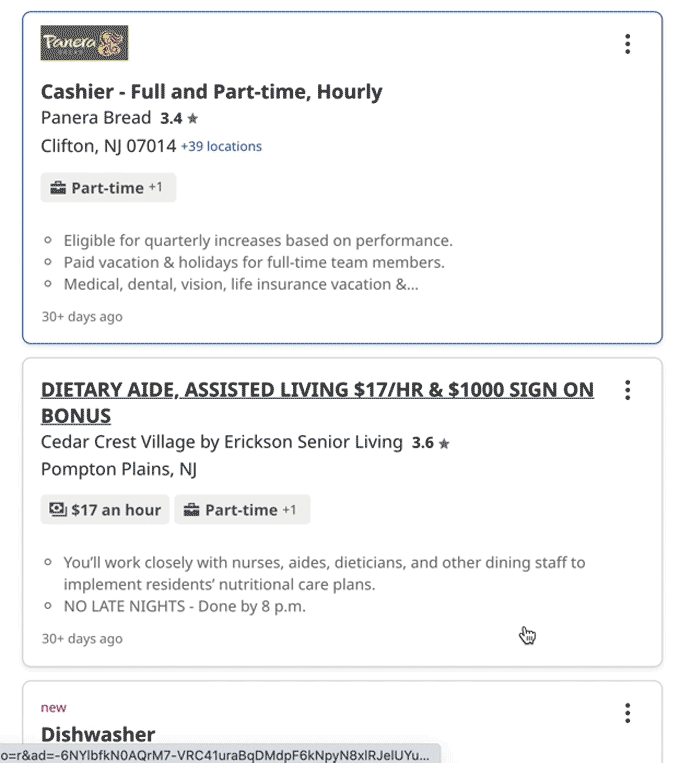 You can also adjust the distance on Indeed to find something even closer to where you live. Or you're able to cast a wider net if you're struggling to find anything within your area.
Best places for work as a teen
Companies like Publix, Chipotle, and Starbucks have earned themselves reputations as some of the best places for teens to work because of their willingness to hire teens, benefits like free shift meals, and college tuition programs.
It's worth doing some searching online to find ideas for good companies that hire teens. Try typing "teen jobs near me" into the search bar for openings and ideas. Or, you can explore a company's careers page if you know where you want to work already.
It can also be rewarding to work for a small business in your area — they may not have the same benefits, but they might pay just as well as large companies, and you'll feel more involved with your community.
But small businesses are less likely to post job openings online, so try visiting in person to ask if they have anything available.
Perfecting your job application
Most jobs require a resume to apply, even if they're hiring for an entry level position.
If you're like most teenagers, you probably don't have any professional experience yet, so writing a resume can seem impossible.
Fortunately, writing a good teen resume isn't that hard, even without any work experience.
Instead of focusing on work experience, fill out your resume with your relevant coursework, extracurricular activities you're a part of, and any volunteer work you do.
Here's an example of a resume for a high school student that's good enough to get them a job: