When you're writing a resume for a job application, you want it to be professional, well-formatted, and pleasing to the eye. It can take a lot of work to make a resume from scratch, so to save time and effort, a lot of job seekers opt to use one of the many resume builder websites available online.
But while using a resume generator can often make your life easier, not all of them deliver the final product you deserve.
To help you decide if the Indeed resume builder is right for you, here's our review of the Indeed resume builder.
Our free-to-use resume builder can make you a resume in as little as 5 minutes. Just pick the template you want, and our software will format everything for you.
Indeed resume builder customer reviews
Indeed is a leader in the career services industry. Their website features a job board, company reviews, a salary guide, and resources for employers and job seekers. On Consumer Affairs, Indeed has a rating of 3.9 out of 5 stars, meaning most customers are satisfied with their experience with the website.

Our Indeed resume builder review
We made a resume with the Indeed free resume builder to weigh its pros and cons and find out if it's worth using, so you don't have to. Here's what we found:
Indeed resume builder review: pros
Here's what works well for the Indeed resume builder:
1. Free to use
The best thing about the Indeed resume builder is that it's completely free to use. This means that it's widely accessible and you don't lose anything (except a little time) if you decide to try it out.
2. Easy to use
The Indeed resume builder has a very user-friendly interface and takes minimal effort to figure out. First, you start by choosing your desired template from eight different options.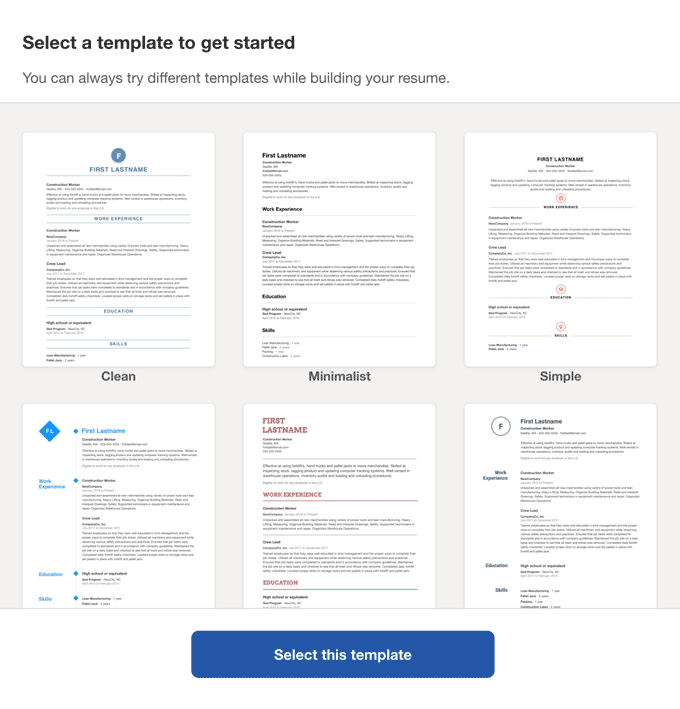 Once you've chosen, the builder displays the template with each editable part of the resume highlighted yellow.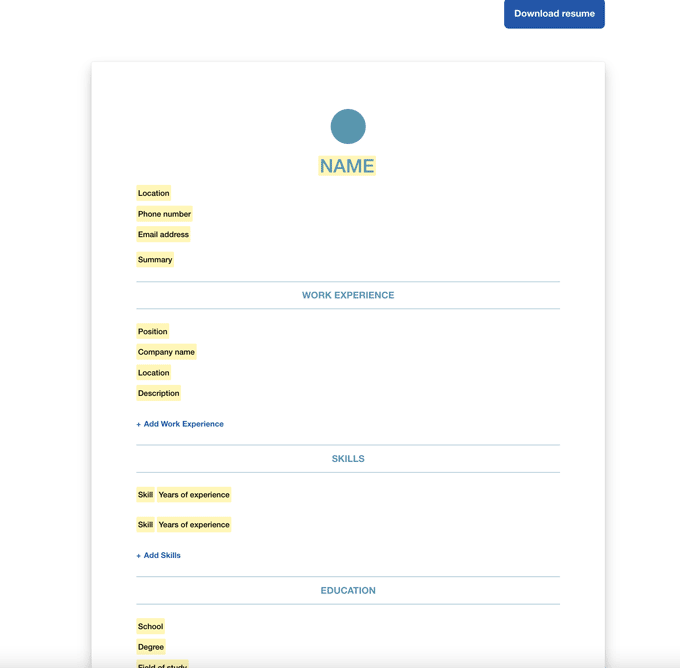 If you want to edit a section you simply click on it to display input boxes, as seen below.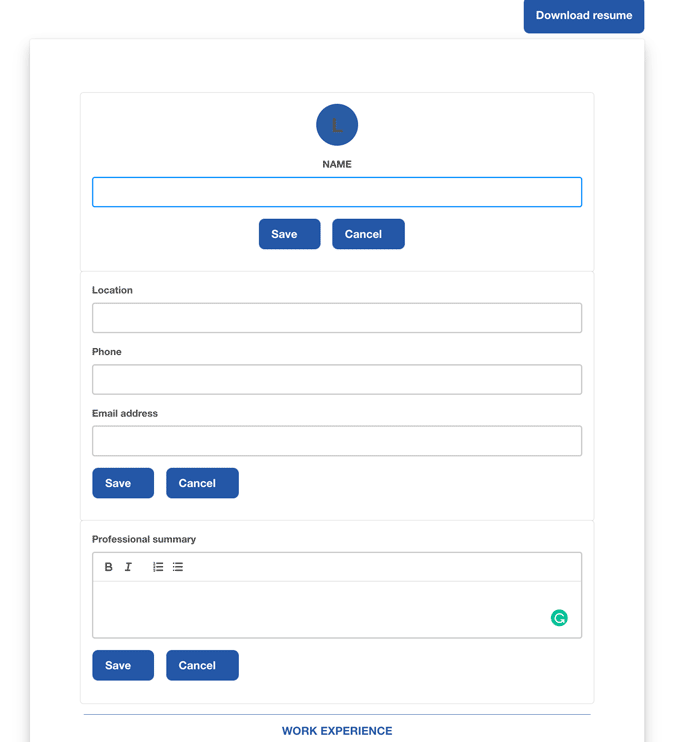 Once you're finished, what you've written will automatically appear in the template, and you can proceed to the next section.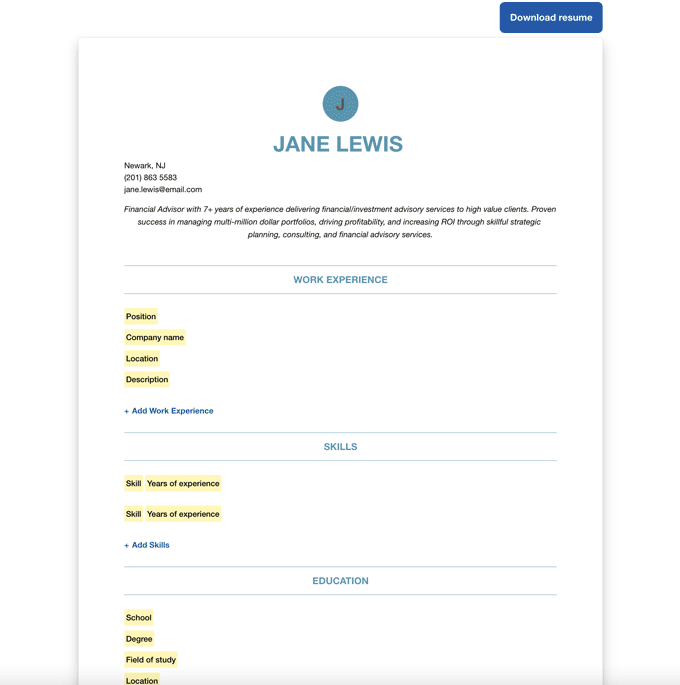 3. Simple formatting
Following proper resume formatting can be one of the hardest parts of writing your resume, but one of the perks of a resume builder is that it takes care of formatting for you.
When using the Indeed resume builder, you don't have to worry about what resume sections go where. The builder provides boxes for you to input specific information, which is then automatically formatted according to the template.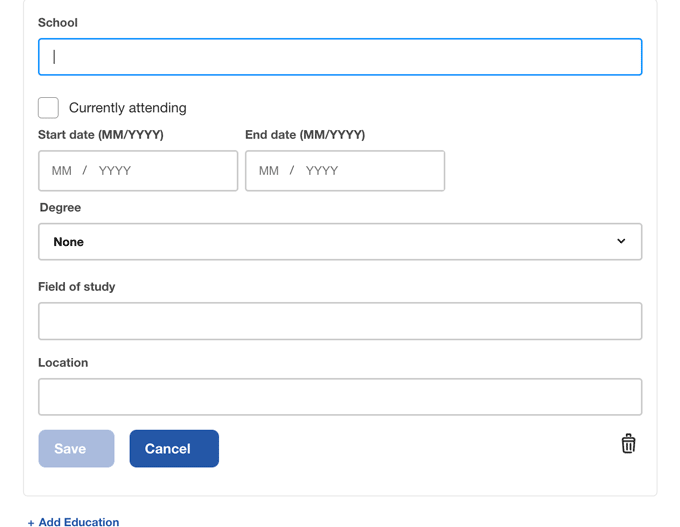 4. You can change templates at any time
Another plus of using the Indeed resume builder is that you can change your template at any time.
That means if you're halfway through writing your resume and realize that you don't like the template you're using, you can choose one of the other templates displayed on the left. You can try all of them to see which one you think looks best before downloading your resume.
5. You can add additional sections
Indeed's resume builder provides additional sections for you to include on your resume, such as awards, certifications, or military experience. This is especially helpful if you have nontraditional work experience or are writing a military to civilian resume. Simply click on the toggle to activate the section you want to add to your template.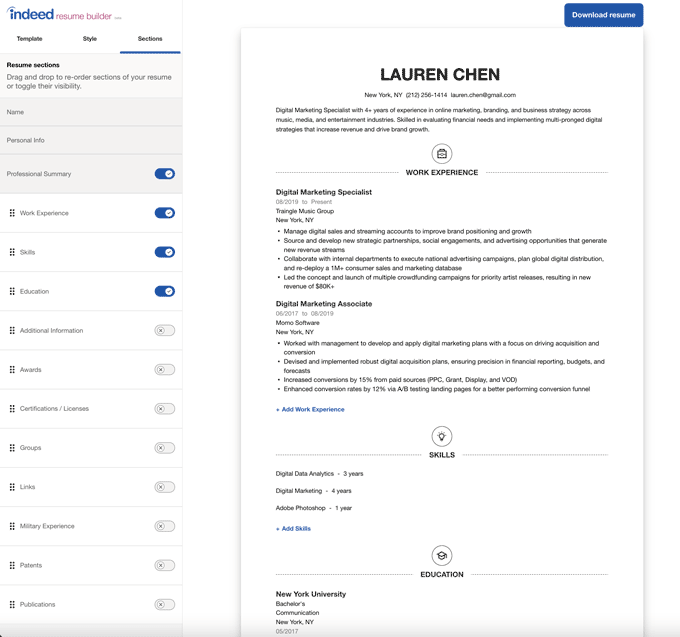 Indeed resume builder review: cons
After making our resume, these are the drawbacks we found in using Indeed's free resume builder:
1. You can only download your resume as PDF
When you hit download, your resume automatically downloads as a PDF file. There are no other file type options. This presents a few problems:
You won't be able to make any further changes or edits to the document.
You won't have a word document file, which some employers may request.
When you need to update your resume in the future, you won't be able to edit your document and will have to make a new one.
2. You can't change the formatting
While it's nice to have a resume builder do all the formatting for you, it's also problematic if you can't edit it yourself.
One problem with Indeed's resume builder is that your one-page resume almost inevitably turns into a two-page resume.
Even in our attempt at including only one job and listing three skills, the resume still extended onto a second page, and sections were often awkwardly split between the first and second page.
The inability to adjust margins or font size or choose to format sections differently means that you can't edit your information to fit on one page.
3. Limited design & style options
While the resume builder has eight templates and provides some color and fonts options, the ability to adjust the overall resume design is very limited.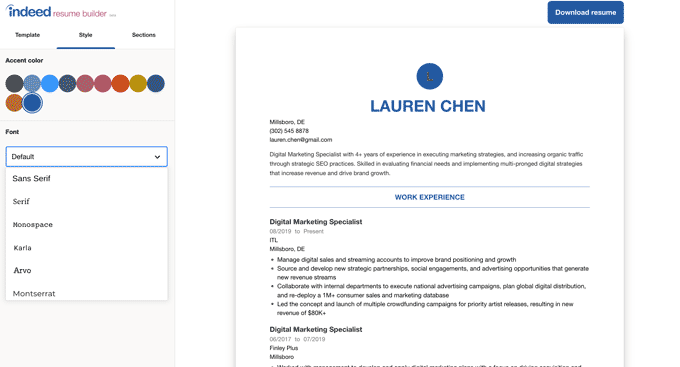 Indeed's resume templates themselves are very basic and lack personality. These resumes are designed to convey your basic information, but they won't be very helpful in grabbing a hiring manager's attention.
4. You can't customize sections
The inability to customize sections of the resume in Indeed's resume builder makes it very limiting.
For example, the builder has a specific format for the education section that requires you to choose the type of education from a dropdown list.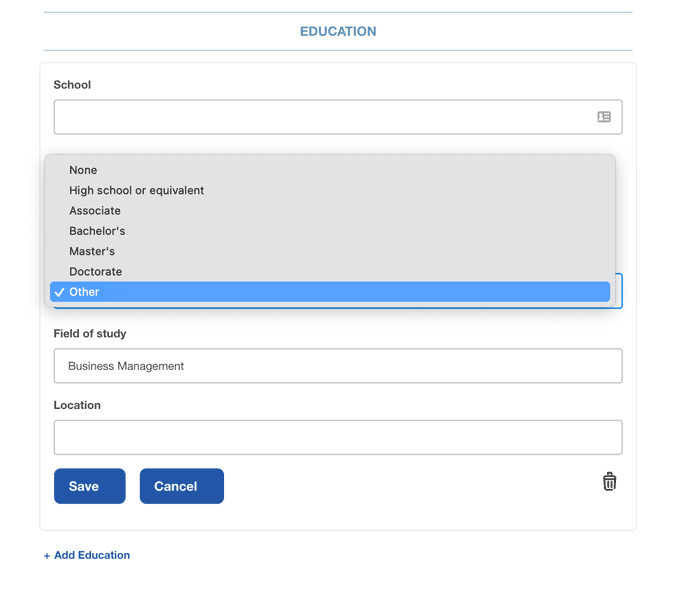 There is no option to further elaborate on your education. If you actually click on "Other", "Other" is what will appear over your field of study. If you want to specify that you have a Master's of Science (MSc), you have to include it in the field of study section.
You also cannot choose to list honors or relevant coursework on your resume, which can be a very helpful addition for those who are writing a resume with no experience.
Additionally, if you're writing an artist CV, or an academic CV, there isn't a way for you to add relevant sections like exhibitions or workshops.
5. You can't save content
There's no way to save what you've written while using Indeed's resume builder, which means if you don't want to work on your resume all at once, you have to keep the tab open. If you accidentally close the tab while working on your resume, all of your work is gone.
6. No writing assistance
The Indeed resume builder doesn't offer any resume writing guidance.
It can be very helpful to have suggestions about how to discuss your work experience, or what you should include in your resume introduction. The Indeed resume builder lacks the writing support that can help make a resume builder extra effective.
7. No cover letter templates
Indeed does not have cover letter templates to match the resume templates. If you want to make a matching cover letter you have to make your own document from scratch and try to match the formatting.
Having a matching cover letter template makes your application stand out as professional and shows employers that you put in thought and effort.
Indeed resume templates review
Resume templates need to be professional, well-formatted, and visually pleasing to get a hiring manager's attention. The Indeed resume builder offers eight free resume templates to choose from. Here are reviews of our three favorite templates they offer:
1. Clean resume template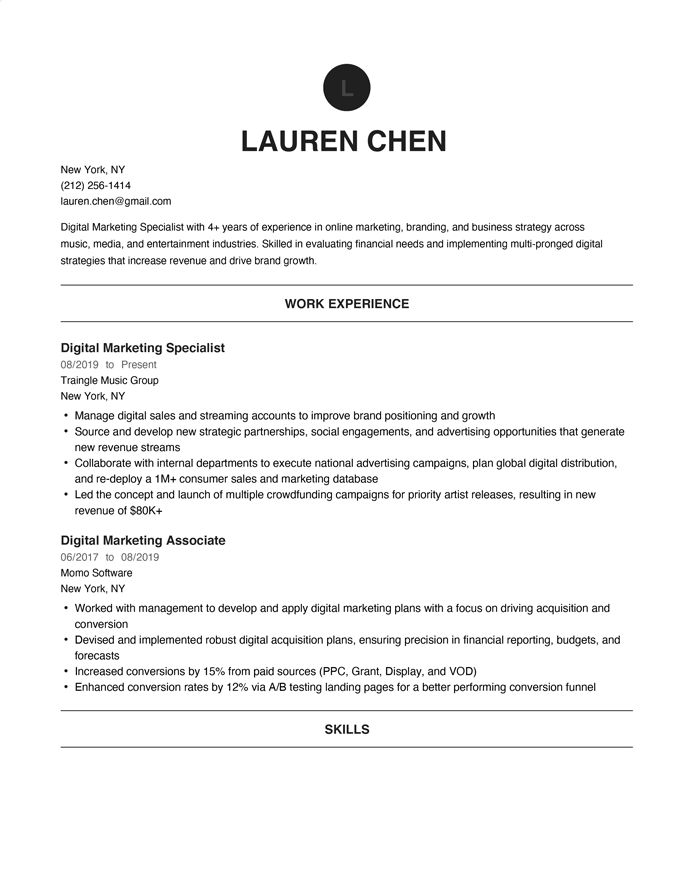 The clean resume template has a bold header that draws attention to the candidate's name. Then, the candidate's contact information and resume introduction are clearly displayed below. Each section of the resume is divided into distinct parts by horizontal lines that contain each header.
2. Minimalist resume template
The minimalist resume template keeps stylistic elements to a minimum, presenting your professional experience without any frills. Sections are presented by simple headers with bold text and subtle lines. This resume design is as minimal as it gets and is perfect if you're applying for a formal position.
3. Simple resume template
The simple resume template features some design icons to introduce each section, which adds a visual element to the page and helps break up text.
In summary, the Indeed resume templates are free to use, and the designs are straightforward. However, because of the formatting they all require two pages and contain an excessive amount of white space that could be better used to display professional qualifications.
Frequently asked questions about Indeed
If you're still not sure about Indeed's resume building services, here are a few answers to frequently asked questions about Indeed:
Is Indeed legit?
Yes, Indeed is a legitimate career services website that allows job seekers to search for job openings, build a resume, and submit their resumes to potential employers.
In general, Indeed is considered to be a reliable and trustworthy resource for job seekers and employers.
How do I upload resume on Indeed?
To upload your resume to Indeed, follow these steps:
Go to the Indeed website (www.indeed.com) and click on the "Sign In" button in the top right corner.
If you don't already have an account, click on the "Create account" button and follow the prompts to create an account. If you already have an account, enter your email address and password to sign in.
Once you're signed in, click on the "Resume" tab in the top menu.
Click on the "Add resume" button in the top right corner.
Select the "Upload resume" option.
Choose the file that you want to upload from your computer and click "Open."
Review your resume to confirm everything looks correct, then click on the "Save" button to upload it to your Indeed account.
Is the Indeed resume builder free?
Yes, the Indeed Resume builder is a free tool that is available to all users of the Indeed website. You do not need to pay to use the resume builder or to upload your resume to Indeed, and all their provided resume templates are free to download.
Additional resume builder reviews
Don't think the Indeed resume builder is right for you? Check out the competition by reading some of our other resume builder reviews: