Creating an impactful, professional resume can be a challenge. That's why using an online resume builder to make your resume can be a great option if you're looking to save time.
LiveCareer started out by offering career tests to help job seekers find their ideal careers. Over the past 15 years, they've expanded and now provide resume and cover letter building services as well.
But how does LiveCareer compare to similar services? We decided to test it ourselves to find out.
Keep reading to learn more about the LiveCareer builder, its features, and our experience with it.
Our free-to-use resume builder can make you a resume in as little as 5 minutes. Just pick the template you want, and our software will format everything for you.
LiveCareer customer reviews
LiveCareer's customers are generally happy with the service, giving it a rating of 4.0 stars on Sitejabber and 4.3 stars on Trustpilot.

The company also received Sitejabber's 2021 Customer Choice Award which is awarded to businesses based on their ratings and reviews.
Is LiveCareer free?
No, LiveCareer's resume building service isn't free. You have two subscription options:
14-day subscription – This option costs $2.95 and gives you access to the builder for two weeks. The subscription will renew automatically every four weeks if you don't cancel it.
Monthly subscription – LiveCareer's monthly subscription is actually a yearly plan. It costs $5.95 per month (or $71.4 per year) and renews automatically every 12 months.
Is LiveCareer legit?
Yes, LiveCareer is legit. The company has received two Sitejabber customer choice awards and one HR Tech Outlook award for its services. LiveCareer also has several Certified Professional Resume Writers (CPRW) on its team.
LiveCareer's resume builder review
LiveCareer's resume builder is one of the most popular builders available. To help you decide if it meets your needs, we tried the builder ourselves. Here's what we learned:
What we liked about the LiveCareer resume builder
We tested the LiveCareer builder ourselves to see how it compares to competing services. Here's what we liked:
Tailored recommended examples
At each step of the process you're given a list of recommended entries tailored to your professional background that you can add directly to your different resume sections.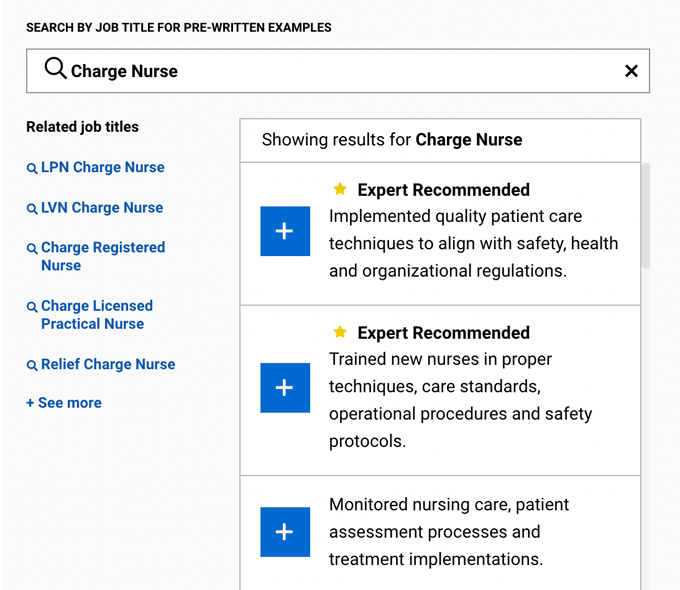 While it's unclear why some examples are marked as "Expert Recommended" and others are not, we found the majority of LiveCareer's suggestions to be helpful and relevant to the target role.
If you use LiveCareer's pre-written examples for the work experience resume section or for your resume summary, remember to add numbers and percentages to make your application more convincing.
This feature is particularly helpful if you don't have a lot of work experience yet and are struggling to fill a one-page resume.
Easy to preview and edit your resume
LiveCareer's builder allows you to preview your resume at any point, giving you a good idea of what your resume will look like once it's finished. The only downside is that you can't see if your resume will fit on a single page.
If you decide after previewing the final result that you want a different resume design than what you initially chose, you can change it at the last step.
The customization bar at the bottom of the page allows you to pick a different template or color without going back to the start.
Altogether, we think these features make it very easy to adjust your resume design and change its formatting.
Improvement suggestions
If you create a LiveCareer account and sign up for a subscription, you'll get access to an automatic resume review. Your resume is rated on a scale from 1-100 and you're given suggestions for improvements.

We thought this feature offered some helpful suggestions for how to improve a resume, and was user-friendly.
However, while you can still see the areas of your resume that need to be improved without a subscription, you can't view suggestions without paying.
What we didn't like about the LiveCareer resume builder
Here's what we think could be improved about LiveCareer's resume building service:
No free templates
Many resume builder websites offer a selection of free resume templates that users can download and fill in manually.
LiveCareer, however, doesn't have any free templates. All templates can be viewed on the website so you can decide if their designs meet your needs, but if you want to use them you have to pay.
Lack of creative template options
Although there's a section on the website for creative resume templates, the designs in this category aren't as creative as they could be. Here's an example of one of LiveCareer's creative templates: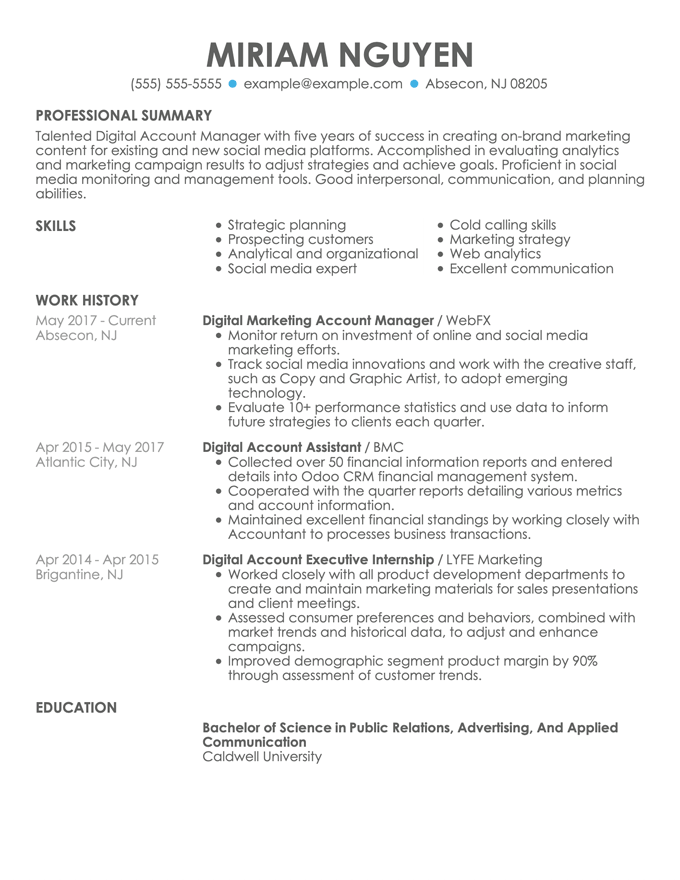 While this template includes a couple of pops of color in the contact information section, the rest of the template looks like a regular black and white resume.
If you're applying for a job in an artistic field like photography or graphic design, you might want to choose a resume builder with more innovative template designs.
Limited downloads
If you choose LiveCareer's 14-day access plan instead of the more expensive monthly subscription, you'll be limited to one "free" download, print, or email. After that, you'll have to pay $0.45 for each new document you download.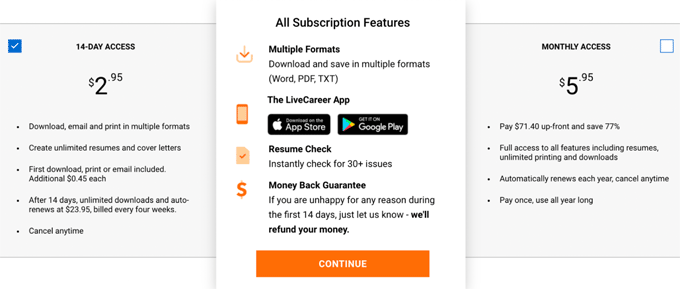 The 14-day option allows you to create one resume and a cover letter without additional charge. If you're only applying to one company, this plan will be sufficient for you.
But if you're planning on sending out multiple applications, you should sign up for the monthly plan or choose a different resume builder website that provides unlimited downloads.
We thought this pricing scheme was unhelpful because most job seekers will need to adjust their job application documents, especially if they're applying for multiple jobs.
Resumes that are tailored to each company you apply to are more likely to impress employers than a generic resume that's submitted with every application.
Unhelpful template recommendations
When using LiveCareer's builder, you're asked how many years of work experience you have and where you're from. Based on your answers, the builder then suggests three templates that should be optimal for your level of experience and the country you're applying for work in.
However, we found that the templates that were suggested to us when we selected "no experience" were not suitable for entry-level candidates.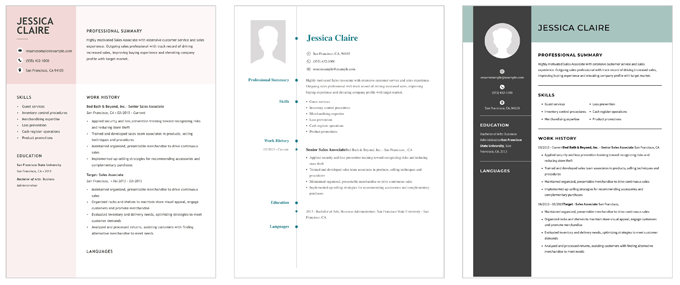 While two of the templates placed the skills section at the top of the resume, they all included a professional summary instead of a career objective and emphasized the candidate's work history.
A career objective is more suitable for entry-level applicants because it focuses on a candidate's skills and goals instead of their professional achievements.
Additionally, two of the templates left little room for additional educational experience, something which a high school student or recent college graduate might want to highlight if they lack professional experience.
We also found that there wasn't a significant difference between the templates suggested to us when we selected different countries of origin.
Additional resume builder reviews
Want to shop around before deciding on the right resume builder for you? Read our reviews of some other popular resume builder services: