Our free-to-use resume builder can make you a resume in as little as 5 minutes. Just pick the template you want, and our software will format everything for you.
However, is ResumeNerd's builder worth your time? We dove further into their product, pricing, and online reviews to find out:
ResumeNerd customer reviews
ResumeNerd customers awarded stars for great customer service, an easy-to-use site, and high quality results. But some reviewers were unhappy with the unclear pricing structure of ResumeNerd's premium services.
On Trustpilot, ResumeNerd has an overall rating of 4.5 stars, and the majority of 5 star reviews mention great customer service.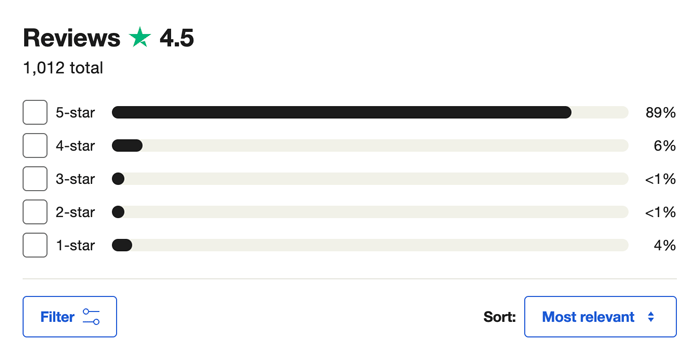 1-star reviews, though they make up about 4% of overall reviews, frequently mention unexpected charges after the trial period ends.
This tells us that if you decide to use ResumeNerd, make sure you carefully read the pricing plan and terms before signing up.
How does ResumeNerd work?
ResumeNerd's online resume builder is a simple, efficient tool that helps you write and format your resume.
If you're not confident in your resume-writing abilities, ResumeNerd's software offers recommended bullet points for your experience section based on your job title. You can browse, select, and edit these bullet points easily or write your own from scratch.
Once you're happy with your resume, you can make final adjustments to your resume's formatting and choose from a variety of accent colors to personalize it.
ResumeNerd pricing
To download your new resume, you'll have to sign up for one of ResumeNerd's premium services, which cost $23.75 per month or $99.95 for a year of access.
They also offer an intro deal of $2.75 for your first 14 days before you continue with their monthly subscription.
Full access to ResumeNerd's services also includes their cover letter builder, which lets you easily format your cover letter on a template that matches your resume.
Now that you understand the basics of ResumeNerd's products, we'll address how they compare to similar builders on the market.
ResumeNerd pros and cons
Here's a breakdown of some of the main advantages and disadvantages of ResumeNerd's product:
Nice, simple resume templates

Builder is easy to navigate

Provides professional letter templates
Doesn't offer free template downloads

Career resources are somewhat limited

Lack of modern & creative template options
Frequently asked questions about ResumeNerd
If you still have questions about ResumeNerd's resume builder, here are some answers to the most commonly asked questions about their service:
Is ResumeNerd free?
No, ResumeNerd isn't free. If you want to download your completed resume, ResumeNerd offers a 14-day trial for $2.75 that auto-renews at $23.75 per month once the trial period has ended. They also have an annual plan that costs $99.95 for a year of access.
Is ResumeNerd legit?
Yes, ResumeNerd is a legitimate business. According to their online reviews, many customers were satisfied with the resume builder, product quality, and customer service.
Does ResumeNerd offer refunds?
No, ResumeNerd doesn't guarantee refunds, but you can cancel your subscription at any time.
To make sure you're satisfied with the quality of the product, try testing out their resume builder for free. You can choose whether to sign up at the end once your resume is complete.
Additional resume builder reviews
Before you commit, compare ResumeNerd's service to some of the other best resume builders on the market with our related product reviews: