Using online resume builder software is one of the fastest and easiest ways to make a resume. However, with so many different options it's important to do your research before you decide which one you want to use.
To find out if Resume.io is worth your time, we made a resume using its builder. In this article, we'll walk you through their pricing, how to use the Resume.io builder, pros and cons, some of our favorite templates.
Our free-to-use resume builder can make you a resume in as little as 5 minutes. Just pick the template you want, and our software will format everything for you.
Resume.io reviews from customers
With a mission to help job seekers grow their careers, Resume.io boasts over 23 million resumes built to date and more than 34,000 signups a day. They have a 4.7/5.0 rating on Trustpilot with over 43,000 reviews to date.

Additionally, Resume.io has received multiple product awards on Producthunt.
However customer reviews vary across platforms, with an average rating of 1.4/5 on Producthunt.

While some customers praise Resume.io's ease of use, others raise red flags about unexpected charges and poor customer support.
Resume.io pricing
One of the biggest considerations when deciding whether to commit to a resume builder is the cost. Resume.io lets you use the builder for free, but you can't download anything more than a TXT file unless you opt for a subscription or membership.
How much does Resume.io cost?
A 7-day trial to Resume.io costs $2.95, and then auto-renews to charge $24.95 every four weeks. A 6-month membership costs $44.95, while a 12-month membership costs $74.95. With one of these plans, you gain access to all of Resume.io's templates and can create and download as many as you like.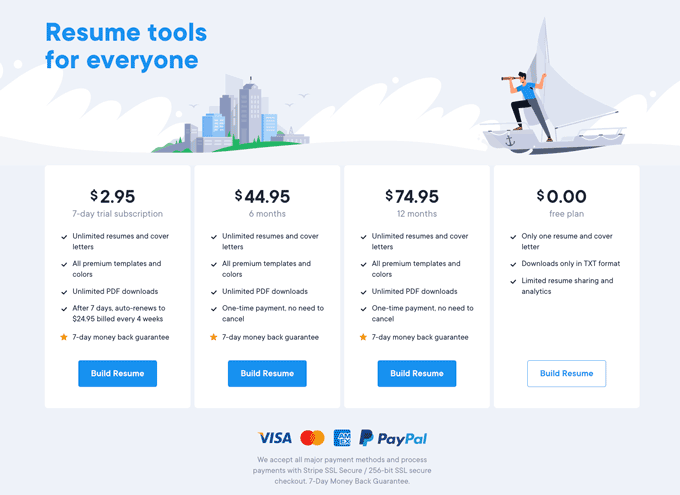 Resume.io review: is it worth it?
When you're making a resume for a new job, it's important to know you're getting quality results and that your time and effort aren't going to waste. So, how does Resume.io stack up when compared to other resume builder websites?
After using the Resume.io builder, we made a list of the pros and cons to help you make your decision.
Resume.io pros
These are the things we liked about Resume.io's builder:
Fast and easy to use
As many of the positive reviews state, the Resume.io builder is very user-friendly. It's fast and easy to use, meaning you can create a resume efficiently.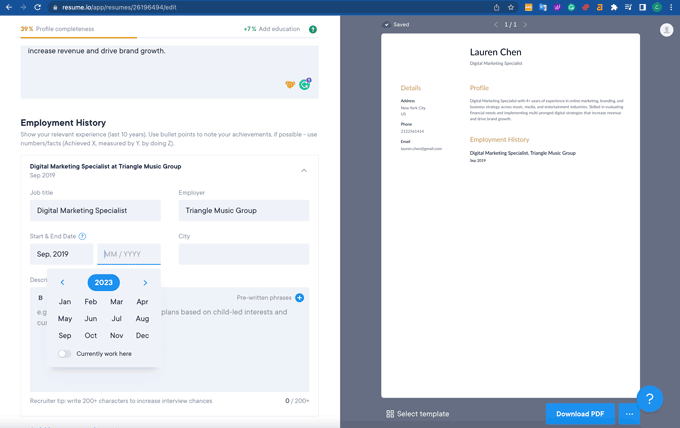 The builder allows you to quickly use drop-down menus to input information in each category and formats it for you as you fill out each section, so you can see your resume taking shape.
For those who struggle with proper resume formatting, it's a relief not to worry about how to structure each section, what information to include, the best fonts to use, or how to set your resume margins.
Suggests pre-written phrases
The Resume.io builder features industry-specific pre-written phrases that you can select to include in your resume summary or work experience section.
The phrases all begin with relevant action verbs and target key job skills and responsibilities (however, they could do a better job helping you quantify your achievements).
This feature is especially useful if you're new to resume writing or need some extra help when you get stuck in the writing process.
Customizable skills section
In addition to suggesting pre-written phrases for your industry, the Resume.io builder also suggests relevant skills you can choose to add to the skills section of your resume.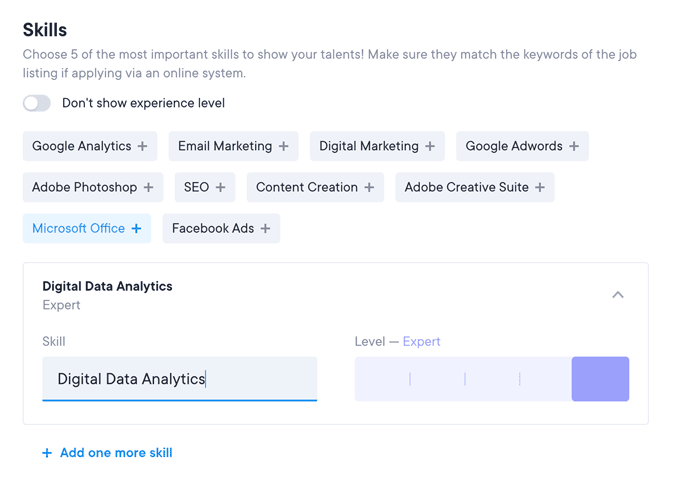 One additional feature we like about the builder is that you can customize the skills section by listing your skill levels. Resume.io offers a 5-point scale, from beginner to expert, and displays each skill level on your resume automatically.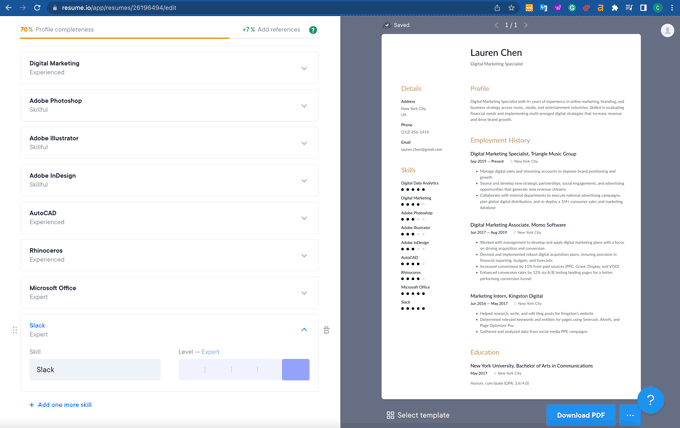 Using skill levels can be particularly useful if you work in a technical field that requires a lot of hard skills or proficiencies in specific programs or software, like engineering, design, or video editing, for example.
You can share your resume with a link
One unique feature of the Resume.io builder is that once you've created your resume you have the option to share it via a link.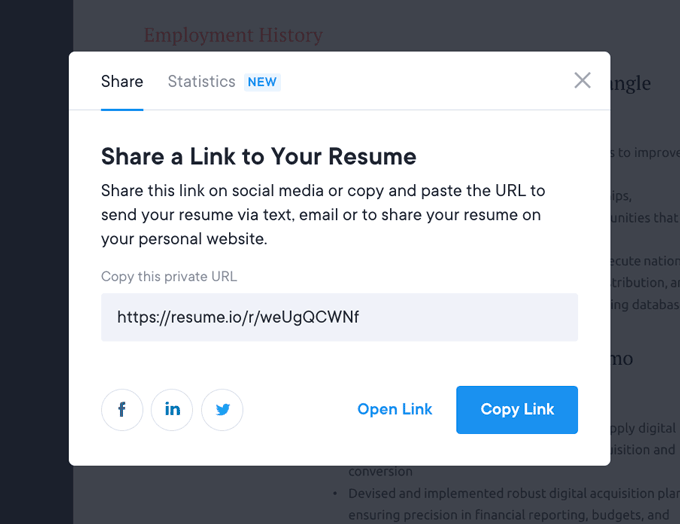 This link will open a new browser tab that displays your resume, like below.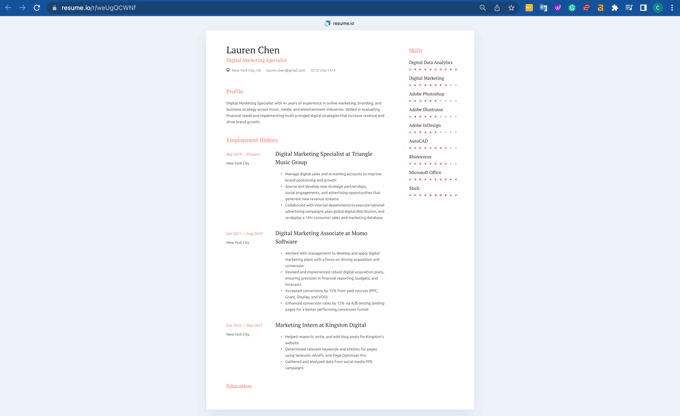 Even if you decide not to upgrade to a paid plan, the ability to display and share your resume in this way could be beneficial. For example, you can include the link on your LinkedIn profile, portfolio, or professional website, or easily share the link with recruiters or contacts without the need for attachments.
However, if you're formally applying for a job, a link won't suffice and you'll need to submit your resume as a PDF or DOCX file.
Resume.io cons
Here's where we think the Resume.io resume builder could use some improvement:
Lack of transparency
From a look through Resume.io's negative reviews, it's clear there are a lot of instances where users feel they've been charged unfairly or treated poorly by customer service.
In this case, the user says they were charged before the trial period had ended: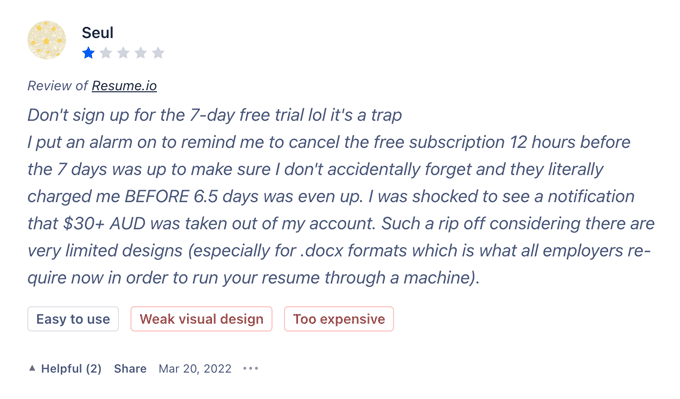 While the 7-day trial subscription states it will auto-renew and begin charging users every four weeks, it's clear there needs to be more transparency and support for customers who want to cancel their subscriptions or seek refunds.
Does not offer free templates
While you can create a resume in the builder on the free plan, you can't download it as a PDF or Word Doc without upgrading to a trial subscription or a paid account.
You can opt to download your resume as a TXT file for free, but this means you won't get the professional template you selected at the beginning of the process and will have to reformat everything yourself.
Resume.io doesn't offer any free downloadable resume templates, so if you don't want to pay for a subscription then it's not worth making your resume with Resume.io's builder (in our opinion).
Limited number of templates available in DOCX format
Although all 27 of resume.io's templates can be downloaded as PDF files, only four of them are available for download as a DOCX file.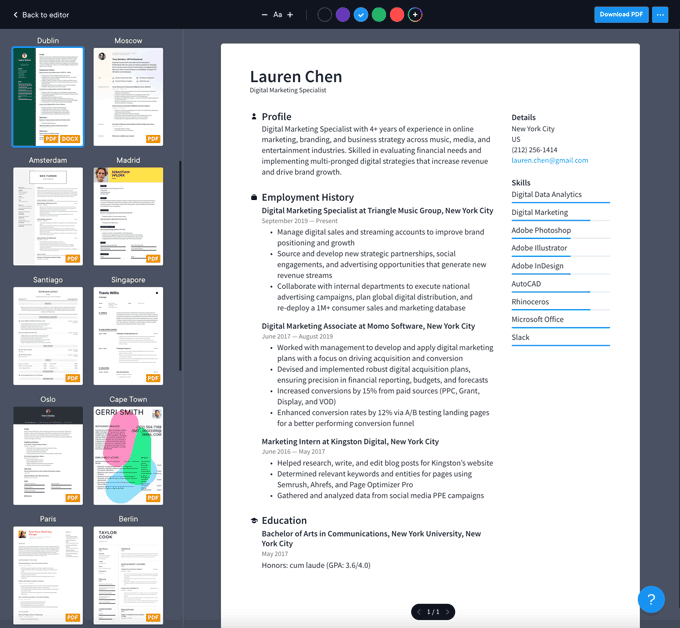 This is unfortunate because it means that you can't edit the vast majority of Resume.io's templates.
If you opt for a PDF resume file then the next time you need to update your resume you'll have to start all over again, but if you choose one of the DOCX templates then your options are severely limited.
Inability to change formatting
Another drawback of PDF files is that you can't change their formatting. This means that if the template you like leaves a lot of white space in one portion of the resume, overflows onto a second page, or uses icons you don't like, you can't do anything about it.
This means you'll have to choose one of the DOCX-available templates if you'd like to make any adjustments after downloading.
Template designs could be better
While they do have some resume templates that we find professional and well-organized, many of Resume.io's templates leave something to be desired.
A lot of templates feature large segments of white space, making the resumes feel sparse and poorly balanced. Some have formatting issues, while others have over-the-top design elements.
Overall, we think you can find better (and free) templates for your resume elsewhere.
Resume.io templates
Resume.io's resume templates are organized into 4 categories: creative, simple, professional, and modern, with several templates appearing in multiple categories.
We've filled out one from each category to show you below.
Creative
Resume.io's Moscow resume template features a bold but muted color scheme that serves as an appealing background for the resume's content.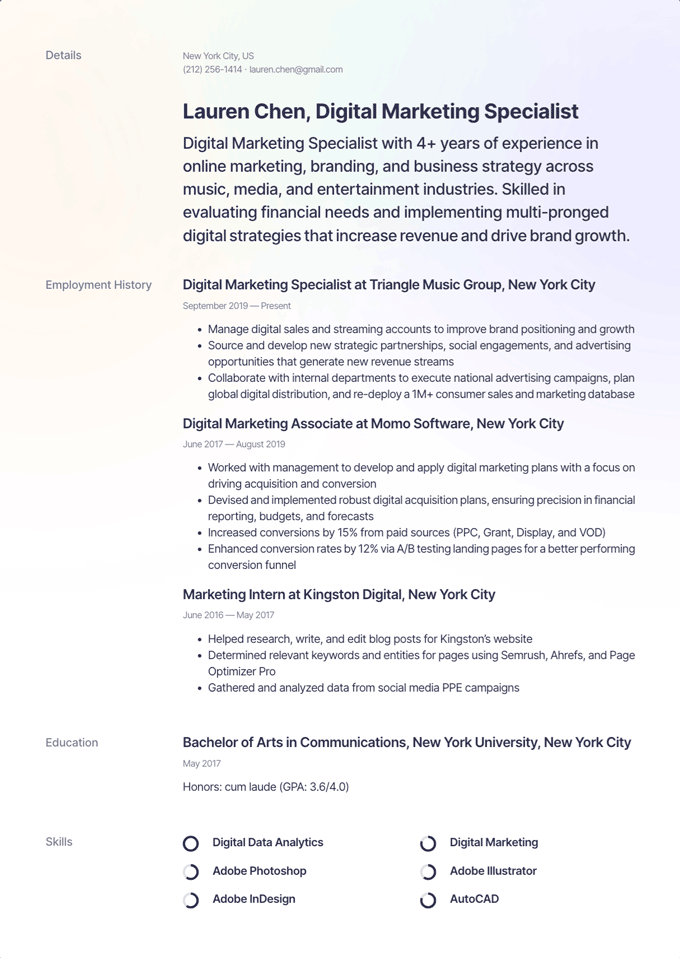 With an exceptionally large resume objective section and a skills section that includes donut charts to indicate a candidate's skill level, this resume template can help you highlight your relevant skills and qualifications if you're lacking work experience.
Simple
The Barcelona resume is sophisticated and sleek, featuring an attractive skills section and colored headings that draw the eye.
If you want to keep it simple and professional, the Barcelona template could be a good fit.
Professional
Resume.io's Stockholm template is about as simple and clean as you can get.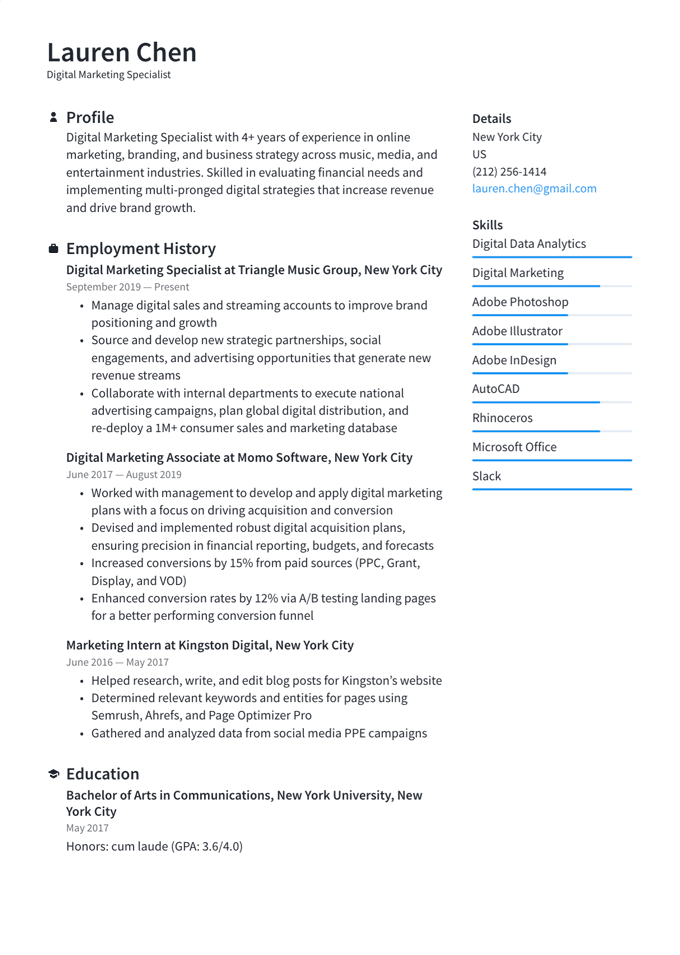 The skills bars draw attention to the candidate's technical skills, while the left column provides a clear overview of the candidate's work experience.
Modern
With a sophisticated two-column layout and a bold header, Resume.io's Amsterdam resume template provides an understated backdrop for your professional accomplishments.
The clean lines and simple two-toned palette create a professional impression.
Frequently asked questions about resume.io
Here are some common questions people ask about Resume.io, answered:
Is resume.io free?
No, Resume.io is not free. While some features on the website are free, like the ability to use the resume builder, downloading your resume as a Word Doc or PDF file requires a paid subscription.
You can opt for a 7-day trial subscription for $2.95 (which auto-renews and then charges $24.95 every 4 weeks), or pay $44.95 for 6 months or $74.95 for 1 year.
Is Resume.io safe?
Yes, using Resume.io is safe. Their website uses a secure connection to protect user information. However, it's always best to be cautious when providing sensitive information online, especially any credit card details.
If you plan to use Resume.io, ensure you're familiar with their privacy policies, payment and cancelation policies, and third-party payment processors (Stripe SSL Secure, PayPal).
How do I cancel my resume.io subscription?
You can cancel your Resume.io subscription by logging into your account and accessing your account settings, or by contacting the Resume.io support team at support@resume.io.
Can I get a refund from resume.io?
No, unless the service you purchased has a guarantee, you cannot get a refund from Resume.io.
Resume.io does not offer refunds for subscription services or professional resume-writing services. See Resume.io's Terms of Service page for more details.
Additional resume builder reviews
For more information, check out more of our resume builder reviews: