Our free-to-use resume builder can make you a resume in as little as 5 minutes. Just pick the template you want, and our software will format everything for you.
Zety Customer Reviews
Reading reviews from people who've used Zety will help you decide if it's right for you too. Here are examples of reviews of Zety posted by customers on Trustpilot and Sitejabber:
Trustpilot
There are 3,660 (and counting) reviews of Zety on Trustpilot, averaging out to a 4.3/5 overall rating.

Here's a recent Trustpilot review of Zety:

Sitejabber
As of publishing this article, Sitejabber has 81 reviews of Zety, resulting in a 4.68/5 overall rating. This is a good example of a review of Zety on Sitejabber: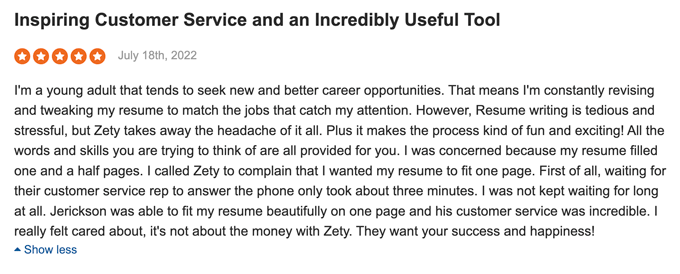 Our Zety Reviews
After trying out Zety's job hunting services, these are our overall thoughts:
Offers help for each step of the job hunt
Makes building a resume, CV, and cover letter easy
Gives good general AI-generated info as a guide
Provides simple, professional templates
Doesn't have human writers to answer questions and review documents
Requires paying for a subscription to download the application documents you build
Has no free templates
And here's what we think about each tool individually, including Zety's:
Resume Builder
Here's what we liked and didn't like about Zety's resume building process:
Gives you 18 templates to choose from
Optimizes your resume for applicant tracking systems (ATS)
Uses AI to generate content for every section of your resume based on your job title
Templates are good but not made to stand out visually
Writing tips aren't in-depth (e.g., the work experience section tips only deal with what information to put in headers)
Tricks you into making an account before telling you that you have to pay to download your resume in their template
And here's everything else you need to know about Zety's resume builder:
How does Zety's resume builder work?
This is how Zety's resume builder works:
When you click into the builder, you'll first pick from one of 18 resume templates and from 9 different color schemes.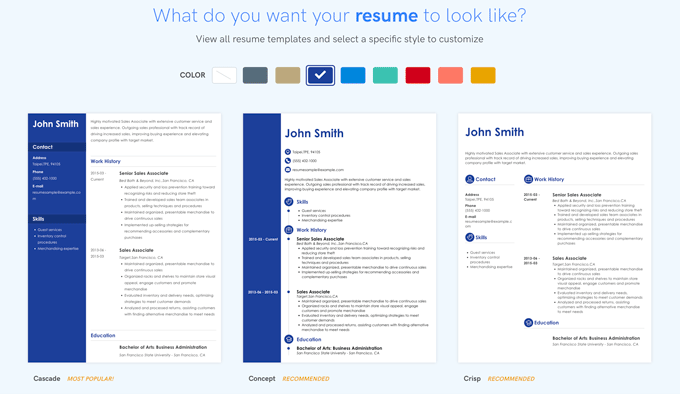 Then you'll get the option to either start from the beginning or to have Zety pull the information from your current resume. Either way works well (although the upload version missed a few details, like the job title in our resume header and the LinkedIn profile in our contact information).
Next, you'll go through and answer questions to fill in each of your resume sections, including the following:
Contact information
You'll fill in your contact information, and the Zety resume builder will automatically format it on the template you chose: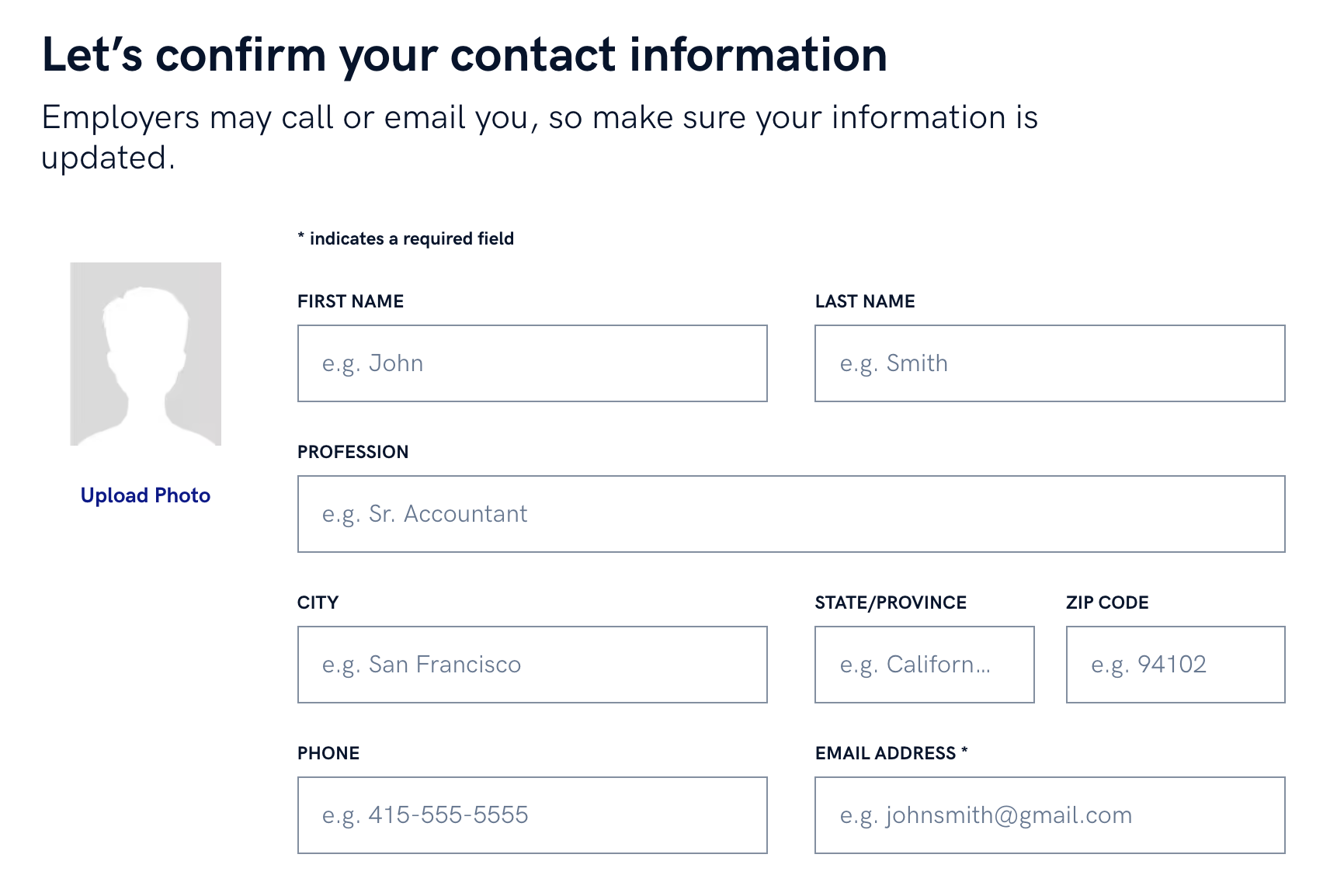 Work experience
After you enter your current or previous employers' name, your job title, and the dates you worked there, you'll be able to choose from AI-generated bullet points based on your job title to describe your duties.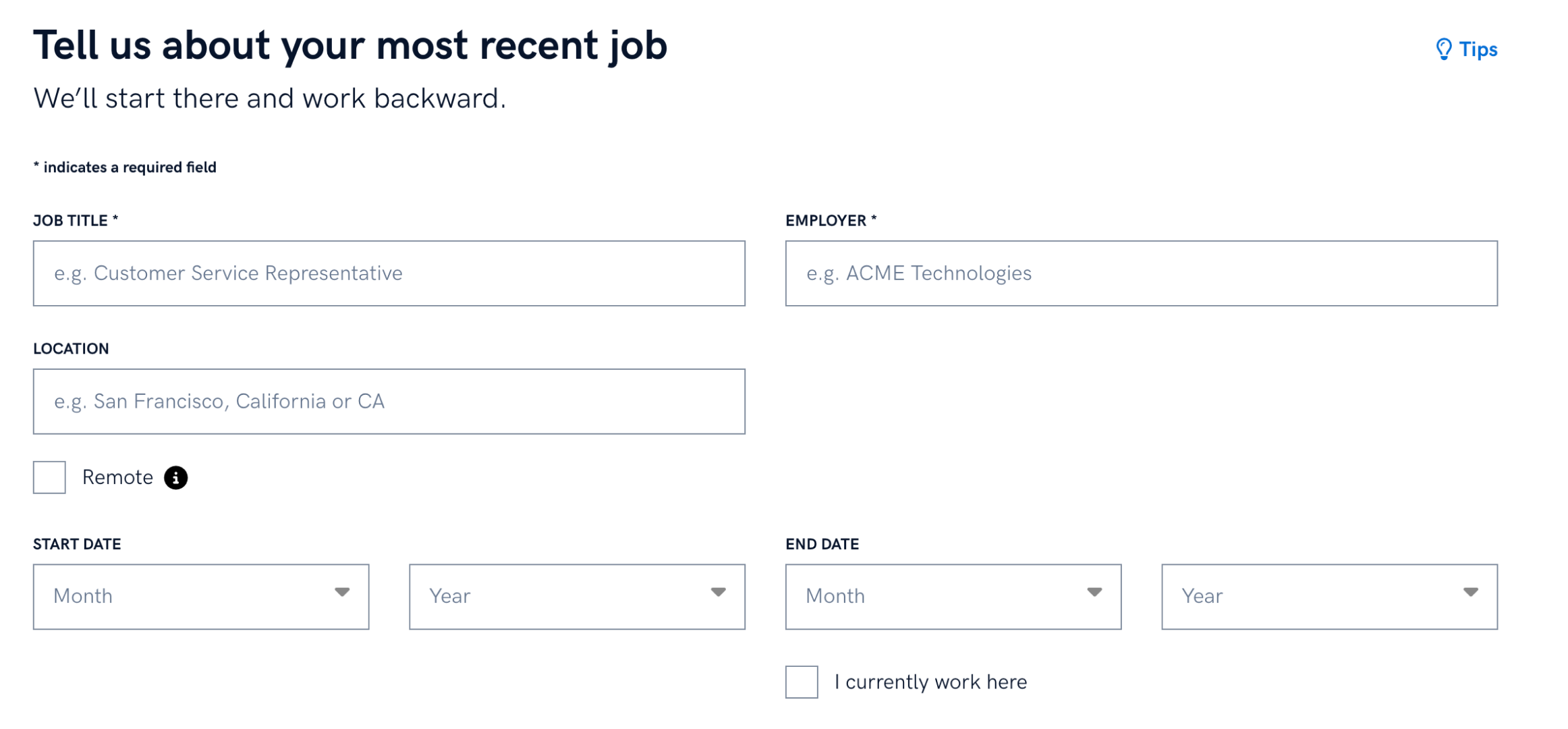 Here are the pros and cons of the work experience section of Zety's resume builder:
Easy to use
AI-generated bullets are relevant to the job and begin with action verbs
Tips only offer information about how to write the headers for each entry
Only offers bullets written in past tense (your current job should be written in present tense)
Doesn't offer enough templated bullets that prompt you to include specific numbers and examples
Education
To build your education section with Zety's resume builder, you just fill out a form, and the builder formats your degree, diploma, or certificate for you.

This part of the builder gives you exactly what you need. It even offers templates for putting additional information like awards and extracurricular activities on your resume. The only problem we found is that there's no template for listing relevant coursework on your resume — but you can still write it yourself.
Skills
When you make your resume's skills section, Zety gives you the option to search for skills to add by your job title, industry, and keyword.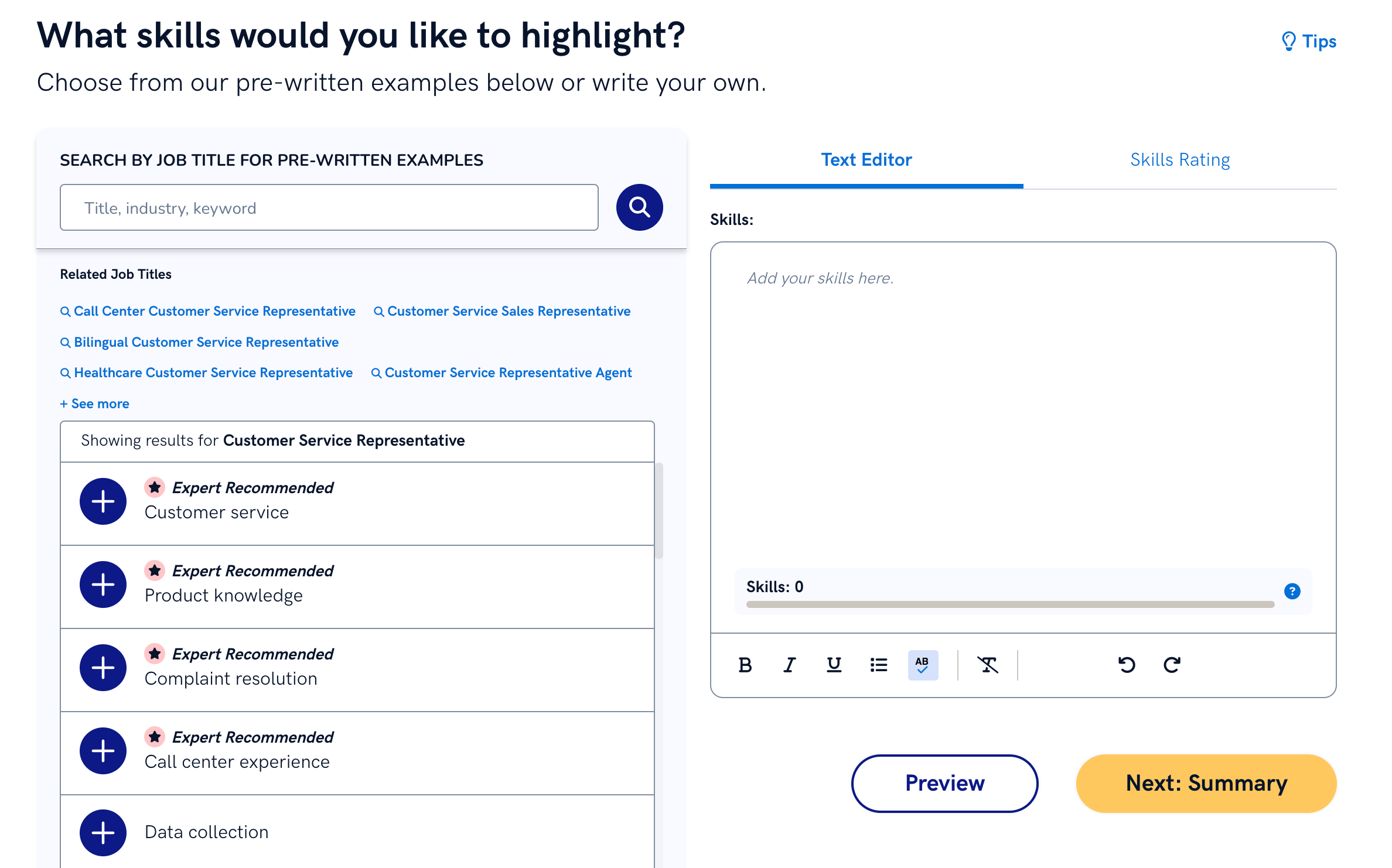 We don't have anything negative to say about this part of Zety's resume builder. It's a useful tool for building out your skills section.
Summary
One of the most difficult parts of making a resume is writing an engaging resume summary that summarizes your most relevant qualifications to convince the hiring manager to read the rest of your resume. If you don't want to write your own resume introduction from scratch, Zety's resume builder gives you pre-written summaries based on your job title.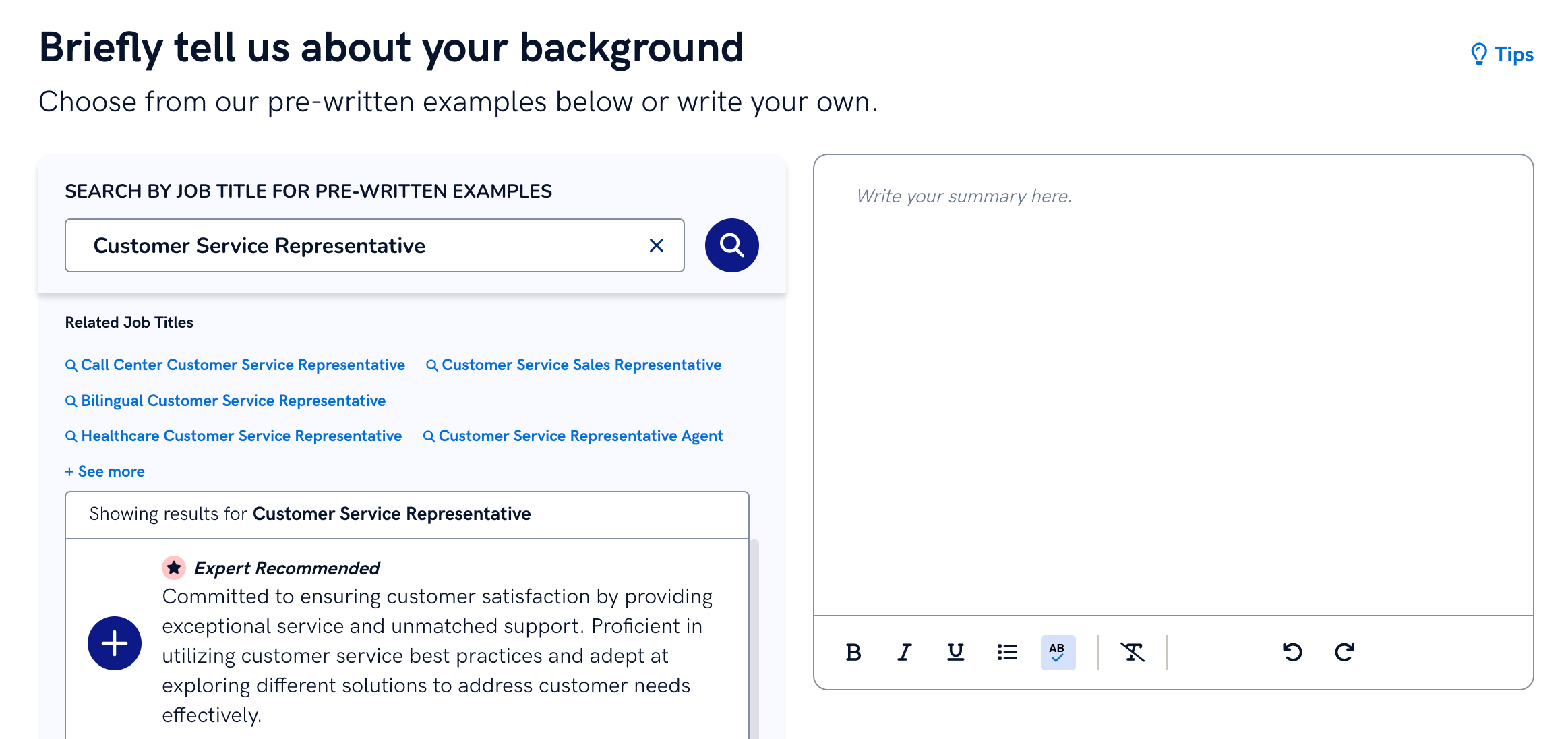 These resume summaries are good starting points, and Zety does offer good advice about tailoring your summary to the job ad in the tips for this section.
Extra sections
Once you've completed every section that goes into a typical resume format, you can add sections for additional details like certifications, language skills, and interests on your resume.
When you're done building out your resume's content, you can change the template and color, run a spell check, and quickly adjust the resume formatting with easy-to-use sliders and a menu of 16 of the best resume fonts:

Finally, you'll be able to download your resume as a PDF or Word document — but only if you pay. There's also a .txt version of your resume that you can actually download for free, but Zety has no free-downloadable templates, so you'll have to go offsite for that.
Fortunately, there are many professionally designed resume templates online that you can use for free.
Cover Letter Builder
Even if you write the perfect resume, your job application isn't complete without a well-written cover letter. And Zety has a cover letter builder, which we tested to find these pros and cons:
Uses AI to write your whole cover letter
Lets you adjust the tone or theme of your cover letter with a few clicks
Produced some strange formatting on the cover letter we built
Have to pay to download your cover letter as a PDF or Word document
And here's how Zety's cover letter builder works.
You'll start by answering a series of questions about your:
target job
hard and soft skills
years of experience
job title
career gaps (if any)
working style (artistic, enterprising, investigative, organized, practical, or service-oriented)
Zety will then use this information to generate a cover letter that you can customize by:
filling in templated information
clicking on each section to view AI-generated alternatives
editing the pre-written text
You also get the option of changing your letter type based on your experience, industry, situation, and theme: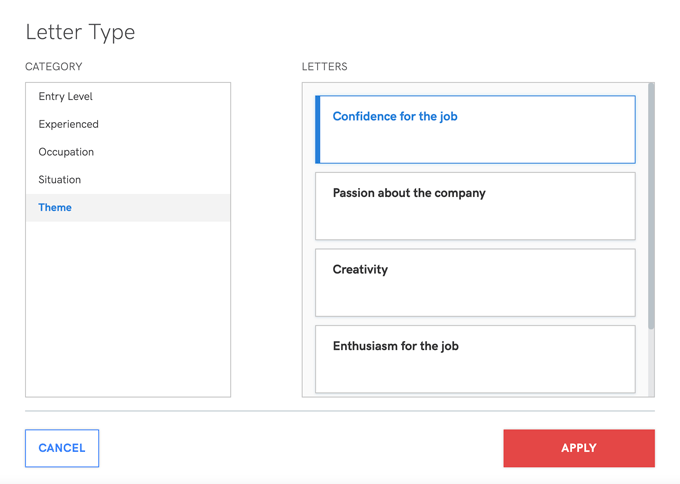 Below is the cover letter we built with Zety's cover letter builder: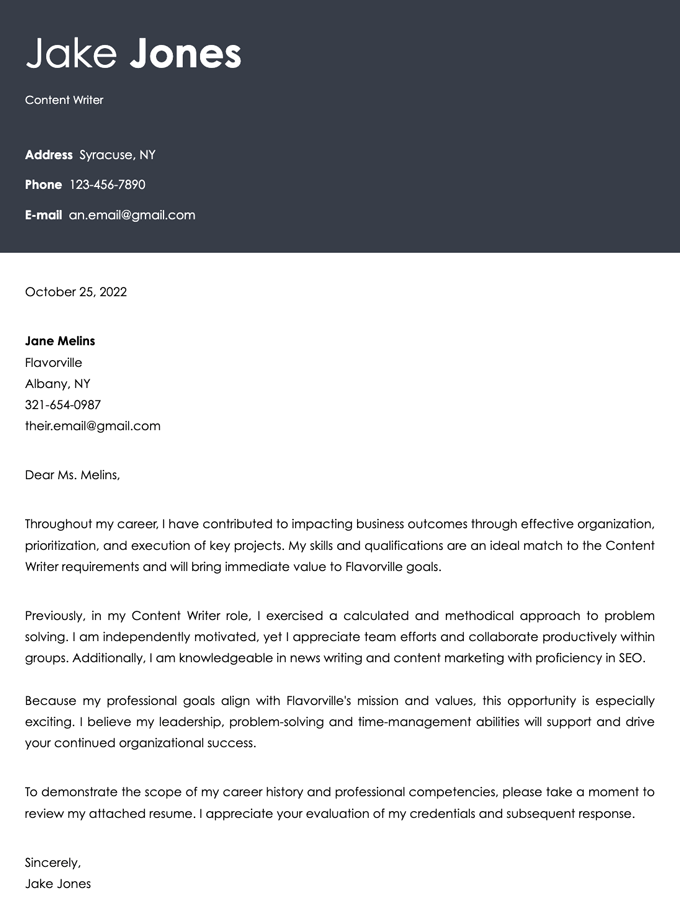 The main problem we experienced was that the spacing between paragraphs varies. (Look closely, and you'll see less space between the two body paragraphs than between the other paragraphs.) We used Zety's formatting sliders to adjust the section spacing but couldn't get the letter to look exactly right.
Other than that, Zety gives you plenty of content options. As long as you're willing to put in the work to customize the AI-generated paragraphs to add hard numbers and target a specific job ad, you can make a job-winning cover letter with their builder.
Templates
Zety has just 18 resume templates to choose from, as well as 18 corresponding cover letter templates. They also list 18 CV templates, but they're the same as their resume templates.
The templates are mostly well-designed for easy skimming, with clear header structures and section spacing. They're all straightforward and professional, making them good for any industry — although, a few creative resume templates for creative industries would be a good addition.
Zety's templates also include design elements like:
Here are two examples of Zety's resume templates: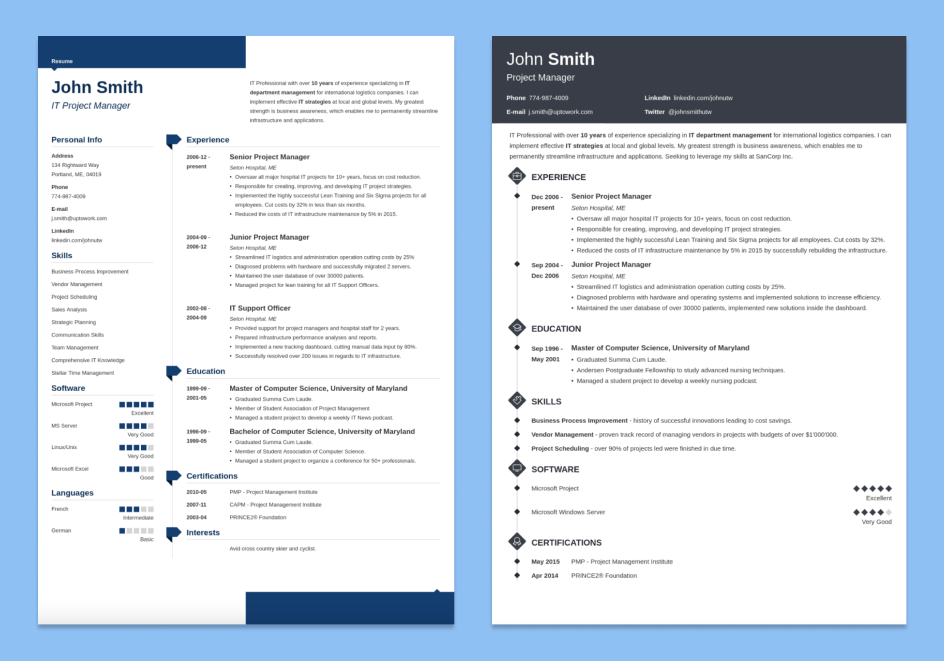 The template on the left is a bit difficult to scan, as the reader's eyes are automatically drawn to the skills bubbles and ribbons clustered at the bottom left.
And the template on the right, although much easier to read, has too much white space, making it appear empty.
Other Resources
Here are some quick reviews of Zety's other resources and tools for job seekers, including their:
Resume Checker
If you pay for Zety, you'll get the option to run your resume through their resume checker. The checker scans your resume and highlights areas that need fixed or improved, including:
typos
formatting mistakes
a lack of measurable results
wording issues
The best part about Zety's resume checker is that it can help you target your resume to a specific job. All you have to do is upload the job requirements from the job ad you're responding to, and the checker will point out keywords from the job description that you forgot to put on your resume.
Be careful with the resume checker if you use it, though. Automated tools like these can push you to overuse keywords. While stuffing your resume with these words and phrases from the job ad can get it past an ATS, it still needs to be written so that the human deciding whether to interview you can easily read it.
Online Resume
Zety can make an online resume for you (but only if you pay, of course) that you can link to and track. Anytime a new recruiter or hiring manager clicks on the link, you'll know.
Creating an online resume is worthwhile if you're paying for Zety's other tools, but it's really just a watered-down version of your LinkedIn account.
Job Search & Application Tracking Tools
Finally, Zety has resources to help you find positions to apply to and track your job applications. These tools let you:
view recommended job postings
click directly into job searches on most major job boards based on your resume's job title and address
see how well your resume matches job requirements
save job ads and track your applications
Having these options is convenient if you're a paid subscriber to Zety. However, you'll have better luck finding jobs that match your needs by going to job boards and setting the search filters yourself.
Frequently asked questions about Zety
Still not sure about Zety's resume builder? Here are some commonly asked questions about Zety:
How much does Zety cost?
Zety costs $2.70 for a trial period, after which they charge $23.70 every 4 weeks. However, if you decide not to use one of Zety's resume templates you can also download your resume for free as a text file.
Here's a more detailed look at Zety's prices:
| Plan | Cost |
| --- | --- |
| 14-Day Trial | $2.70 (but after 14 days automatically upgrades to a full subscription that bills at $23.70 every 4 weeks, or $308.10 per year) |
| Monthly Access | $71.40 per year |
How do I cancel my Zety subscription?
You can cancel your Zety subscription by clicking on "My Account" and then navigating to the "My Plan" section of the dashboard. Alternatively, you can call Zety's support team at 800-985-7561 or fill out a form on their contact page.
Is Zety legit?
Yes, Zety is legit. You can use it to create well-written, professionally designed job application documents, and to track your job applications.
How do you download a Zety resume for free?
You can download a Zety resume for free by clicking the "Download" button at the final step in their resume builder. Then, select "Plain Text (.txt)" from the menu and hit download. This will download your resume for free as a text file.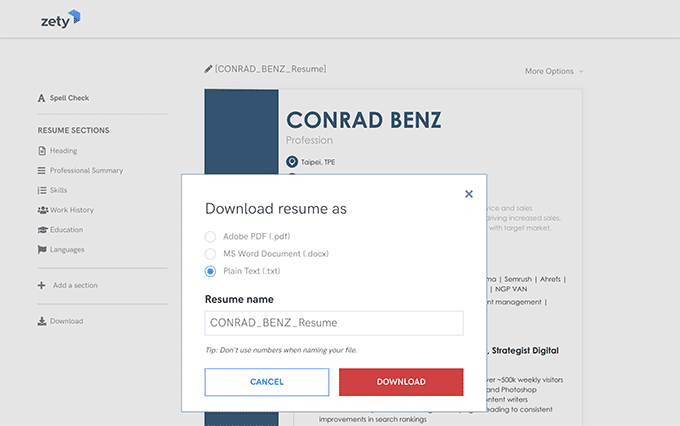 However, this file won't include the resume template that you selected in Zety's resume builder, so if you want your resume to look nice you'll need to reformat it yourself.
Is Zety free?
No, Zety isn't free. You have to pay to download the templated versions of any resumes, CVs, or cover letters you make with their builders. Also, you'll have to pay to use Zety's resume checker and online resume generator.
Is Zety safe?
Yes, Zety is safe. Zety is one of the most popular career resource websites on the internet, and its products are used by millions of people each year.
Additional resume builder reviews
Looking for more options? Here are some other popular online resume builders that we've reviewed: