TopResume is one of the most well-known online resume writing services on the market.
But are their services worth your money?
We'll break down how TopResume's resume-writing process works and highlight some customer reviews so you can decide if TopResume's service is right for you.
How does TopResume work?
TopResume is a resume-writing service that provides customers with a customized resume based on a questionnaire and other resources you provide them. In addition to helping you write a resume, TopResume also offers cover letter writing services and LinkedIn profile optimizations.
TopResume also boasts a large network of resume writers that makes quick turnaround times possible, but third-party reviews indicate that the quality of writing varies.
To help you decide if TopResume's service is a good purchase, we've done the research for you — here's what you can expect when you use TopResume's services:
Using their free resume review
Many of TopResume's customers discovered their service through the free resume review, which gives you initial feedback on your resume.
Though their website states that this service provides "personalized and actionable feedback", the feedback actually seems to be templated. For instance, multiple reviewers mentioned that the review used the same, vague phrasing such as "visually uneven" and "not polished" to describe their resume.
Because this is a free service, don't expect unique results from the resume review. Instead, consider it a way to get general advice for improving your resume and a preview of what TopResume's keyword scanning software can determine about your professional background.
The resume writing process
TopResume offers three different resume writing plans:
Once you've chosen your preferred plan, you need to fill out a questionnaire and submit your current resume (if you have one) so your writer can get started.
Then, you'll receive the first draft of your resume. Depending on the service you chose, you may also receive a cover letter and a guide with suggestions for improving your profile on LinkedIn.
After reviewing your documents, you can message your writer using TopResume's online portal if you'd like to request revisions. According to their website, revisions must be made within seven days after you receive the first draft.
Once you and your writer have settled on a final version of your documents, you can download the final copy of your resume. We recommend requesting Word files so you can make additional adjustments if needed or update the document easily in the future.
TopResume customer reviews
Let's take a closer look at what online reviewers have to say after trying TopResume:
TopResume Sitejabber reviews
On Sitejabber, reviews of TopResume are good overall, with over 75% positive reviews in the past 12 months. Out of more than 5,000 reviews, their overall rating is currently 4.3 stars.
There is, however, a notable amount of one-star TopResume reviews on Sitejabber, so it's worth reading both positive and negative reviews.
TopResume Trustpilot reviews
The TopResume reviews on Trustpilot are similarly distributed — the vast majority of reviews are positive, but 11% of reviewers gave TopResume one star.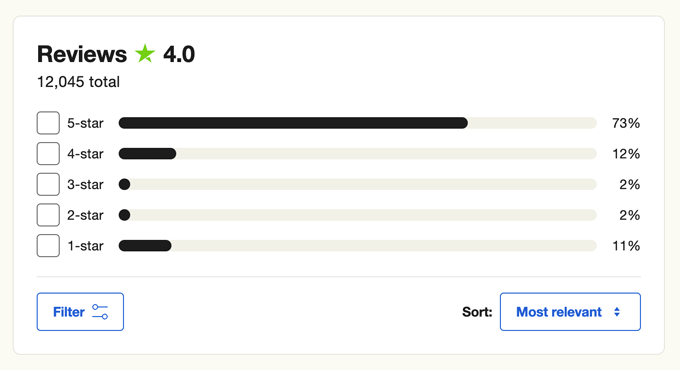 TopResume has an overall rating of 4 stars on Trustpilot with over 12,000 reviewers to date.
TopResume Yelp reviews
In contrast with the two previous sites, Yelp reviews of TopResume are overwhelmingly negative with an overall rating of just one star. That being said, TopResume has just over 40 reviews on Yelp compared to thousands on the previous two sites.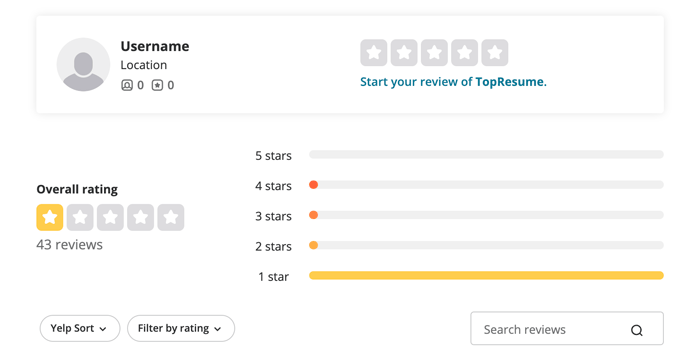 Common complaints include lower-quality results than expected and difficulty communicating with writers. Several reviewers also noted that the service wasn't very useful for more experienced professionals.
Our TopResume Review: Is TopResume worth it?
Overall, TopResume can be a good option for entry-level job seekers who aren't confident in their resume-writing skills or don't have time to write their resume.
That being said, the amount of negative online reviews suggests TopResume is not a good choice for everyone. Common frustrations with the product and service include grammatical errors, fluff, and poor communication with writers and customer service representatives.
Here are some of the main positives and negatives of using TopResume:
Keyword-optimized resume

Quick turnaround time

Ease of use
No-refund policy

Final product is lower-quality than some competitors

No information about resume writers
One of the standout features of TopResume is their use of keyword-scanning software to create an ATS-friendly resume. Hitting the appropriate keywords for your industry can give your resume a boost and increase your chances of getting more interviews, so we consider this a pretty valuable feature.
However, there are many other options for creating a keyword-optimized resume available online, like using a resume builder.
Considering both the pros and cons, TopResume is a decent option for those who have little resume-writing experience. But more experienced professionals will probably benefit more from a different service.
Frequently asked questions about TopResume
Still not sure about TopResume? Here are some answers to the top questions asked about TopResume and their resume writing service:
Is TopResume legit?
Yes, TopResume is a legitimate online resume-writing service. However, some online reviewers were disappointed in the results, citing a low-quality product and poor customer service as two of the main reasons.
How much does TopResume cost?
TopResume costs between $149 and $349 depending on which plan you choose. They have a payment plan available for customers who prefer to make monthly payments.
However, there may be additional charges involved, such as an unspecified fee for a call with your resume writer.
Can I get a refund from TopResume?
No, TopResume doesn't provide refunds for their services. You may, however, be eligible for a rewrite of your resume if you're not satisfied with the results.
If you choose TopResume's mid or top-tier package, they offer a 60-day guarantee. Their website states that they will rewrite your resume one additional time if you don't receive "two times more job interviews within 60 days of receiving your resume".
Additional Resume Service Reviews
Not convinced TopResume is the best choice for you? There are plenty of online services available to help you create your resume. Take a look at some of the reviews below to help you decide: