For millions of users, Canva is the go-to website for content creation. Canva offers a variety of mediums, including whiteboards, presentations, social media templates, videos, websites, and user-friendly design tools.
With a popular array of resume templates, we wanted to see how the Canva resume builder stacks up to some of the best resume builders on the market.
Our free-to-use resume builder can make you a resume in as little as 5 minutes. Just pick the template you want, and our software will format everything for you.
Here's our review of Canva's resume options, with customer reviews and pricing information:
Customer reviews of Canva
Overall, Canva receives positive reviews from its customers.
On G2, Canva has an average of 4.7 out of 5 stars, and is ranked as one of the top 50 Design Products of 2022.

Canva's average rating on TrustRadius is 9/10, with over a thousand reviews.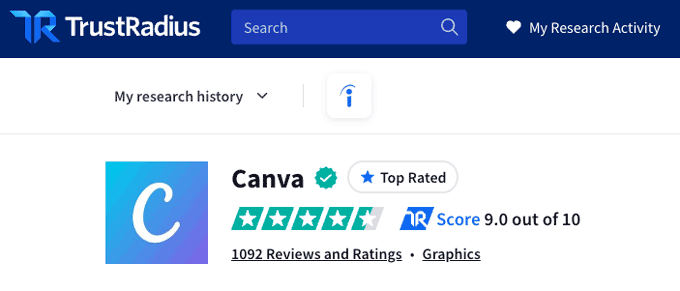 However, Canva doesn't fare as well on TrustPilot, with an average rating of 2.2 out of 5 stars.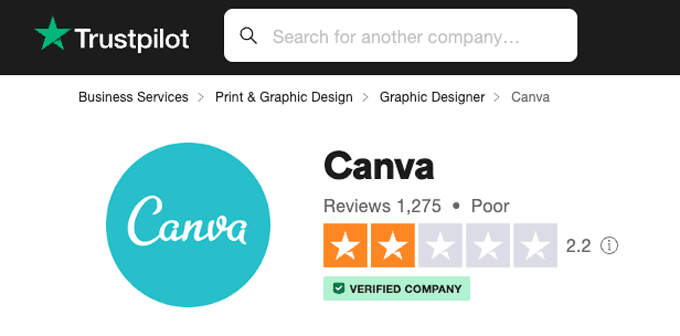 Most of the bad reviews are concerned with poor customer service performance and occasional bugs that result in lost work. However, on the whole users seem happy with the design features Canva provides and love the ability to create so many materials on one platform.
Canva cost
You can create a Canva account for free, or choose to upgrade to a Canva Pro to access more features. They also have a plan available specifically for teams to collaborate on designs.
Here's an overview of Canva's plans and pricing:
Plan
Canva Free
Canva Pro
Canva for Teams
Details
Unlimited access to premium content, only one person can use it.
Canva pro for teams with additional collaboration features.
Cost
Free
$119.99 per year or $12.99 per month
$149.90 per year (for the first 5 people) or $14.99 per month
Features
Drag-and-drop editor

250,000+ free templates

100+ design types

1+ million photos & graphics

Invite others to design

Printable products & delivery

5 GB cloud storage
100+ million photos, videos, audio, graphics

Unlimited features

610,000+ templates

Brand kits, logos, colors, & fonts

Folders

Magic resize

Background remover

Social media scheduling

1 TB cloud storage

Customer support
All Canva Pro features

Brand controls to guide team design

Workflows, activity logging, project management tools

Ability to create branded templates

Settings for locking elements or making them editable

Team reports

Pay as you grow

SSO

ISO 27001 certification and compliance
Our Canva resume builder review
When it comes to writing a resume, you want to make sure you're not wasting your time and energy. Professional documents like resumes have a lot of specific requirements you need to meet.
To help you decide if the Canva resume builder is the right choice for you, we created a resume and cover letter using Canva to test out their templates and interface.
Here's how to create a resume and cover letter in Canva:
1. Choose a template
Go to Canva's templates option, and find resumes under the business category. Scroll through to select one you like.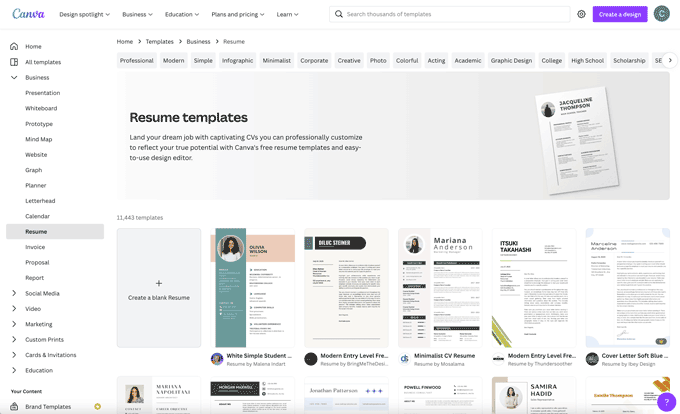 2. Customize your template
To edit any of the text, simply click on the text box, delete the existing text and write in your own.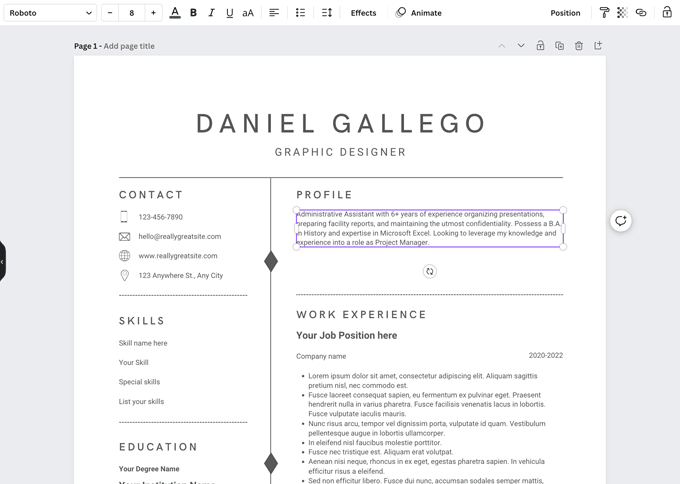 3. Adjust your formatting and font sizes
The particular template used in our photos was using a size 8 font, which is too small. A resume font size should be 10 or 12, because anything smaller might be too difficult for employers to read, and anything bigger makes it look like you're just filling space.
After changing the font size, you'll need to adjust the formatting of your resume by changing the spacing and alignment of your resume sections. You can drag and drop elements, or click on them and use the arrow keys to adjust them more carefully.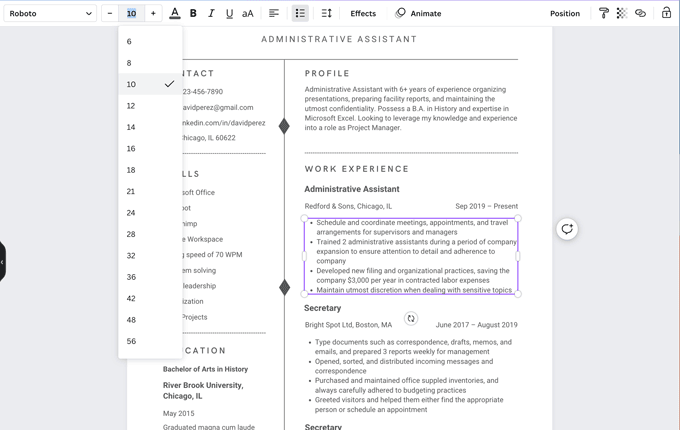 4. Edit your cover letter
We opted for a resume template with a matching cover letter template. There are some matching sets on Canva, which will display multiple pages.
Simply copy-and-paste your cover letter text (or write it from scratch), remembering to make it as specific and tailored to each position as possible.
5. Download your document as a PDF
For a resume and a cover letter, it's ideal to have both a PDF and a Word Doc version. However, since you can't download your resume as a Word Doc from Canva, you can choose PDF.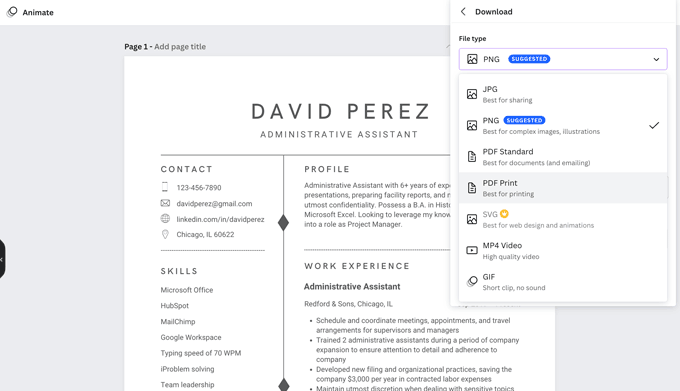 Canva resume builder pros and cons
After using Canva, here are the things we found we liked and disliked:
Easy to use
Appealing designs
Free & premium templates
Supports a wide variety of languages
Can't save resume as a Word Doc
Limited number of matching resume and cover letter templates
Templates may not be appropriate for formal industries
Templates may not be ATS-friendly
Miss out on the benefits of a resume builder that uses AI
Canva resume templates
One of Canva's strongest selling points is its large volume of available templates. To give you an idea of what they can offer, here are four of Canva's resume and cover letter templates:
Neutral minimalist resume
This neutral minimalist resume template offers a straightforward top-to-bottom format, which makes it easy for hiring managers to scan for information. It uses bold headings to break up each resume section, and the subtle green tones add a little personality.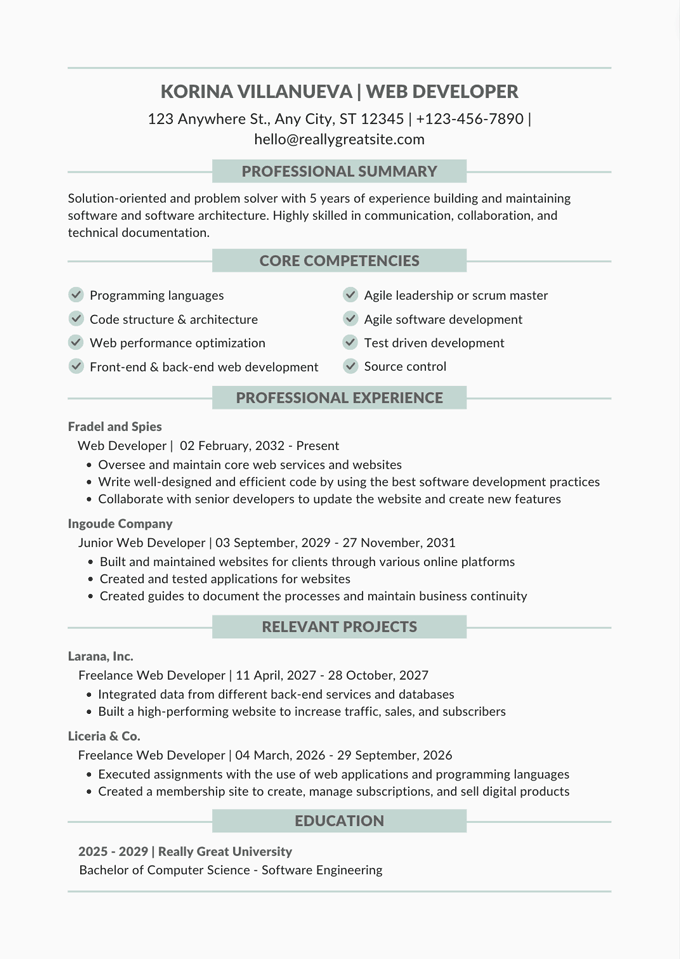 This resume works especially well for those who may lack professional experience, as it provides a "Relevant Projects" section for candidates to highlight their other relevant types of experience.
Minimalist modern resume
This minimalist modern resume uses a black, white, and gray palette to bring balance to the resume, separate each section, and draw the eye. It's a simple yet striking resume design that is sure to get a hiring manager's attention.
The skill bars offer candidates a chance to specify proficiencies and technical skill levels on their resume.
Canva cover letter templates
Here are two of our favorite cover letter templates that Canva has to offer:
Black and white cover letter
This black and white cover letter is simple but sleek and sophisticated. Design elements are minimal, with a horizontal black line providing a focal point that carves up the header. This eye-catching cover letter will have hiring managers intrigued.
Colorful minimalist cover letter
A more playful interpretation of the cover letter, the colorful minimalist template gives candidates a chance to express their vibrant personality with a simple and cheerful border. Choosing the best colors for your resume or cover letter can be tricky, but if you're looking to make a strong first impression, this might be the cover letter for you.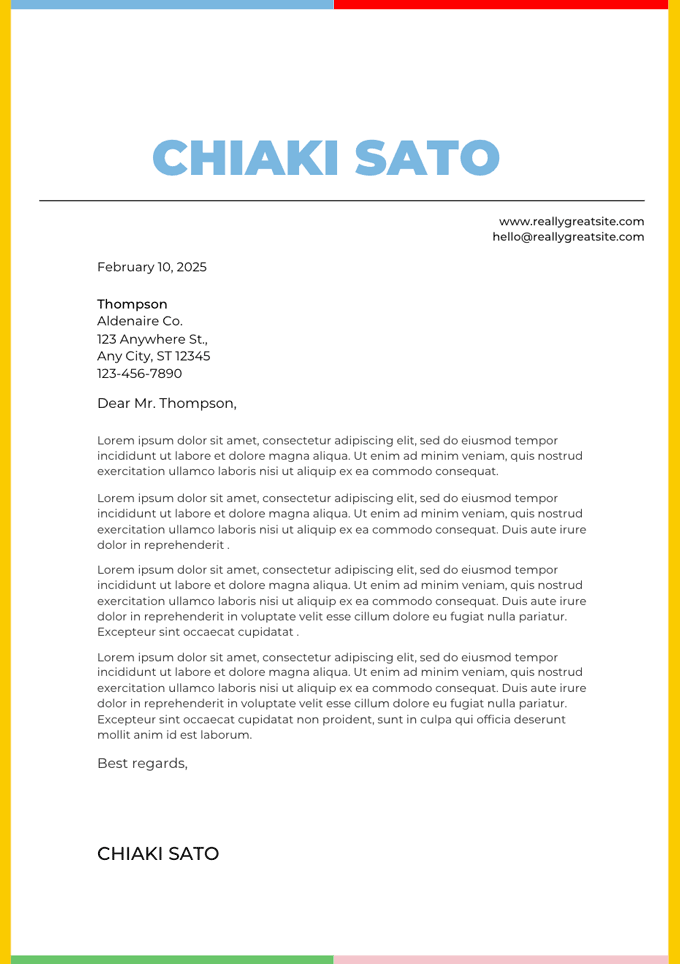 Frequently asked questions about Canva
Here are some of the most common questions people have about Canva, answered:
Is Canva Pro worth it?
Yes, Canva Pro is worth it if:
You have design needs that can be met by Canva
You need access to premium features
Remember, if you opt for a monthly subscription then you can cancel at any time, and you can always use your 30-day free trial period to test it out first.
What is Canva used for?
Canva is used for design, and offers many different kinds of content designs ranging from presentations to wedding invitations to daily planner pages. It can be used for personal purposes or by brands or companies to design content and marketing materials.
Is Canva free?
Yes, Canva is free. There is also the option of upgrading to a paid Canva Pro account if you want access to its premium features.
Is Canva safe?
Yes, Canva is safe to use. Canva has a dedicated team of security experts to ensure the platform is secure for its users. However, when working online, it's always better to err on the side of caution and avoid sharing sensitive or personal information.
Is Canva legit?
Yes, Canva is legit. It's a very popular design platform used by millions of people to design anything from their logos to their resumes. They have a wide variety of design tools that are easy to use, making Canva very accessible to users without design experience.
Additional resume builder reviews