Jobscan is a job-hunting service that focuses on helping you get your resume and cover letter past the applicant tracking systems (ATS) that many companies use to ensure their hiring managers only review qualified applicants.
But will Jobscan help you with your job search? Keep reading to find:
Our free-to-use resume builder can make you a resume in as little as 5 minutes. Just pick the template you want, and our software will format everything for you.
Optimizes your resume and cover letter for each job
Helps get your application through ATS
Can boost your LinkedIn profile
Offers actionable resume-improvement tips
Could lead you to overstuff your resume with keywords (making it unreadable)
Tricks you into paying for a subscription
Has a confusing interface
Is too expensive
Here are two reviews from each website — written by actual customers in 2022 — to help you decide if you should invest in Jobscan:
Trustpilot Jobscan reviews
There aren't many Jobscan reviews on Trustpilot (they have just 44, compared to 33,842 reviews of Resume Genius), but here are two of the most recent ones: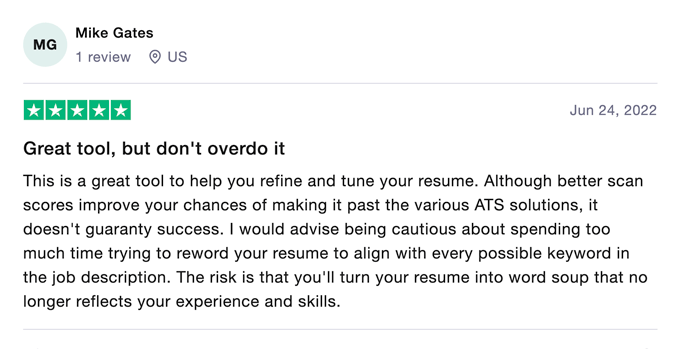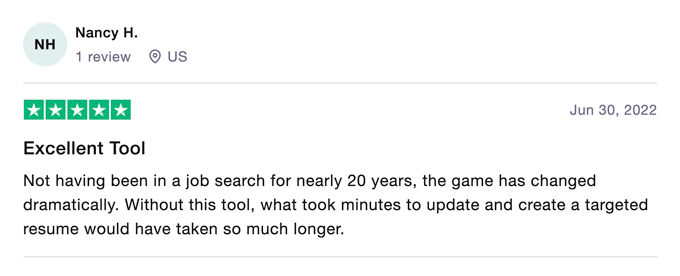 Sitejabber Jobscan reviews
Sitejabber has 1563 Jobscan reviews and ranks it 10th out of resume sites. Here are two Sitejabber Jobscan reviews from August 2022: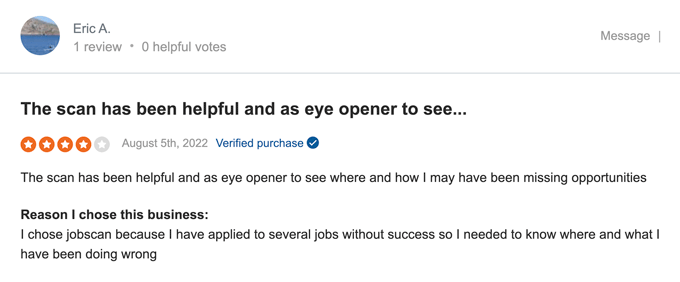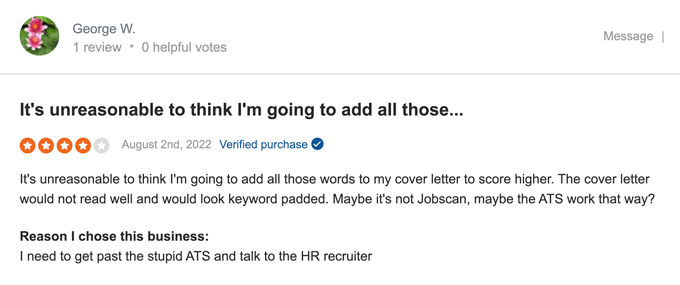 Our Jobscan Review
We went through everything Jobscan has to offer its users and put together this pros and cons list:
Offers a wide range of useful tools
Many features are free
Lets you analyze your resume against your target job ad
Helps you optimize your application based on the ATS your target company uses
It's expensive (the cheapest plan costs you $89.95 every 3 months)
Some users may find the tools hard to navigate (they've had to dedicate a significant portion of their website to tutorials)
They don't have many resume templates, and the ones they do have are basic
They don't offer cover letter templates
Their resume builder is too simple (no prewritten resume introductions or bullet points to help with the writing process)
Keep scrolling for a more detailed breakdown of Jobscan's services, answering the questions:
Are Jobscan's free features useful?
We've tried out and reviewed Jobscan's free features, including their:
Jobscan's Resume & Cover Letter Templates
If you're looking for a super simple resume template, Jobscan has 18 good ones to choose from. They're categorized by resume format (chronological, hybrid, and functional) and career level.
Here are two examples of Jobscan's resume templates:
Jobscan's resume templates are useful because they include:
What we didn't like about Jobscan's resume templates is that they:
So what about Jobscan's cover letter templates? Well, they don't have any. Their cover letter templates page is just a post about how you shouldn't use a templated cover letter.
And while they're partly correct – you shouldn't use templated information when you write your cover letter — they missed the point of using a template with a professionally designed cover letter header to make sure your cover letter stands out.
Resume Optimization
Jobscan's Resume Optimization tool scans your resume and gives it a rating based on how well it matches your target job description. The scan produces free advice in these categories:
Searchability: Ensures you include your contact information, your target job title, section headers, and the required education. This section also includes a useful ATS tip tool that uses the job application link to detect which ATS the company uses and offer advice for meeting that system's requirements.
Hard skills: Highlights the hard skills listed in the job ad and notes which ones are missing from your resume.
Soft skills: Detects the soft skills listed in the job ad and notes which ones are missing from your resume.
Other keywords: Catches any non-skills terms mentioned 3+ times in the job description and lets you know which ones you should add to your resume.
Recruiter tips: Checks your word count and whether your information matches the job you want, evaluates your resume's tone and points out cliches to remove, and makes sure you've included measurable results instead of just listing job duties.
Jobscan's resume optimization is definitely useful for comparing your resume to specific job ads to make sure you've customized your application to the role. However, you shouldn't blindly follow this tool, or you may make your resume too long or difficult to read.
It's not always possible to naturally fit every skill in the job requirements onto your resume. Instead, you should evaluate which skills the employer values the most, and emphasize those abilities.
Also, Jobscan suggests making your resume up to 1000 words — even though they advise on another part of their website that you write a one-page resume.
While their advice on how long a resume should be is correct, you'd have to use a tiny font to cram 1000 words onto the page. Doing so will make your resume impossible to read without zooming in (or without a magnifying glass if they're reading a hard copy).
Resume Builder
All good career websites offer a resume builder, and Jobscan is no different. We made a resume with Jobscan's builder and put together these pros and cons:
Easy to use
Creates a clean, well-formatted resume
Shows progress in the template in real time
Doesn't help you write your content (the best resume builders use AI to write your resume based on your answers to targeted questions)
Doesn't let you rearrange your resume sections
Only downloads as a .docx file (if you want a PDF resume, you have to convert it yourself)
We found Jobscan's resume builder useful only if you aren't looking for a standout resume design — and if you don't need any writing help.
If you want a resume generator that provides tailored content suggestions for your industry, check out our review of the best AI resume builders.
Career Change Tool
Jobscan offers a Career Change Tool that lets you upload your resume to see a list of ideas for careers you could switch to. When we uploaded a resume, these were the results: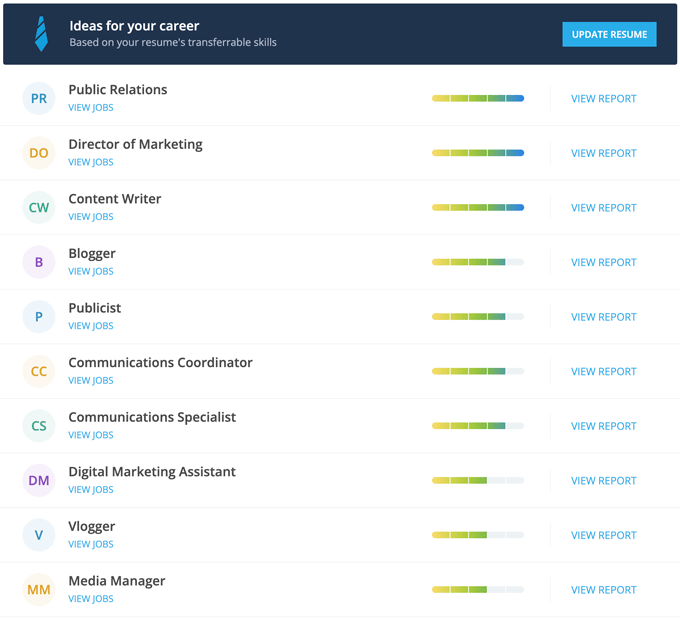 When you click "View Report" next to each career idea, Jobscan does a new resume scan to evaluate how well your resume matches an example job description from that career path.
This tool is useful as a general resource that gives you ideas of roles to target in your job search.
Job Tracker
Jobscan's Job Tracker is a place where you can organize your job applications. To use it, you simply create a card for each job you've applied to, and then move it through each step of the application process.
This tool is useful if you're paying for Jobscan because it leads you to paste each job ad and create a resume targeted specifically for it, showing the job match rating on the card.
However, if you're not paying for Jobscan, you'll only be able to scan 5 resumes per month. So if you apply for more than 5 jobs, the extra cards won't have the scan information.
Is it worth paying for Jobscan?
In most cases, we don't think it's worth paying for Jobscan because:
It costs a lot ($49.95 for the monthly plan, or $89.95 every three months)
You can apply the information you learn in their free resume scans to optimizing your cover letter and other resumes you submit
The information you learn in resume scans is also easily applied to your LinkedIn profile
But you should look into each paid service that Jobscan has to offer to decide whether you should pay or not. So here's more information on Jobscan's premium offerings, including:
Extra Features in Free Tools
Paying for a premium Jobscan subscription gives you access to these 4 extra features in their free tools:
1. Unlimited Scans
If you don't pay, you'll only get 5 resume scans per month. If you re-scan your resume each time you make the prescribed corrections, that's enough for two job applications.
But after a few scans, you'll have a good understanding of how to target your resume to each job you apply to. So you can just spend some extra time comparing your resume to the job requirements without the help of Jobscan's AI. However, if you want to save time, it could be worth paying.
2. Additional Findings
You can only access extra findings from Jobscan's resume scan if you pay. These additional findings include information about your web presence (a check to ensure you're adding your LinkedIn URL to your resume and to see if you should add a link to your portfolio or website) and a formatting review that checks your font and layout.
If you don't want to pay, you can easily find everything you need to know about how to format your resume and add your online profiles to your contact information with a quick internet search.
3. Cover Letter Scan
Paying Jobscan users have the option to scan their cover letters along with their resumes. The scan helps you ensure your cover letter:
lists contact information for you and the hiring manager
states your target job title
includes the skills from the job ad and mentions measurable results you achieved in past roles
maintains a positive tone and doesn't have cliches
is the standard cover letter length of 250–400 words (no more than one page long)
You can avoid paying for this cover letter advice by researching how to write a cover letter. The internet has everything you need to know about what to include in your cover letter to convince hiring managers to contact you for a job interview.
4. Power Edit
Jobscan's Power Edit feature lets you make changes to your resume on their platform and watch your job match rate increase in real time. This feature does save time because you don't have to upload your resume again after you've implemented Jobscan's suggested changes.
While Power Edit is a handy feature, we don't suggest paying $49.95 per month just for that.
Linkedin Optimization
Jobscan claims to be able to optimize your LinkedIn profile based on the social media platform's search algorithms to make it easier for recruiters to find you. When you connect your LinkedIn profile to Jobscan (you'll have to download your profile as a PDF and upload that as well), you'll get good general advice, including:
put your job title in your headline
quantify your work experience
avoid cliches
grow your network and share content
Jobscan's LinkedIn Optimization is a nice add-on service, but it might not be worth subscribing just for that feature because the advice given is mostly based on common sense. There are plenty of free LinkedIn profile guides that will give you the same help.
Jobscan Coach
If you're a professional who offers resume writing services, you may be considering paying for Jobscan Coach. Below are the pros and cons of this service:
You and your clients get access to all of Jobscan's premium services
You can track your clients' scan results
You can scan resumes and cover letters on behalf of your clients, or they can send results to you
It's expensive (either pay $199 a month or $3995+ annually)
You only get two client slots with a basic coach subscription
Every client slot you add increases your monthly payment
Additional resume builder reviews
Don't think Jobscan is the right choice for you? Read some of our other resume builder reviews: