Our free-to-use resume builder can make you a resume in as little as 5 minutes. Just pick the template you want, and our software will format everything for you.
The top 10 free resume review sites
These are the 10 best free resume checking sites, ranked from highest to lowest quality:
| Rank | Review Site | Review Speed | Review Features |
| --- | --- | --- | --- |
| 1 | Resume Worded | Instant | Line-by-line analysis, ATS optimization, general resume tips |
| 2 | Jobscan | Instant | Applicant tracking system (ATS) optimization, general resume tips |
| 3 | TopResume | 2 days | ATS preview, general resume tips, no need to make an account |
| 4 | ZipJob | 1 day | Human review, ATS preview, general resume tips |
| 5 | Hiration | Instant | Line-by-line analysis of work experience section, some specific resume tips |
| 6 | Ladders | Instant | ATS preview, link to free resume rewrite, general resume tips |
| 7 | Monster | 1.5 days | ATS preview, general resume tips |
| 8 | EnhanCV | Instant | General resume tips, free resume builder (with limited features and watermarked downloads) |
| 9 | LiveCareer | Instant | General resume tips |
| 10 | Employment BOOST | 2 days | Email results, general resume tips |
These free reviews offer mostly generic advice and lead you to pay for full services. If you don't want to pay, we recommend collecting different tips from a few of the top sites — but they will spam you, so remember to unsubscribe or use a burner email account.
1. Resume Worded
Resume Worded gives the most comprehensive free review we've found. Most of its free advice is general, but it finds your resume's weak spots and takes you through how to improve each part of your resume.
Most importantly, Resume Worded lets you paste the description of the job you want to optimize your resume for the various applicant tracking systems (ATS) that companies use to filter out unqualified candidates.
Here are the pros and cons we found when using Resume Worded's free resume review service:
Takes less than a minute to get results
Includes a resume targeting tool (under the Hard Skills tab) that compares your resume against a specific job ad
Scores every aspect of your resume
Has a great Line Analysis tool that gives feedback for every line of your resume
Locks most features and specific advice behind a paywall
Doesn't show you how the ATS views your resume
To see what to expect, click through these images taken from Resume Worded's review of our resume: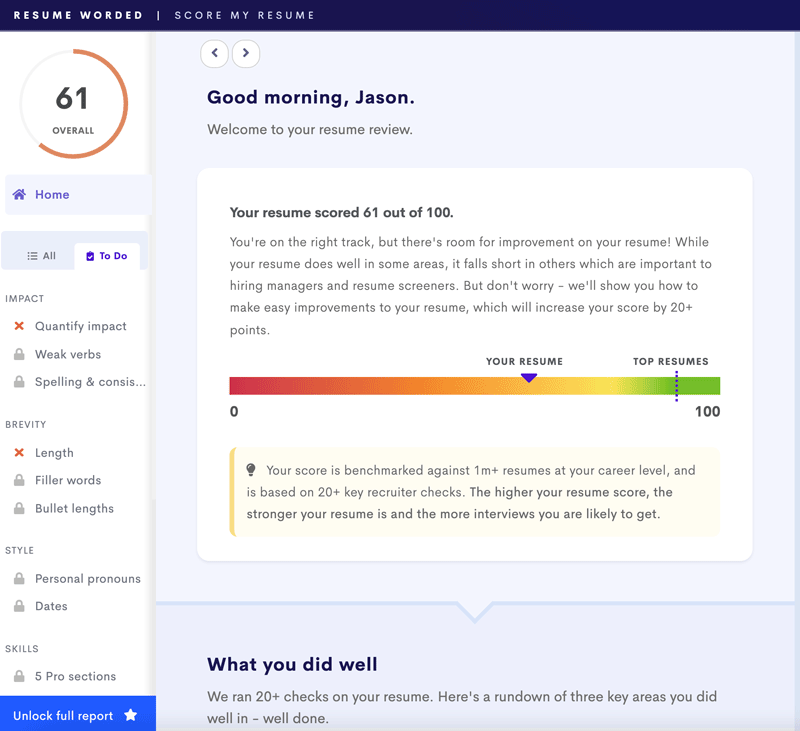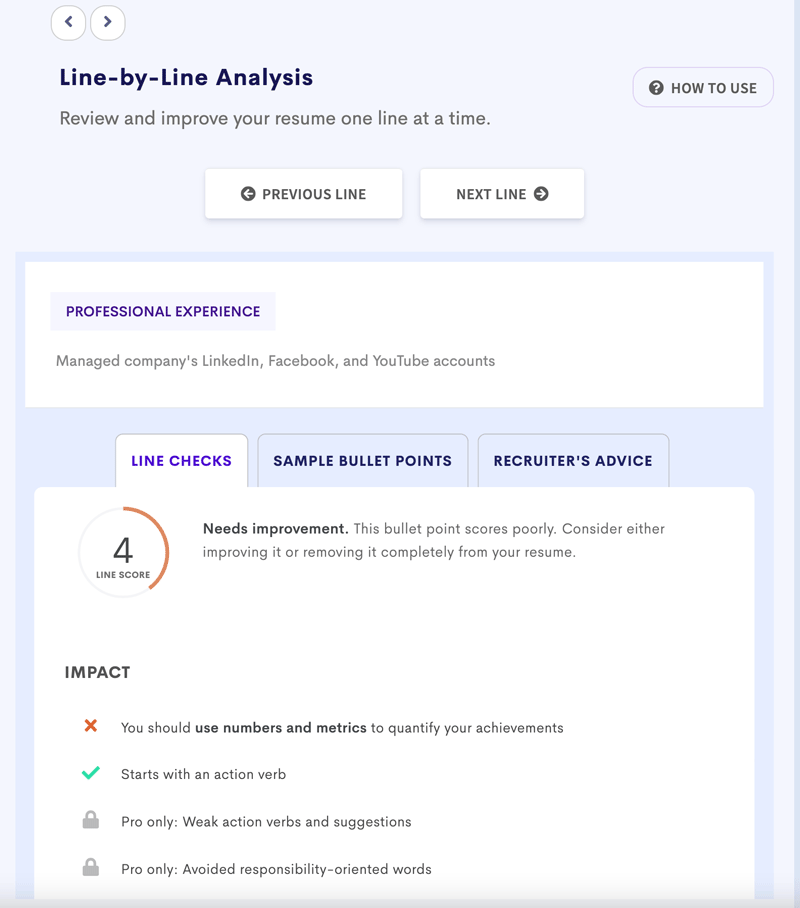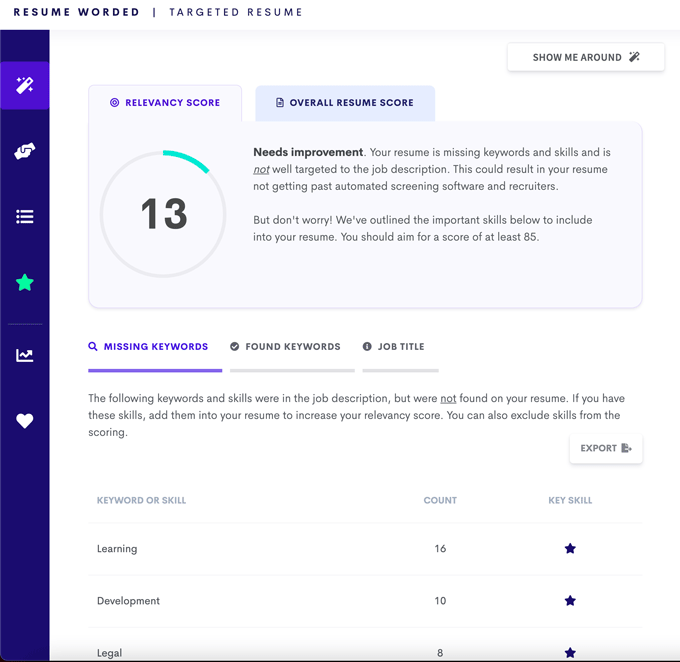 2. Jobscan
Jobscan is a good free resume review service because it puts your resume up against the job ad you're responding to and shows you where you're lacking relevant resume keywords and data.
Jobscan is runner-up on our list because it's not as comprehensive as Resume Worded's review.
Here are our takeaways from our experience with the Jobscan resume checker:
Gives instant results (although you'll have to create an account to see all the free results)
Helps you target specific job ads
Ensures your resume has the right resume keywords and formatting to pass the ATS
Points out errors on your resume and offers specific change suggestions
Leads you to make the changes and scan again to confirm your changes
Have to pay for their resume formatting check
Didn't catch resume cliches that other reviews did
Doesn't give you a sample of what the ATS will show the hiring manager
Isn't as comprehensive as Resume Worded's review
Here are some screenshots of the Jobscan resume critique, so you'll know what to expect: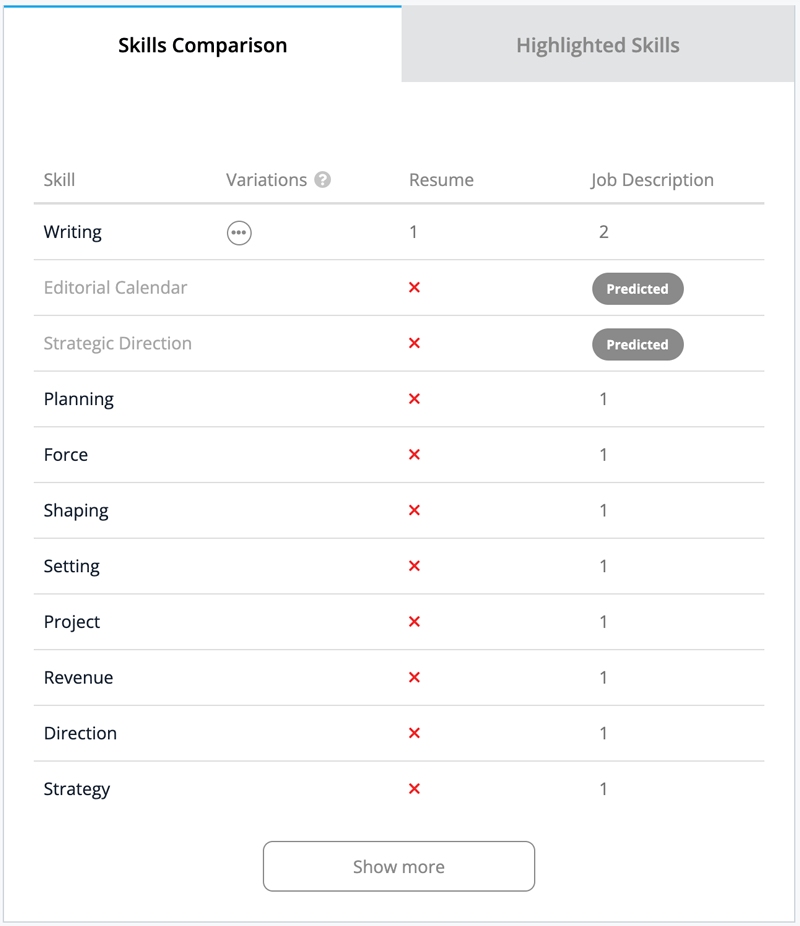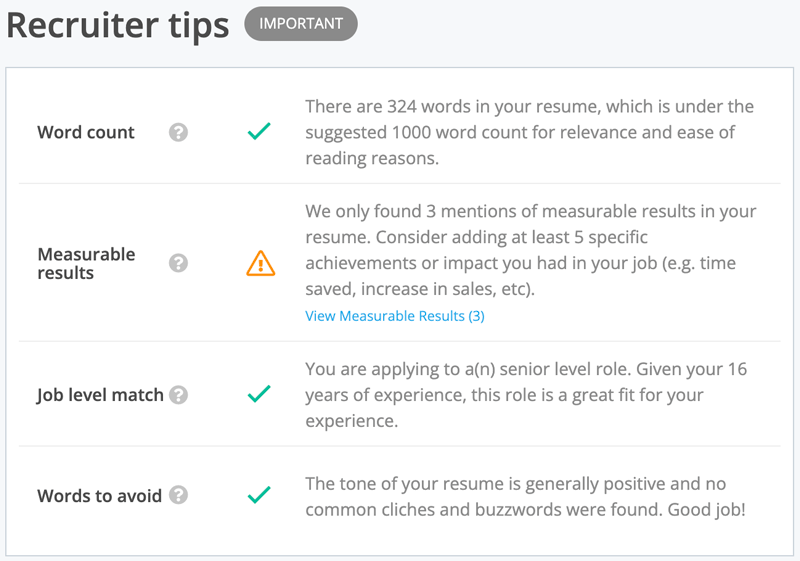 3. TopResume
TopResume takes third place on our list of the best free resume review services because they have an expert review then submit useful advice for how to improve your resume. Their review covers resume format and appearance, writing style, and ATS optimization.
This is what we thought of our TopResume review:
Points out specific problems on our resume
Shows what information the ATS will pull from your resume to help the hiring manager decide whether to read your application
Doesn't require you to create an account to access the free review and its results
Took a little more than 2 days to get results
Didn't deliver many specific solutions for problems
There's a lot of text to read through
Here are some screenshots from our free TopResume review: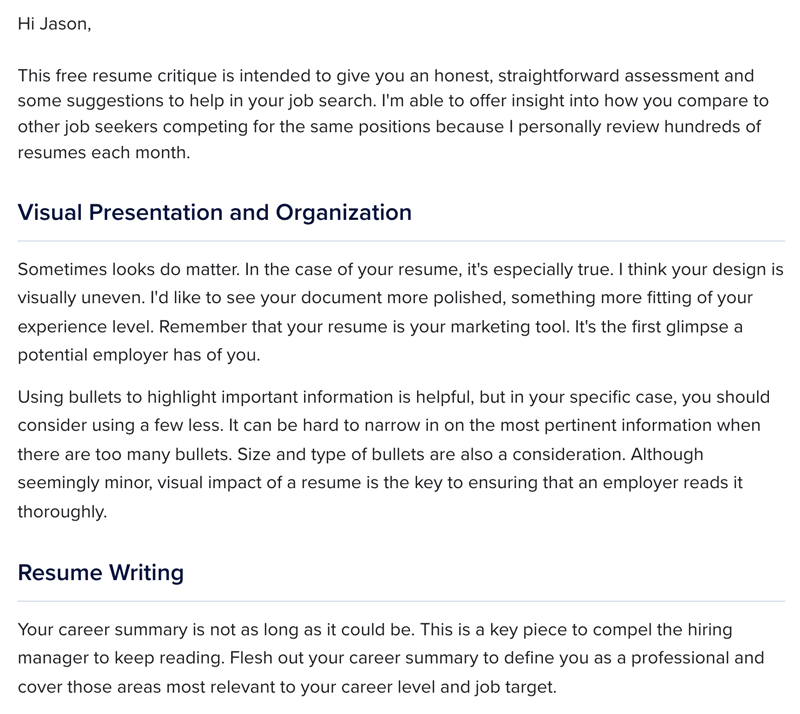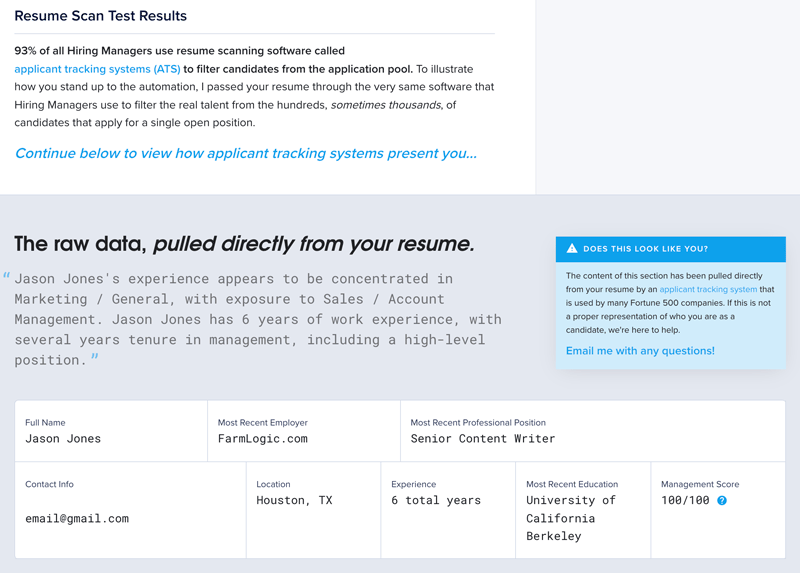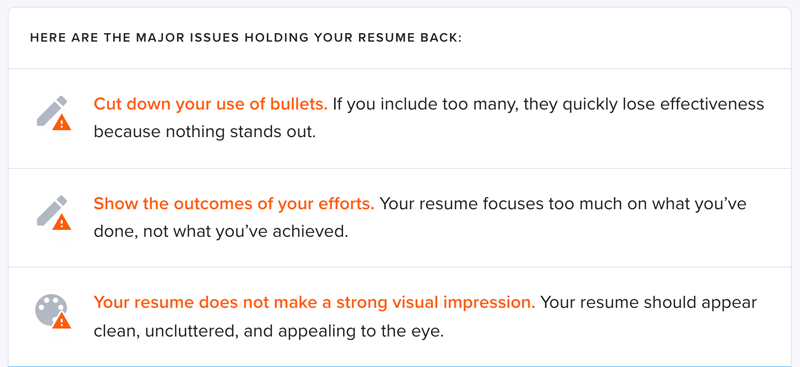 4. ZipJob
ZipJob's review is similar to TopResume's. Both reviews come from a human rather than software, and they cover the same topics. But ZipJob doesn't give as many specific suggestions for changes as TopResume does.
This is a summary of our ZipJob review:
Offers a review by a human expert
Provides a good picture of how the ATS views your resume
Helps optimize your file name
Took 21 hours to receive our review
Doesn't pull specific examples from your resume
Gives some questionable advice (e.g., advised we remove our resume summary, which is useful for grabbing the hiring manager's attention)
And here's a peek at what ZipJob's review looks like: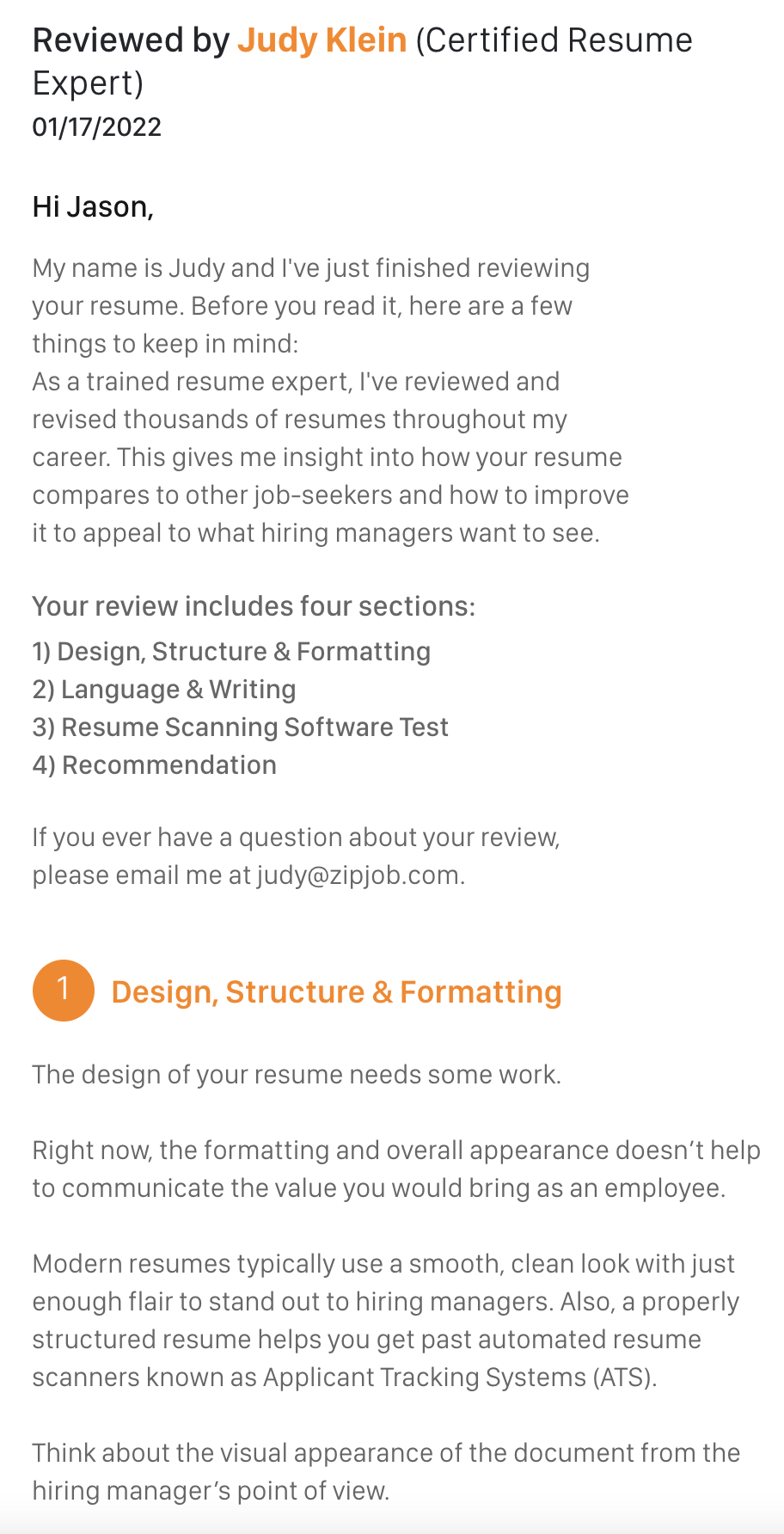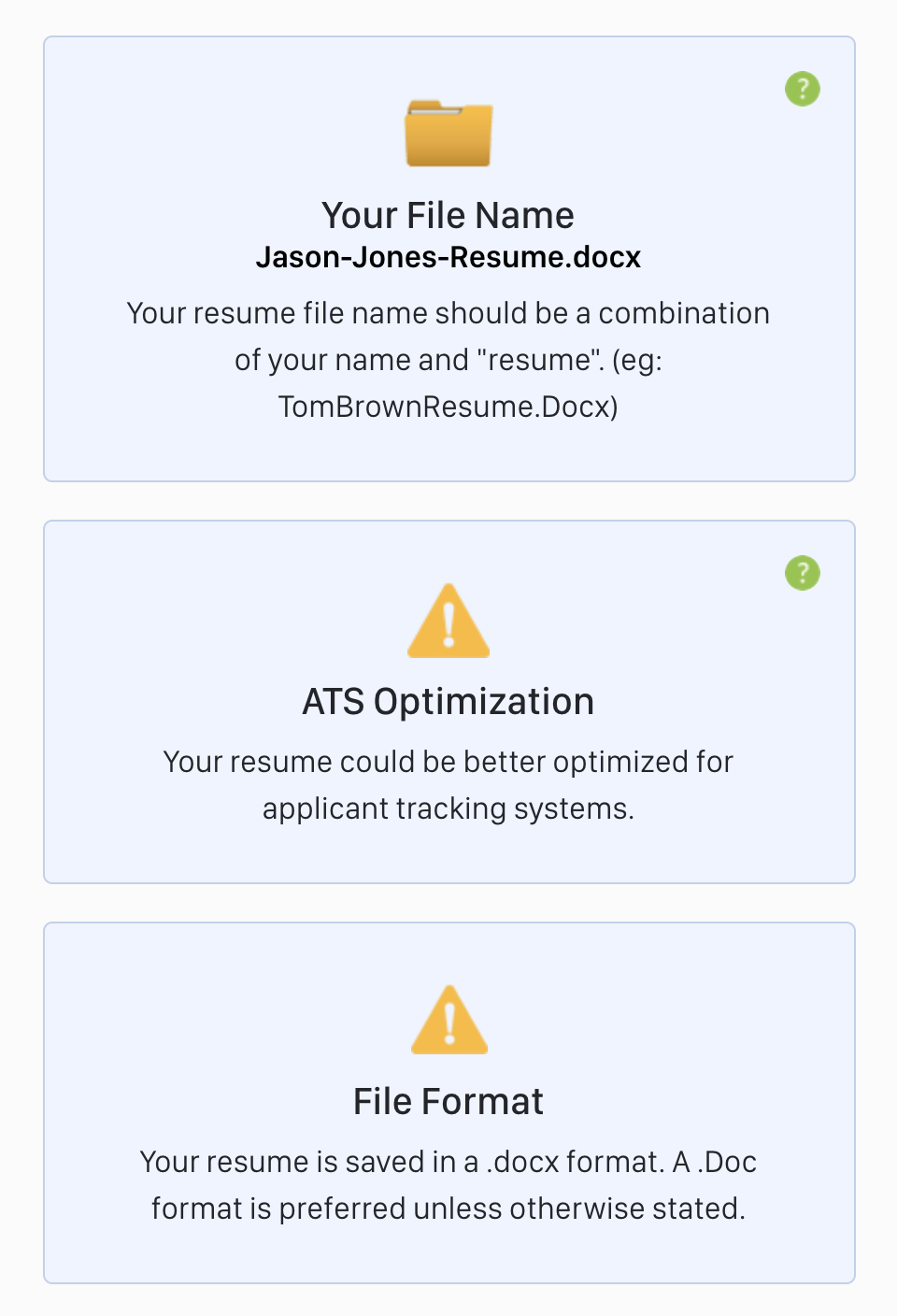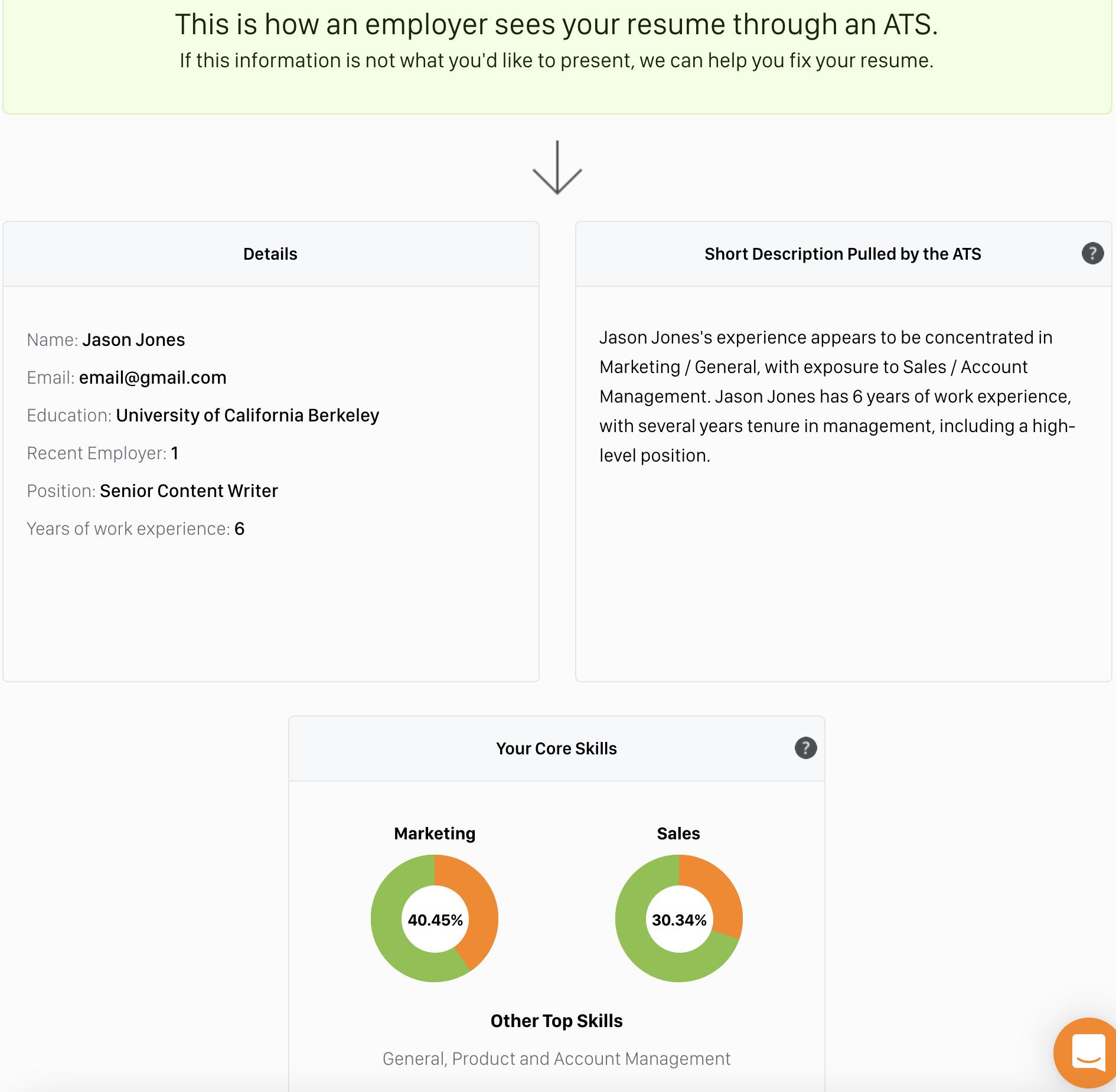 5. Hiration
Hiration's resume review is mostly templated, but it does offer some features that will help you fix specific errors on your resume. For example, the Hiration tool found words we repeated on our resume and offered good synonyms. Also, Hiration's software gave some good suggestions for skills that were missing from our resume.
Overall, this is what we thought of Hiration's free resume review:
Provides instant results
Goes through your resume's work experience section bullet by bullet, looking for quantification and weak verbs
Covers each section of your resume
Takes you to a resume builder page to implement changes, but you have to pay to download the final product
Might miss some of your information (e.g., didn't see that we used a resume summary, because the section wasn't labeled with a header)
Here's a screenshot of the resume review we got from Hiration:
6. Ladders
When you upload your resume for a free analysis on Ladders, you'll get a quick view of what you're doing right and wrong on your resume. We were impressed by Ladders' simple interface, but the review is mostly generic information.
This is what we liked and didn't like about Ladders' free resume feedback:
Delivers instant results
Has an easy-to-use review interface
Shows you how the ATS reads your resume and lets you upload multiple versions to compare
Links you to a free resume rewrite
Provides only a high-level overview
Suggests general and templated changes
Gives some questionable advice (e.g., recommended we add bullets to our education section, which would make the resume too long as our candidate had 12+ years of professional experience)
And this is what a Ladders' resume review looks like:
7. Monster
A free resume review from Monster gives you general information. It's good for checking what skills the ATS will pull from your resume, but the best thing about it — a LinkedIn profile review — is only part of their most expensive resume review package.
Here's how we assessed Monster's free resume critique:
Gives good advice, such as focusing on achievements and adding hard numbers
Offers a good snapshot of how the ATS will view your resume
Took 34 hours to get the review back
Makes general change recommendations
Designed to get you to pay for their services
Our free resume check from Monster looked like this: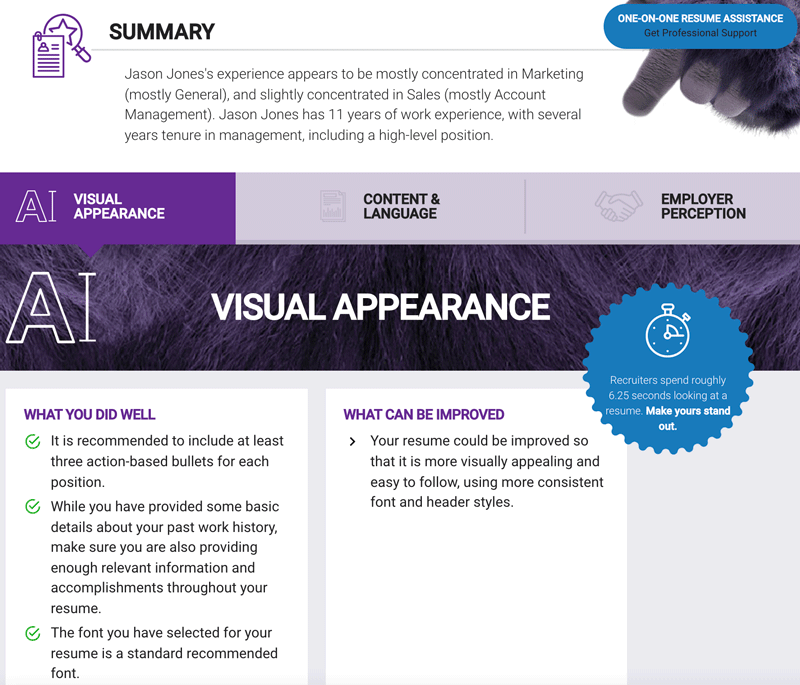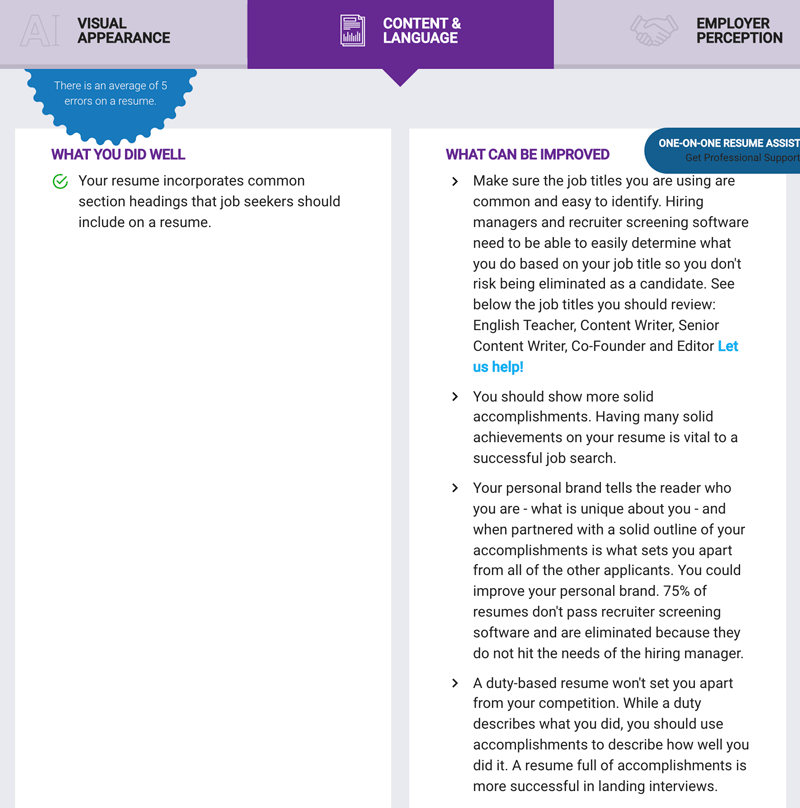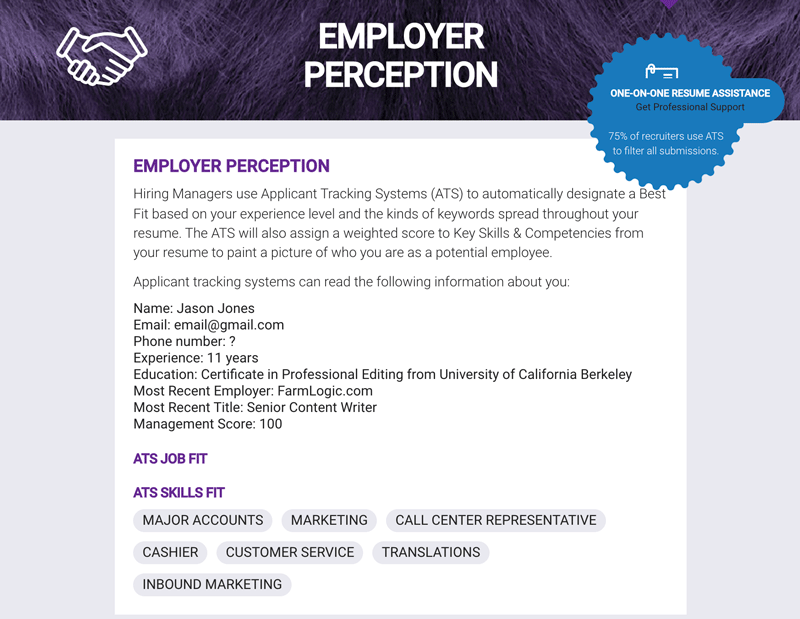 8. EnhanCV
EnhanCV's resume checker catches high-level errors in your resume — such as missing contact information or poorly formatted resume file names — and gives good general suggestions for improvement. What sets EnhanCV apart from the other reviewers on this list is the fact that you can use a free version of their resume builder to download a new version of your resume.
Here's what we took away from our free EnhanCV review:
Produces instant results
Gives good general information on formatting and content
Lets you use their resume builder to edit and download your resume
Designs most recommended changes to sell you on their paid services
Requires payment to see suggested changes in the resume builder
Includes an EnhanCV branding footer on all pages of the free resume download
Below are some images of our EnhanCV review results: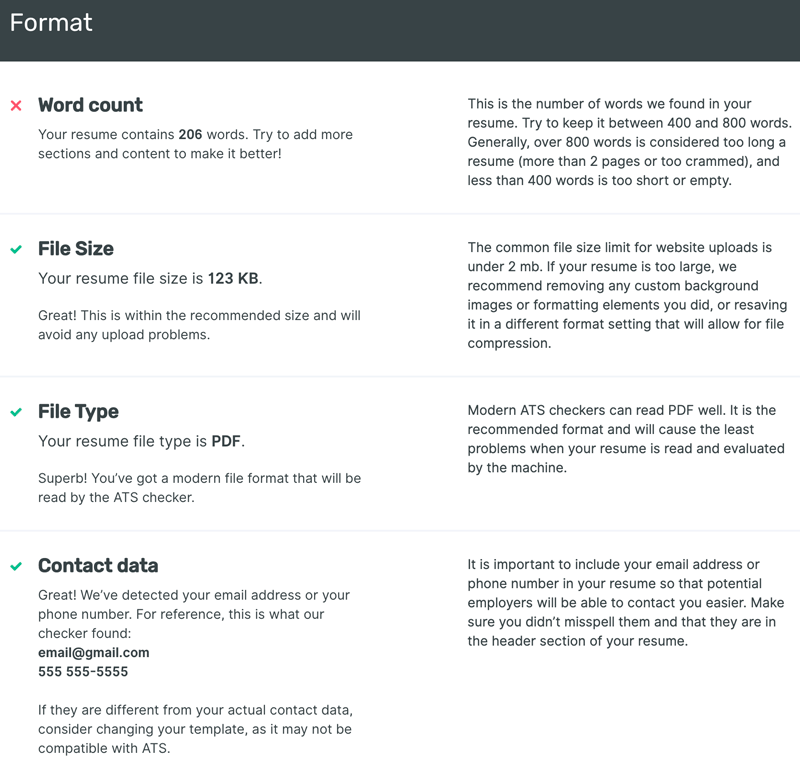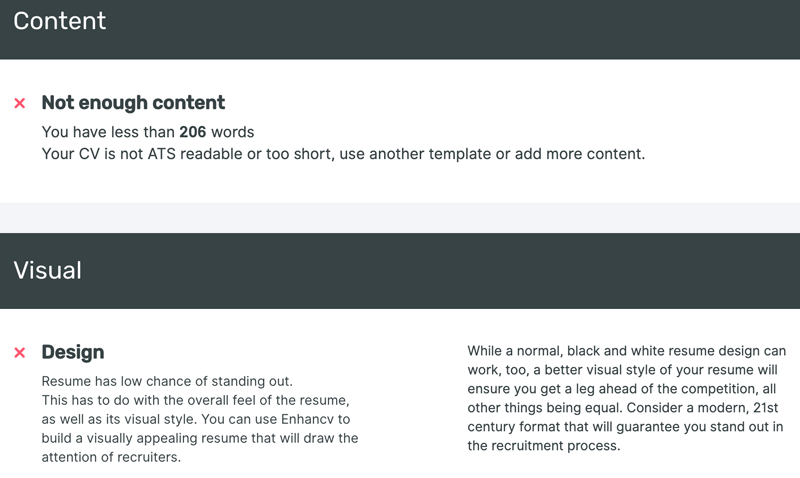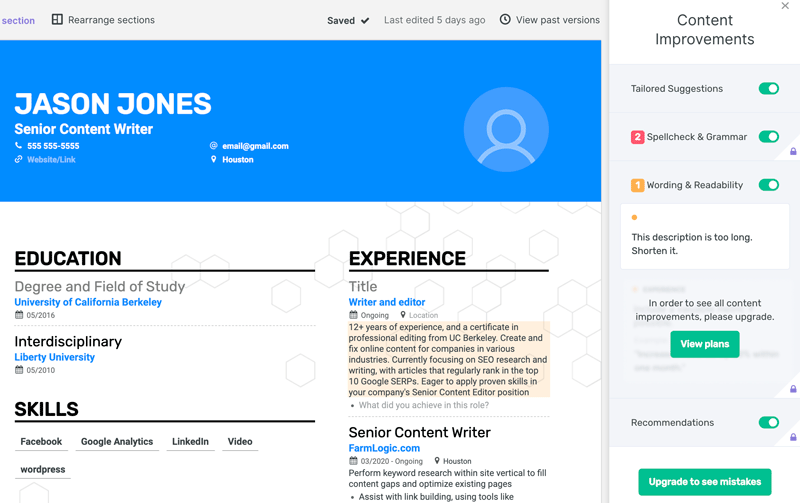 9. LiveCareer
LiveCareer doesn't offer much for free. They have some good general resume writing and formatting tips, but their professional resume and cover letter writing services require payment.
We went through LiveCareer's free analysis, and came up with these positives and negatives:
Offers instant results
Shares accurate templated resume-writing advice
Doesn't include specific advice for your resume
Designed to take you to a resume builder to edit your resume and pay to download
Requires payment to compare your resume with your target job description
This what our free LiveCareer resume review looked like:
10. Employment BOOST
A free resume review from Employment BOOST gives you letter grades for your resume's summary, content, style, SEO value, and word count. You'll get general tips for how to address each category, but that's all.
Here's our analysis of Employment BOOST's free resume grading service:
Sends the results in a short PDF sent to your email
Gives professional resume-writing and formatting advice
Took almost 2 days to get results
Offers only general advice
Doesn't give specific examples of mistakes, making letter grades meaningless
Uses acronyms that may be unfamiliar to many people (SARs & PARs)
Designed to convince you to schedule a consultation
And here's the full resume review that Employment BOOST sent us:
Resume review service alternatives
If you prefer not to use a resume review service, you can:
1. Use a resume builder
A resume builder helps you write the best resume possible by asking you questions about your skills and experience. Also, builders include resume templates that are formatted for easy reading by the ATS and hiring managers.
The best resume builders even offer free reviews by expert resume writers as part of their subscription services.
2. Read about how to perfect your resume
The information given in free resume reviews is available online in much greater detail. Expert-crafted guides can help you write a perfect resume without the help of AI or resume writers who want to sell you their services.
Here's a list of writing resources to help you make a resume that will get past the ATS and impress the hiring manager at the job you want:

You'll need a strong cover letter to go with your resume. If you're interested in using online software to create it, check out our review of the best cover letter generators.
2. Find resume examples, tips, and templates specific to your industry
Ensure your resume is optimized for your profession by comparing it to industry-specific resume examples and writing tips.
For instance, if you're applying for a sales position, a sales resume example could help you find industry resume buzzwords and examples of hard numbers to add to your own resume.