Our free-to-use cover letter builder can make you a cover letter in as little as 5 minutes. Just pick the template you want, and our software will format everything for you.
1. Write a unique cover letter for each application
You may have already asked yourself: do I even need a cover letter when applying for jobs? The answer is yes, because not submitting a cover letter is a missed opportunity to let hiring managers get to know you better.
Furthermore, each cover letter you send out should address how you align with that specific company's values. Your letter should also demonstrate how you can help the company overcome the challenges it faces, and ultimately reach its goals.
Don't just claim you're the best fit for the job either. Explain how your experience and skills position you to do the job well, and what value you can bring to the team.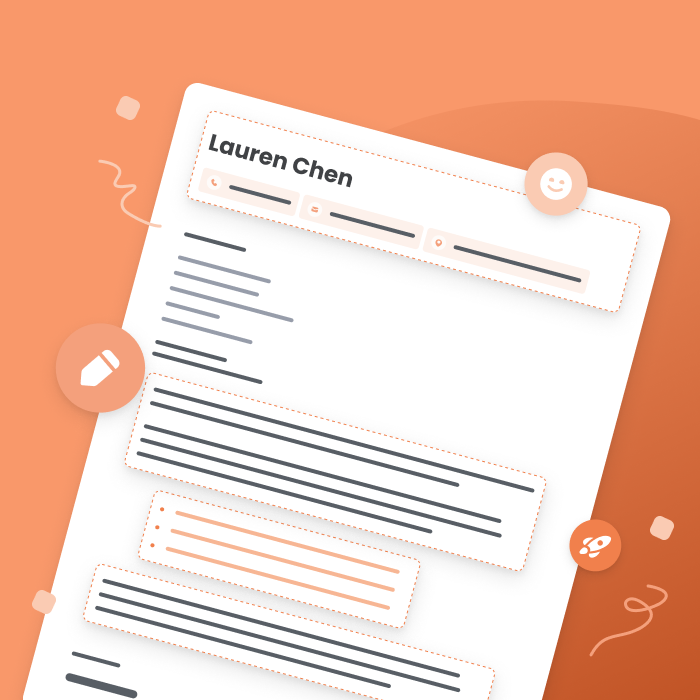 Dread writing cover letters? Read our guide to learn how to write a great cover letter that convinces hiring managers you're the ideal person for the job.
Customizing your cover letter to target the job description is much more compelling than sending out a generic overview of your qualifications (and more likely to get you to the interview stage).
While this process might sound daunting, it doesn't have to be. Using an online cover letter builder makes it easy to generate unique letters in minutes, and you can also create a cover letter template and swap out company-specific details (you still need to do a little research though).
Remember, hiring managers can easily tell if you wrote a cover letter specifically for their job listing, or sent a generic letter.
2. Keep your cover letter to one page
Hiring managers don't want to read a multi-page cover letter. Anything more than one page comes off as rambling or bragging.
In fact, the ability to communicate important information in fewer words is a valuable communication skill for many industries, so take this opportunity to demonstrate that in your cover letter.
Write 250–450 words in 3–4 paragraphs to hit the cover letter length preferred by hiring managers and recruiters.
3. Address the hiring manager by name
When addressing your cover letter, don't write "To Whom It May Concern" or "Dear Sir/Madam." Both greetings are old-fashioned and impersonal.
Instead, try to find out the hiring manager's name, and address your cover letter to them directly. If their name isn't in the job posting, explore the company's website or Linkedin to find out who you would report to in this position.
You can even call or email the company's human resources department to ask for the hiring manager's name for your cover letter.
If you still have trouble tracking down the hiring manager's name, "Dear [Department Name] Director" is a professional way to address the reader.
4. Quickly establish yourself as a qualified applicant
Many hiring managers won't read beyond your cover letter's first couple of sentences unless it's clear you're worth their time. So make sure to start your cover letter off with your qualifications.
Prove you're qualified for the job quickly by highlighting your years of relevant experience and greatest professional skills as you introduce yourself. Then explain how that experience and skill set make you the right fit for the position.
Here's an example of how to show you're ready to make an immediate impact at a new company:
5. Expand on your resume, but don't repeat it
A cover letter that just rephrases the content of your resume misses the purpose of a cover letter. If your cover letter lacks the compelling pitch necessary to make a strong impression, employers might simply overlook your application.
A well-written resume neatly lays out your experience, skills, education, and accomplishments in organized sections and bullet points. Your cover letter, on the other hand, should expand on your resume by explaining how your experience is relevant to the target company and why hiring you is a good idea.
Try expanding on your resume in your cover letter with these strategies:
Give more details about one (or more) of your job-specific accomplishments
Explain how your experience can help solve the company's problems or increase its effectiveness
Discuss current issues in your industry to demonstrate expertise
For example, the following candidate demonstrates how their experience with the latest software (listed in the skills section of their resume) will add value to the company:
6. Include hard numbers in your accomplishments whenever possible
Both your resume and cover letter should contain hard evidence of your accomplishments, ideally using numbers.
For example, instead of just saying that you "increased sales," you could write that you "increased sales by 20%".
Quantifying your accomplishments with data makes your experience easier for readers to understand. If your achievements are notable, your cover letter (and resume) will ultimately be much more convincing.
You can quantify your achievements with numbers that show:
how you contributed to company goals (like sales, production, expense saving, or customer satisfaction targets)
the amount of money you handled
how many people you've managed, trained, or onboarded
the number of customers handled per day, size of budgets managed, or KPIs achieved
As part of my duties, I handled clients' bids, filed their taxes, and found tenants for their properties.
My clients appreciate my services. I've accomplished the following for them:
Analyzed bids from contractors, leading to a 2.1% yearly decrease in expenses

Filed taxes for our biggest clients, ultimately leading to a 47% lower incidence of tax-related penalties

Converted 65% of potential tenants into actual tenants
7. Demonstrate that you're a culture fit
If you seem like a good culture fit to a hiring manager, you're immediately much closer to getting a job offer.
To learn about a company's culture (and whether it's a good match for you), check the company's website and social media profiles. On the company's:
website: look for "About" or "Hiring" pages. These pages usually have a mission statement, communicate core values, and explain exactly the types of people it's hoping to hire.
blog and social media: gauge its public-facing voice, image, and culture. Is it fun and quirky, serious and business-like, or a mix of both?
Tailor your cover letter's tone and language to reflect the values, principles, beliefs, and attitudes in the company's materials. Think about matching visual cues, too — for instance, if the company's website is minimal, consider using a simple cover letter template.
8. Use strong action verbs to convey your expertise
Fill your cover letter with action verbs that describe your contributions at past companies. Action verbs effectively convey your leadership, talent, and initiative, and highlight the way you actually performed your duties.
Compare the following examples:
I met with representatives of other companies to improve relationships.
I cultivated relationships with representatives of other companies.
In these examples, "cultivated" better illustrates your active role in forming and maintaining business relationships. "Met" simply says that you were present during meetings and makes the reader wonder what you contributed.
9. Use the most appropriate writing tone for the job you want
Your writing tone should reflect the level of job you're applying for, as well as what's expected in your industry.
Let's say you're writing a cover letter for an entry-level position at a start-up and you lack relevant work experience. Your tone should express your enthusiasm, adaptability, and highlight a bit of your personality.
Here's a good example taken from a college student's cover letter:
College student tone (excited)
My name is Clay Atkinson, and I'm excited to be applying for the position of Social Media Strategist at WizKids.io. I was ecstatic to find this opening on Indeed.com earlier this week, and feel that my familiarity with every major social media platform as well as my educational background (BA in Marketing from Illinois State University) make me a perfect fit for this particular role.
And if you're applying for a senior management position at a Fortune 500 company, your tone should be professional. Your writing should express how you're distinctly qualified for the role. Your qualifications as an aspiring corporate professional are more critical than your enthusiasm because they prove you can actually do the job.
Here's how a candidate for a high-powered managerial position might start their cover letter:
Managerial tone (professional)
My name is Theo Tinsworth, the current Director of Finance at Altogen Chemicals in Austin, Texas. Over the past 14 years I've worked my way up as a financial expert at three different companies, and I'm now ready to take my final professional step forward and join Capital Industries as its next CFO.
10. Match it to your resume
Your cover letter's design features, like font and color scheme, should match those of your resume. This helps your application feel consistent and polished. To simplify things, try downloading a cover letter template and pairing it with a matching resume template.
Using a template with an attractive cover letter header also helps your application stand out.
11. Show some personality, but not too much
Your cover letter is where you provide a glimpse of what you're like in a professional setting.
Avoid unnatural, overly formal language like: "I would like to express my sincerest interest in this stimulating position." Remember that you're writing to another person, so you shouldn't sound too stiff or robotic.
Instead, explain why you're personally interested in the job, whether it's the company culture or the work itself. If you can showcase why you'd be a good fit at the company, you'll be more likely to get a job offer.
12. Finish with a call to action
As you close your cover letter, don't be shy about requesting an interview. Give the hiring manager your contact information (email and phone number) as a reminder of the best way to contact you, and say that you look forward to an interview.
You can also mention something specific you'd like to discuss with the hiring manager as a way to get them interested in continuing the conversation. For example, you could say:
I'd welcome a chance to discuss my client retention strategy in further detail in an interview and share how I broke my company's sales record in my first 3 months.
Then, finish with a polite and friendly sign-off. When in doubt, "sincerely" always works, but "respectfully" and "best" are also good options.
What a cover letter should look like in 2023
This cover letter example shows what a great cover letter should look like: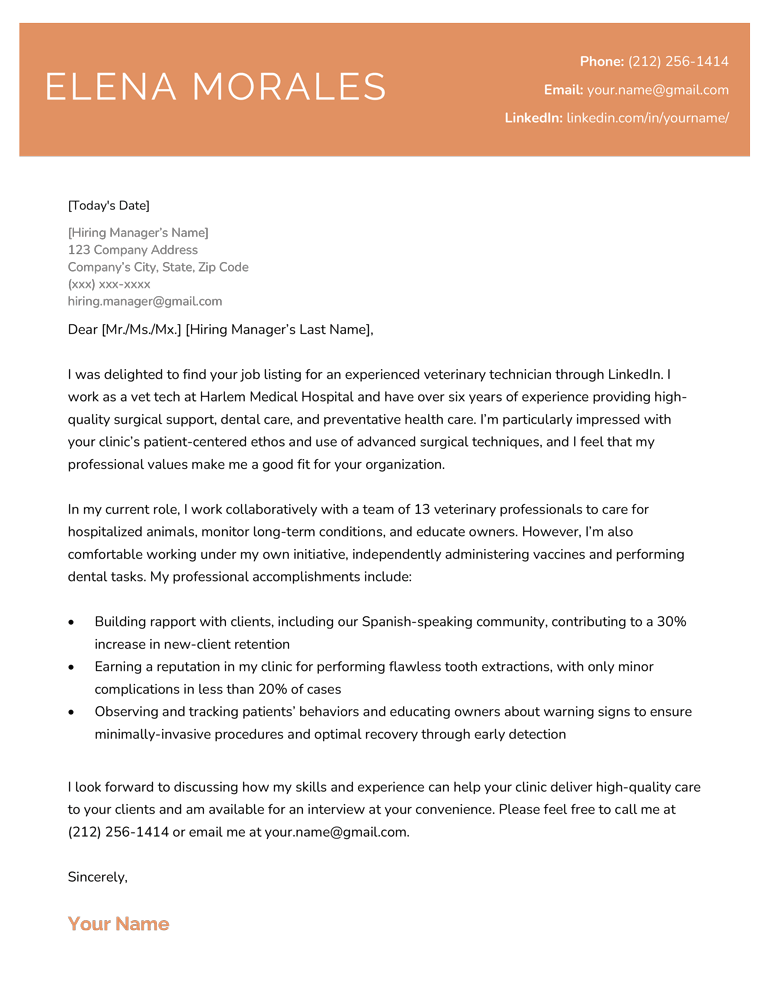 Note how this applicant uses hard numbers and examples to demonstrate their expertise.
Cover letter tips checklist (updated yearly)
Want to make sure you hit all of the tips for a cover letter we've outlined in this article, plus a few extra best practices? Use our cover letter checklist directly on the page, or make a copy of our checklist in Google Docs and use it later.
Cover Letter Tips Checklist
Is your cover letter easy to read?
Is your cover letter one page or less?
Did you write a unique cover letter for the position you're applying for?
Did you match your cover letter template to your resume?
Did you address the hiring manager by their full name?
Do you establish yourself as qualified in the first paragraph?
Is your writing tone appropriate for the job you want?
Did you explain how you found the position?
Do you expand on the content of your resume without repeating it?
Did you include hard numbers in your cover letter to provide context for your achievements?
Did you show how you're a culture fit?
Is your writing free of cliches?
Did you use action verbs when describing your relevant experience?
Is your writing free of too much jargon and too many abbreviations?
Did you show some personality (but not too much)?
Does your cover letter end with a call to action?
Did you sign off with "Sincerely" (or an appropriate alternative) and your full name?
Did you proofread your writing?
Did you get a second opinion on your cover letter?
Did you give it an appropriate file name such as "Naomi-Smalls-Cover-Letter.pdf"?
Are you 100% sure your application meets the company's submission requirements?