Learning exactly what needs to be in a cover letter can take time, and there are some essentials that should be mastered before others. Follow our complete guide to find out the most important elements of what should go in a cover letter, and check each item off your list as you write your own.
1. What to Put in a Cover Letter: The Basics
Be sure to include in your cover letter these four fundamentals, otherwise it'll likely be thrown in the trash. For example, you need to highlight your contact details and job history, as well as adhere to certain formalities that employers expect, like a formal opening and closing.
#1. Contact Details
Your contact details are information the hiring manager needs to have — without them, they have no way of inviting you in for an interview.
At the very least, you must include your email address and cellphone number. Today, adding your home address is unnecessary, since the mail service is too slow for most recruiters.
Adding your LinkedIn is also an option, as hiring managers can use it to learn more about you, and find out whether you have any mutual connections — a form of online networking and reference checking.
#2. Salutation
A salutation — or formal opening — is  used to greet the reader of your cover letter. It usually begins with "Dear" followed by the person's name.
To impress the hiring manager, find their name and use it in the salutation. This is much more effective than using "Dear Hiring Manager," or "To Whom It May Concern," since it shows you've done some research while preparing your application.
You should be able to find the hiring manager's name on the company website or by using LinkedIn. If all else fails, call the company and ask for their name — you can explain that it's for addressing your application.
#3. Body Content
After the salutation comes the body of your cover letter. This part of your letter is text heavy, and gives you space to explain why you're the perfect candidate for the job.
You may already know how to write a cover letter that covers the essentials, but there are a few more cover letter tips for writing the body of your cover letter that you might want to consider.
First, check out the company's website and publications. Note the writing style – if it's formal, keep the tone of your cover letter as formal as possible.
If the company seems to have a more casual vibe, then you can consider loosening up a bit too. Copying the company's tone will help you demonstrate that you're a good culture fit.
Second, browse a few cover letter examples from your industry — you're sure to come across some great ones written by your peers. You can use these to draw inspiration for  your own cover letter.
Finally, although you might be tempted to write more, keep your cover letter on one page. Hiring managers simply don't have the time to read more than that. In fact, studies have determined that 300–500 words is the sweet spot (this word count is less than a full page of text). So, you might need one of our short cover letter examples.
#4. Call-to-Action (CTA)
A call-to-action (CTA) does exactly what it sounds like: it calls on someone to act. In this case, you're calling on the hiring manager to invite you in for an interview. Here's an example of an effective CTA from our legal assistant cover letter sample:
You should ask the hiring manager to contact you and arrange an interview, as politely as possible of course.
2. More Ideas for What Goes in a Cover Letter
All of the above items are necessities — without them, you're not even a contender for the position.
But if you want to pull ahead of the pack, you need to give the hiring manager a little extra to convince them to hire you.
Check out the following actions you can take to perfect your cover letter to guarantee yourself a position at the top of the hiring manager's list.
Reasons You're a Good Fit
We've already talked about a company's culture, but we're mentioning it again because we have some more techniques you can use to show that you're a good fit for a company.
For a start, you can see if a company has a company's corporate culture webpage and see what the company values. Take a look at this example from KPMG: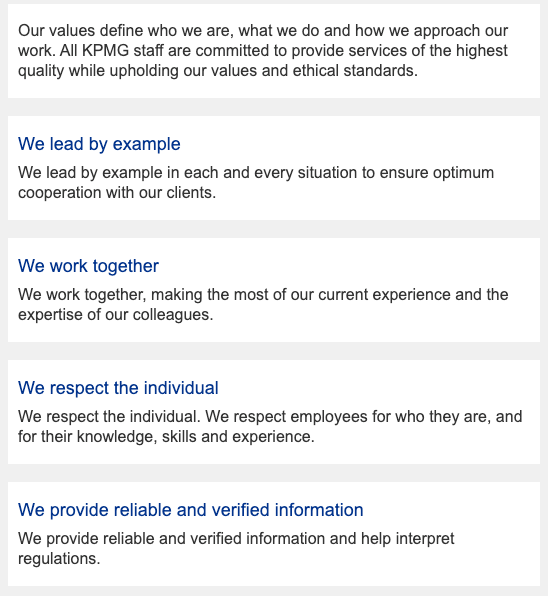 KPMG's executives make it clear on their website that they value teamwork and honesty. If you were applying to KPMG, you could mention a time when you worked effectively as part of a team to prove you're a team player.
WD-40 Company, on the other hand, seems to have a less formal corporate culture:
The company describes its workers as a tribe, which emphasizes the bonds that the company encourages between its employees.
It also creates a sense of fun, since the word tribe conjures up memories of a childhood spent playing games with friends — a far cry from the stuffy language other companies might use.  If you were applying here, you might want to talk about what you could bring to the "tribe."
Proof You've Researched the Company
As well as researching a company's culture, you should do a more general investigation of its performance, history, and ambitions. If you provide proof of doing so in your cover letter, you will catch  the hiring manager's attention by showing them that you have specific facts on hand about the company.
A good place to start is a company's website. Here you can find out about its product line and its recent news. For example, you might discover that it just launched a product that is similar to one you used to work on.
You can then mention this experience in your cover letter — effectively highlighting your relevant background and showing the hiring manager you can handle the work.
Quantifiable Data Showing You Will Succeed
Listing your previous achievements is just not enough anymore. You need to provide data that proves you can get results for your new employer if you want your application to stand out.
Thankfully, finding this data doesn't have to be difficult.
For instance, if you were previously working in a customer service position, think about how many customers you served on an average day. A bullet point built with such information might look something like this:
Served approx. 47 customers per day, remaining professional, courteous, and patient with all of them
Or if you were in an office role, you might focus on your output over a regular period of time:
Produced 17 sales reports per week for our product portfolio
Including this data shows the hiring manager what you can achieve on the job. It gives them a glimpse at how your output will improve their company's performance, and where you'd be a good fit on their team.
3. What Should Be in a Cover Letter's Final Paragraph
What should a cover letter say in its final paragraph? After all, if the hiring manager has read this far but hasn't committed to calling you in for that all-important interview, your final paragraph is where you hook them.
Here's what should go in a cover letter's final paragraph.
Availability
Recruiters are busy people. They don't have much available time, so you need to be flexible. Reassure the hiring manager by making it clear you're available for an interview (at their convenience, of course).
Look at this example from our construction cover letter sample:
This applicant makes sure that the hiring manager knows they're available to come in for interviews whenever they have time.
Even if you don't have great availability, you should mention that you're able to move around your schedule if necessary. Finalize things when the hiring manager invites you in for an interview.
Conventional Closing
Your cover letter closing is not a time to get fancy — "Sincerely" is how employers will expect you to wrap up your letter, so there's no reason to deviate from this formality.
There are some casual closings you might be familiar with in email cover letters, but don't use them for mailed applications because they're too informal. These include:
Best wishes
Regards
Best regards
Eye-Catching P.S.
You might think that your cover letter ends with your closing, but there's one more secret weapon in your arsenal: an eye-catching postscript (P.S.).
A P.S. can be used to squeeze an extra bit of something into your cover letter, and its prominent position at the bottom means that it will be seen by the hiring manager — even if they skip over other important details.
For example, you could add a big accomplishment to your P.S.:
I'm looking forward to talking to you about how I achieved a 47% increase in conversions on my current company's ecommerce platform.
Adding this P.S. shows how the applicant is a proactive, successful employee, and placing it after the closing makes it much more visible.
4. Now You Know What To Say in a Cover Letter, What's Next?
Now that you fully understand what you need to include in your cover letter, you should be ready to start writing it soon. You can start by downloading a free cover letter template, and if your resume isn't finalized you can even use a matching resume template to give your application that final bit of flair.
Pressed for time? Use our cover letter builder and create yours in mere minutes. Also feel free to leave a comment below, and we'll get back to you promptly. Happy job hunting!