Curious about exactly what a cover letter should say? Have you looked at a good cover letter sample and are still unsure what to include and what to leave out?
No problem — we're here to guide you.
Our free-to-use cover letter builder can make you a cover letter in as little as 5 minutes. Just pick the template you want, and our software will format everything for you.
What to put in a cover letter in 2023
A great cover letter consists of the following components:
1. Your name and contact information in a header
The hiring manager needs to have your contact information. Without these details, they have no way of inviting you for an interview.
The most eye-catching way of adding your contact information to your cover letter is by creating a large cover letter header, which includes your name (in the largest font on your cover letter) and the best ways to contact you. Here's an example of a clear, well-designed cover letter header:

Even if you've included your contact details on your resume, repeat them in your cover letter in case the hiring manager doesn't have your resume on hand when they decide you're the candidate they want to interview.
2. A polite cover letter greeting (salutation)
You should also greet the reader of your cover letter with a polite salutation. "Dear Mr./Ms./Mx. [Hiring Manager's Surname]" does the trick:
Dear Ms. Hernandez,
Using an actual name is better than writing "Dear Hiring Manager" or "To Whom It May Concern" because it shows you aren't sending out applications in bulk, and likely have actual interest in the job you're applying for.
Then, begin your cover letter with a brief introduction that contains the following details:
The position you're applying for
How you found out about the opening
Why you're excited to apply
When starting off a cover letter, keep your introduction concise and attention-grabbing so the hiring manager will want to keep reading.
3. Specific examples of achievements
Now you've set up your cover letter, it's time to write the body text.
To make a strong impression, mention an important project or contribution from your past work or academic experience that's related to the role you're applying for. Then, explain exactly how you contributed to the company's success.
A great way to make your achievements stand out is adding some hard numbers to prove exactly how much impact your work had. Finding this data doesn't have to be difficult.
Some common quantifiable achievements include:
Number of customers served in a given time period
Percentage of positive reviews
Dollar amount of sales
Percentage of increase in profit
Number of people managed or trained
Here's an example of how one candidate successfully backed up their achievements with evidence:
As a Sales Assistant with TRP Insurance Inc., I ranked within the top 10 salespeople company-wide for 2 years in a row, and in my first year, I successfully expanded our customer account base by 18% through networking and client referrals.
Including this data shows the hiring manager what you can achieve on the job. These numbers give them a glimpse at how your output will improve their company's performance, and whether you'd be a good fit on their team.
4. Reasons why you'd be a good fit at the company
To write a great cover letter, you need to put in a little effort (but trust us, it's worth it).
Start by going to the company's website. On the site, see if you can find a corporate culture webpage or some form of "company mission" page. Take a look at this example from KPMG: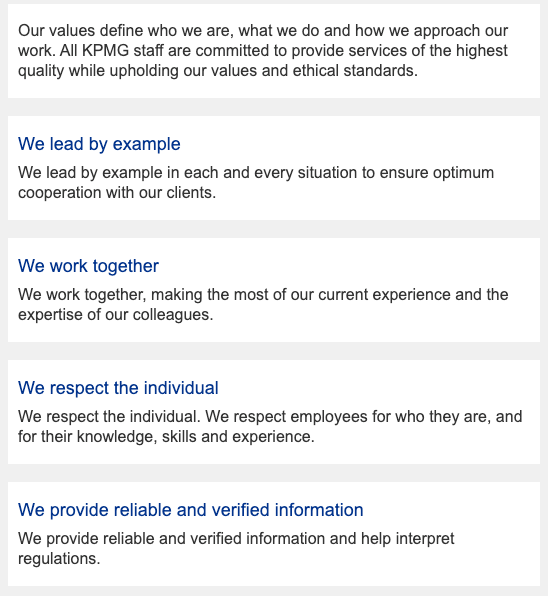 KPMG's executives emphasize specific values, so you'd want to give examples that highlight integrity and teamwork skills if you were applying here.
WD-40 Company, on the other hand, has a less formal corporate culture: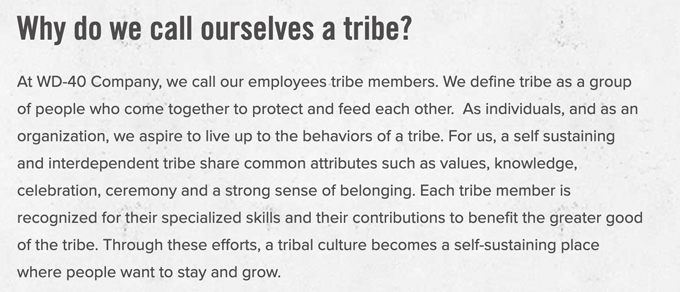 The company describes its workers as a tribe, emphasizing the bonds it wishes to develop between employees.
If you were applying here, you could mention what you could bring to the "tribe" and showcase your people skills in your cover letter.
Showing familiarity with the company makes you seem invested in the opportunity, and hiring managers take notice.
5. Proof you can help the company reach its goals
As well as researching a company's culture, investigate its performance, history, and ambitions. If you prove you've researched these details in your cover letter, you're more likely to catch the hiring manager's attention.
A good place to start your research is on a company's website. Use its website to find out about product lines and recent news. For example, you might discover it just launched a product similar to one you used to work on.
Then use some of the information you gathered as a starting-off point in your cover letter.
Mention how you can bring expertise from a similar project to the company's new endeavor, or give an example that shows how you'd contribute something new to the team.
Here's how one candidate used their foreign language skills to appeal to an internationally-expanding company:
As a multinational organization, your company has connections with several other businesses across the globe. I believe my fluency in Spanish and English — two widely spoken languages — will be crucial in establishing trust and solid, working relationships with clients in other countries.
6. A cover letter ending that requests an interview
Wrap up your cover letter by asking the hiring manager to invite you in for an interview. An interview request may seem forward, but it also shows confidence and helps drive the urgency of your application home to the reader.
Here's an example of an effective ending from a legal assistant cover letter sample:
After reviewing my resume, I hope you'll agree that I'm the candidate you've been looking for. Please contact me by phone (775-034-2512) or email (jill_li23@gmail.com) when you'd like to set up a time for an interview. I look forward to elaborating on how my specific skills and abilities will benefit [company name]!
7. Your professional sign-off and signature
Your cover letter closing is not a time to get creative. "Sincerely" is always a safe bet for wrapping up your cover letter..
If you're not sold on "Sincerely", "Respectfully" and "Best" are also good options.
Sign your cover letter by hand if you want it to add a personal touch.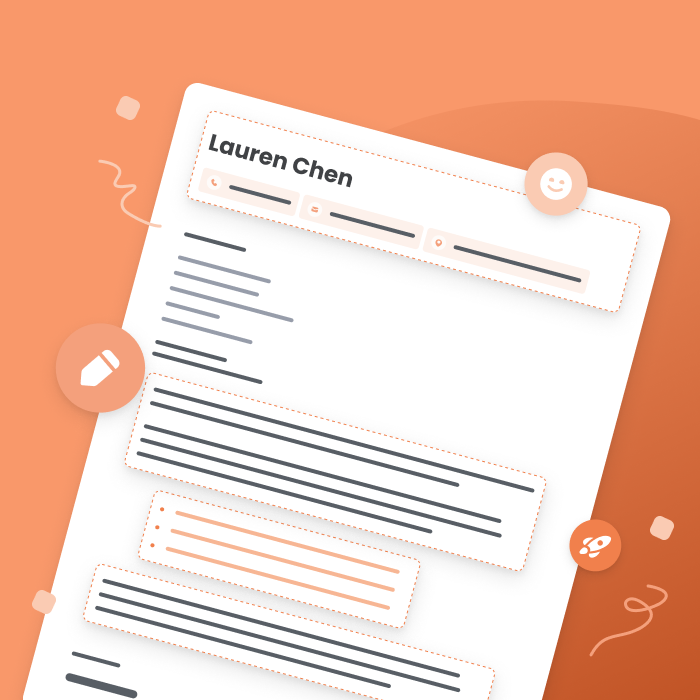 Dread writing cover letters? Read our guide to learn how to write a great cover letter that convinces hiring managers you're the ideal person for the job.
What not to include in a cover letter
Just like when you write your resume, avoid mentioning anything that doesn't demonstrate your suitability for the job you're applying for. You have limited space to win over potential employers, so don't discuss any irrelevant achievements or experiences, even if they're impressive.
Also avoid any disclaimers like "although I have limited experience…" because it could make you seem under-qualified. False modesty doesn't belong in a cover letter, so keep your tone confident and focus on your most valuable qualifications.
Lastly, you should never put negative remarks about your previous employer in a cover letter because it gives hiring managers a bad impression of your ability to work well with others, even if your criticisms are well-deserved.
In summary:
What not to include in a cover letter
Political opinions
Criticisms of previous employer
Irrelevant information
Religious views
Disclaimers (what you lack)
A headshot
Lies (even exaggerations!)
Salary expectations
Too much flattery
What to include in an email cover letter
An email cover letter contains most of the same elements as a regular cover letter, but you also need to include a subject line.
Your subject line should be something similar to this:
Application for [Position] role
When writing an email cover letter, you also don't need to include the hiring manager's name and address.
Here's what an email cover letter will look like: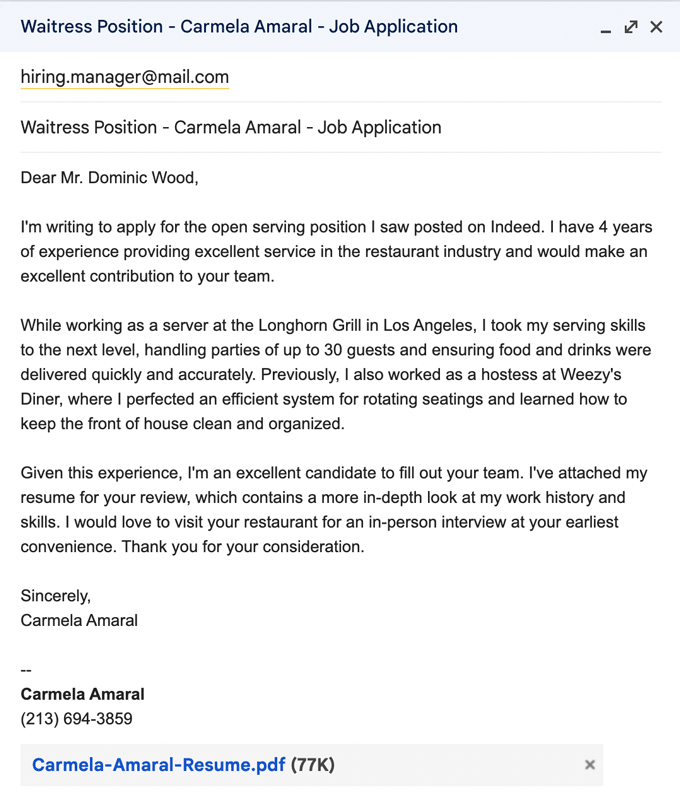 Don't forget to attach your resume and full-length cover letter to your email. An email cover letter is usually just a couple of paragraphs informing the hiring manager you're applying for the role, and telling them your full cover letter and resume are attached.