Your cover letter font might seem like an insignificant detail. However, the right font can elevate your cover letter and help your application appear polished.
Meanwhile, choosing the wrong font can make your cover letter look unprofessional  — and ruin your chances of getting a call back.
To help you pick the best option, we've created a list of the top fonts to use for a cover letter.
Our free-to-use cover letter builder can make you a cover letter in as little as 5 minutes. Just pick the template you want, and our software will format everything for you.
What is the best font for a cover letter?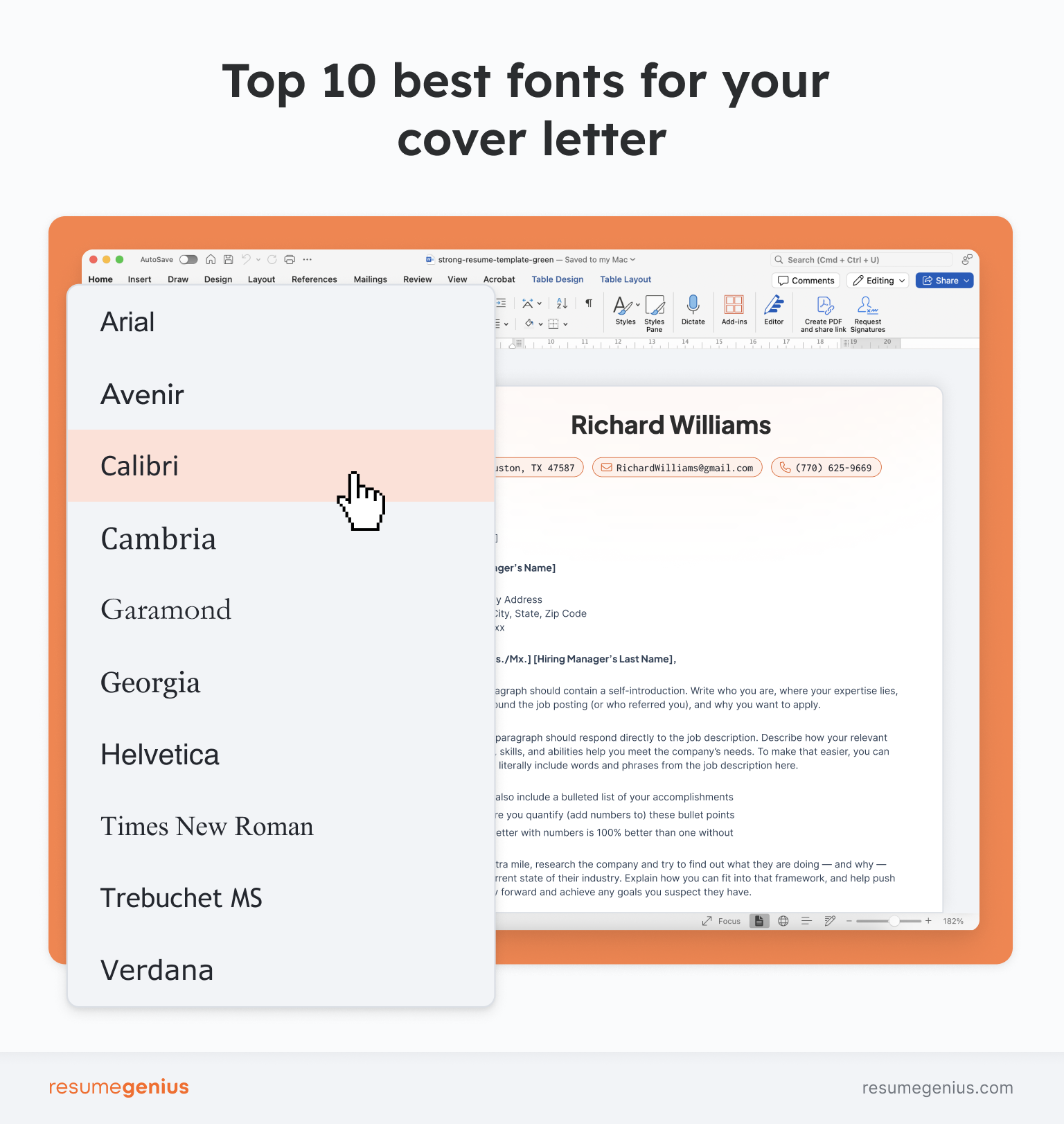 The best font for a cover letter is legible, professional, and doesn't distract from the content of your letter.
Hiring managers have limited time to spend on each application, so if they struggle to read your cover letter, they might skip over it and move on to the next applicant.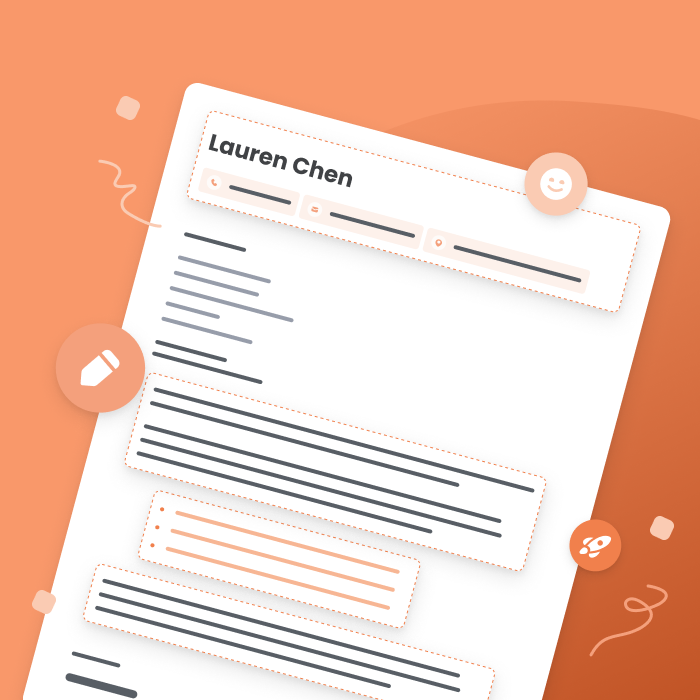 Dread writing cover letters? Read our guide to learn how to write a great cover letter that convinces hiring managers you're the ideal person for the job.
Check out the best fonts for a cover letter below, along with tips on which one to choose depending on your target position.
The 10 best cover letter fonts
Here are 10 great cover letter fonts that you can't go wrong with:
1. Helvetica
Helvetica is the perfect modern font for your cover letter. Thanks to its neutral and clean design, it has quickly become the go-to font for businesses. It's also easy to read and attractive without being distracting.
Use this font if you're applying for jobs in a modern office setting, such as in customer service or sales.
Text example:

2. Cambria
Traditional and easy to read, Cambria is a great font choice for cover letters of all types. Its serif face and basic design reads well across all platforms — whether in print or on a computer screen.
This font is ideal if you're applying for a job in a highly professional field, such as banking or accounting.
Text example:

3. Avenir
Avenir might be a less "safe" choice than the other fonts on this list, but don't count it out. Its unique shape and playful curves give it a lively appearance that'll make your cover letter stand out.
Avenir is often cited as a favorite of people in the design space. If you're a creative looking for a job in design, this modern font can help you demonstrate that you're the perfect candidate.
Text example:
4. Georgia
Clear and professional, this classic font is used by major companies like Amazon and the New York Times. In fact, Georgia was designed specifically to be read on computer screens and mobile devices. That makes it the ideal font choice if you're sending an email cover letter.
This font is perfect if you're applying to jobs online, or if you just want to give your cover letter a basic, professional look.
Text example:
5. Garamond
With its classic serif design and delicate strokes, Garamond is one of the best fonts for a cover letter. Based on designs from the 16th century, this font's timeless look still holds up well and looks good at any size.
This font is suitable for writing a cover letter for a formal job, like a legal assistant cover letter.
Text example:

6. Arial
Featuring crisp lines and minimal design, Arial is one of the most popular cover letter fonts in the world. Not only that, but it's the standard font for Google Docs and Microsoft Word, meaning that any PC will display it accurately.
Fonts like Arial are designed to be easier to read on screen than serif fonts, so if you're submitting your application via email, consider choosing a sans serif font.
However, some hiring managers see Arial as too basic. So if you're applying for a job at a creative or forward-thinking company, a slightly more unique font may suit your needs better.
Use this font if you need a safe choice for your cover letter.
Text example:

7. Times New Roman
Much like Arial, this font is hugely popular among job seekers, and for good reason: it's simple and elegant. However, Times New Roman is also extremely common, so if you need a cover letter font that will help you look unique, you're better off choosing a different cover letter font.
Ultimately, there's no better font choice if you just want to give your cover letter a basic, formal appearance.
Text example:

8. Trebuchet MS
Boasting thick lines and simple curves, Trebuchet MS is a great choice if you need to fill space or make your cover letter extra easy to read. Designed for Microsoft Word, this font can now be found on most word processing software, including Google Docs.
Use this font if you're writing an entry level cover letter, as its thicker lines will help you fill the page.
Trebuchet's wider design is eye-catching and easy to read, making it perfect if you're writing a short cover letter.
Text example:

9. Verdana
Simple and authoritative, Verdana is a textbook font for cover letters. It's specifically designed to be readable in smaller font sizes, so if you have a lot to say in your cover letter, you can make the text smaller without sacrificing legibility.
Try Verdana if you need to decrease the font size for your cover letter without making it difficult to read.
Text example:
10. Calibri
Designed by Microsoft to replace Times New Roman as the default font for Word, Calibri has become a standard for resumes and cover letters alike. It's simple, clean, and as the default font for Gmail, hiring managers won't have an issue opening or reading your cover letter online.
Use this font to give your cover letter a friendly, simple appearance. For example, if you're writing a nursing cover letter or applying for jobs in hospitality, Calibri is an excellent cover letter font choice.
Text example:

It's important that your application looks consistent. So before you start your job hunt, make sure you match your cover letter font with the font for your resume.
What cover letter font size should I use?
After you've decided on the right cover letter format and have everything written and edited, there's one last thing to consider: what's the right size font for your cover letter?
For most fonts, the best size is between 11 point and 12 point. But different fonts come in varying sizes, so always check to make sure your cover letter looks good at the font size you're using. Ultimately, the most important factor when choosing a font size is readability.
However, your name is the one thing that should not be the same size font as your body content. You want your name to stand out, so a good rule of thumb is to make the font for your name twice the size of the font used in the body text of your cover letter.
Stick to one or two different cover letter fonts to ensure your letter looks consistent throughout and is easy to read.