You've got the right education, your resume has been fine-tuned, and you're ready to start applying for entry-level jobs. The only thing left? Your cover letter.
A convincing entry-level cover letter is critical if you're trying to separate yourself from other applicants. Specifically, it shows a hiring manager you're passionate about the position, supplements your resume education section, and proves you have what it takes to succeed.
This is true whether you want an entry-level job in engineering, accounting, or any other field.
But writing an entry-level cover letter is challenging. After all, how do you write about professional experience that you don't have?
We're here to teach you how to write a cover letter for a job you have no experience in that highlights the qualifications you do have, so that you can put your best foot forward while on the job hunt.
In this article, you'll find:
1. Entry-level cover letter sample
Here's a sample entry-level IT cover letter that an applicant created with our easy-to-use cover letter builder: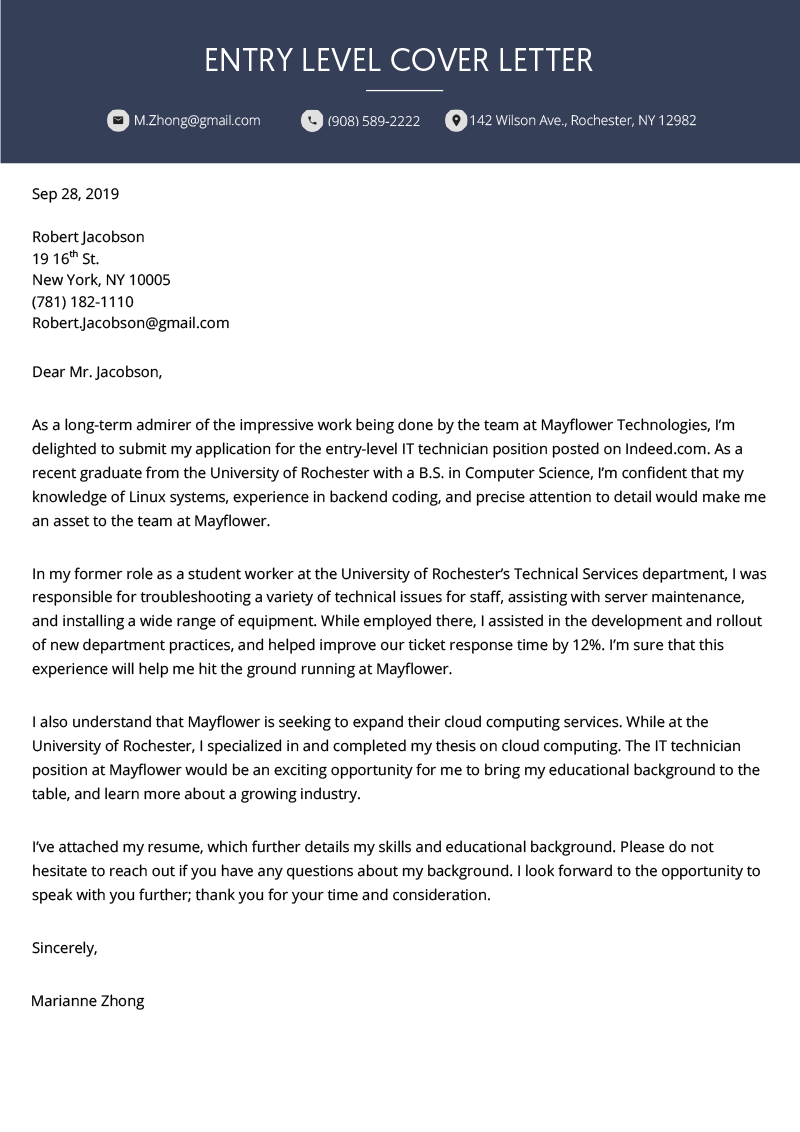 Entry-level cover letter sample (text version)
Sep 28, 2019
Robert Jacobson
19 16th St.
New York, NY 10005
(781) 182-1110
Robert.Jacobson@gmail.com
Dear Mr. Jacobson,
As a long-term admirer of the impressive work being done by the team at Mayflower Technologies, I'm delighted to submit my application for the entry-level IT technician position posted on Indeed.com. As a recent graduate from the University of Rochester with a B.S. in Computer Science, I'm confident that my knowledge of Linux systems, experience in backend coding, and precise attention to detail would make me an asset to the team at Mayflower.
In my former role as a student worker at the University of Rochester's Technical Services department, I was responsible for troubleshooting a variety of technical issues for staff, assisting with server maintenance, and installing a wide range of equipment. While employed there, I assisted in the development and rollout of new department practices, and helped improve our ticket response time by 12%. I'm sure that this experience will help me hit the ground running at Mayflower.
I also understand that Mayflower is seeking to expand their cloud computing services. While at the University of Rochester, I specialized in and completed my thesis on cloud computing. The IT technician position at Mayflower would be an exciting opportunity for me to bring my educational background to the table, and learn more about a growing industry.
I've attached my resume, which further details my skills and educational background. Please do not hesitate to reach out if you have any questions about my background. I look forward to the opportunity to speak with you further; thank you for your time and consideration.
Sincerely,
Marianne Zhong
What makes this entry-level cover letter sample stand out is how the candidate convincingly markets their strengths.
Notice that from the start, they emphasize their enthusiasm about the job opportunity, and call attention to the relevant skills they bring to the table. While they don't have any full-time work experience, the candidate still highlights the experience they do have, and connects their relevant coursework to the company's goals.
This demonstrates to the hiring manager that they not only have the basic skills needed to excel, but have also researched the position, and are passionate about the work being done by the company.
2. How to write an entry-level cover letter with no experience
A general cover letter is used to demonstrate the relevant skills you learned at previous jobs, and how your work experience makes you qualified.
But if you're writing a cover letter with no experience in your field and you have little (or no) relevant work experience to write about — filling up space with irrelevant accomplishments won't do you any favors.
Here's what you need to do in your entry-level cover letter to impress the hiring manager and stand out:
#1. Open with a strong introduction
Your introduction is the first part of your cover letter that a hiring manager reads, so it's critical that you know how to start a cover letter in a way that grabs their attention.
A great entry-level cover letter introduction should include:
An expression of your

enthusiasm

about the work the company does
The

position

you're applying for
A short blurb regarding your

background

A brief introduction to your

accomplishments

or

talents
Here's a breakdown of the introduction our applicant used to kickstart their cover letter:
The introduction of your cover letter is also where you should mention any contacts you have at the company. This helps add context, and immediately builds rapport with the hiring manager (assuming those contacts are in good standing where they work).
#2. Include important skills for an entry-level employee
Whether you have great interpersonal skills, a keen attention to detail, or the ability to code — every company has its own set of requirements and preferences for what it deems to be an ideal candidate.
If you don't have work experience, highlighting your skills is a great way to stand out and make yourself look more appealing to employers.
First, scan the job posting to find the essential skills for your target industry. Then, include them in your cover letter to demonstrate that you have the baseline knowledge necessary to excel.
Additionally, if there are certain skills you don't have but seem important to the position, use your cover letter to emphasize your enthusiasm about learning them.
#3. Do your research
One of the best ways to make your entry-level cover letter pop is to tailor it to the job you're applying for by thoroughly researching the company.
First, read up on the company's history, its products, goals, and any challenges it's facing. This will give you a better understanding of what qualities the hiring manager is looking for in its newest employees.
Then use your cover letter to address specifics about the position, like why you think you're suited for it, and how it plays a role in your long-term goals.
Not only will you appear excited and prepared to succeed in your new position, but your cover letter will make you appear as if you were tailor-made to fill the opening .
#4. Emphasize your education
You don't have any professional experience yet, so how do you write an entry-level cover letter that shows employers what you're capable of? You can start by highlighting your education.
Education isn't just a diploma, so don't write about it like it is. A college or high-school education is an experience that helps shape who we are, with numerous challenges and opportunities for growth that you can apply in a professional environment.
Use your cover letter to supplement your resume, and demonstrate to employers how your education tested your abilities and helped you hone certain skills.
Use concrete examples of projects you worked on or problems you solved during your education to demonstrate your more general strengths in your cover letter. Mentioning group projects, independent research, or extracurriculars you took part in are great ways to highlight specific skills, such as your ability to collaborate, creatively tackle challenges, and communicate with others.
3. Entry-level cover letter examples by industry:
Here's a list of specific entry-level cover letter examples by industry if you're looking for more helpful resources and examples:
4. You know how to write an entry-level cover letter. Now what?
Now that you know how to write the ideal entry-level cover letter for your profession, it's time to put pen to paper.
Before you start sending those job applications, be sure your cover letter looks as professional as possible with one of our expertly designed, free cover letter templates.
Also, don't forget to pair your slick new cover letter with one of our matching (and also free!) resume templates.
If you want to make the job application process even easier, try our state-of-the-art resume builder and easy-to-use cover letter builder. Our powerful software lets you create an impressive cover letter and resume in minutes — ones that are guaranteed to impress recruiters and land you more interviews.