Even though part time jobs require fewer hours than a full time job, writing a cover letter for a part time job enhances your application and shows recruiters you're serious about the position.
Keep reading to learn how to write a cover letter for a part time job with our cover letter template, examples, and tips.
Our free-to-use cover letter builder can make you a cover letter in as little as 5 minutes. Just pick the template you want, and our software will format everything for you.
Do I need a cover letter for a part time job?
Yes, you need a cover letter for a part time job. The only exceptions are cases where:
you're applying online and there's no space to submit a cover letter
an employer specifically asks their applicants not to provide one
While not all part time jobs require cover letters, employers usually favor resumes that are submitted with cover letters — a survey of hiring managers revealed that 56% expect a well-written cover letter in job applications.
Because the key purpose of a cover letter is to introduce yourself to the recruiter and show them you're the right person for the job, try to write a cover letter for every job you apply for.
If you don't have time to write a full cover letter for each application, consider writing a short cover letter that outlines your key achievements in less than 150 words.
How does a part time job cover letter help?
Accompanying your resume for a part time job with a cover letter allows you to explain the skills you've picked up in college (or previous full- or part-time roles) and show the hiring manager how they link to the open position so you can add value to their company.
Cover letter for a part time job (template)
Here's a part time job cover letter template that you can easily copy, paste, and tailor to the job you're applying for:
YOUR NAME
Your phone number | Your email address | Your mailing address | LinkedIn profile | Portfolio/website (optional)
[Hiring manager's name]
[Company address]
[Company phone number]
Hiring manager's email address]
Dear [Mr./Ms./Mx.] [Hiring manager's surname],
The opening paragraph contains a self-introduction. Mention who you are, your years of relevant experience, where you found the job posting, and why you want to apply for the role. Mention the correct job title to avoid giving off the impression that you're sending a generic cover letter.
Body paragraphs are where you provide examples of your hard and soft skills, work experience, and accomplishments. Connect these aspects of your cover letter to the job description, emphasizing why you're the perfect fit for the role.
Use hard numbers, bullet points, and

relevant keywords

to highlight your professional achievements — or academic achievements if you're a student.

Describe how your previous experiences, skills, and abilities enable you to deliver on the company's needs.
For example, if you're a recent graduate or looking to gain experience, list relevant coursework, mention your GPA (if above 3.5/4.0), previous internships, and volunteer work. If you've been out of the workforce or have any gaps in your resume, this is an excellent opportunity to briefly explain yourself.
In addition, introduce cover letter keywords that you found in the job description to make your cover letter more specific to the job. You can also research the company to find out what it does, the state of the industry, and how you can help move the company forward.
The closing paragraph contains an effective call to action (CTA) and ends your cover letter. State your interest in the job once more and reiterate what makes you perfect for the job. Mention that you'd love to receive an interview and provide the employer with your phone number and email address. Finally, thank the recruiter for taking the time to read your cover letter.
Sincerely,
[Your name]
Part time job cover letter samples
Your part time job cover letter has to be unique to your experiences. However, if you're short on time, using a cover letter template will speed things up because they're preformatted and ready to go. 
You can also take inspiration from the part time job cover letter samples below to make your writing process easier.
Word document version
This is an example of a part time cover letter for an on-campus part time job: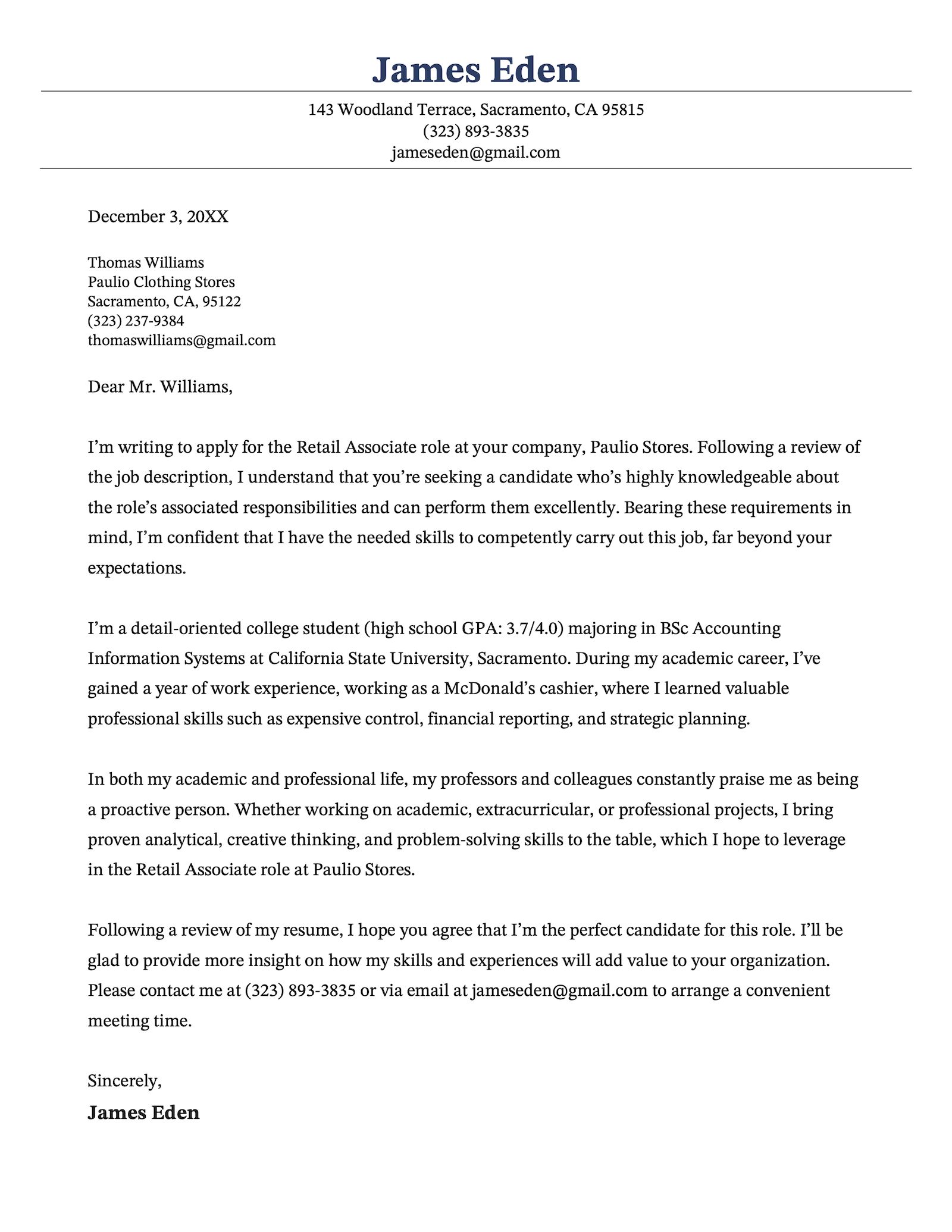 Part Time Job Cover Letter Sample (Text Version)
Dear Mr. Williams,
I'm writing to apply for the Retail Associate role at your company, Paulio Stores. Following a review of the job description, I understand that you're seeking a candidate who's highly knowledgeable about the role's associated responsibilities and can perform them excellently. Bearing these requirements in mind, I'm confident that I possess the needed skills to competently carry out this job, far beyond your expectations.
I'm a detail-oriented college student (high school GPA: 3.7/4.0) majoring in BSc Accounting Information Systems at California State University, Sacramento. During my academic career, I've gained a year of work experience, working as a McDonald's cashier, where I learned valuable professional skills such as expensive control, financial reporting, and strategic planning.
In both my academic and professional life, my professors and colleagues constantly praise me as being a proactive person. Whether working on academic, extracurricular, or professional projects, I bring proven analytical, creative thinking, and problem-solving skills to the table, which I hope to leverage in the Retail Associate role at Paulio Stores.
Following a review of my resume, I hope you agree that I'm the perfect candidate for this role. I'll be glad to provide more insight on how my skills and experiences will add value to your organization. Please contact me at (323) 893-3835 or via email at jameseden@gmail.com to arrange a convenient meeting time.
Sincerely,
James Eden
Download This Part Time Job Cover Letter Sample
Email version
Some recruiters require candidates to email their applications. If you're sending your application for a part time job as an email, the subject line should include your name and the job you're applying for.
If you're unsure of how to write an email cover letter, this sample below offers some insight.
Have a look at how our applicant wrote their subject line and introduced themselves in their cover letter: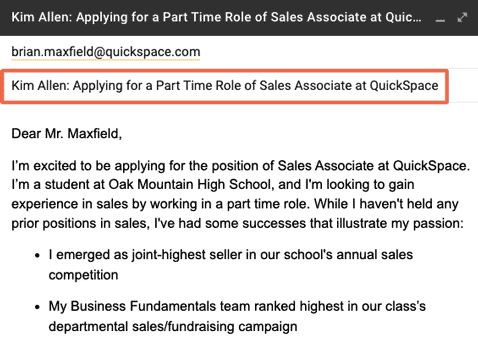 Part Time Job Email Cover Letter Sample (Text Version)
Dear Mr. Maxfield,
I'm excited to be applying for the position of Sales Associate at QuickSpace. I'm a student at Oak Mountain High School, and I'm looking to gain experience in sales by working in a part time role. While I haven't held any prior positions in sales, I've had some successes that illustrate my passion:
I emerged as joint-highest seller in our school's annual sales competition

My Business Fundamentals team ranked highest in our class's departmental sales/fundraising campaign
My charm makes it easy for me to reach out to people and sell a product or idea — a skill I'll put to use for you. I'm a team player, and most importantly, a goal-getter. I'm versatile in using social media for sales and promotions and have engaged in several successful online outreach programs. I'm confident that my experience will be valuable in your sales department and drive sales to your online store.
I've attached my resume to this email for your consideration. Should you have any questions, I'd be happy to respond to them and discuss the opportunity with you further.
Thank you for taking the time to read my email and resume. I look forward to hearing from you in due course.
Sincerely,
Kim Allen
(910) 784-8219
5 tips for writing a cover letter for a part time job
Part time job cover letters require a high level of attention and structure — similar to writing a cover letter for a full time job. Additionally, you should ensure your part time job cover letter sets you apart from other applicants.
These cover letter tips can help you craft an effective cover letter for a part time job:
1. Use appropriate cover letter formatting
To make a great impression, your cover letter should look professional. If you're printing it, ensure your cover letter length is optimal (one page maximum) and that your cover letter spacing and margins are correct. Your cover letter should also have enough white space so the margins don't look too small.
The cover letter font should also be simple and readable. Look at cover letter examples to get an idea of how to format yours.
2. Highlight your accomplishments
Whether you're a college student, a recent graduate, or a professional with work experience, it's important to showcase your work accomplishments in your cover letter. But don't try to list out all your accomplishments — choose skills that help the recruiter visualize you in the role.
If you're a teenager or young college student writing a resume with no prior experience, list your academic and extracurricular achievements.
For example, you could list your GPA as an accomplishment in your cover letter.
Similarly, if you have good computer skills and social media skills, mention them in relation to the job requirements.
3. Tailor your cover letter to the job description
Crafting a cover letter that references the job description increases your chances of getting an interview.
For example, if you're writing an application for a part time job as a marketer, use keywords and action verbs related to the role.
4. Name drop your referral in your cover letter
Employees often refer people to apply for vacant positions in their companies. If someone in the company referred you for the role, mentioning them in your cover letter can boost your interview chances.
When you include a cover letter referral, hiring managers will pay closer attention to your application.
Employers will talk to your referral directly or ask you more questions in an interview.
So, save space on your cover letter for your other experiences by mentioning your referral briefly in your opening paragraph.
5. Pay attention to the tone of your cover letter
Authenticity and professionalism are crucial when writing a cover letter because you want to interest the hiring manager and get them to read your cover letter to the end.
A good approach is to put yourself in the employer's shoes and think about the tone they'd want an applicant to use.
Correcting your own writing can be challenging, so get a friend or family member to review your cover letter before submission.