The secret to a well-written cover letter closing is to always leave the reader wanting more.
It should convince the hiring manager to call you in for an interview before another company snaps you up first.
Read on to learn how to end a cover letter in a way that ties your application together and makes potential employers eager to meet you in person.
1. What to Include in a Cover Letter Closing
There's more to ending a cover letter than signing your name and hoping for the best.
While cover letter openings are vital for grabbing the hiring manager's attention, cover letter closings are where you reinforce your strongest selling points as a candidate.
When presented with several pieces of information, people most easily remember the last one. Psychologists call this the serial position effect.
Thanks to how the human brain works, the second half of your cover letter is what will stick in the hiring manager's mind. Now that you're aware of this fact, you can use it to your advantage.
Here's a proven cover letter ending formula:
Final body paragraph — add your key selling points here
Call to action — push for an interview and say you'll follow up
Sign off — use HR-approved language to achieve the right level of formality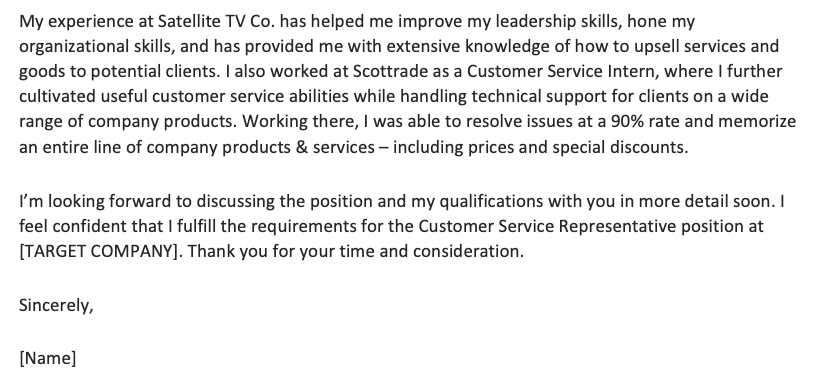 Let's look at how these components can be used to great effect, so you can construct your own masterful cover letter conclusion with ease.
2. Ending a Cover Letter: 3 Ready-to-Use Examples
Before you prompt the hiring manager to contact you in your cover letter closing paragraph, you need to reinforce why they should.
Remember this step and you'll nail it every time:
Explain how you will add value to the company if hired.
Many candidates believe they should end their cover letter by pointing out how much they want the job. This is 100% wrong.
You should emphasize what you can do for your potential employer, not what they can do for you.
State how your skills and experience will directly benefit their business. By focusing on the needs of the company instead of your own, you'll change the tone of your cover letter closing — possibly even your whole application.
Choose an approach below as the last body paragraph of a cover letter, and you'll be miles ahead of other candidates.
Express Your Passion
One of the most desirable traits in an employee is genuine enthusiasm.
Not only are businesses with highly-engaged staff more profitable, but passionate workers maintain and improve their performance over time. This means longer retention rates and higher productivity.
Use your cover letter's last paragraph to demonstrate how passionate you are about the work you would perform, and you'll immediately be viewed more favorably by hiring managers.
As a devotee of the beauty industry and a loyal customer of Body+ Skincare, I'm excited to use my social media and marketing skills to bolster the company's reach online. I can't wait to share my ideas for how best to spread the brand's message that everyone is beautiful.
Make an Offer They Can't Refuse
Many applicants reiterate their impressive qualifications and skills, but forget to describe how they would use these abilities if offered the position.
One effective choice for ending a cover letter is to explain exactly how you will contribute to the company's bottom line. If you make it clear that they'd essentially be losing money if they didn't hire you, then your chances of landing an interview are looking pretty good.
If hired, I'll bring the same results-oriented mindset to Power Gym as I brought to UltraFit. I'm looking forward to showing you how I improved member retention by 35% and drove monthly sales of over $2500 in supplements and fitness accessories.
Connect With the Company's Future
If you've researched your target company thoroughly, you should roughly know its values and goals. Such insight allows you to establish a connection with the hiring manager, and show how you are a vital part of achieving the company's mission.
Use the following closing for your cover letter to explain how your objectives align with the organization's, and how you will help the organization grow.
SmartMeals' mission statement is that it wants to reinvent how people approach their diet. On your team I would continue to develop my conscientious approach to customer service and help create the most compelling organic food shopping experience imaginable.
3. How to Close a Cover Letter With a Call To Action
Once the hiring manager views you as a potential asset, you can prompt them to call you. This can be tricky to get right because you must carefully tread the line between confidence and pushiness.
We call this cover letter closing statement a "call to action" because it encourages the reader to act — in this case, to get in touch with you.
Use these four steps to craft a subtle yet effective call to action.
Step 1: Inform the hiring manager that you'd love the opportunity to discuss your application further.
Step 2: List your contact details. It will save the hiring manager time if they can pick up the phone or start typing an email straight away.
Step 3: Say you'll be in contact within a week. This shows that you're proactive and that the job is important to you.
Step 4: Say thank you to the hiring manager for reading your cover letter. It's a small addition, but a heartfelt thank you is polite and professional.
Here's how it looks in the closing paragraph of a cover letter:
I'm looking forward to discussing my skills and experience in more detail soon. Please contact me at (123) 456 789 or bestcoverletterendings@rg.com any time. I'll be in touch next week to follow up, just to make sure you received my application. Thank you for your time and consideration.
How to Sign Off a Cover Letter in Style
Now that job applications are usually sent by email, your cover letter sign off can be the most stressful stage of the entire writing process. You don't want to sound too rigid and formal, but you don't want to treat the hiring manager like an old friend either.
Strike a balance by ending with one of the following cover letter closing salutations.
7 cover letter sign-offs to use
Sincerely
Best
Regards
Thank you
Respectfully
Kind regards
Best regards
Each of these is formal without sounding stuffy.
On the other hand, there are closings that don't resonate with hiring managers. Steer clear of these endings, and you'll be in much better shape when you start sending out cover letters.
Avoid These 11 Inappropriate Cover Letter Sign Offs
Cheers
Warm regards
Affectionately
Yours truly
Take care
See you soon
Fondly
Take it easy
Godspeed
Best wishes
Have a good day
These complimentary closes are a mix of informal, over-familiar, and just downright awkward. Don't write the perfect cover letter and then blow it by using one of these clumsy closes.
4. Key Takeaways (+1 Secret Weapon)
You're now an expert on how to conclude a strong cover letter. Your application will be a breath of fresh air to hiring managers, and an interview should be right around the corner.
Here are the three components to remember:
One paragraph explaining how you add value
A confident call-to-action
Your name and an elegant sign off
Not that you need anything else by this point, but there's one more trick that our career experts recommend for your closing remarks.
Secret Weapon for Closing a Cover Letter: The Postscript (P.S.)
Remember how the last thing the reader sees is what they recall most easily?
If you have one knockout quality that makes you a unique candidate, or simply a favorite cover letter closing line, put it in a P.S. as a nice finishing touch.
Having this extra section at the bottom of the page draws the hiring manager's eye. They'll probably read it before the body of the letter — and then again after.
Don't restate information in a P.S. though. Follow the cover letter structure laid out previously to showcase your skills and experience, and then treat the P.S. as the cherry on top.
We're not saying it's the best way to end a cover letter, but it can be a powerful tool if used well:
P.S. — I consider myself a lifelong student, and would love the opportunity to apply my 10+ years of experience in education but also continue to learn as a member of your school faculty.
Good luck on the job hunt!
If you're ready to write, try adding your ideas to one of our free cover letter templates. We have a range of designs targeted at different industries that can be easily downloaded for Microsoft Word.
Or if you prefer, our free cover letter builder can help you create not only a great closing but a complete, HR-approved cover letter in roughly five minutes.