If an employer asks that you submit an email cover letter, you need to make sure it grabs their attention as soon as they read the subject line. We'll show you how to write an email cover letter from beginning to end.
Our free-to-use cover letter builder can make you a cover letter in as little as 5 minutes. Just pick the template you want, and our software will format everything for you.
What is an email cover letter?
An email cover letter is like a standard cover letter. The only difference is that it's either:
Pasted into the body of your email
Attached to the email you send an employer for a job application (alongside your resume PDF)
The purpose of any cover letter is to introduce yourself to the hiring manager, explain how you found the job, why you're applying, and briefly go over your experience and qualifications.
Email cover letter sample
Here's a compelling email cover letter sample from a candidate applying to a marketing position: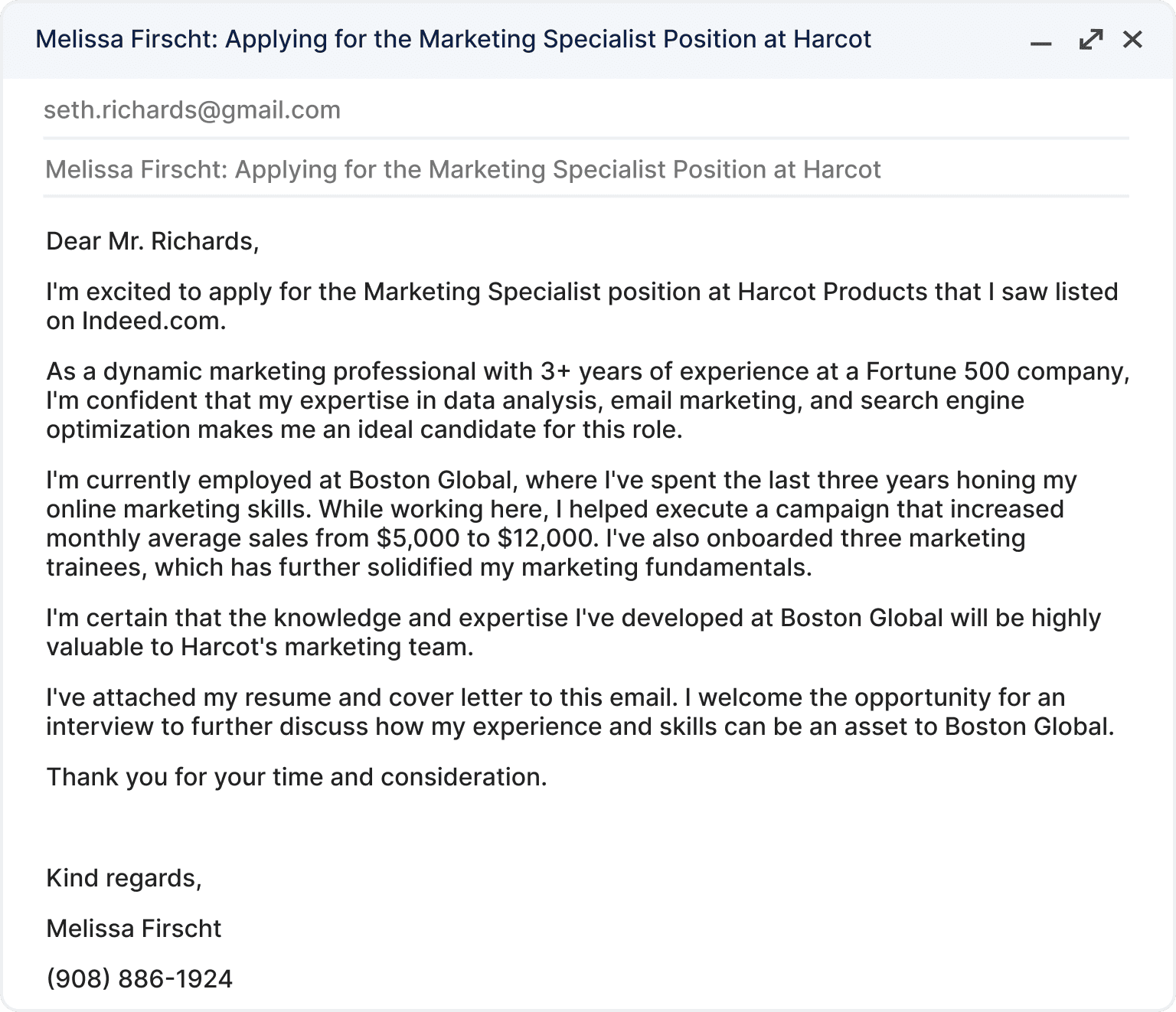 Email cover letter (text format)
Email Cover Letter (text version)
Dear Mr. Richards,
I'm excited to apply for the Marketing Specialist position at Harcot Products that I saw listed on Indeed.com.
As a dynamic marketing professional with 3+ years of experience at a Fortune 500 company, I'm confident that my expertise in data analysis, email marketing, and search engine optimization makes me an ideal candidate for this role.
I'm currently employed at Boston Global, where I've spent the last three years honing my online marketing skills. While working here, I helped execute a campaign that increased monthly average sales from $5,000 to $12,000. I've also onboarded three marketing trainees, which has further solidified my marketing fundamentals.
I'm certain that the knowledge and expertise I've developed at Boston Global will be highly valuable to Harcot's marketing team.
I've attached my resume and cover letter to this email. I welcome the opportunity for an interview to further discuss how my experience and skills can be an asset to Boston Global.
Thank you for your time and consideration.
Regards,
Melissa Firscht
(908) 886-1924
melissa.firscht@gmail.com
Email cover letter format & writing tips
Now that you've seen what an email cover letter should look like, here are five tips on how to format and write an effective email cover letter:
1. Make it easy to read
The average recruiter spends very little time looking at an email. If you want your job application to stand a chance, your email cover letter format must be clear and easy to read, even on a smartphone.
Each paragraph should only be one to three sentences long. You'll also need to ensure that you have a clear introduction, main body, and closing paragraph so that hiring managers can skim for and find the information they're looking for.
Here's an example of an easy-to-ready email cover letter: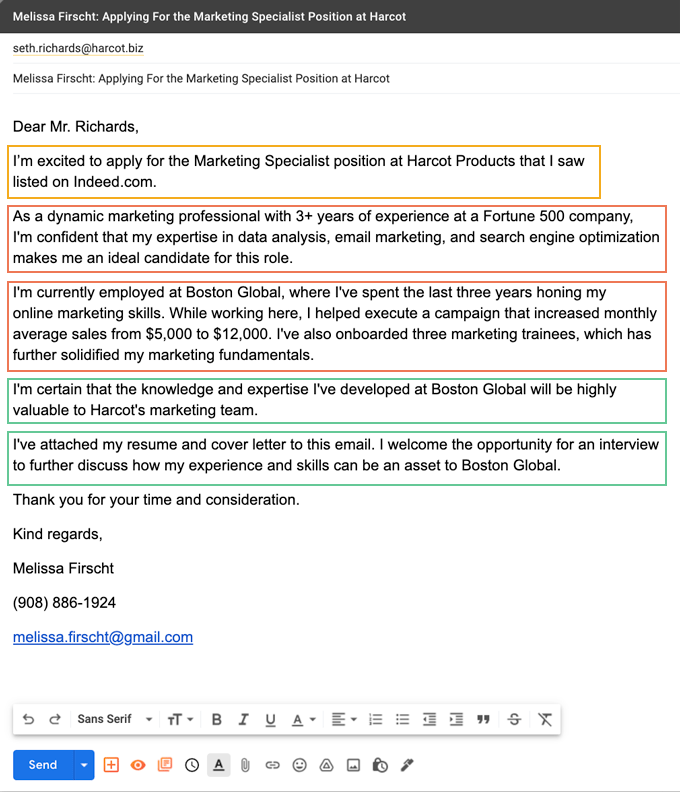 Notice how each paragraph is short, to the point, and no longer than three sentences. Follow this format, and recruiters will quickly get the information they need from your email.
2. Be direct and to the point
When writing an email cover letter, the trick is to make it informative but short.
Briefly introduce yourself, your experience, qualifications, and skills to convince the hiring manager to consider your application.
It can be tempting to talk at length when including your accomplishments or why you're interested in the job. But you should edit your email cover letter down to only the most important and relevant information.
For instance, your email cover letter doesn't need to include more than a couple of sentences about your personal background or passions.
To ensure you're hitting all the right points without adding too much fluff, follow these three rules:
Include only the most relevant information concerning the position (check the job description and try to match the experience and skills you mention with it)
Highlight one (or two, maximum) of your professional achievements
Provide a brief, confident call-to-action, listing your contact information and your availability for an interview
If you need some help putting together a cover letter that'll impress hiring managers, try using an AI cover letter generator that can help you showcase your skills and experience.
3. Include an informative subject line
Using an eye-catching email subject line is crucial for a successful job application.
You might have an impressive resume and cover letter, but if your subject line is unclear, hiring managers won't take the time to open your email.
Your subject line is the first thing potential employers see. To guarantee you win the hiring manager's attention, ensure your subject line includes:
Your name
The position you're applying to
Ultimately, your email subject line should be professional, brief, and relevant.
The only exception to this rule is if the job you're applying for has a specified format the employer wants your subject line to use. Double check the listing to see if this is the case.
4. Personalize your email to the reader
People (including hiring managers) are much more attentive when they hear or read their name, so make sure you directly address the hiring manager in your email cover letter.
If you don't know the hiring manager's name, find it by:
searching on LinkedIn
checking the company's website
calling the office manager or receptionist and asking for their name
You can also look into alternatives to writing "Dear Sir to Madam". If all else fails, there's nothing wrong with starting your email with "Dear Hiring Manager,". But if you can, avoid it.
5. Finish with a convincing closing paragraph
Your email cover letter closing should begin the next step of the hiring process by encouraging the hiring manager to reach out to you.
Specifically, re-state your interest in the position and state your availability for an interview.
The closing of your email should come across as confident but not pushy or desperate. Make it clear that you're available and interested, but don't pressure the hiring manager to respond.
Finally, end with a professional and courteous HR-approved sign-off such as "Sincerely," "Regards," or "Best regards."
Here's an example of how to close your email cover letter:
I've attached my resume and cover letter to this email. I welcome the opportunity for an interview to further discuss how my experience and skills can be an asset to Boston Global.

Thank you for your time and consideration.

Regards,

Melissa Firscht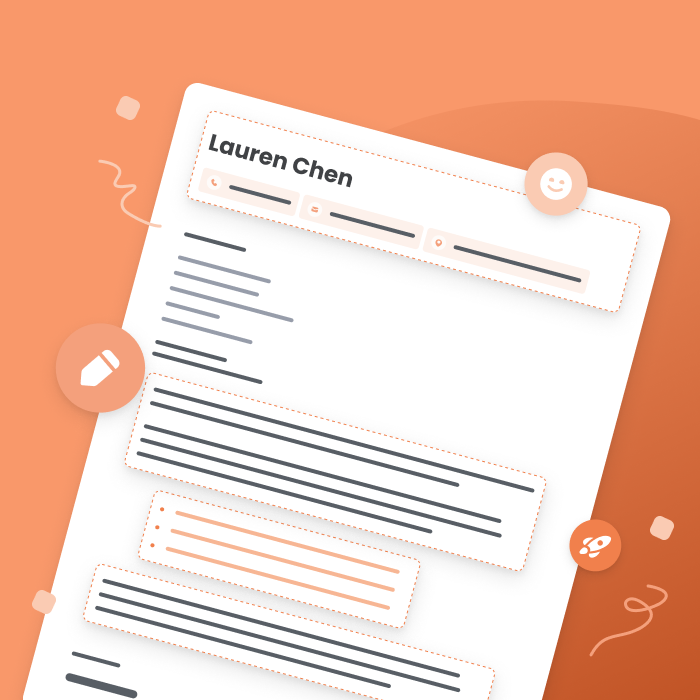 Dread writing cover letters? Read our guide to learn how to write a great cover letter that convinces hiring managers you're the ideal person for the job.
How to send an email cover letter
Once you've finished writing the main contents of your email cover letter, you're ready to send it to the hiring manager (and attach your remaining application materials).
Before emailing your resume and cover letter though, there are three simple rules you should keep in mind:
Follow the job ad's instructions — some jobs have specific instructions regarding how they would like your application materials attached. Double check the listing to make sure you're following their guidelines.
Send you files in PDF or .docx format — PDF and .docx are the most accessible file formats and are considered standard for most jobs. If the employer doesn't specify which, use PDF because it's easier to open on all platforms.
Use a professional file name — your file name should follow a format like "First-Name-Last Name-Cover-Letter."
Additionally, pay attention to the little details in the job description. For example, if the company spells resume with accents (résumé), use accents in your resume's file name too. The hiring manager will appreciate your extra effort and attention to detail.