According to a survey by Saddleback College, hiring managers spend 30 to 60 seconds reviewing a candidate's job application. They're busy people, so submitting a rambling, lengthy cover letter is a surefire way to have your application overlooked entirely.
Keep reading to find out the perfect cover letter length, so you can craft the ideal cover letter for a job application and soon land fulfilling work.
Table of Contents
1. What is the Ideal Cover Letter Length?
It's a common question brought up by job recruiters as well as those within the resume industry — are cover letters necessary? Let's go ahead and assume that they are for a moment. In that case, how long should a cover letter be?
The short answer is, well, short. Avoid writing your cover letter as if it's an actual letter — it isn't. It's a way to flesh out the most impressive aspects of your resume, and should be treated as a brief addition.
With that said, the standard cover letter length is:
200-300 words
Between ½ and one page
one to four paragraphs long
How Many Words Should a Cover Letter be?
The average reading speed of an adult in the US is roughly 300 words per minute. Since hiring managers typically spend less than a minute reviewing a resume, we can assume that a brief cover letter of around 200-300 words is ideal.
Should a Cover Letter Be One Page?
The ultimate goal of any job application is to sell yourself as the ideal candidate while making a great first impression.
Naturally, the desire to describe your accomplishments and aspirations in painstaking detail might seem like the optimal way to sell yourself — but not so fast.
Submitting a long-winded, two-page cover letter is the perfect way to make any hiring manager's eyes glaze over — especially if you're applying for an entry- or mid-level position.
In order to fit everything on one page, follow these rules:
Include only the most relevant information concerning the position.
Choose a single, impressive bullet point from your resume and expand on it.
Provide a short call-to-action telling the hiring manager when you're available for an interview.
Include a brief sign-off.
One Page Cover Letter Example
Our retail sales associate cover letter sample below is a great example of a one-page cover letter. The candidate keeps the letter brief at only 223 words — which would take the average adult just under a minute to read.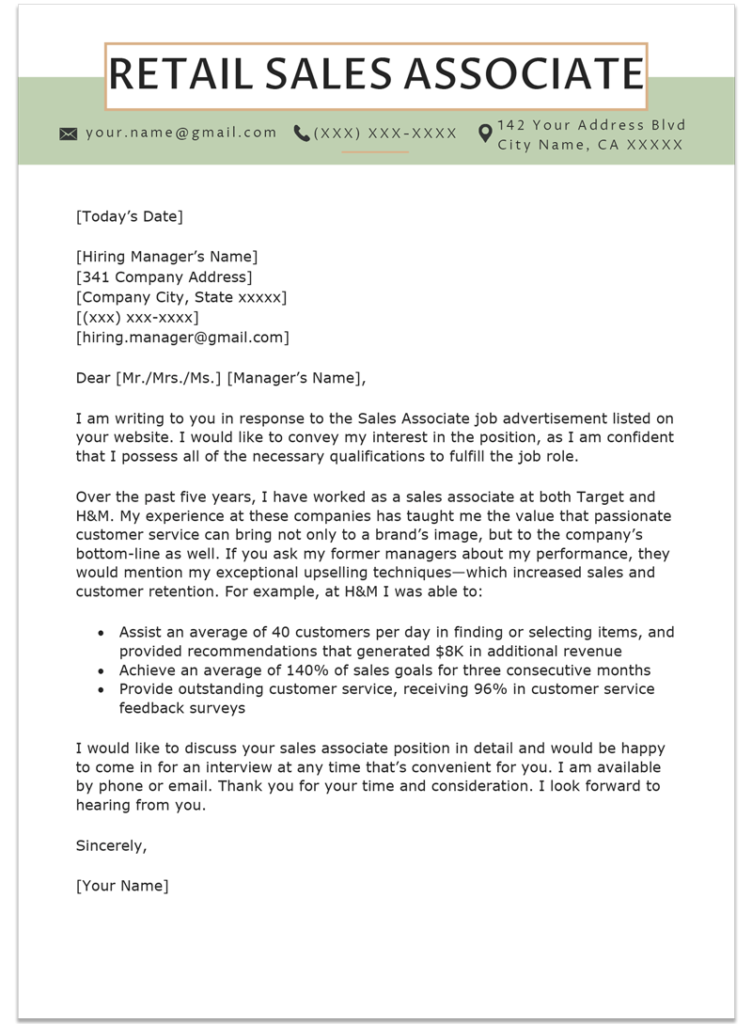 Does a cover letter have to be one page? Well, no, not necessarily, but a single page is standard. The optimal cover letter length, as mentioned earlier, falls in that half to full-page range.
Can a Cover Letter Be Two Pages?
Writing a two-page cover letter can be acceptable in some cases — although, consider this the cover letter page limit.
For most positions, a typical cover letter should only be a single page. However, top-level management roles, or careers that involve sophisticated analysis, research, and/or development can certainly go beyond one page.
We recommend sticking to one page unless you're applying for one of the following positions:
Two Page Cover Letter Example
When applying for highly technical roles or jobs requiring 5 to 10+ years of experience, submitting a two-page cover letter is acceptable.
Take a look at our two page example for a CEO position at a prestigious tech company:
2. Formatting a Brief Cover Letter
Cover letter format should be a major consideration when creating a document that's as extremely important to first impressions as this one.
A typical cover letter should follow this standard format:
Contact information
The employer's contact information
A brief greeting
Opening, middle, and closing paragraphs
A short sign-off
These five key points are all that's needed to craft a perfectly formatted cover letter.
Should a Cover Letter Be Double-Spaced?
So, you've finished writing your cover letter. It's as short as you could possibly make it, and then you realize you've only filled up half the page! How on earth will the hiring manager believe you're a qualified candidate if you don't even have a full page's worth of information?
Don't worry. There's no need to start messing with line spacing just to fill up the page (it's not a college term paper, thankfully).
Resume writing experts agree that each paragraph of a cover letter should be single spaced.
The only time you should use the double-spaced format is between paragraphs. This improves the readability and flow of your cover letter.
How Many Paragraphs are in a Cover Letter?
As previously stated, keeping your cover letter concise should be your number one priority. That means no unnecessary information and no overly wordy rants. It isn't a thesis, it's a cover letter for a job application. At most, everything you need to mention should be contained within three to four paragraphs.
While it depends on the nature of what's being written, a single paragraph typically contains around 100-200 words. Therefore, a three-paragraph cover letter should fit within the recommended cover letter word limit of 300 words.
3. How Long Should an Electronic Cover Letter Be?
By and large, the cover letter rules that we've discussed in this article are for hard-copy cover letters — those that you physically print out.
If you're applying online, there will most likely be an area where you can upload PDF or Word document versions of your resume and cover letter. The same word count, paragraph count, and page length rules apply to electronic cover letters.
Having said that, you should make a few small tweaks when submitting your application via email:
Ditch the employer contact information.
Move your personal contact information below the signature.
Create a simple subject line that includes the job position and your name.
Since there technically aren't any "pages" in an email, you may think it's fine to exceed the recommended cover letter word count when submitting an application electronically. You would be mistaken.
Hiring managers have a limited amount of time to review job applications, and to strengthen your chances of landing an interview, a short cover letter is still your best bet.
Ensure you achieve the perfect cover letter length with our free cover letter builder, or try writing your own by downloading any one of our 120+ cover letter templates!