Nailing the right cover letter length is essential to making a good first impression on hiring managers. We'll break down the best cover letter length for your situation and give you helpful editing tips to perfect your cover letter.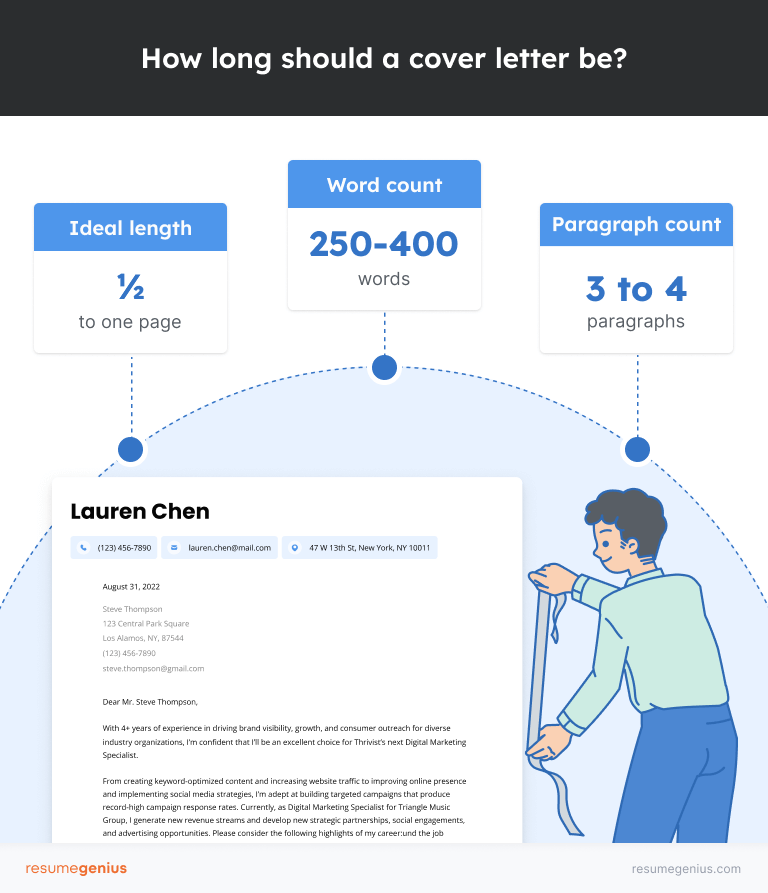 Typically, a cover letter should be 250-400 words or three to four concise paragraphs. The ideal cover letter length is a half-page to one page long.
This cover letter length gives you enough space to communicate your experience and convey your interest in applying while also respecting the hiring manager's time. If your cover letter is any longer than one page, you risk coming across as self-absorbed or unfocused.
In some cases, a longer, more detailed cover letter can be to your benefit. For many industries, your cover letter is a great opportunity to showcase your communication skills (one of the most in-demand skills hiring managers cited in a recent HR survey).
That being said, you should never fill the whole page unnecessarily to seem more impressive — removing fluff and communicating concisely are essential writing skills.
Our free-to-use cover letter builder can make you a cover letter in as little as 5 minutes. Just pick the template you want, and our software will format everything for you.
Example of proper cover letter length
Take a look at the following well-structured cover letter example that takes up less than one page.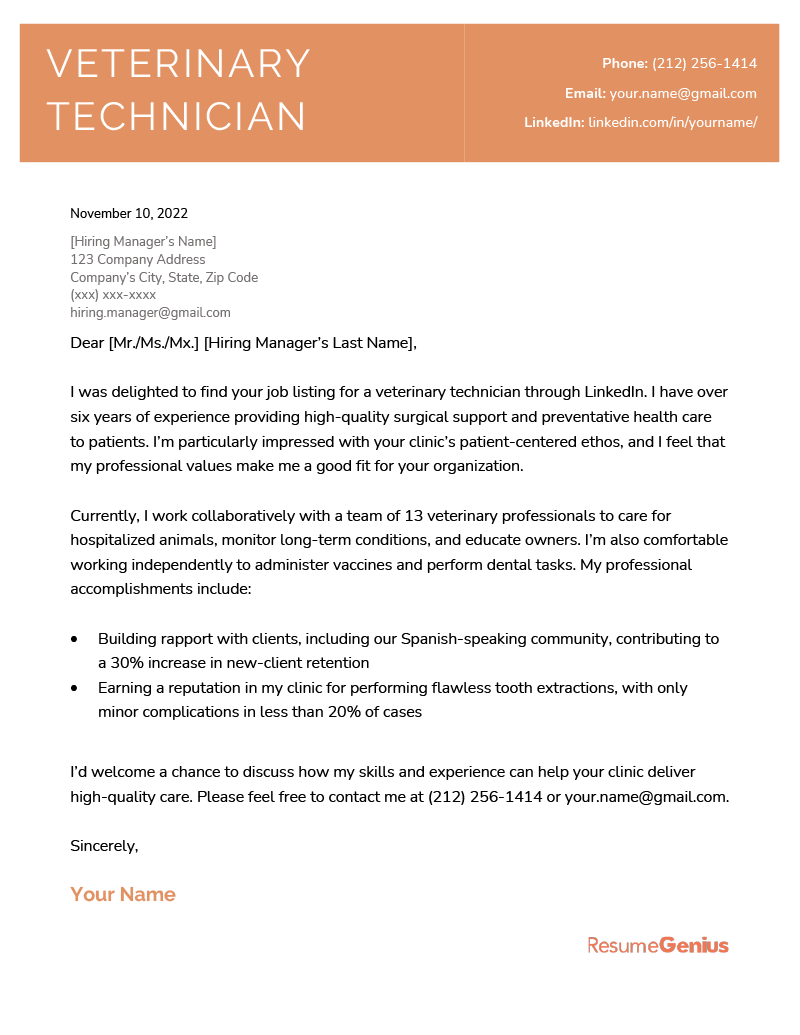 Download This Cover Letter Example
This example of a veterinary technician cover letter does a great job showcasing the applicant's experience and suitability for the role. It also avoids overly wordy language and unnecessary details.
To help you model your own cover letter after this example, we'll show you what to include in each paragraph of your cover letter.
What to include in your cover letter to keep it at the right length
A standard cover letter should be concise and broken into four informative paragraphs:
Introduction paragraph
In your first paragraph, introduce yourself and explain why you're applying for the job. Emphasize why you're passionate about the position, and state how many years of relevant experience you have.
First body paragraph
Your first body paragraph should focus on your professional accomplishments. Showcase achievements that best demonstrate what skills and experience you'll bring to the company if hired, and use numbers whenever possible to provide context.
Second body paragraph
In your second body paragraph, connect your qualifications to the needs of the company.
Research the company's current projects and future goals, and explain how your past accomplishments have prepared you to contribute toward those projects and goals.
If you're not sure what the company's specific goals are, try looking at relevant cover letter examples from other professionals in your industry to see if there are any common challenges. Understanding these challenges will help you think of ways to show hiring managers what you can contribute.
Closing paragraph
The final paragraph of your cover letter should restate your interest in the position, and thank the hiring manager for taking the time to look through your application.
Provide them with your email and phone number again so they can connect with you as soon as possible.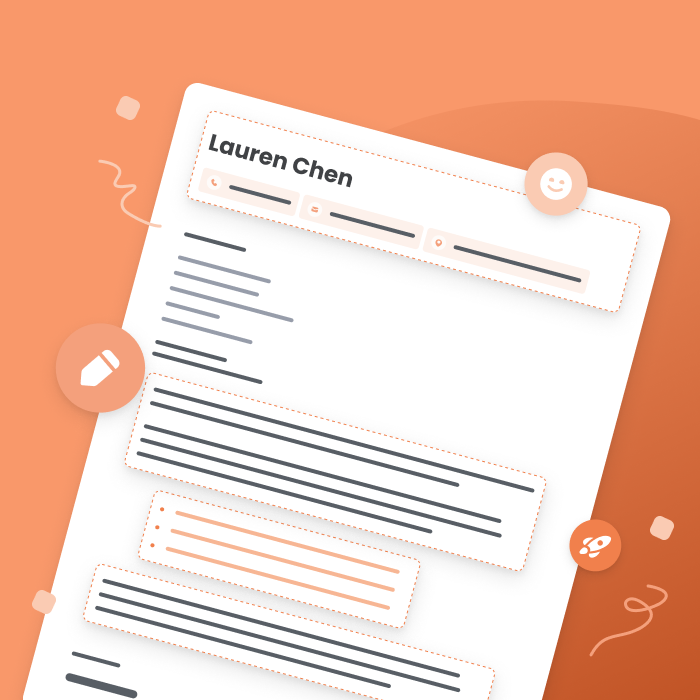 Dread writing cover letters? Read our guide to learn how to write a great cover letter that convinces hiring managers you're the ideal person for the job.
Tips for achieving the ideal cover letter length
Struggling to keep your cover letter to one page? Here are some tips to help you condense your achievements and put together a cover letter that employers want to read:
1. Write concisely and edit your wording
Chances are, the first draft of your cover letter will be too wordy and require some editing. That's because the way we naturally speak uses more words than are necessary to effectively communicate an idea.
Here's an example of a sentence from a cover letter that's not written concisely:
Considering my previous experience in the customer service industry, I am confident in my ability to build and maintain excellent relationships with clients, ensuring their continued satisfaction and loyalty.
Although this sentence sounds professional at first, it uses unnecessarily wordy language to communicate a basic idea. By simplifying it, you can communicate that same idea more directly, like in this example:
My 4 years in customer service taught me to build and maintain excellent client relationships, ensuring their satisfaction and loyalty.
If you're struggling to make your cover letter more concise, here are a couple essential editing tips:
Replace phrases with a word
While common phrases like "due to the fact that" or "in the event that" sound fancy, they make your writing less direct. Hiring managers typically prefer clear, straightforward language because it's easier to read and makes you sound more confident.
Replace unnecessary phrases with fewer words. For example, "due to the fact that" can be replaced with "because", and "in the event that" can be replaced with "if".
Use online tools to help you
Using an online cover letter builder can help you put together an effective cover letter by prompting you with questions about your experience. These tools help make sure you hit all the essential talking points while using concise language.
You can also try using AI tools like ChatGPT to help you write or revise your cover letter. By giving the chatbot some information about your experience and the position you're applying for, it can generate a cover letter first draft for you.
2. Focus on your most relevant achievements
If you have a lengthy work history, highlighting all the work experience you have on your cover letter might be tempting. Similarly, if you lack experience it can feel like the best thing to do is use your cover letter to tell employers about your life experiences.
However, busy hiring managers don't want to read a long, unfocused cover letter. To keep your cover letter clear and concise, you should only write about your most relevant accomplishments or qualifications.
For example, imagine you're writing a sales associate cover letter. You should highlight just one or two anecdotes showing how you increased sales revenue at your previous company, rather than including four or five less-relevant examples.
3. Consider using bullet points
Using a few bullet points in your cover letter is a great way to showcase your relevant accomplishments and save space.
Cover letter bullet points are effective because they:
Naturally draw attention — even a skim reader will consider your cover letter bullet points more carefully than the rest of the letter
Save space by eliminating transitional phrasing between sentences
Break up large chunks of text, making your cover letter clearer and easier to read
4. Try using the STAR method
The STAR method is a writing technique used to describe your experience in concrete, actionable terms. STAR is commonly used when writing your resume experience section, but can also be applied to your cover letter to make it more concise and achievement-oriented.
STAR stands for Situation (the overall problem you were faced with), Task (what you were responsible for doing), Action (what you did in the situation), and Result (what you achieved).
Here's an example of a cover letter section that applies the STAR method:
When our website was hit with a dip in traffic, my manager tasked me with recovering our rankings. I spearheaded a highly effective Twitter outreach campaign that increased impressions and clicks site-wide by 32% over a two-month period.
Note how this example effectively uses the STAR method to make every word count, fitting an impressive achievement into two brief sentences.
5. Adjust your cover letter formatting
Have you edited your language to be more concise but still can't fit your cover letter on one page? Try adjusting your cover letter's format to be more space-efficient and organized.
First, adjust your cover letter spacing and margins to fit more words on the page. The page should be single-spaced, and your margins set to 1" all around.
If you're still having trouble making your cover letter fit, then you might need to adjust your cover letter font. Use a standard, easy-to-read font like Georgia or Arial. Your font size should be 11-12 points.
Lastly, consider shrinking the header of your cover letter to save space (if necessary).
Some online cover letter templates feature large headers to help an applicant's name stand out. If your cover letter is too long, adjust the header by reducing the font size and cutting any unnecessary information or graphics.
6. Double check for employer requirements
Before submitting your cover letter, be sure to check whether the employer specified a required length. Going over or under this requirement will reflect poorly on your ability to follow instructions, and possibly leave a bad first impression on employers.
If the employer doesn't specify how many words your cover letter should be, you can use other factors to gauge how heavily weighted the cover letter is in comparison to other application documents.
For example, if a cover letter is required on the application, the hiring manager will probably spend more time looking at it.
With this in mind, consider writing a shorter cover letter if it's not required. Likewise, if the application requires a cover letter, you can take up a bit more space on the page if it helps you make a better case for yourself.
Frequently asked questions about cover letter length
Still have unanswered questions about cover letter length? Use the questions below to make sure your cover letter is perfectly formatted before you submit.
How long should an electronic cover letter be?
An electronically submitted cover letter should be roughly 250-400 words in length and follow the same general guidelines as a cover letter submitted in paper copy.
When sending a cover letter electronically, whether as an email cover letter or through an online submission platform, you should pay attention to the word count to make sure your cover letter isn't too long.
The easiest way to do this is to first draft your cover letter in a Word document or Google Docs, then copy it to the body of an email or the application software.
Is a two-page cover letter too long?
Yes, a two-page cover letter is too long, no matter how much experience you have. One page or less is the appropriate cover letter length.
Going over the one-page cover letter limit can give hiring managers the impression you don't value their time, can't communicate effectively, or are overcompensating for a lack of relevant experience by including too many details.
If your cover letter is too long, the employer might not get to your most impressive qualifications in the time they spend reading your cover letter, so it's best to write a focused and concise cover letter.
Should a cover letter be double-spaced?
No, a cover letter shouldn't be double-spaced. Cover letters should be single-spaced to create a professional look and help your individual paragraphs stand out.
However, if you're writing a short cover letter and want to space out the text more, try going up to 1.15 spacing.