You're sitting across from an interviewer, and it happens — they look up from your resume and ask:
What would you say is your greatest achievement?
You know you need to ace this common interview question. It shows the interviewer what you can do for the company if you're hired, and why you stand out from the competition. But what do you say?
In this article we break down what interviewers want to hear when they ask you about your greatest achievement, and how to answer this question the right way.
Let's get started.
Why interviewers ask the greatest accomplishment interview question
While asking about your greatest achievement may seem like an intense question, it's not as intimidating once you understand the interviewer's motivation.
When interviewers ask this question, they're usually looking for three things:
Your idea of success: Employers want to know what you'll strive for in your future role.
Your drive and motivation: Interviewers want to know what motivates you because it gives them a good idea of how compatible you are with the role.
Your self-image: Employers want someone who can deliver the goods without making it all about themselves. If your instinct is to be humble but honest, you're on the right track.
To come up with a great answer, think of your greatest professional accomplishments and choose one that demonstrates these key components.
"What accomplishment are you most proud of?" examples
You can't borrow or copy an accomplishment, but you can borrow structure, style, and delivery. Find the example below that best mirrors what stage you are at in your career, and consider how you'd adjust it to describe your biggest achievement.
Entry-level sample answer
If you don't have much professional experience to draw from, consider accomplishments from your academic career and any internships or volunteer work you've done.
Here's a sample answer from an undergraduate student:
"What is your greatest achievement?"
While studying marketing as an undergraduate, I volunteered with my community orchestra to raise funds for a scholarship program. I noticed that we hadn't secured any new donors for a while.
I wanted to discover how our outreach was missing the mark, and what types of new donors we should focus on pursuing.
I wrote up a five-question survey and sent it to a selection of people on our list of potential donors. I also set up in-person meetings with three donors who had expressed interest but had not donated.
I learned that younger potential donors found our materials out-of-touch. So, I mobilized my fellow interns and created a new campaign targeting donors under 35. We raised $20,000 from that cohort by the end of the year.
Volunteer jobs like these are ideal sources for "greatest accomplishment" answers for entry-level candidates. This one is career-relevant and has a dollar value attached. If that's not possible — which it often isn't at this level — you can still pick something that impacts others.
'Mid-career sample answer
If you're a mid-level professional, you should have several accomplishments to choose from. Pick one that highlights how you can benefit the employer.
Here's an example:
"What is your biggest accomplishment at work?"
I see my greatest accomplishment as implementing a new customer relationship management system at my previous job. As a sales manager, I saw my coworkers struggle to find information about leads and accounts, sometimes at the cost of a new client.
I knew automating the process would make things easier and help us close more sales. I wanted to ensure our prospects and leads would feel understood, knowing our sales team cared about their success.
I took the initiative to research potential customer relationship management solutions. I asked team members what features they wanted and needed and discussed budgeting with my higher-ups.
I finally went with the [XYZ] CRM system and worked with the IT team to implement it. A year later, we had increased our close rate by 26% and our renewal rate by 17%.
This candidate describes initiative, organization, and insight into the team's needs. They close with a measurable positive impact on the company, placing the focus back on the benefit for the employer.
Experienced professional sample answer
As an experienced professional, you have a wealth of professional achievements on your resume. To answer this question effectively, choose the accomplishment that best demonstrates the relevant skills and qualifications needed in the role you're applying for.
Here's a sample answer from a professional interviewing for a Chief Human Resources Officer position:
"What is your greatest professional achievement?"
The top achievement of my career has been the transformation of my former department as vice president of human resources. When I took on the position, turnover was high and our cost-to-fill was skyrocketing.
The company promoted me from a mid-level position and tasked me with improving retention and recruitment. I set the goal of reducing turnover by half and cutting cost-to-fill by 10%.
Within two months, I had introduced a new onboarding process, introduced and incentivized managerial training, and adopted a new recruitment software.
A year later, we had met and exceeded the goals I set when I took on the position. Now we have one of the highest retention rates in the company and pay 25% less to fill each position.
This response is focused, specific, and goal-oriented. The candidate proves their ability to meet and exceed HR objectives on a large scale, while focusing on what they did to get there.
"My greatest achievement" examples for students
The "greatest achievement" question can be stressful for students and new graduates.
Remember, the interviewer called you knowing this might be your first job interview. They expect to hear about an accomplishment from your education, volunteerism, or part-time work.
Sample answer #1
Here's an example from a student who put themselves through college:
I believe that my greatest achievement so far was funding my own education at [ University]. My family doesn't have the means to contribute to my siblings' and my education, so I secured scholarship funds based on my grades and community service.
I also accepted a work-study position as a laboratory assistant to gain relevant work experience. Not only did I graduate with minimal debt, but I also was able to gain practical experience that many of my peers don't have. Plus, I learned time management skills that will serve me well throughout my career.
This student succinctly explains a challenge they overcame and the skills they used to do it. The interviewer knows the candidate is motivated, independent, and possesses relevant career skills.
Sample answer #2:
This example is from a student who graduated at the top of their class:
My greatest achievement was becoming valedictorian of my senior class at [University]. I earned the top GPA in my class of more than 1,500 students while maintaining a part-time job on campus. Through focus and time management, I excelled in my classes and even filled in for student co-workers when they were struggling to keep up.
This response highlights the student's top grades and work experience. It mentions transferrable skills — focus and time management — and subtly mentions that they could keep up when others couldn't.
How to answer "What is your greatest accomplishment?"
When answering "What is your greatest accomplishment?", your interviewer will listen closely to what you say and how you say it. To make the best possible impression, follow these two steps: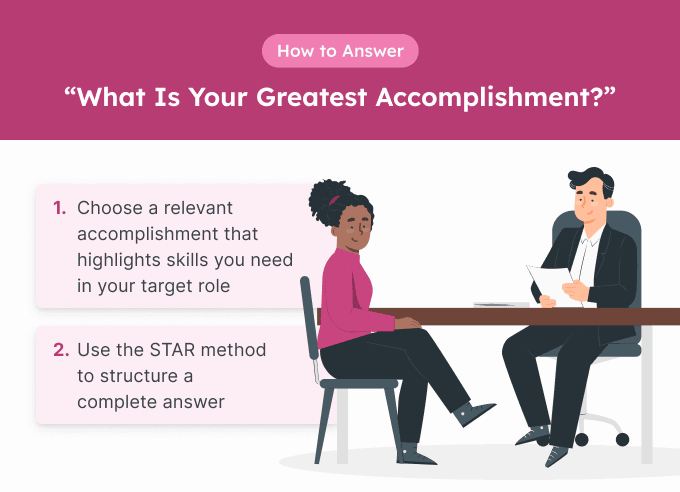 Here's how:
1. Choose a relevant accomplishment
While your interviewer might be impressed by the first prize trophy you won in your county's Best Cherry Pie Contest, you should choose another example unless you're applying for a baking position.
The most compelling answers to this interview question will be the most relevant ones.
Choose an answer related to your professional or academic life. Whenever possible, connect the achievement to key skills needed for the position. If you have multiple significant accomplishments, select one that demonstrates measurable results for the company.
2. Use the STAR method to structure your answer
How you answer an interview question is almost as important as what you say. To keep your answer focused on the right information, use the four-part STAR method, which includes the:
Situation you faced
Task you identified in response
Action you took to perform the task
Result of your actions and how it benefited the company
Here's a brief example of how to use the STAR method in an interview answer:
Situation: Shortly after starting my last barista role, I noticed people weren't buying our new salted caramel latte drink.

Task:  I decided to experiment with new ways to promote it in-store.

Action: With my supervisor's permission, I created promotional posters and asked everyone to suggest the drink to people who seemed indecisive.

Result: Sales of the drink doubled and the store owner promoted me to assistant manager, where I boosted sales another 15%.
Like the examples above, this story focuses on what the candidate did to create real results.
What to avoid when describing your major accomplishments
It's easy to get carried away talking about your proudest accomplishment. Concentrate on following the STAR method and avoid the following:
Bragging: Stick to the facts and remain humble about your achievements, no matter how impressive they are.
Indecisiveness: Choose one big accomplishment and expand on it. Don't change your mind mid-story.
Blaming or putting others down: Criticizing others as part of your story is unprofessional, so keep it positive.
Fixating on struggles: We don't always succeed the first time around. If it's relevant, you can briefly mention a time you failed, but focus on what you did well.
"What is your greatest accomplishment? " is a common behavioral interview question, so be sure to practice your answer ahead of time. The more prepared you are, the better it will go.
Additional interview resources
For more help preparing for your interview, check out some of our other articles below: