Wondering what a cover letter is and if taking the time to write one is really necessary? Many job seekers ask themselves these same questions. We're here to explain how writing a cover letter can help you in your job search.
The main purpose of a cover letter is to fill in the gaps in your resume, and give hiring managers a deeper insight into your professional background. The best cover letters act as an effective marketing tool, and the product being marketed is you.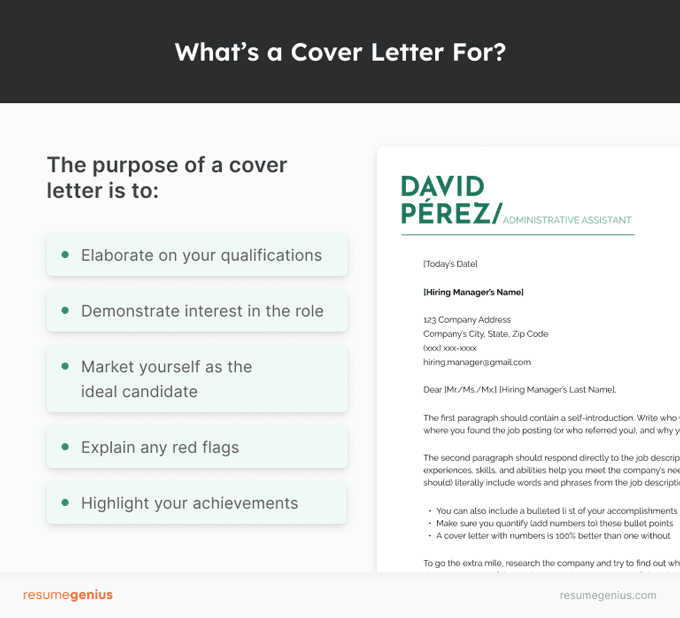 According to a recent Resume Genius survey, 68% of hiring managers view cover letters as important, fairly important, or very important in deciding which candidates to invite for an interview. So, how you write your cover letter can determine whether or not you land the job.
Our free-to-use cover letter builder can make you a cover letter in as little as 5 minutes. Just pick the template you want, and our software will format everything for you.
Here's how to make sure your cover letter fulfills its purpose:
Elaborate on your qualifications
A cover letter provides the opportunity to elaborate on what makes you uniquely qualified for the position and why you're applying for the role.
Your resume already tells employers about your professional background. The goal of the cover letter is to illustrate how your experience applies to the new role. To do this, figure out what specific skills and experience the company is looking for and use examples of past professional accomplishments that demonstrate you have those skills.
If you find it difficult to fit all your accomplishments on one page, which is the standard length of a cover letter, use bullet points in your body paragraphs to make better use of the space on the page.
Demonstrate interest in the role
Your cover letter gives you the unique opportunity to explain why you really want the role, a detail you can't fully spell out on your resume.
If you're hoping to land a sous-chef role in a French restaurant, for example, you might tell the hiring manager that you spent a year in Bordeaux and fell in love with French cuisine.
Or, if you're applying for a role because you're looking for a new challenge, say that. It will show the employer that you're driven and eager to take on the new role.
Determine what really interests you about the role and make sure this comes through in your cover letter. Are you interested in the company culture? The company mission? The technical aspects of the role? Gaining experience in a new industry?
Whatever it is that interests you most, expressing your enthusiasm can help make a positive impression on the hiring manager.
Market yourself as the ideal candidate
If you've done a good job elaborating on your qualifications and expressing your interest, employers will see you as a quality candidate. However, if you want to strike them as the ideal candidate, you need to target the specific role with your cover letter.
One simple way to do this is to use keywords from the job description. For example, if the role requires a strong command of Python, mention a program you wrote using Python and what made it successful.
Showing that you're knowledgeable about the company and its needs, and that you already have a vision of how you can benefit the company is a great way to demonstrate you're the perfect candidate.
Employers want to hear what expertise you can bring and how you plan on using it in the role.
Explain any red flags
Your cover letter is the place to explain any red flags that might appear on your resume.
Addressing potential concerns properly in your cover letter (such as lengthy employment gaps or relocation) can clear up any concerns employers might have when reviewing your resume, and helps spare you an awkward explanation in your interview.
Writing a cover letter can be challenging, but using an AI cover letter generator can make it easier to craft compelling paragraphs that give employers an insight into what makes you the ideal candidate.
How can you make your cover letter more effective?
Here are four tips for making a cover letter that gives hiring managers everything they're looking for:
1. Customize your cover letter
It can be difficult for a hiring manager to spot a generic resume, because resumes act as overviews of your past achievements and skills. If you're applying for three different software engineering jobs, you probably don't need to change your resume much for each application.
However, it's much easier for employers to spot generic cover letters. That's because a cover letter should contain information directly about their company.
A lot of candidates miss this simple step, just because it takes extra time and effort. However, with 73% of hiring managers reporting that it's important to tailor a cover letter to the specific role, it's worth your time.
Include specific information about the company and role that shows hiring managers you're serious about the job. For instance, you could mention that you're drawn to the work culture at the company, or talk about a recent project you're aware of. Here's an example:
I was impressed by the ingenuity demonstrated by your company in addressing the enhancement of AI-driven recommendation algorithms, and I'm confident my expertise in this area can help you tackle future challenges.
When you're being compared to a candidate with similar academic and professional qualifications, a customized cover letter can be the deciding factor that lands you the job.
2. Research the company and showcase what you've learned
Researching your target company shows you've put effort into your application.
For example, if you're applying for a customer service supervisor role at a brand that's opening a new branch, mention that you've worked in a newly opened store before. Explain how this experience means you'll be able to adapt — and help your coworkers adapt — to the new workplace.
Finding ways to express how your experience and goals align with the company's needs can make a big difference to employers vetting hundreds of candidates.
3. Keep your cover letter short
Short cover letters are actually more effective than longer ones because the hiring manager can quickly find your relevant achievements. You can even write a killer cover letter in under 150 words, as long as you make every word count by including only relevant details.
4. Find out the hiring manager's name
Addressing your cover letter directly to the hiring manager by using their name is the most effective way to start your cover letter, because it shows you've researched the company.
Here's an example of a professional cover letter salutation:
Dear Ms. Ford,
Making sure your cover letter is as personalized as possible helps you make a positive and professional first impression.