A well-written cover letter can win over hiring managers by demonstrating your qualifications and what makes you a good fit for the position. How you start your cover letter sets the tone of the letter, so it's important to consider how to make a great first impression with your cover letter's salutation.
We'll show you the specifics plus several cover letter greeting examples so you start your own letter off smoothly.
Our free-to-use cover letter builder can make you a cover letter in as little as 5 minutes. Just pick the template you want, and our software will format everything for you.
How to start your cover letter greeting
The greeting you use to address a hiring manager in your letter should be short and courteous. Here's how to make sure you get it right:
1. Make sure your contact information is formatted correctly
Check to make sure all of the information above your salutation is correct and uses proper cover letter format. If your cover letter is badly formatted or doesn't look professional, hiring managers might not give it a second glance.
Your name and contact information should be clear and eye-catching, followed by the date and contact information of the hiring manager you are trying to reach. Here's an example:
2. Choose the best salutation for your cover letter
The most professional salutation for a cover letter is "Dear." Even an email cover letter should start with "Dear," followed by the hiring manager's name and a colon or comma.
Here's an example of how to format your salutation:
"Dear [Mr./Ms./Mx.] [Hiring Manager's Last Name],"
Leave a blank space above and below the salutation, separating it from the hiring manager's address and the body of the letter.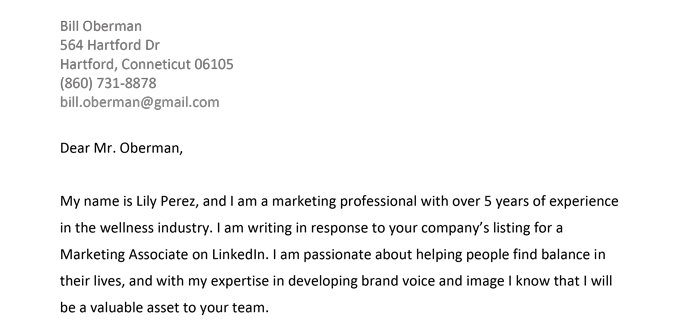 3. Keep it professional
Starting a cover letter with "Dear" is polite without being too formal, which is what makes it a good choice. Greetings that are overly casual are inappropriate for a cover letter salutation and should be avoided.
Here are some examples of inappropriate greetings for a cover letter:
"Hey,"
"Hi,"
"Hello,"
"Greetings,"
"Hey there,"
How to address the hiring manager on your cover letter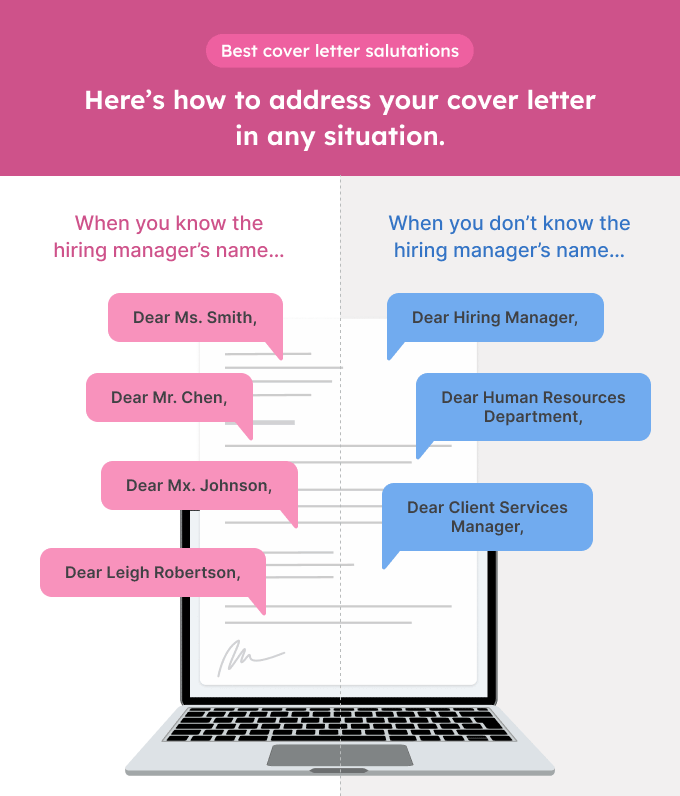 Here's how you should address the hiring manager in any situation:
When you know the hiring manager's name
The purpose of a cover letter is to reach and impress the hiring manager. Using their name in your cover letter salutation increases your chances of being invited for an interview, because it shows them you took the time to find their name.
By contrast, a generic greeting sounds impersonal and implies that you haven't researched the company.
Knowing how to address a cover letter is a vital job search skill that can give you a competitive edge.
Here's how to choose a salutation when you do and do not know the hiring manager's gender:
When their gender is known
If you're certain of the hiring manager's gender, use titles (such as Mr. for men) followed by their last name in your cover letter salutation. For women, use Ms. unless the job posting or company website shows another preference. For example:
"Dear Mr. Franklin,"
"Dear Ms. Tsai:"
"Dear Miss Rodriquez," (only if "Miss" is specified in the job posting)
Some hiring managers may use Mx. as a gender-neutral title, so note such preferences:
An alternative for addressing hiring managers who prefer gender-neutral titles is "Dear" followed by their first and last name. For example:
Finally, if the hiring manager has a professional title, use this in your cover letter greeting to show you've done your research:
"Dear Dr. Al-Bassam,"
"Dear Lieutenant Pritchard,"
When their gender is unknown
While it's best to use titles in your cover letter salutation, gender-ambiguous names (such as Kerry) make this difficult. In these cases, your salutation should include their full name:
"Dear Cameron Hill,"
"Dear Jay MacBride:"
"Dear Taylor O'Malley,"
Alternatively, use the gender-neutral pronoun "Mx.":
When you don't know the hiring manager's name
If you can't find the hiring manager's name, you can still write an effective salutation for your cover letter. Use information that is specific to the job opening to address your cover letter without a name, such as job title and department:
"Dear Client Services Manager,"
"Dear Vice President of Business Development,"
"Dear Sales & Marketing Director:"
If these details are not available, the following generic cover letter greetings are also acceptable:
"Dear Hiring Manager,"
"Dear Human Resources Team,"
However, before you resort to general salutations, first do your best to find the hiring manager's name. Try looking on the company website, LinkedIn, or even Twitter.
Using the hiring manager's name will show them that you care enough to be proactive about applying for the job, and are willing to put in the effort to stand out.
Cover letter salutations to avoid
There are certain cover letter greetings you should avoid because they're too impersonal or vague.
Here are two examples:
Using "Dear Sir or Madam" is outdated and too formal for a modern cover letter greeting, and the term is non-inclusive which is no longer well-received in today's job market. Using "To Whom it May Concern" is impersonal and shows hiring managers that you didn't take the time to research their company.
Knowing how to write a cover letter is a valuable tool for connecting with hiring managers. Opening with a professional cover letter salutation is a good way to begin that connection, and might just help you land your dream job.
Cover letter greeting template
YOUR NAME
(xxx) xxx-xxxx | your.email@email.com | linkedin.com/your.profile
[Today's Date]
[Hiring Manager's Name]
123 Company Address
Company's City, State, Zip Code
(xxx) xxx-xxxx
hiring.manager@gmail.com
Dear [Mr./Ms./Mx.] [Hiring Manager's Last Name],