Free downloadable resume icons
Here are some free icons for your contact information (including social media icons) and your resume section headers, with no attribution necessary:
Contact information icons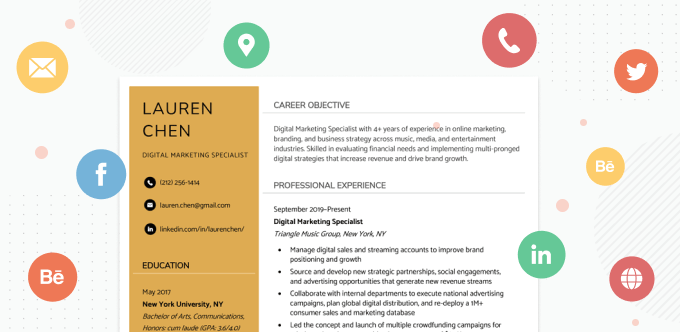 Click the buttons below to download our resume icons, which are perfect for emphasizing your contact information like social media profiles, address, phone, and email:
| | | | |
| --- | --- | --- | --- |
| Email address | Phone number | Mailing address | Website link |
| LinkedIn profile | Twitter handle | Facebook page | Behance portfolio |
Resume section header icons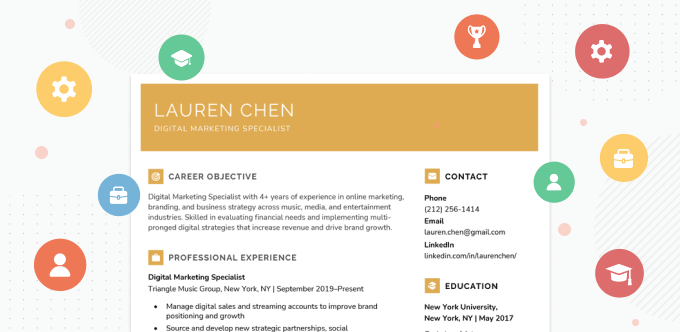 Click the button below to download resume icons for highlighting the following resume sections:

| | | | | |
| --- | --- | --- | --- | --- |
| Resume introduction | Work experience section | Education section | Awards section or certifications list | Skills section |
Download Resume Section Header Icons
Where to find more free resume symbols
If you're not happy with the look of the icons above, there are plenty of other styles available for free online. Here are the best websites we've discovered that also have free icons you can use on your resume:
Reshot has 40,000+ SVG icons, and while they're not all appropriate for your resume, you should be able to find what you need.
Pixabay's 110,000+ vector graphics include many symbols that will work as icons on your resume (for best results, use targeted search terms like "gears" rather than broad terms like "skills").
Watch out for graphics websites that offer free resume icons but require attribution if you don't purchase a license. If you don't mind paying for icons, though, we recommend The Noun Project, which has millions of symbols to choose from.
Our free-to-use resume builder can make you a resume in as little as 5 minutes. Just pick the template you want, and our software will format everything for you.
When & how to use resume icons
Icons help your resume stand out, but be careful to use them correctly. Here are 5 tips for enhancing your resume with symbols:
1. Use industry-appropriate icons
Consider the type of job you're applying for before you add icons to your resume.
If you're writing a resume for a senior manager position, using some simple icons to draw attention to your contact information is okay. But you shouldn't use icons to accent your resume's section headers because hiring managers may think they're too informal for this type of position.
However, when you write a creative resume for a position at a youthful, informal company, icons play well in your resume headings and help you showcase your relevant skills.
If you're unsure whether icons are appropriate for your industry, try referencing some resume examples online to get a feel for what a resume should typically look like in your industry.
2. Don't make them too big or too small
Icons should be small so they don't take room away from your qualifications or make your resume file so large it's difficult to open. But your icons shouldn't be so small that readers get distracted by squinting at them trying to figure out what they are.
Here's an example of perfectly sized resume icons: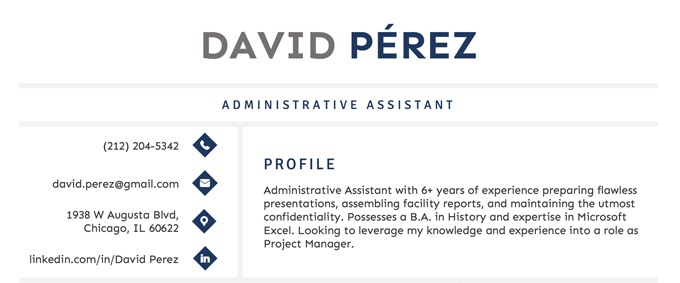 3. Keep them simple
Don't put complex images on your resume. Intricate designs pull the hiring manager's eye away from the achievements on your resume.
4. Pick clear icons
Choose symbols that readers will immediately recognize.
For example, a simple image of a phone clearly labels your phone number. If you choose to use an image of a cell tower instead, you'll confuse the hiring manager and make them question your reasoning ability.
5. Find a resume template with embedded icons
The easiest way to add icons to your resume is by using a resume template with built-in symbols. Here are three resume templates preformatted with attention-grabbing icons: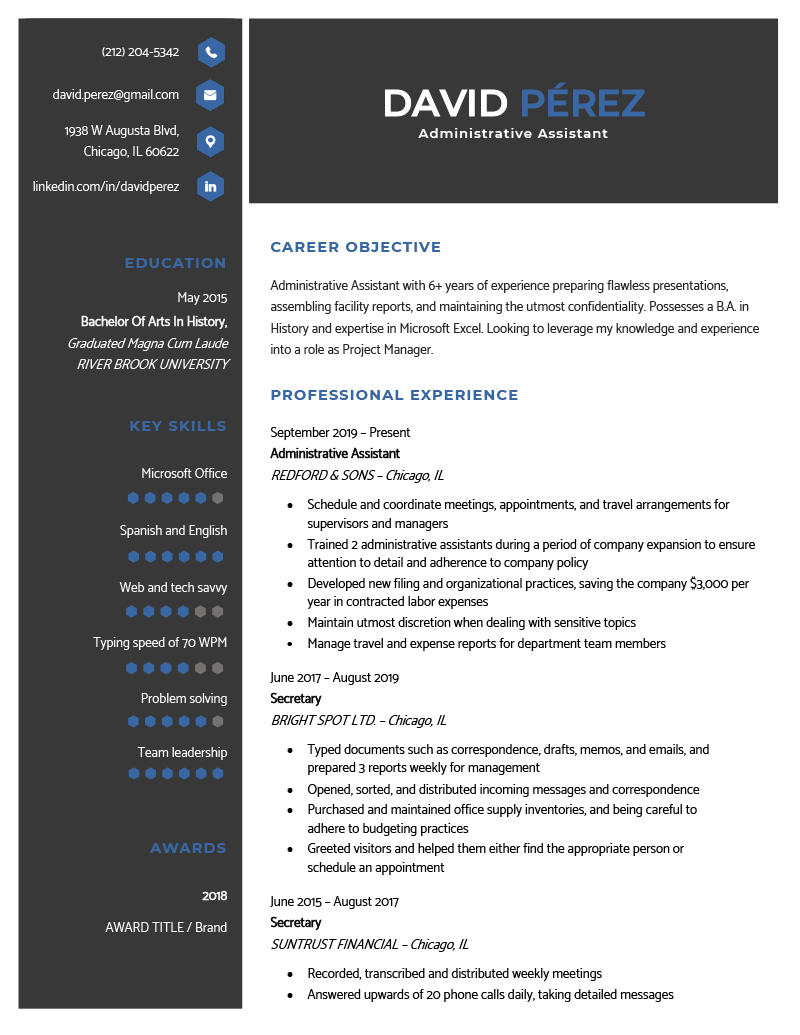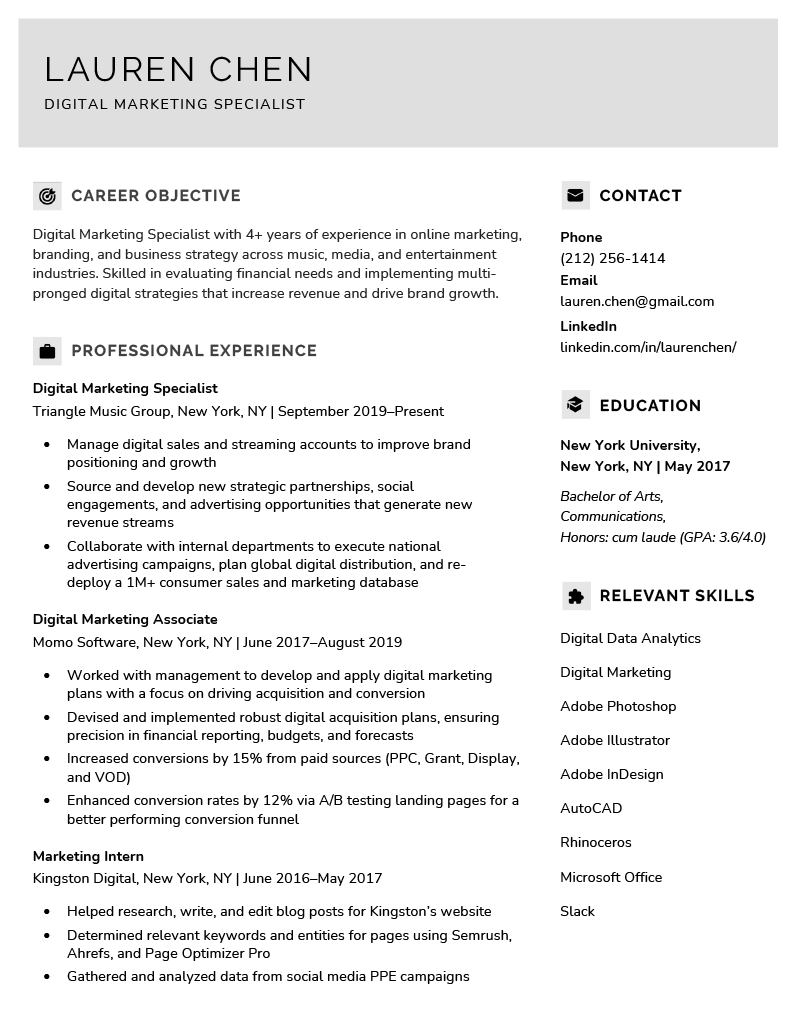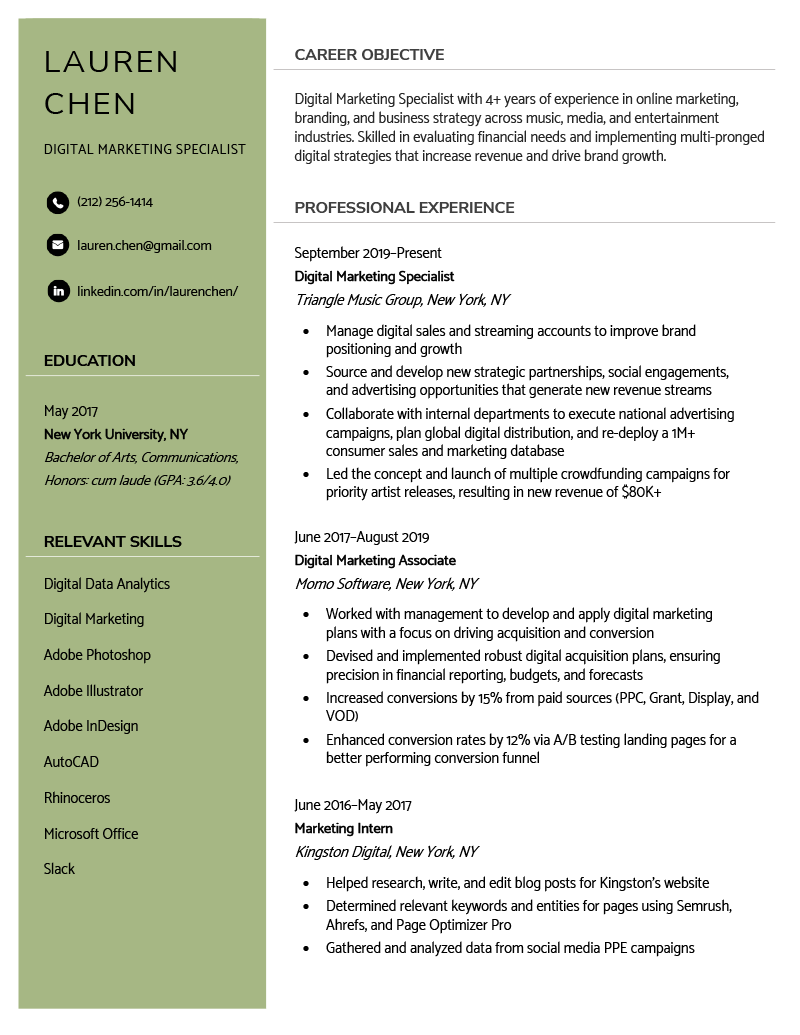 Should you use logos on your resume?
Yes, you should use logos on your resume if you have a logo for your personal brand or website. Using your logo in your resume header is a great way to catch the hiring manager's eye.
Even if you don't have a personal logo, you can create a simple one with your initials, like this:

But don't use the logos of companies you've worked for previously on your resume. The various logos could have clashing colors that make your resume messy and hard to read.
Also, if the company you're applying to competes with companies you've worked for, the hiring manager may transfer negative feelings associated with the competitor logos to your application.