Should you entrust your resume builder needs to Resume Now? We put their services to the test to see how they compared to similar platforms.
Here's what we liked – and didn't like – about Resume Now's builder and templates.
Our free-to-use resume builder can make you a resume in as little as 5 minutes. Just pick the template you want, and our software will format everything for you.
Resume-Now.com customer reviews
Having assisted job seekers with their resume-making needs since 2005, Resume Now has accumulated over 6,500 reviews on Trustpilot to date. They have an average Trustpilot rating of 4.6/5, and 79% of reviewers gave their business 5 stars.
Additionally, on Sitejabber more than 3,600 generally satisfied customers have given Resume Now an overall rating of 4.45 stars. These votes have helped propel them to rank 5th among all resume builder websites.
Let's see if Resume Now lives up to its respectable reputation.
The Resume Now resume builder
Resume Now claims its resume builder makes it easy to build your own resume in 15 minutes or less.
How it works
Whether you want to start a resume from scratch or import an existing resume to use with another resume template, the builder provides a relatively straightforward experience.
As with other resume builders, you'll be asked to fill in your contact information, a work experience section, an education section, and a skills section.
After adjusting these details to your needs, you'll be presented with a finished, personalized resume ready for additional edits.
What we liked about Resume Now's builder
Overall, we found the builder to be intuitive and easy to use. The following is a list of what we liked the most about Resume Now's resume builder:
1. Easy to use resume-building steps
Resume Now's claim that you can create a strong resume in 15 minutes or less holds true. Different members of our team tested it 12 separate times and finished building their resume on average in 11.5 minutes.
On the resume work experience section part of the builder, we enjoyed being able to choose between writing our own resume bullet points or using recommended ready-to-use phrases as necessary.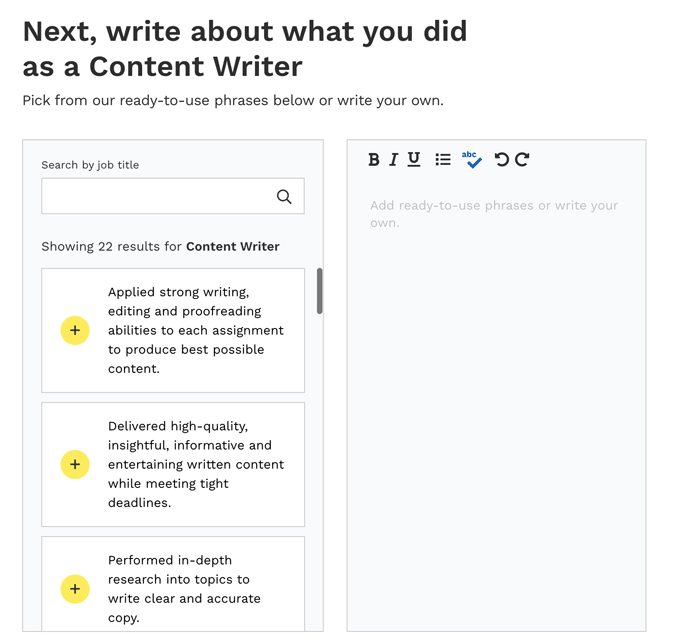 In the skills section page of the builder, Resume Now generates a list of skills based on the job title you put in. There's a stronger emphasis on hard skills in their builder because soft skills are difficult to objectively measure.
However, it would've been useful to have a tip encouraging job seekers to provide examples demonstrating a balanced set of hard skills and soft skills throughout their resumes and especially in their experience section.
The final step in the builder prompts you to edit each resume section directly if necessary and has a built-in spellcheck to ensure your resume is free from spelling errors.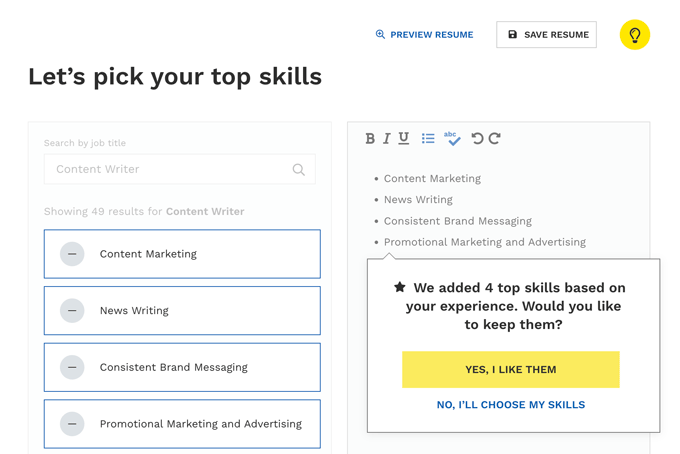 2. A lot of customization options
Although the following feature still has room for improvement, if you want to tailor your resume to fit the standards of a specific country, there's an option for that.
Testing out different countries, we didn't find much difference with a regular US-targeted resume. However, it's a unique offering and could be useful if you're looking for a job outside of the United States.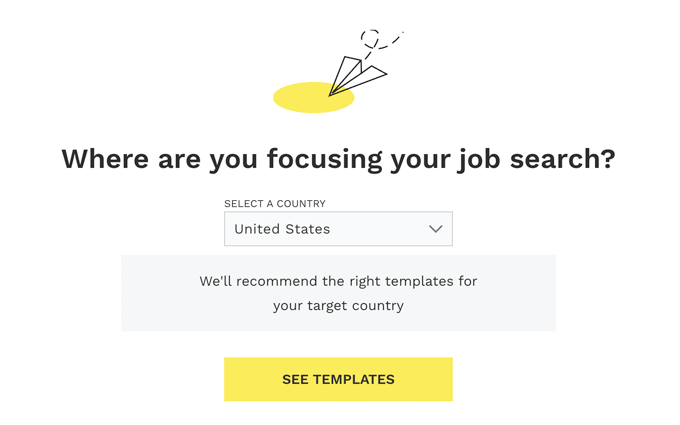 Resume Now then gives you the option to include additional sections such as language skills, certifications, awards, or accomplishments on your resume. However, you'll notice toward the end of the builder that these sections are only available if you pick a two-column template.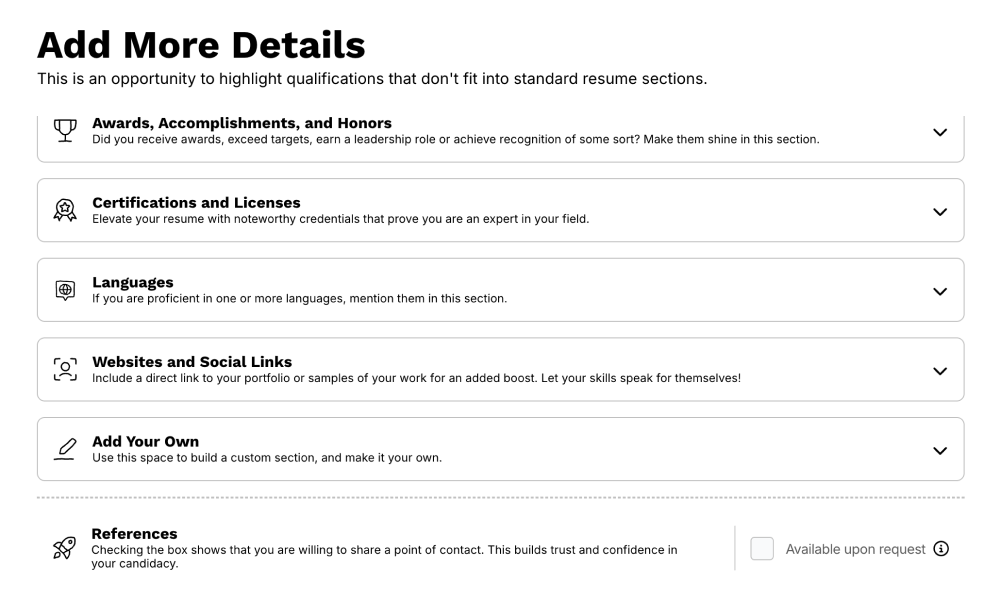 What we think could use improvement
While there's a lot to like about Resume Now's builder tool, we noticed a few things that negatively impacted our experience as users:
1. Confusing template selection
We couldn't find a way to select a different template than the one originally chosen (without signing up for a subscription or starting over in the builder).
Secondly, you need to select a template directly from Resume Now's template pages if you're dissatisfied with the selection in the builder.
Additionally, there's inconsistency in template availability for the builder. Some templates on Resume Now's template pages only feature a download button while others will direct you to the builder.
We think it would be more helpful if it was clearer which templates are available in the free portion of the builder and if it was easier to switch templates once you've already started your resume.
2. Lack of transparency
On Resume Now's resume editing page, you're prompted to create an account to save and continue your work whenever you try to change the template, formatting, or template color. Once you sign up, you're soon prompted to subscribe to a free trial to continue editing your resume.
However, there's a lack of transparency when it comes to how much of the service you can try out for free on the site before being required to subscribe.
Unless you sign up for a 14-day free trial offer, you can't perform additional edits or change templates to get an idea of what your finished resume will look like before paying for the service.
Resume Now's templates
Resume Now offers eight different categories of templates designed to match the needs of different types of job seekers. These categories are:
Popular
Unique
Modern
Classic
Creative
Professional
Simple
Basic
Here are eight sample templates taken from each category:
Popular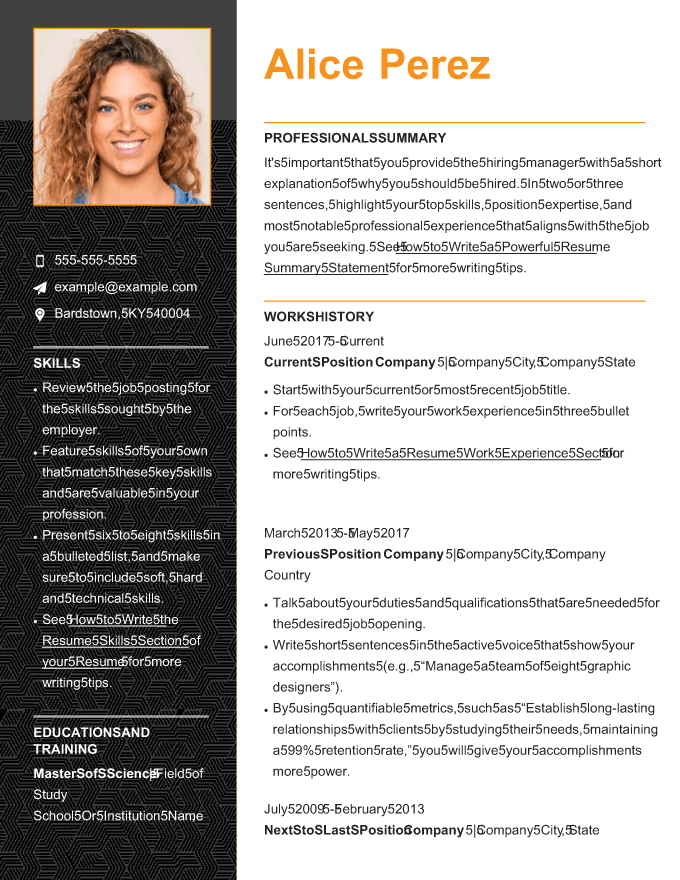 Resume Now assures us their Popular templates work well with any industry and job title. However, you shouldn't use a resume photo if you're applying for jobs in the US, unless you're applying for a position where your appearance is relevant, like a job in modeling.
Unique
Resume Now's Unique templates are the flashiest out of the eight categories, featuring bold colored headers and patterned edges. If you're looking to stand out, these templates will do the trick without sacrificing professionalism or readability.
Modern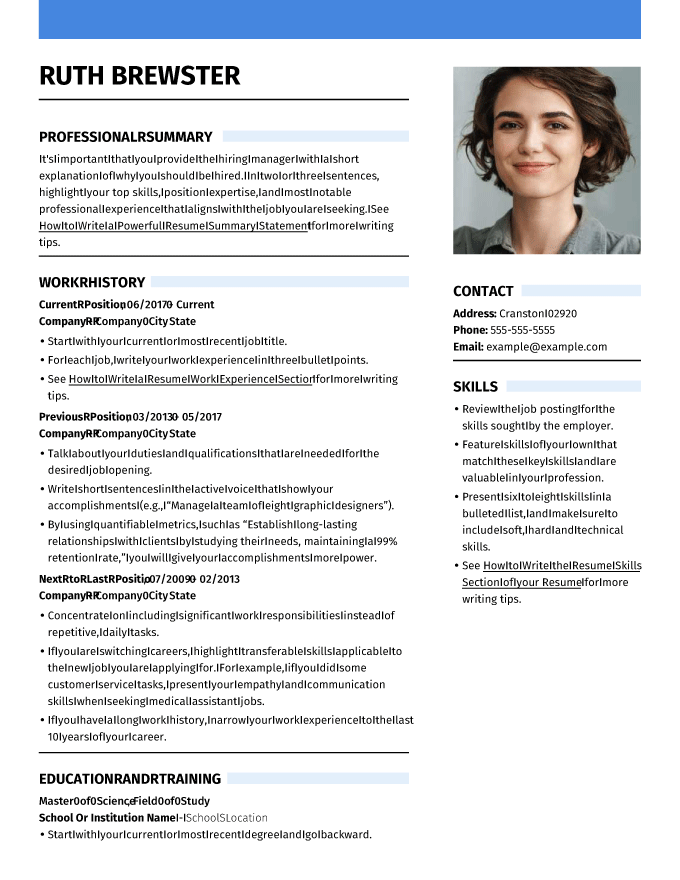 Thanks to colorful resume headers, Resume Now's Modern templates stand out from traditional templates required in fields like finance and law. These are a great option if you want to display a little individuality while maintaining a sleek, professional image.
However, some of the Modern templates' features appear visually awkward with compact text and too much blank space. We think this space could be better utilized both in their single-column and two-column templates.
Classic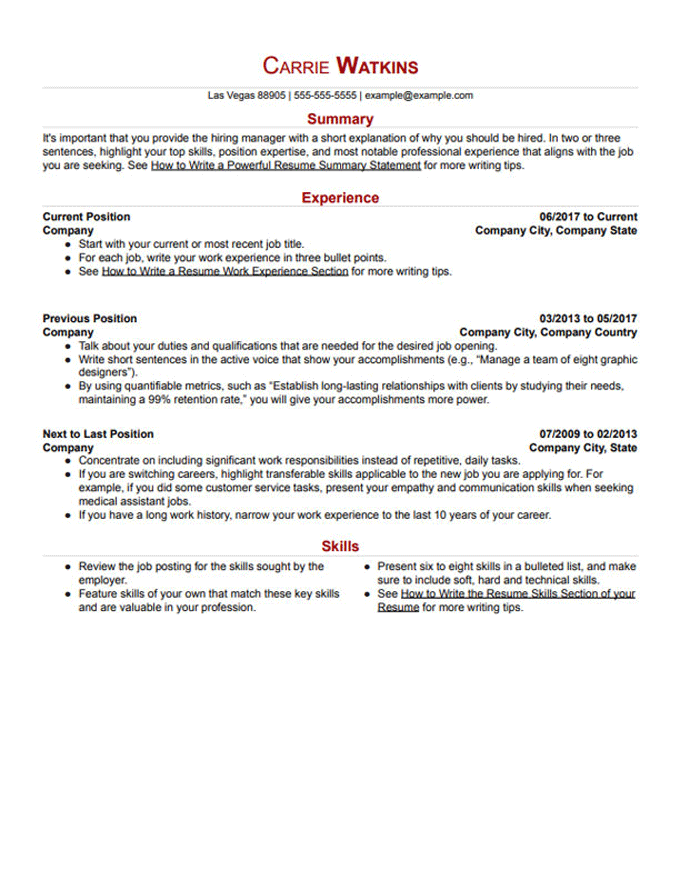 Resume Now's Classic templates are clean and well-organized. However, we thought that some templates featuring photos or bright colors didn't fully fit with the "classic" theme.
Creative
Resume Now's Creative templates represent the kind of resume you'd see in fields like graphic design or marketing.
With a variety of different fonts and clean layouts to choose from, including photo resumes, you can't go wrong with one of these templates if you're applying for a job in the creative industry.
Professional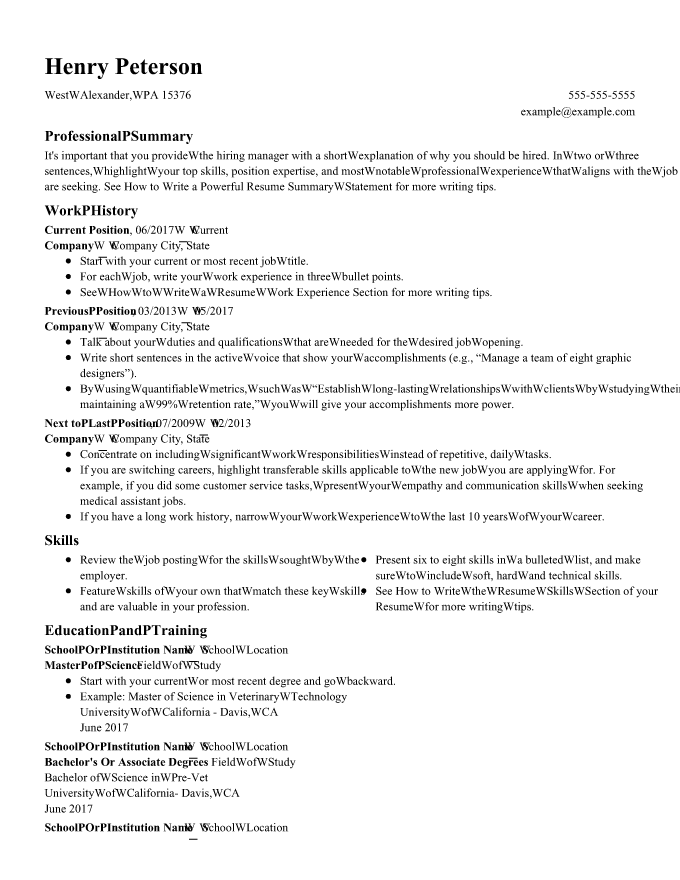 Overall, Resume Now's Professional templates look clean and simple, as expected from this category.
However, some of the two-column templates they offer feature an awkward amount of blank space and have inconsistent text alignments as well as poor spelling, like in the resume example above.
Simple
Resume Now recommends their Simple templates for job seekers looking for a more bare-bones approach. And while some templates nailed this with a clean, no-frills layout, others looked very similar to the Modern templates.
Basic
We found the Basic templates to be anything but, and with colorful layouts and options to add a photo, we believe these templates are also better suited for the Modern and Creative categories.
Frequently asked questions about Resume Now
Still not sure about Resume Now's resume building services? Here are some answers to frequently asked questions about Resume Now:
Is Resume Now free?
No, Resume Now is not free if you want to download your resume as a PDF or Word Doc. To download your finished resume from the Resume Now resume builder, you'll need to pay $2.45 for 14-day limited access, which auto-renews at $23.85 per month.
However, if you don't want to pay you can download the contents of your resume for free by downloading your resume as a plain text file from Resume Now's builder. To do this, click "download" toward the end of the builder process, and then click "text file."
Is Resume Now safe?
Yes, Resume Now is a safe website that provides a resume builder and various career resources to job seekers. It offers a range of resources to help people create professional resumes and cover letters, including a resume builder, resume templates, and articles providing writing advice and tips.
Like many websites, Resume Now collects personal information from users to provide its services. This includes information like your name, email address, and phone number. Resume Now states that it carefully protects user information, including using encryption technologies to protect data transferred over the internet.
Is Resume Now legit?
Yes, Resume Now is legit. As one of the largest resume building websites in the world, Resume Now has an average Trustpilot rating of 4.6/5 and provides services to thousands of job seekers every month.
How much does Resume Now cost?
Resume Now's resume builder costs $2.45 for 14-day limited access, $2.85 for 14-day full access, or $10.45 for monthly access. After your 14-day trial, your subscription will auto-renew for $23.85 every 4 weeks.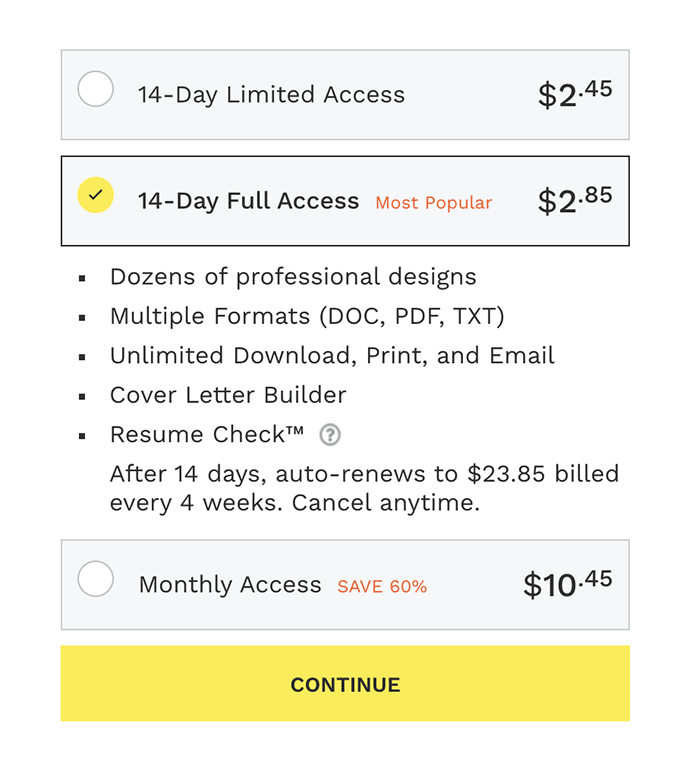 Additional resume builder reviews
Not convinced by Resume Now? Learn about some alternative resume builder services by reading our other reviews: