Rocket Resume offers resume builder services, free resume writing tips, and other career resources.
We spent an afternoon trying out their builder to help you decide whether Rocket Resume is the best resume builder website for you.
Our free-to-use resume builder can make you a resume in as little as 5 minutes. Just pick the template you want, and our software will format everything for you.
Rocket Resume Google reviews
Most customers have had a positive experience with Rocket Resume's services. TrustAnalytics users give Rocket Resume a 4.8/5 star rating, while Facebook users rate it 4.9/5.

The Rocket Resume builder
The primary service that Rocket Resume provides is a custom resume builder.
A good resume builder should make the resume writing process quick and easy. Here's what our team thought of Rocket Resume's builder:
Our free-to-use resume builder can make you a resume in as little as 5 minutes. Just pick the template you want, and our software will format everything for you.
What we liked
First, here are the positives of Rocket Resume's resume builder:
Pre-written resume bullet points
Rocket Resume provides numerous pre-written resume bullet points specific to your industry to help you write your experience section.
This can be helpful if you're relatively new to the job market and not sure how best to describe your skills and achievements, but it's also beneficial for more experienced professionals looking for a little bit of inspiration.
Easy step-by-step writing process
Rocket Resume's builder is divided into 12 steps. After completing each one, you end up with a polished-looking resume that's ready to send to employers.
Each step is easy to complete and it's possible to create a basic resume in 10 minutes, just like Rocket Resume claims.
At the final step, you get a full overview of your finished resume and are given the opportunity to change the look and design of your resume.
You can also play around with the layout by dragging and dropping resume sections. However, this feature is a bit awkward to use as you can easily end up changing the formatting of the sections by accident.
Option to share your resume with hiring managers
At the contact information stage there's a button that says "Share resume with relevant hiring managers" at the bottom of the page.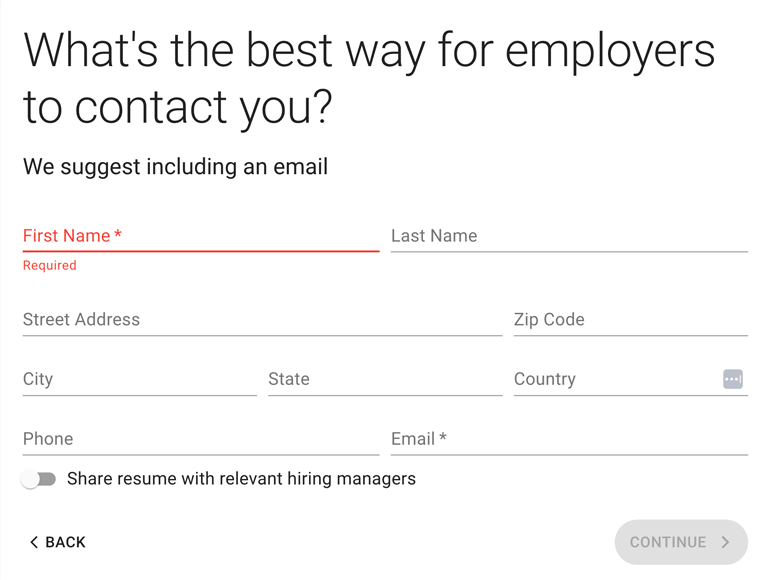 Having the option to automatically share your resume with hiring managers after you create it increases the chances of your application being seen by an employer looking for someone with your skill set.
Something to note, however, is that nowhere does it say who these hiring managers are or how they'll be able to access your resume, so there's no way to assess how likely this feature is to help you land a job.
What could use improvement
Here are some parts of Rocket Resume's builder that we didn't like:
Unhelpful template suggestions
When you first enter the builder you're asked to specify how many years of work experience you have, as well as your level of education. Supposedly, this will give you personalized template recommendations.
But when we tried the builder, the same three templates ended up being recommended regardless of what answers we entered, so don't rely on this feature when deciding which template to use for your resume.
Unclear subscription plans
Once you finish your resume you'll be asked to create and account and sign up for a payment plan. You're given three options:
Pay $1.95 for 14 day access, after which your subscription will be auto-renewed at $34.95/month unless canceled
Pay $5.95 for 30 day access, after which your subscription will be auto-renewed at $71.40/year unless canceled
Pay $1.95 for unlimited access
When you select the third option, it doesn't say when your subscription will be renewed or how much you'll have to pay. This is something to consider before putting in your credit card details.
The website does state you can get a full refund within 14 days if you're unsatisfied with the service.
Lack of design options
At first glance, all templates appear to have several color options. In reality, only a few of the templates will allow you to change the color. This means that if you want to make your resume stand out from other black-and-white resumes, you're going to be limited to just a handful of templates.
Rocket Resume also provides a feature to create your own template, but it doesn't work as advertised. Selecting this option only gives you a basic-looking template, not unlike many of the other templates available, that you can then change the formatting of.
You'd expect this template to be highly customizable, but surprisingly, the colors cannot be adjusted.
Sometimes poorly written bullet points
Some of the bullet points suggested in the builder aren't suitable for resumes. Here's an example we came across when scrolling through the bullet points suggested for a cashier resume:
"Customers are greeted and I assist them with their needs"
Not only is the phrasing of this sentence odd, the bullet point isn't specific enough to provide employers with information that will help them decide whether to hire this cashier or not.
We also noticed that many of the bullets suggested by Rocket Resume's builder don't encourage users to include hard numbers.
Quantifying your resume is an effective way of making it more convincing to employers because hard numbers provide proof of your achievements. Even if you don't work in a career where you have to achieve lots of quantifiable results, it's important to add any data you can to your resume.
Rocket Resume templates
On their website, Rocket Resume claims to have over two million resume templates to choose from, but once you look at the templates page there are four categories (recommended, modern, traditional, and artistic) and a total of 14 templates to choose from.
Overall, the templates are fairly basic and suitable for most industries, but if you're looking for a more unique design, you'd be better off choosing a different resume builder.
We took one example from each category to show you what you can expect from Rocket Resume's resume templates:
Recommended
This is one of the three templates that shows up in the recommended category no matter what level of experience you have or what your educational background looks like.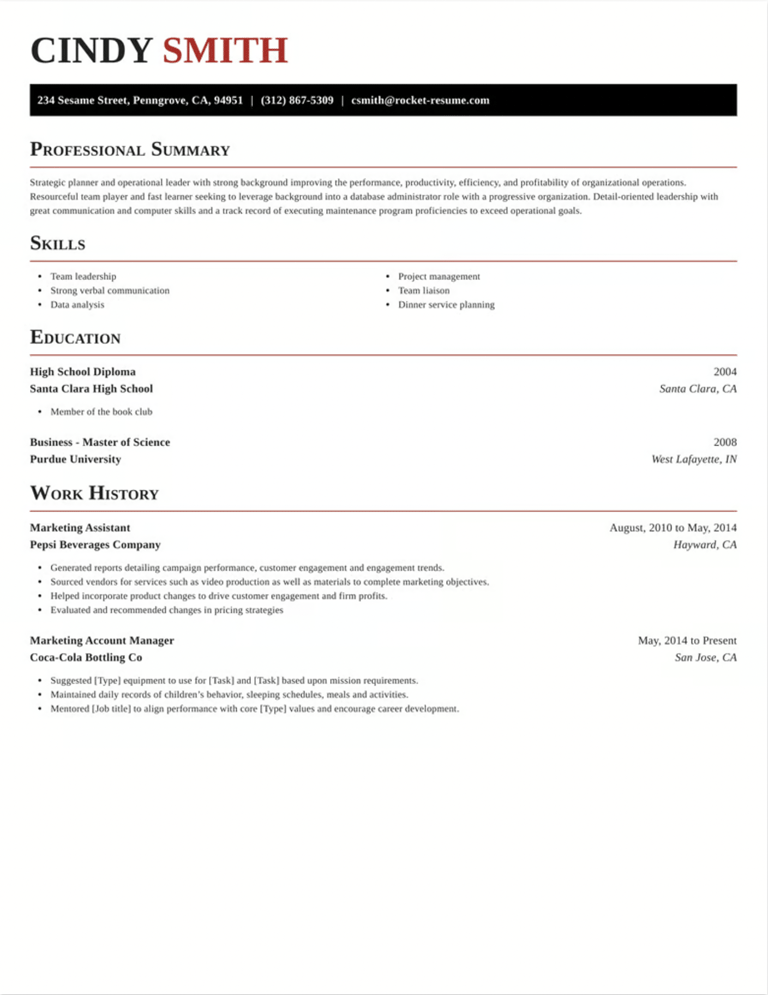 Modern
Below is a modern template available on the website. This particular template can be customized slightly by changing the color of the line in the header, so if that's something you're looking for, this template could be a good choice for you.
Traditional
The traditional category features three resume templates that are particularly well suited for fields where employers prefer traditional resumes, such as law, accounting, or government.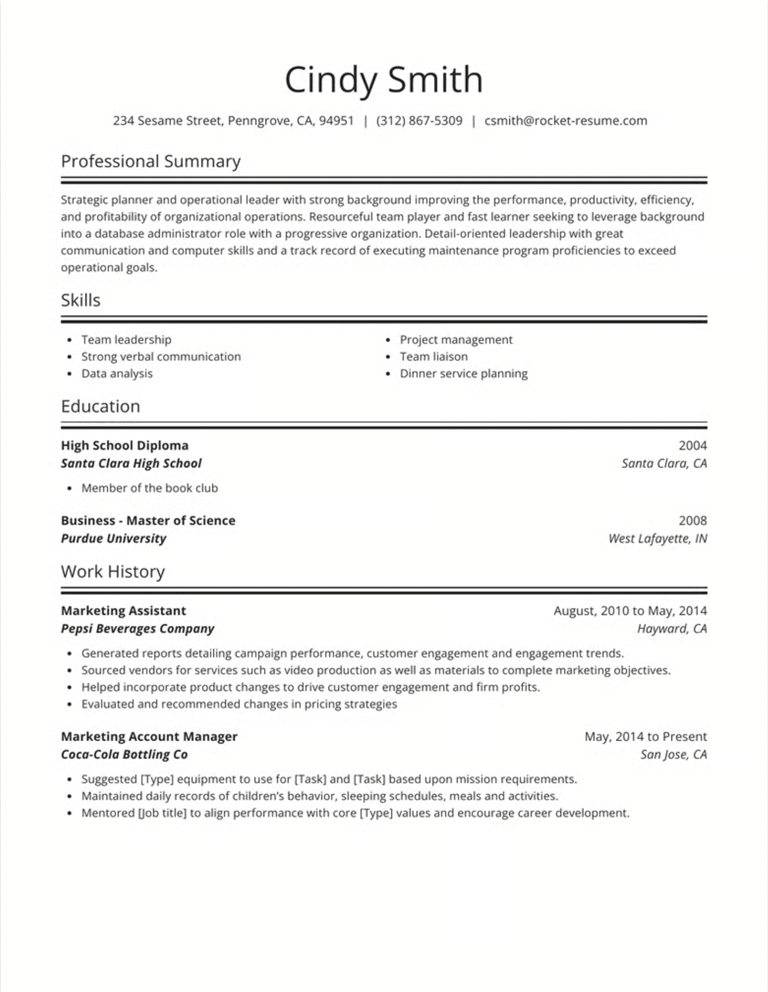 Artistic
The artistic templates aren't that different in appearance from the templates in other categories, but if you're looking for a template with a bit more personality, you'll find an example below.
Frequently asked questions about Rocket Resume
Still not sure whether Rocket Resume is right for you? Here are answers to some of the most asked questions about their builder and website:
Is Rocket Resume really free?
No, Rocket Resume isn't really free. There are no free downloadable templates, and to download your resume after building it, you need to pay a fee that ranges from $1.95 for 14 day access to $71.40 for a yearly subscription.
Is Rocket Resume easy to cancel?
Yes, Rocket Resume is easy to cancel according to reviews from the website's customers.
How do I stop paying for Rocket Resume?
To stop paying for Rocket Resume, either edit your account settings or reach out to the support team for assistance.
How do I contact Rocket Resume?
You can contact Rocket Resume via email at support@rocket-resume.com or via phone at 1 (888) 586-8975.
Additional resume builder reviews