Are you considering entrusting Resume Genius with your resume? If so, you're in good hands. We've already helped millions of job seekers like yourself create well-formatted resumes designed to help them advance their careers.
Want a quick visual? Here's a video walkthrough so you can get a clear idea of how to use the Resume Genius resume builder:
Keep reading to learn more about our resume builder and what it can do for you.
Our free-to-use resume builder can make you a resume in as little as 5 minutes. Just pick the template you want, and our software will format everything for you.
Resume Genius reviews from customers
Resume Genius has an average rating of 4.8 stars from more than 38,000 users on Trustpilot.

Additionally, Resume Genius has a 4.5 rating with over 110,000 reviews on Sitejabber. These reviews have helped propel us to rank 1st among all resume builder websites.
Resume Genius builder review
Curious about our builder? Let's take a look at what makes it stand out from the competition.
Features
When you use a resume builder, you want it to do more than just prompt you to fill in your information. It should actively help you along the process as well.
These key features are what make our resume builder easy to use and fast:
Template recommendations
Picking the right template based on your industry and level of experience can be tricky.
That's why the Resume Genius builder has a feature that allows you to plug in basic information about your professional and educational background before you even start your resume.
Based on your answer, our software will generate a selection of recommended templates.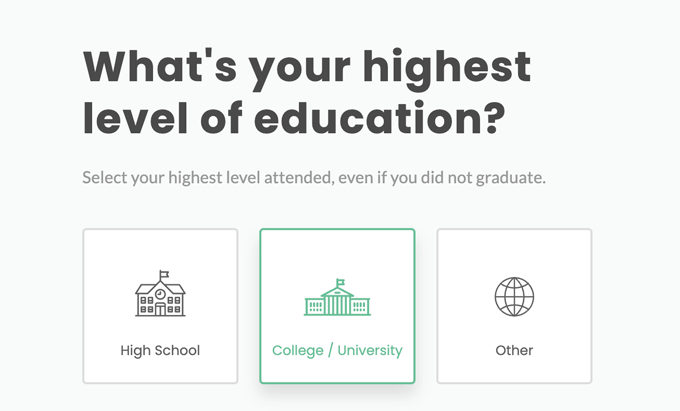 If you don't find a template you like among the ones suggested for you, click the "View all templates" button to get access to other designs.
Automatic formatting
One of the benefits of using the Resume Genius resume builder is that you don't need to worry about margin sizes, fonts, or formatting your resume correctly. The builder takes care of all the formatting for you, ensuring your application looks polished.
If you notice that your resume is too long or that there's a lot of white space once you've added all your information, click "Formatting Options" at the top and adjust the font size until your resume meets the recommended resume length of one page.

AI-generated bullet points
One of the most time-consuming parts of creating a resume is writing concise yet impactful resume bullet points. To speed up this process, our builder provides a list of bullet points relevant to your job title.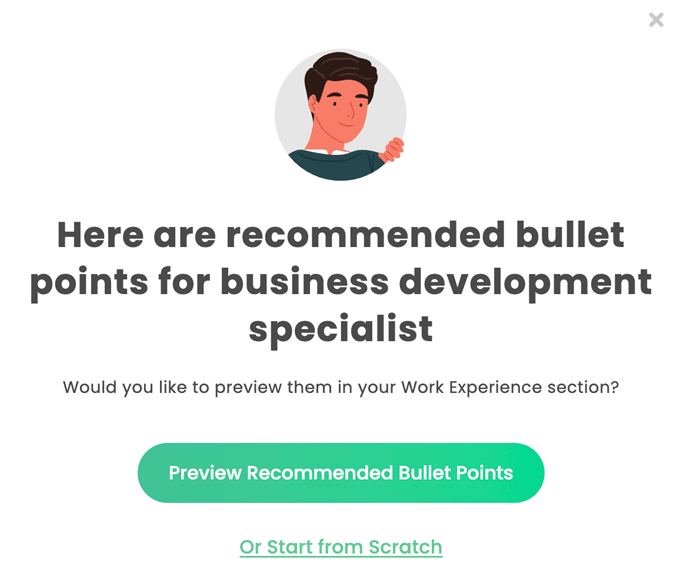 If you don't like the options you're given or you would like to edit the bullet points to better match your experience, you can do so directly in the builder.
Pre-written resume introductions
A compelling resume introduction is brief, punchy, and highlights the top reasons why employers should hire you. Writing an introduction that meets these criteria is no easy feat, especially if you're writing a resume for your first job.
If you need help getting started, simply type in your job title and you'll get a list of pre-written resume summaries tailored to your industry.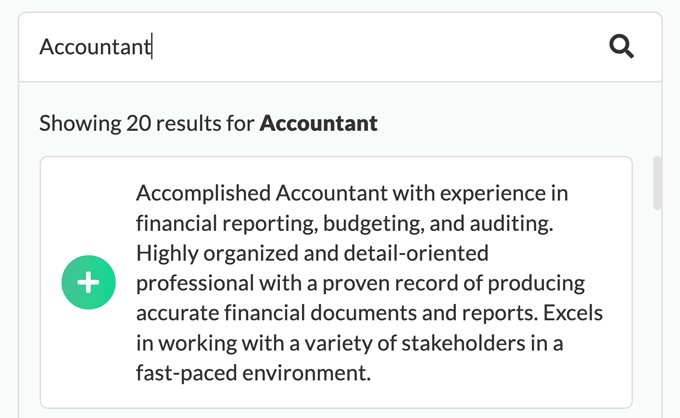 Helpful writing tips
As you build your resume, you'll receive quick tips on how to improve it. This includes advice on how to list your certifications, how to format your contact information section, and whether you should include your high school diploma.
These tips will help you avoid some of the most common resume mistakes job seekers make.
Free resume critique
When you use the Genius resume builder, you get the opportunity to receive a complimentary resume critique from one of our in-house experts.
If you choose to take advantage of this offer, a member of our team will review your resume. They'll look for areas for improvement and provide concrete suggestions on how you can take your resume to the next level.
Templates
There are numerous benefits to using the templates available in the Genius resume builder:
Easily customizable
All of our resume templates have been created with the user in mind. Each template comes in a variety of colors for you to choose from. Additionally, you can easily adjust the layout to add or remove sections as needed.
Large selection of templates
If you've been struggling to find a resume template you like, you're sure to find one in our collection. Our team of designers created 100+ original resume templates that look highly professional while being easy to use.
Designs for every niche
The templates available on our websites have been designed to appeal to hiring managers across all industries to ensure every job seeker is able to find a template that meets their needs.
Whether you're an actor looking for a picture template or a graphic designer in need of a creative template design, you'll find it in our collection.
Compatible with Word and Google Docs
To make our templates accessible to a larger number of users, we've made them compatible with both Word and Google Docs. If you prefer writing your resume on your phone or tablet, that's possible too.
Frequently asked questions about Resume Genius
Still have questions about Resume Genius? Here are answers to the most common questions we receive:
Is Resume Genius free?
Yes, Resume Genius is free to use. You can use the Resume Genius resume builder to help you create your resume and download it as a TXT file at no cost.
However, if you want to download your completed resume as a PDF or Word Doc from the builder you'll need to pay for a trial period.
How much does Resume Genius cost?
If you want to download your resume from the Resume Genius builder, or use one of our other services, you'll need to pay $2.95 for a 14-day trial period.
Is Resume Genius legit?
Yes, Resume Genius is legit. We've helped job seekers write their resumes since 2009 and have become one of the most trusted sources on the internet for resume and cover letter writing advice.
Our Certified Professional Resume Writers (CPRW) and career experts have been quoted in numerous reputable publications, including Forbes, The New York Times, and Business Insider.
Is Resume Genius safe?
Yes, Resume Genius is safe. We use a secure connection to protect user information. You can read more about how we use and protect your data in our privacy policy.
How do I cancel my Resume Genius subscription?
You cancel your Resume Genius subscription by logging into your Resume Genius account and clicking "My Account". You can also contact us via email at support@resumegenius.com or phone at (886) 215-9048 if you're experiencing problems.
Can I use Resume Genius to write a cover letter?
Yes, you can use Resume Genius to write a cover letter. Our cover letter builder helps you create a professional cover letter for a job letter in minutes.
Choose from more than a dozen templates and answer questions about your strengths and professional experience to create a properly formatted cover letter that emphasizes your suitability for your target role.
How do I download my resume from Resume Genius?
You download your resume from Resume Genius by completing all steps in the builder. Once you're happy with the resume you've created, you can download it as a PDF, TXT, or Word file.
Additional resume builder reviews
Looking for reviews of other resume builders? Here's a list of our reviews of some of the most popular builders out there: