Unsure if Resume.com can fulfill your resume builder needs? We put our team on the case and tested how their builder compares to similar products.
Here's what we learned:
Resume.com customer reviews
Having assisted over 6 million job seekers with their resume-making needs since 2014, Resume.com is an established career help website.
The Resume.com resume builder has an average rating of 1.9/5 stars from 27 reviews on Trustpilot to date and 3.9/5 stars on Sitejabber from 14 reviews.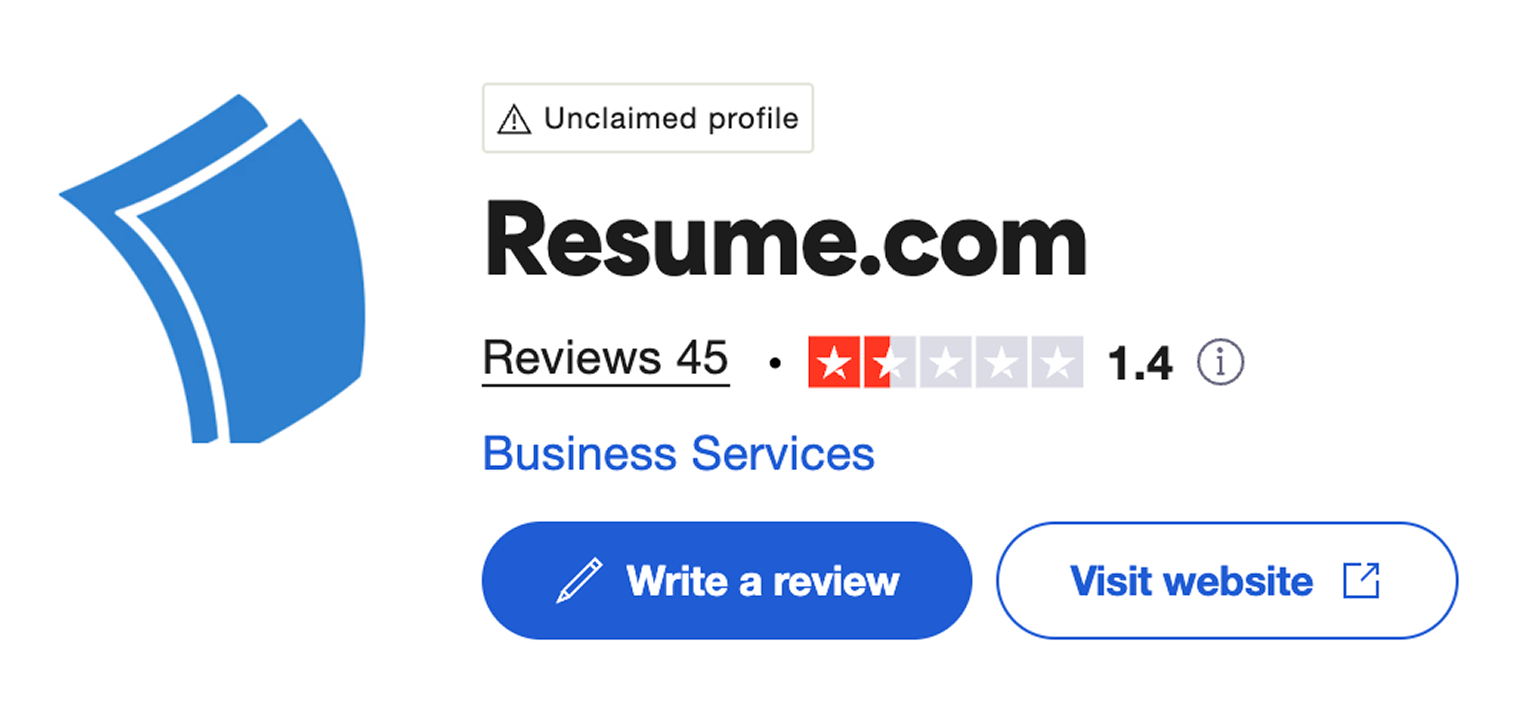 While Resume.com's user reviews currently aren't great, their product has changed significantly since they were acquired by Indeed in 2018. To see how their updated resume builder stacks up, we tested it ourselves:
The Resume.com resume builder
Resume.com claims its resume builder is not only free but features templates that are designed to appeal to employers according to research they did on employer preferences. Let's see how their builder measures up.
How it works
Whether you want to start a resume from scratch or import an existing resume to use with another resume template, the Resume.com builder provides a relatively straightforward experience.
As with other resume builders, you'll be presented with a finished, personalized resume ready for additional edits once you've filled in your contact information, your work experience section, your education section, and your skills section.
You'll also be able to toggle between templates easily using the information you've already provided.
Resume.com pricing
Resume.com used to charge monthly fees to use its resume builder but those fees have been dropped since they were acquired by Indeed.com.
Currently, you're able to create a resume and download it using the resume builder for free – as long as you create an account with Indeed.com and give permission for your resume information to be made public to employers on Indeed.
While some people may be content with not having to give away any credit card information for the service, others may be concerned with how their data is used. If you would prefer your resume information to stay more private, consider opting for another resume-building service.
What we liked about the Resume.com builder
Overall, we found the builder to be intuitive and easy to use. The following is a list of what we liked the most about the Resume.com resume builder:
1. Transparency
We liked the fact Resume.com is transparent about its resume-building service terms both as a guest and as an account member.
If you've shopped around for resume builders, you'll know that many websites require you to sign up for a free account to receive access to their resume builder and to be able to save your information.
Resume.com makes it even easier for you to start building your resume by allowing you to try their builder as a guest. Your resume will be saved for 48 hours in guest mode, giving you plenty of time to go back later to work on it.
After being acquired by Indeed.com in 2018, Resume.com worked with their team to improve their resume builder, allowing you to sign in with a pre-existing Indeed account and streamline your job application process. This is useful if you've been using the Indeed platform to job hunt.
The level of transparency Resume.com showcases is refreshing. The site tells you exactly which features you're able to access both as a guest and with an Indeed account. They also mention that by using their resume builder with your Indeed account, you're agreeing to your resume becoming public and visible to employers on Indeed.com.
2. In-builder guidance
We liked that general tips were available in the builder to support you throughout your resume writing process. Whether it's your first time writing a resume or not, you'll know what to look out for to create a clean, professional resume.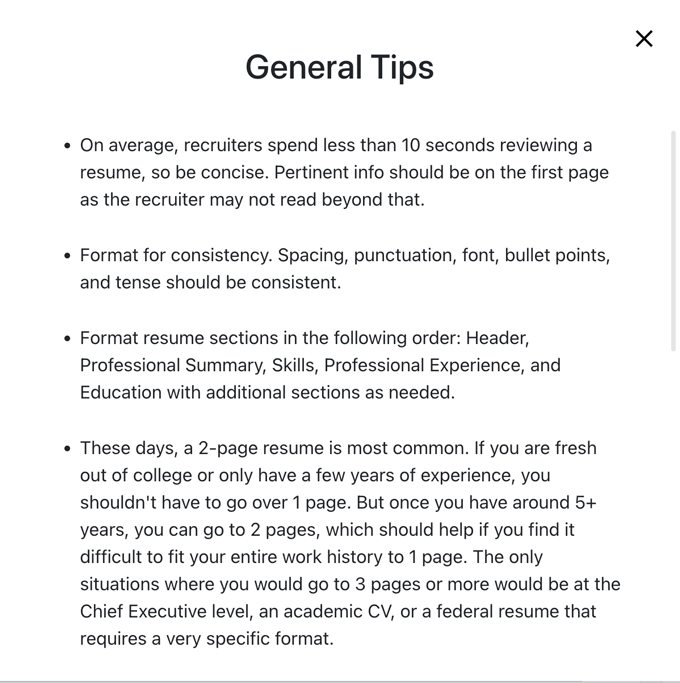 2. A lot of customization options
Resume.com allows you to edit your resume section-by-section once all your info is filled in as well as customize your resume section layout.
This can be helpful if you're looking to write different resume formats like a functional resume, a hybrid resume, or a chronological resume. We found this to be a good way to accommodate all kinds of job seekers.
You can use the "Manage Sections" in the right-hand menu to activate or deactivate specific sections. This allows you to have only certain sections of your choosing appear on your resume, and to reorganize them as you wish.
Additionally, the builder allows you to add a custom section. This section can be placed anywhere on your resume through the "Manage Sections" menu.
3. Easy to download
If you signed up for a free Indeed account, you'll be able to download your resume in both Text and PDF formats.
Resume.com claims its templates are designed with employer preferences in mind and the ability to use your resume created with the resume builder directly with Indeed.com can be an advantage.
However, if you don't want to sign up for an Indeed account and don't wish to have your resume made public to Indeed employers, Resume.com's builder may not be for you. As a guest, you're only able to visualize what your finished resume could look like but you won't be able to download your resume.
What we think could use improvement
While there's much to like about Resume.com's platform, there are a couple downsides to their builder as well:
1. Small template selection for all users
Both as a guest and an Indeed account holder, we were only offered 15 templates to choose from in the builder: three from the "Recommended" style and 12 from the "Professional" style.
The 15 templates available to us were all similar in both layout and style.
If you're looking for something more unique or modern, you're better off using a different resume builder.
2. Limited template styles even with an Indeed account
Despite Resume.com's claim that users can access dozens of professional and creative resume templates, we weren't given access to any new templates after signing up.
Even with an Indeed account, your options when it comes to colors, styles, and designs remain limited.
Additional resume builder reviews