As a student job seeker, you may be wondering whether to include extracurricular activities in your resume.
The answer is yes, you should.
Putting extracurricular activities on your resume, similar to listing volunteer work on your resume, gives hiring managers a glimpse into your interests outside of your grades and test scores.
Yet does this strategy really give you an edge over the traditional job seeker?
In this guide, you'll find out:
Running out of time? See how extracurricular activities may appear in a resume by checking out our sample at the bottom of the page.
Why You Should Include Extracurricular Activities
Whether you're writing a high school student resume for a summer job, putting together your college student resume after graduating, or even assembling a grad school resume, mentioning extracurricular activities is one way to round out your application.
Even though they may look unrelated to your target job at first glance, they have the power to bolster your resume and make you an even more compelling candidate. The key is to include the right ones.
8 Extracurricular Activities to Put On a Resume
You may be curious which extracurricular activities you should include on your resume. Different kinds of extracurriculars will reflect differently on who you are as a person, so you should choose wisely. It's best to choose extracurriculars that will display skills valued at your target role.
To help you with choosing the right extracurriculars, we've listed the top eight examples you should put on your resume, what skills these extracurriculars illustrate, and why you should include them below.
1. Student Government (SGA)
Key skills
Why you should include it
As a member of the SGA, you have plenty of experience planning activities for the student body and addressing student needs.
To accomplish all of this, you're used to exercising leadership responsibility, as well as working with the other members of the SGA to organize events and communicate the SGA agenda to the student body. Since you're such a capable person, employers are sure to find you an appealing candidate!
2. Club Exec Board Position
Key skills
Leadership
Communication
Collaboration
Organization
Why you should include it
Similar to being a member of the SGA, a club exec member is someone who needs a powerful sense of leadership to get their club running and to organize club events.
Since club exec boards are made up more than one person, an exec board member also needs to learn how to delegate and play well with others so that club affairs go smoothly. This ability to get your organization running is an attractive one to hiring managers, so don't leave this one out!
3. Foreign Language
Key skills
Communication
Critical Thinking
Work ethic
Why you should include it
More likely than not, your high school gave you the option to choose a foreign language as an elective. A foreign language is a strong choice to include on your resume because being proficient in an additional language often entitles you to higher pay.
Resume language skills also indicate that you'll be a hardworking employee who has the communication skills to converse with customers from diverse backgrounds.
4. Arts
Key skills
Creativity
Attention to Detail
Collaboration
Work ethic
Why you should include it
Whether you were involved in music, visual art, dance, or theater, being a creative requires a lot of time and effort spent on honing your craft. Through your creative endeavors, you've also had to dig in and collaborate to put on successful shows or productions and achieve your artistic vision.
Your ability to come together and work hard to reach your mutual goals is a treasured quality in an employee, which is a strong reason to include the arts in your resume.
5. Sports
Key skills
Collaboration
Creativity
Communication
Work ethic
Why you should include it
Every high school has an athletics department. When you're an athlete, you're training all the time, usually with your team.
Although you're accountable for your own performance, to be truly successful, you need to be able to communicate with teammates and work together to win. All this healthy sense of competition gives the hiring manager the impression that you'll be an employee driven to succeed and rise through the ranks.
6. Sorority / Fraternity
Key skills
Collaboration
Interpersonal
Leadership
Organization
Why you should include it
Often a major part of the college experience, sororities and fraternities are where many find their social circle. However, outside of developing interpersonal relationships, members of Greek life also need to have leadership and organization skills to pull off the social events they hold.
These skills become invaluable to hiring managers who are looking to fill positions where a friendly demeanor and the ability to work well with others is particularly desirable, making Greek life a great addition to your resume.
Note: The ability to survive a hazing is not something to brag about on your resume.
7. Resident Advisor (RA)
Key skills
Conflict management
Communication
Organization
Why you should include it
As an RA, you're used to juggling many responsibilities and making sure that your dorm is safe and habitable. You may be called upon to oversee everything from a suspicious leak in the bathroom to a dispute between roommates.
By putting your RA experience on your resume, you're signaling to the hiring manager that you have stellar people and time management skills, and that these skills are what helped you balance your duties with your studies.
8. Work Study
Key skills
Time management
Multitasking
Independence
Problem solving
Why you should include it
Some institutions offer the option to apply for a work study to help offset the financial burden of attending college. However, having a job alongside of your academics requires impressive time management skills and the independence necessary to take care of yourself.
Incorporating your work study experience in your resume will impress the hiring manager, because it highlights your ability to multitask and work hard.
How to Incorporate Extracurricular Activities in a Resume
Now that you know what extracurriculars to include, you have a couple options for how to write your extracurricular activities in your resume. In truth, there isn't a consensus on the best way to do it. Instead, focus on choosing a way that makes your resume look clean and professional.
Here are two solid strategies for ensuring your extracurriculars become valuable assets for boosting your resume:
Education section
One way to work your extracurricular activities into your resume is by listing them in the education section. You should use this method if you have certifications or awards from your extracurricular activity that are relevant to the role you are applying to.
Here's a good example of an education section that includes an extracurricular activity, as well as one that isn't descriptive enough.
EDUCATION
B.A. / ENGLISH
Vassar College,
Poughkeepsie, NY
2014-2018
RESIDENT ASSISTANT (RA) WITH FIRST AID CERTIFICATION
American Red Cross
2015
EDUCATION
B.A. / ENGLISH
Vassar College,
Poughkeepsie, NY
2014-2018
RESIDENT ASSISTANT (RA)
2015-2017
Achievement section
You also have the option of including your extracurriculars in your achievement section. Similar to when describing your professional experience, quantify your accomplishments whenever possible and use action verbs. Doing so will make your achievements pop and increase their persuasiveness.
Check out this example of an achievement section done right, as well as one that fails to convey enough information.
ACHIEVEMENTS
Organized 200+ tutoring sessions, acting as the general liaison between tutors and tutees, as a member of the Spanish Honors Society
Led the Walter Johnson Wildcats football team to win the 2017 high school football championship as captain of the team
ACHIEVEMENTS
MEMBER, Spanish Honors Society
2016-2018
CAPTAIN, Walter Johnson Wildcats Football Team
2017-2018
Extracurricular activities in a resume sample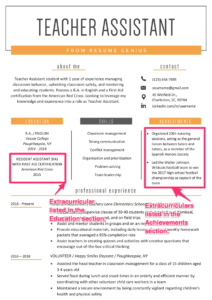 Final words
When you're a student looking to strengthen your resume, you might feel at a loss for what to add.
If this is you, consider adding extracurricular activities.
Including these is a creative way to impress hiring managers by giving them insight into other sides of you and supplementary skills that would otherwise have been hidden. This makes you a more attractive candidate, and the hiring manager will be calling to set up an interview in no time!
If you need further resume writing help, don't forget to check out our downloadable resume templates or our easy-to-use free resume builder!