Sometimes greek life gets a bit of a bad rap.
But being part of a fraternity or sorority involves leadership, philanthropy, volunteering, and other important skills hiring managers seek when recruiting new graduates.
To help you highlight your sorority or fraternity experience on your resume in the best way possible, below, we've included a writing guide, examples, and four reasons why you should display your greek life experience when applying for jobs.
Our free-to-use resume builder can make you a resume in as little as 5 minutes. Just pick the template you want, and our software will format everything for you.
How to list a sorority or fraternity on your resume
Depending on what role you had or how much of your time you volunteered for good causes in your fraternity or sorority, there are several ways you can highlight skills that make you a valuable candidate to employers.
Here are four ways to highlight the skills and experience you learned through your sorority or fraternity on your resume:
1. Include it in your work experience
Including your greek life in your professional work experience section can be a great way to boost your employability and market your skills if:
You don't have enough relevant experience to list in your resume
You're writing a grad school resume and have honors from your time in a fraternity or sorority
You held a significant position in your fraternity or sorority and are able to write three to five bullet points about your greek life experience that highlight hard skills and professional accomplishments
Here's an example of how a greek life treasurer should display their experience on their resume:

2. Put it in your extracurricular activities or volunteer work
Fraternities and sororities are often engaged in extracurricular activities and volunteer work in their local community.
From raising money for charities to volunteering at soup kitchens, you've likely done it all. These activities display great soft skills that hiring managers love, and might be a way to convince employers to bring you in for an interview if you're a new graduate with little work experience.
Putting your greek life experience in a section dedicated to extracurricular or volunteering activities is a great option if:
You didn't hold a significant position in your fraternity or sorority
You don't want to draw too much attention to your greek experience and would rather save space for the other sections on your resume
Now, here's an example of how to include your greek life experience as extracurricular activities or volunteer work in your resume education section: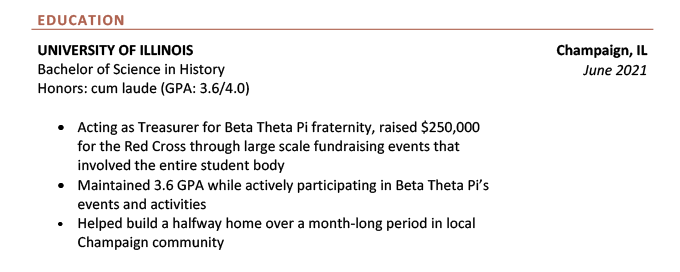 Even if you're not devoting a lot of space to greek life experience on your resume, you should still use hard numbers when including your accomplishments. Without numbers, the hiring manager won't have any metrics to gauge how you contributed to your fraternity or sorority.
3. Add it to your resume introduction
Another section you can choose to add your greek life experience to is your resume introduction.
Knowing how to start a resume can be hard, especially for students with little professional work experience. Leading with your greek life experience is a great way to show off some of your transferable skills right from the start of your resume.
Including examples of these skills in your resume introduction ensures the hiring manager will notice them immediately when they begin reading your resume.
Here's an example of a resume objective for a Pi Kappa Alpha president:

4. List it in your skills section
While participating in greek life on campus, you'll develop many hard and soft skills worth highlighting when writing a resume.
However, you may not always find the space to mention your greek life because you're trying to draw attention to things like your education and internship experience.
If this is the case, there's nothing wrong with simply listing the skills you gained from your fraternity or sorority in your resume skills section.
For example, you may have served as your fraternity's treasurer and gained budgeting and financial forecasting skills from allocating funds for your semesterly budget. Or maybe you served as president and managed the positions beneath you, as well as scheduled weekly meetings for the group.
No matter the position you held in your sorority or fraternity, there are bound to be skills you gained from your experience that are worth including in your skills section.
Here's an example of a sorority president's resume skills section: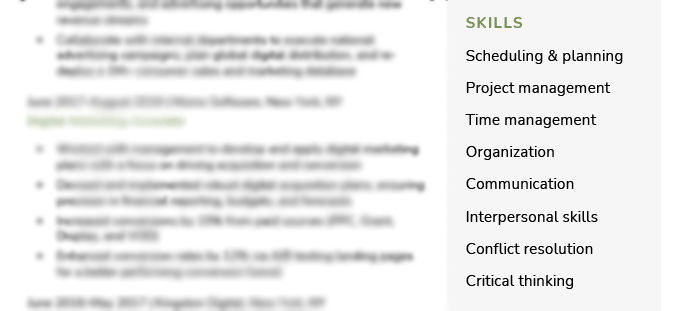 4 reasons to put a fraternity or sorority on your resume
Now that you've learned how to add your greek life experience to your resume, you may wonder if it's worth listing.
The truth is, there are many compelling reasons why putting a fraternity or sorority on your resume can help you land employment.
1. Greek life demonstrates leadership and other transferable skills
Similar to other extracurricular activities, fraternities and sororities have leadership positions that members can run for, such as president or treasurer.
If you've been appointed to one of these positions, you've probably planned meetings, calculated semesterly budgets, or managed your members on some level, all of which require leadership and other skills that are transferable to a professional career.
Here's an example of six common transferable skills to list on your resume if you're a fraternity or sorority leader:
Communication skills
Problem-solving
Creativity
Interpersonal skills
Attention to detail
These soft skills are invaluable for many employers, and by listing them on your resume, you'll more easily convince the hiring manager that you're a great candidate for the job.
To know if you gained transferable skills through your greek life experience, ask yourself these three questions:
Did you volunteer at a fundraiser held by your sorority?
Did you secure supplies or equipment needed for a party?
Did you situate or mentor new members of your fraternity?
Here's an example of how to highlight your transferable greek life skills on your resume:
Contacted lighting company and set up times for workers to install professional lighting for our talent show that raised $40,000 for disadvantaged children's education.
2. Greek life highlights your teamwork and civic engagement
Philanthropy is an essential component of the greek life experience. Many fraternities and sororities encourage their members to give back to the local community through charity work.
If you've participated in philanthropic fundraisers and events while you were a member of a fraternity or sorority, ask yourself these three questions when describing your experience on your resume:
Were you part of the fundraiser planning committee?
Did you help promote the fundraiser across campus?
Did you participate in the fundraiser itself?
Promoting and participating in philanthropic activities shows your employer you have great teamwork skills, which means you'll be able to work with colleagues to accomplish projects and other work-related tasks on time
Here's an example of how to describe your philanthropic greek life activities on your resume:
Ran social media accounts to promote the relay race our sorority holds to raise money for cancer research by scheduling daily posts across Facebook, Instagram, Snapchat, and Twitter.
3. Greek life provides networking opportunities
You can take advantage of national greek alumni networks during your job search by including your fraternity or sorority experience on your resume.
If the hiring manager is also a greek organization member, that connection could help you land an interview or at the very least be a conversation starter.
Another way to capitalize on the alumni network is to have your fraternity or sorority on your resume when you hand them out at alumni events.
By proudly displaying your affiliation on your resume, you'll leave a stronger impression with the alumni contacts you connect with, possibly sparking conversations that lead to future job opportunities.
4. Greek Life highlights your time management abilities
Being an active member of greek life and a successful college student requires great time management skills. Between social events, philanthropy, volunteering, and other activities, balancing greek life with a heavy course load is no easy task.
Employers recognize this, and by disclosing both your academic achievements (such as Dean's list and GPA) and greek life participation, hiring managers will know that you can effectively manage your time.
This makes you a desirable candidate, especially if the company has a fast-paced environment where you'll need to juggle multiple tasks at once.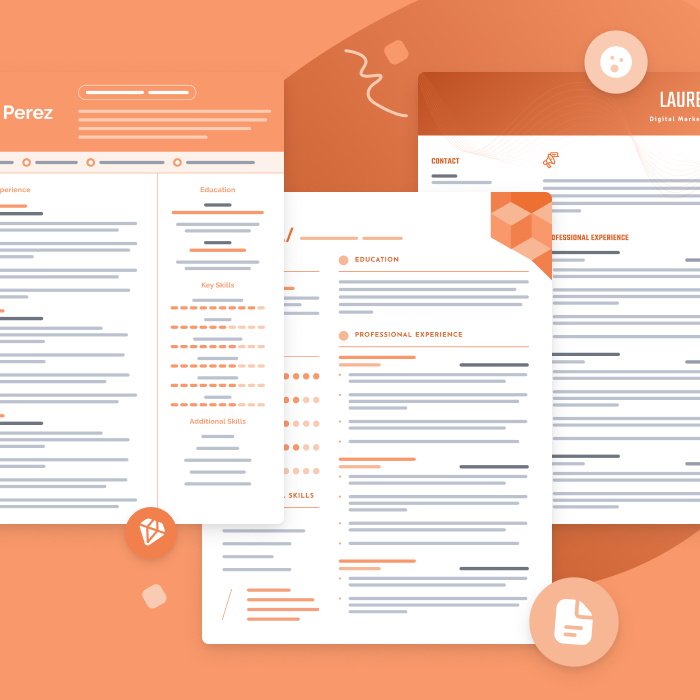 One of the best ways to make your resume is by filling out one of our free resume templates. All our templates are designed by experts and free to download for Microsoft Word or Google Docs.