A grad school resume should be included in your master's degree application to give the university's admissions committee a complete picture of your qualifications.
However, a graduate school resume will differ from a traditional resume. You'll still have the same resume parts, but you'll need to focus on your educational accomplishments rather than your work experience.
Our free-to-use resume builder can make you a resume in as little as 5 minutes. Just pick the template you want, and our software will format everything for you.
To get you started, we have two graduate school resume examples, four writing tips on how to write a resume for grad school, and a template:
Grad school resume examples
First, to help you construct a great grad school application, here are two graduate school resume examples to take inspiration from:
Graduate school resume example (current undergrad)
Here's an example of a grad school resume example written by a current undergraduate:
Download This Grad School Resume Sample
Sample resume for graduate school application (text version)
RESUME OBJECTIVE
Undergraduate Political Science student (3.8 GPA) with competencies in polling research and data analysis. A detail-oriented scholar seeking admission into Yale University's Master's program in Political Science.
EDUCATION
Bachelor of Arts In Political Science / GPA: 3.8
New York University, New York City, Expected Graduation: May 2023
Relevant Coursework: International Politics, Economics, Public Polling, Data Analysis, Electoral Process
HONORS
Magna cum laude

Dean's List at NYU (Last 3 Semesters)

Tau Sigma Honors Society
RELEVANT EXPERIENCE
THE ELECTION PROCESS AND PUBLIC OPINION
Seminar, NYU / October 2021 – May 2022
  Developed a thesis proposal for a statewide public opinion poll on tort reform
  Awarded a $1,000 grant to expand and execute my polling research
  Formulated a series of 10 questions designed to reduce bias
  Polled over 1,000 New York residents, reaching the threshold for statistical significance
  Organized the resulting data and presented my findings to the NYU Political Science department
VOLUNTEER
Tom Suozzi for Congress, New York, NY / May 2020 – November 2020
Made and distributed campaign materials to supporters
Helped lead get-out-the-vote efforts in local neighborhoods, knocking on over 800 doors
Wrote scripts for other campaign volunteers to follow when phone banking
Excelled in a fast-paced, demanding environment
SKILLS
Problem Solving, Adaptability, Collaboration, Time Management, Critical Thinking, Interpersonal Skills, Leadership
Graduate school resume example (recent graduate)
Here's an example of a student resume example written by a recent college grad: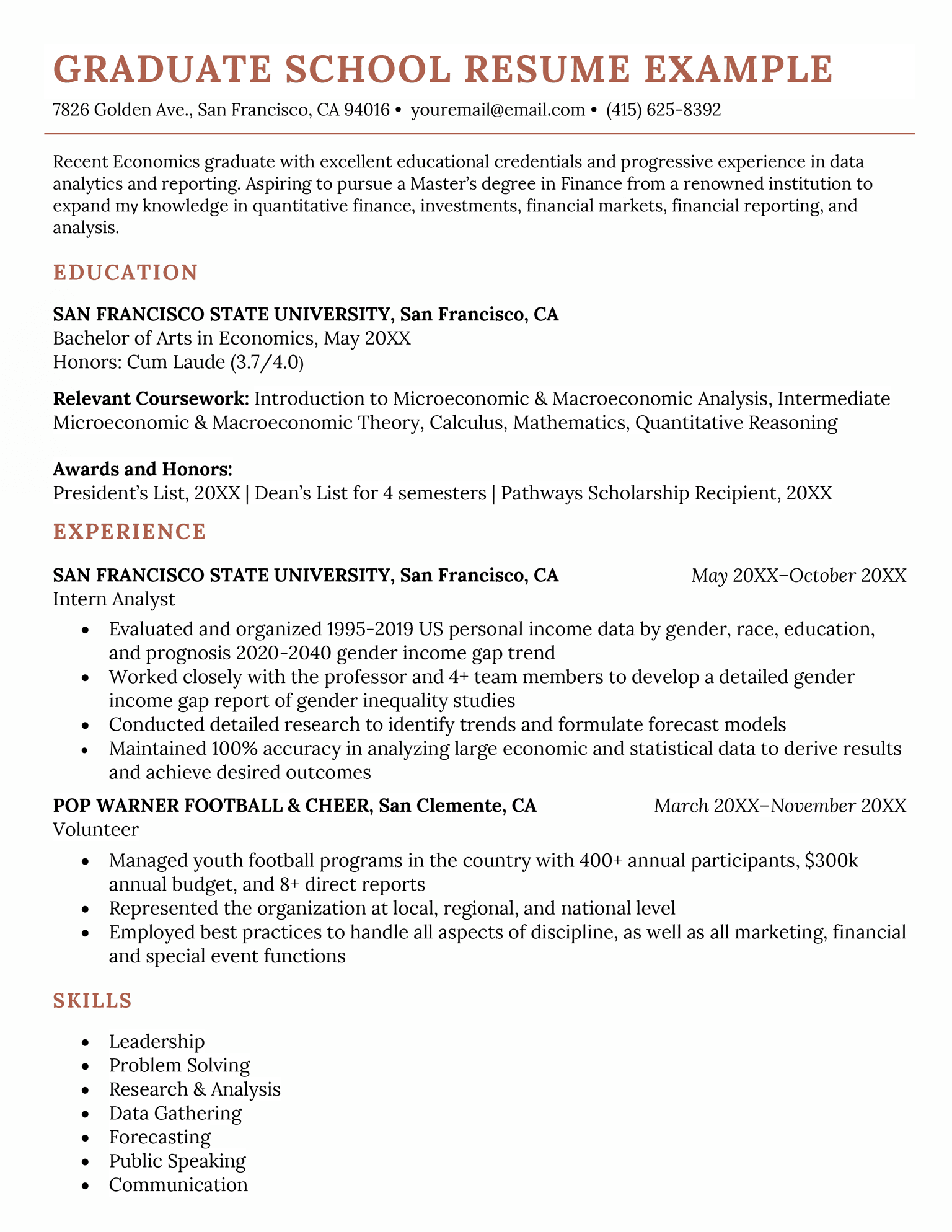 Download This Grad School Resume Example
Grad school resume example (text version)
Summary
Recent Economics graduate with excellent educational credentials and progressive experience in data analytics and reporting. Aspiring to pursue a Master's degree in Finance from a renowned institution to expand knowledge in quantitative finance, investments, financial markets, financial reporting, and analysis.
Education
SAN FRANCISCO STATE UNIVERSITY, San Francisco, CA
Bachelor of Arts in Economics, May 2020
Honors: cum laude (GPA: 3.7/4.0)
Coursework: Introduction to Microeconomic & Macroeconomic Analysis, Intermediate Microeconomic & Macroeconomic Theory, Calculus, Mathematics, Quantitative Reasoning
Awards and Honors
President's List, 2020 | Dean's List for 4 semesters | Pathways Scholarship Recipient, 2018
Experience
SAN FRANCISCO STATE UNIVERSITY, San Francisco, CA
Intern Analyst, May 2020–Oct 2020
Evaluated and organized 1995-2019 US personal income data by gender, race, education, and prognosis 2020-2040 gender income gap trend
Worked closely with the professor and 4+ team members to develop a detailed gender income gap report on gender inequality studies
Conducted detailed research to identify trends and formulate forecast models
Maintained 100% accuracy in analyzing large economic and statistical data to derive results and achieve desired outcomes
POP WARNER FOOTBALL & CHEER, San Clemente, CA
Volunteer, March 2020–November 2020
Managed youth football programs in the country with 400+ annual participants, $300k annual budget, and 8+ direct reports
Represented the organization at local, regional, and national level
Employed best practices to handle all aspects of discipline, as well as all marketing, financial and special event functions
Skills
Leadership | Analytical Problem Solving | Research & Analysis | Data Gathering | Forecasting | Public Speaking | Communication | Report Writing | MS Office Suite
How to write a resume for graduate school
Now that you've seen some grad school resume examples, here are four writing tips to help you write a strong resume for your graduate school application:
Craft a resume objective for graduate school
A strong resume introduction will capture the interest of admissions committees and convince them you're the right candidate for their master's program. 
While there are several types of resume introductions, a resume objective is an ideal choice for grad school applicants because you can use it to target a university's admissions department directly.
Your resume objective should be two or three sentences long and inform committee members about your educational achievements and goals without focusing heavily on your formal work experience).
A graduate school resume objective should also highlight your:
Undergraduate degree and grades

Relevant internship/volunteer experience

Provable skills

University and program name you're applying to
Here's an example of a well-written graduate school resume objective:
Undergraduate Economics student (3.8 GPA) with proven leadership and research skills. Six months of international internship experience with the UNHCR. Seeking admission into New York University's Master's program in Economics with a specialization in Development Economics.
Include a detailed education section 
Your resume education section is the most important part of a graduate school application because it gives a complete overview of your educational achievements and background.
To make an impressive education section, include the following seven pieces of information about your previous degrees and qualifications:
Name of university or college

College location (city, state)

Graduation date (month and year)

Degree(s) (including minors)

Awards

or honors
Regarding your relevant coursework, only list classes that qualify you for your master's program. For example, if you're applying to a computer science program, list your computer science coursework.
Additionally, it's great to mention the Dean's list on your resume if you made it at least twice or attended a prestigious university (such as Yale or Stanford).
Here's an example of a complete, well-written education section for a graduate school resume:
Education
UCLA—Los Angeles, CA
Bachelor of Science: Major in Physics, Minors in Chemistry and Biology
Graduation Year: June 2022
GPA 3.7/4, Dean's list for 6 semesters
Honors: Magna cum laude
Relevant Coursework: Quantum Mechanics, Theoretical Physics, Mathematical Physics, Microbiology, Biochemistry
Include internship, volunteer, teaching, and work experience
Your grad school resume's work experience section is where you should highlight any significant career accomplishments you have thus far. 
Most graduate school applicants don't have much formal work experience to list. In this case, your experience section should highlight any relevant work-related qualifications that demonstrate you're a great fit for the program, such as:
Internship and volunteer experience are great ways for students to supplement formal work experience on their grad school resume. 
Having internship experience shows you we're proactive at university in finding a position that would give you relevant experience, and that you're responsible enough to work while also attending class (which shows good time management skills).  
Here's an example of how to include internship experience on your grad school resume:
Internship Experience on a Grad School Resume
Material Express
Risk Management Intern (Airline) / New York / June 2020-May 2021
Built a database of airline frequent flyer program features for a major US carrier.
Conducted primary research with seven important industry stakeholders about factors affecting airline profitability.
Developed financial models along with three other employees for a start-up in the aviation sector.
Created a cost-benefit analysis model to analyze the feasibility of building airport lounges.
On the other hand, volunteer experience demonstrates your commitment to serving society and can help you highlight some of your skills.
Here's an example of how to list volunteer experience on your resume for grad school:
Volunteer Work on a Grad School Resume
ABC Retirement Home
Volunteer Elder Care Worker / California / June 2020-July 2021
Served food during meal times in a systematic way by coordinating with other volunteer eldercare workers.
Assisted two elder residents with eating their lunches.
Played the guitar, read stories, and took walks in the garden with residents to keep them entertained.
Drove five retirees to their churches every Sunday.
Organized bi-weekly Bingo sessions and monthly singing and dancing parties.
The Humane Society of the United States
Volunteer Worker / California / September 2018-May 2020
Assisted in the KLM dog shelter with the feeding, cleaning cages, and walking of ten dogs.
Rescued five dogs from illegal breeders.
Awarded licensing as a veterinary technician and assisted the in-house vet with basic medical care.
Kept careful records of the dogs in the shelter.
Certain master's programs, such as MBAs, often require candidates to have formal work experience to be admitted. While focusing on your education is essential, ensure you always follow admission guidelines to avoid missing any requirements.
Highlight skills you learned as an undergraduate
Your graduate school resume skills section should highlight the hard and soft skills you acquired as an undergrad that apply to your master's program.
Remember, you don't always need formal work experience to acquire strong skills. Through your coursework, extracurricular activities, and volunteer and internship experience, you've likely developed various transferable skills you can list, like analytical skills.
Here's an example of a graduate school resume's skill section:
Hard Skills
Computer programming languages

Translation

Proficiency in one or more foreign language(s)

Photo Editing

Writing and editing

Research
Soft Skills
Stress management

Critical thinking

Efficient

time management

Leadership

Public speaking
Graduate programs highly value candidates with a strong set of soft skills and technical skills, as these candidates are more likely to have the tools needed to succeed in a variety of environments and industries.
Graduate school resume template
Now that you've learned how to write a resume for graduate school, getting your resume format correct is essential to submit a competitive application when applying to your master's degree program.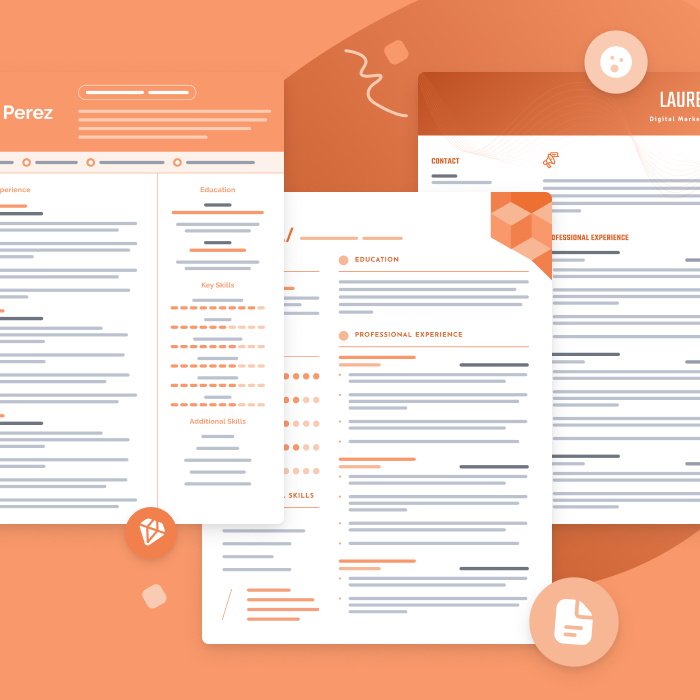 One of the best ways to make your resume is by filling out one of our free resume templates. All our templates are designed by experts and free to download for Microsoft Word or Google Docs.
Here's a graduate school resume template you can copy and paste into Microsoft Word or Google Docs and fill out yourself: 
1. Resume Heading
FIRST AND LAST NAME
Email: youremail@gmail.com | Phone: 895 555 555 | Address: 4397 Aaron Smith Drive Harrisburg, PA 17101 | Linkedin: linkedin.com/in/yourprofile
---
2. Resume Introduction
Undergraduate [field of study] student (current GPA) with competencies in [relevant hard or soft skills]. A [positive personality trait] scholar seeking admission into [university name]'s Master's program in [program name].
---
3. Education
Degree Name / Major
University, Location | Start Date – End Date
Relevant Coursework: You can list your relevant areas of study, either in paragraph or bullet format
Honors: If you graduated with honors (i.e. summa cum laude), list it here
---
4. Relevant Experience
Most Recent Title or Project Name
Employer or School Name / Location / Start Date – End Date
Include a bulleted list of your accomplishments (this can include coursework)
Make sure you quantify (add numbers to) these bullet points
Most Recent Title or Project Name
Employer or School Name / Location / Start Date – End Date
List key accomplishments from an earlier position, internship, or project
Assuming you no longer actively perform this job or project, make sure you use past tense verbs to describe your experience
---
5. Skills
Highlight your relevant professional skills. If you don't know what the hiring manager is looking for, try reading through the job requirements and pairing your own abilities with ones in the description.
---
6. Additional Resume Section
Here's where you can add any other information relevant to your background.
This section could highlight publications, languages, volunteer experience, community service, professional associations you belong to, or any training or certifications.
Additional resources
Finally, in addition to the grad school resume writing resources on this page, here are some other resources to help you write a competitive resume for your grad school application: