One of the best ways to impress any scholarship selection committee is by putting together a scholarship resume that highlights your achievements in and outside the classroom.
We'll teach you how to write a great scholarship resume and provide a helpful scholarship resume example and customizable template.
Our free-to-use resume builder can make you a resume in as little as 5 minutes. Just pick the template you want, and our software will format everything for you.
What is a scholarship resume?
A scholarship resume is a resume that's used to apply for scholarships and displays your academic background, awards, achievements, and activities, while also including your key skills and any professional or volunteer work experience you have.
Overall, a scholarship resume is meant to highlight your career and academic interests and goals, to give the scholarship selection committee a better understanding of who you are and why you're an ideal candidate to receive their assistance.
Scholarship resumes are typically meant for high school students preparing to enter their freshman year at university, but they can also be for graduate students preparing a graduate school resume or even Ph.D. candidates.
While not every scholarship requires a resume, many private scholarships request that you submit one. So before you create a resume for a scholarship, read over the rules and see if it's required.
Scholarship resume example
Here's an example of a great scholarship resume: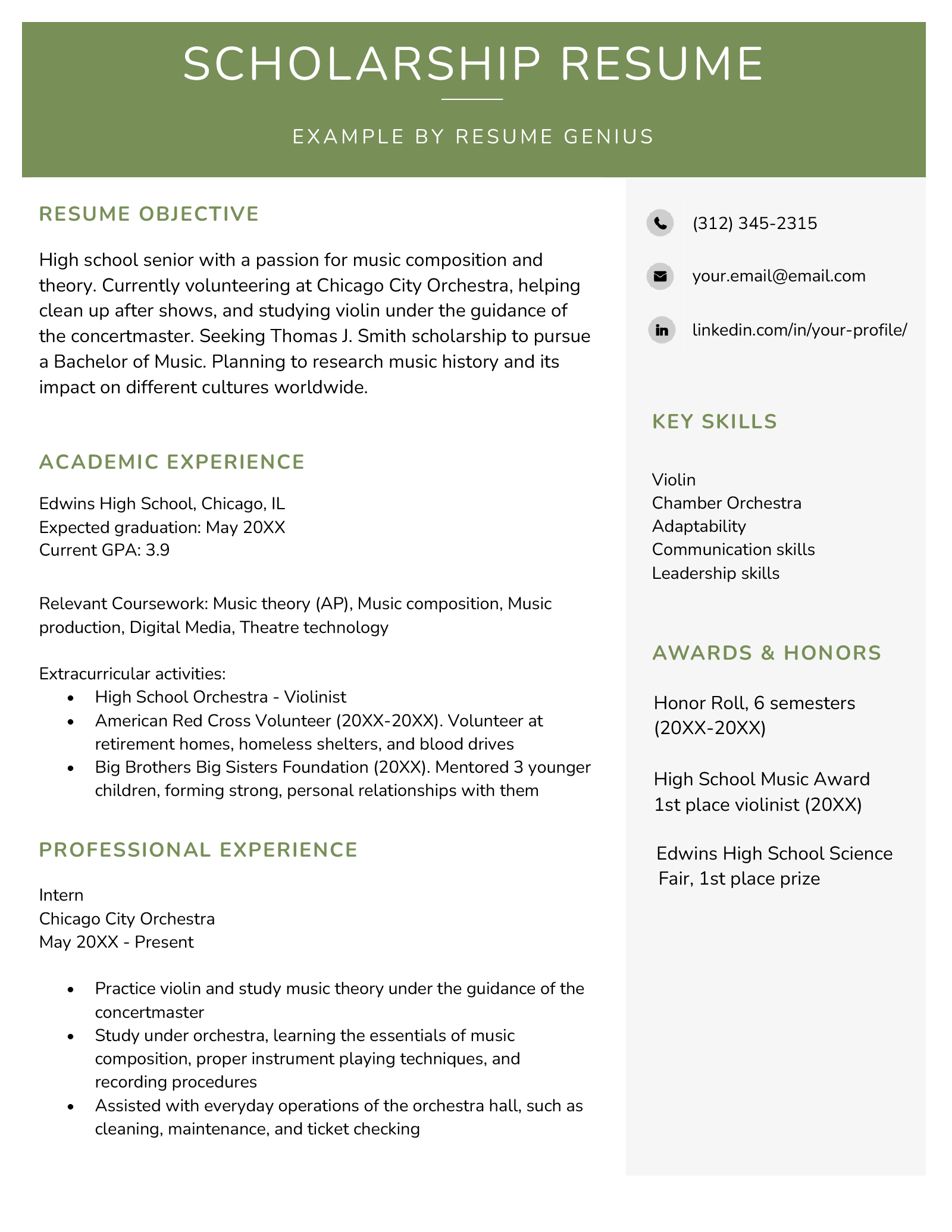 Download This Scholarship Resume Example
How to write a scholarship resume
Now that you have a better idea of what a scholarship resume looks like, let's learn how to write a scholarship resume by breaking down each section and detailing exactly what you'll want to include.
1. List your contact information
List the following contact details at the top of your college scholarship resume:
Name
Phone number
Email address
Address (city & state is fine)
LinkedIn profile (if you have it)
Remember to only include contact information that you check and monitor regularly. Nothing would be worse than finding out you were considered for a scholarship but ultimately didn't receive it because you couldn't be reached.
2. Open with a great scholarship resume objective
The best way to get the attention of any scholarship selection committee is to start your scholarship resume with a convincing, tailored resume objective.
Your objective is a short, convincing introduction that summarizes your goals, accomplishments, and passions at the top of the page.
In your scholarship resume objective, you should highlight your strong academic background and record, extracurricular activities, your career goals, and (most importantly) how they align with your reasons for pursuing additional education.
Here's an example of how to write a great scholarship resume objective:
Recent BA History graduate awarded Dean's list 3 consecutive years, with internship experience at New York Historical Society helping preserve historical articles and manuscripts, and a study abroad experience in Rome. Seeking the Rottsworth Scholarship to pursue an MA in History. Planning to continue research into the rise of democracy in classical-era Greece
3. Showcase your academic experience
Your academic experience is arguably the most important section of your scholarship resume.
Besides getting to know your academic goals, scholarship selection committees will want a detailed and in-depth look at your academic career thus far to understand why you're an ideal candidate for the scholarship you're applying for.
In your academic experience section, you should highlight the following information for each school you've attended:
Institution name
Academic major
Academic minor (if applicable)
Graduation date (or expected if you haven't finished)
Favorite fields of study (relevant coursework)
Additionally, try to highlight your academic success and why you're enthusiastic and driven to pursue higher learning in your academic career.
Scholarship committee members seek out driven and motivated individuals with a potentially bright future ahead of them.
Here's an example of how to list your academic experience on a scholarship resume:
New York University
Bachelor of Science in Nursing
Expected graduation June 2022
3.8 GPA
Relevant coursework: Cellular Biology, Anesthesiology, Virology, and Climate Crisis & Health
Extracurricular activities
Junior nurses club president (2020-2021)
Member of the university community service group. Volunteered at soup kitchens, retirement homes, and homeless shelters
Captain of the university debate team. Topics debated often included history, biology, politics, and science.
4. Include your work experience
Scholarship committee members like to see that candidates are well-rounded and have active lives in and outside the classroom. That's why you should always list your work experience on your resume (even if it's just part-time work).
However, if you're like the majority of students applying for scholarships, you might not have much work experience yet.
If that's the case, remember that your work experience section doesn't have to be limited to income-based work. You can also include volunteer work, internships, or even club activities.
Here's an example of work experience on a scholarship resume:
Marketing Intern
L'Oréal, New York City, NY
June 2019 – August 2019
Conducted market research and analysis into current trends, and created weekly content for various social media platforms (Facebook, Instagram, and Twitter) designed for attracting new talent. Grew company Facebook page by 10% in 3 months.
Assisted with implementing new marketing strategies, and helped organize marketing campaigns
Supported Chief Marketing Officer (CMO) in additional tasks, such as developing consumer research surveys and customer data collection
5. Display your awards and honors
Listing awards and honors on your scholarship resume provides you a chance to show off any noteworthy achievements in your academic career to the scholarship selection committee.
On your scholarship resume, you should include these seven types of awards or honors:
Scholarships (previously awarded)
Academic awards (subject-related, science fair, etc.)
Publications in a student journal
Non-academic awards
Volunteer awards
Academic/professional societal memberships
Scholarship resume template
Here's a scholarship resume template that you can copy and paste into Microsoft Word or Google Docs:
Scholarship Resume Template
1. Resume Heading
FIRST AND LAST NAME
Email | Phone | Address | Linkedin
---
2. Resume Objective
[Current academic status] with an interest/passion for [relative subject(s)], and [amount] of [work, volunteer, or internship experience] excelling at [duties and responsibilities]. Seeking [scholarship name] to pursue [degree]. Planning to continue research in [research/thesis topic relative to your field].
---
3. Academic Experience
Institution Name
Degree
GPA
Relevant Coursework: Name at least three courses that are relevant to the subject that you will be studying at university
Extracurricular activities:
List sports and competition involvement, community service, or societal memberships (band, fraternity, etc.)
---
4. Work Experience
Position title
Company
Dates
List work, volunteer, or internship experience
Even if the work is not relevant to the career your pursuing, it's okay to include it. However, try to highlight transferrable skills that are relevant
Try to quantify your duties and responsibilities by using hard numbers to describe your work experience
---
5. Awards & Honors
Include significant academic awards, such as previous scholarships, winning competitions, writing publications, and achieving the Dean's list
---
6. Key Skills
List any hard skills you've acquired that are relative to the career you're pursuing, such as technical, software, and language skills
If you only have unrelated work experience, chances are you have soft skills, such as leadership, teamwork and communication skills that are great to include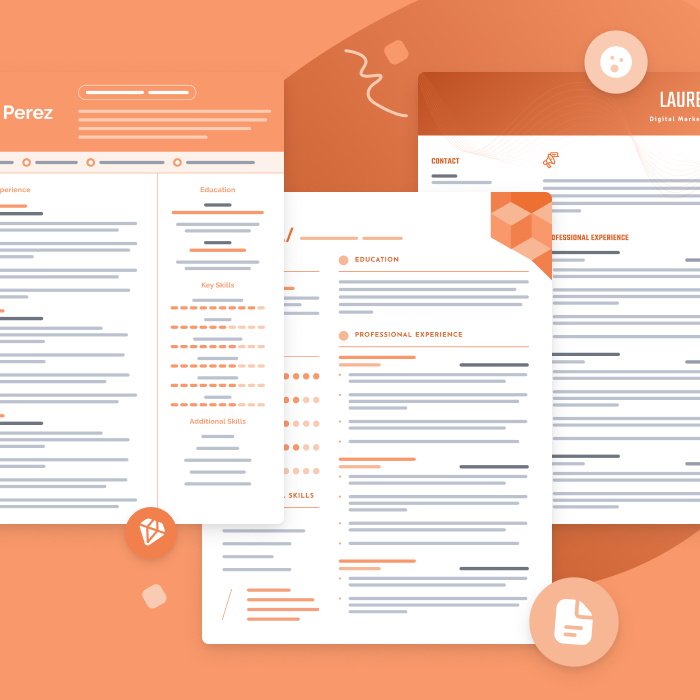 One of the best ways to make your resume is by filling out one of our free resume templates. All our templates are designed by experts and free to download for Microsoft Word or Google Docs.