Whether you're a college freshman or a recent graduate, preparing a polished and professional student resume is essential to landing your first jobs out of school.
We'll show you two well-written undergraduate resume examples with different experience levels, then walk you through how to write your own undergraduate student resume so you're best prepared for professional success during (and after) college.
Our free-to-use resume builder can make you a resume in as little as 5 minutes. Just pick the template you want, and our software will format everything for you.
Undergraduate resume examples
What you put on a resume depends on your degree and how much work experience you have.
Check out these two undergraduate resume samples — one with work experience and one without — to get an idea of what your resume should look like:
1. Undergraduate resume example (with experience)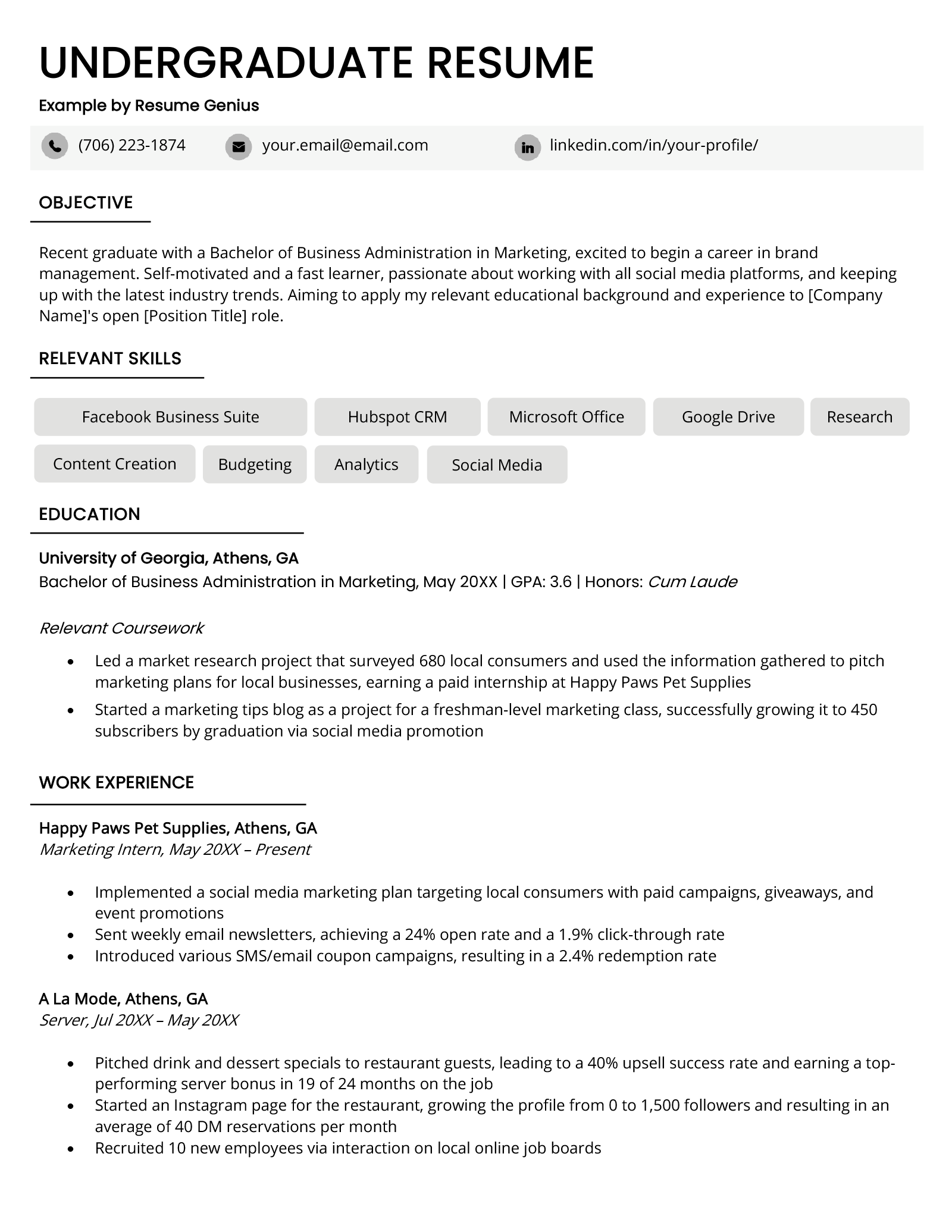 Undergraduate resume template with experience (text version)
OBJECTIVE
Recent graduate with a Bachelor of Business Administration in Marketing, excited to begin a career in brand management. Self-motivated and a fast learner, passionate about working with all social media platforms, and keeping up with the latest industry trends. Aiming to apply my relevant educational background and experience to [Company Name]'s open [Position Title].
RELEVANT SKILLS
Facebook Business Suite, Hubspot CRM, Microsoft Office, Google Drive, Research, Content Creation, Budgeting, Analytics, Social Media
EDUCATION
University of Georgia, Athens, GA
Bachelor of Business Administration in Marketing, May 2023 | GPA: 3.6 | Honors: Cum Laude
Relevant Coursework
Led a market research project that surveyed 680 local consumers and used the information gathered to pitch marketing plans for local businesses, earning a paid internship at Happy Paws Pet Supplies
Started a marketing tips blog as a project for a freshman-level marketing class, successfully growing it to 450 subscribers by graduation via social media promotion
WORK EXPERIENCE
Happy Paws Pet Supplies, Athens, GA
Marketing Intern, May 2022 – Present
Implemented a social media marketing plan targeting local consumers with paid campaigns, giveaways, and event promotions
Sent weekly email newsletters, achieving a 24% open rate and a 1.9% click-through rate
Introduced various SMS/email coupon campaigns, resulting in a 2.4% redemption rate
A La Mode, Athens, GA
Server, Jul 2023 – May 2022
Pitched drink and dessert specials to restaurant guests, leading to a 40% upsell success rate and earning a top-performing server bonus in 19 of 24 months on the job
Started an Instagram page for the restaurant, growing the profile from 0 to 1,500 followers and resulting in an average of 40 DM reservations per month
Recruited 10 new employees via interaction on local online job boards
This recent grad uses their experience with social media marketing at a serving job and a relevant internship to complete the work experience section of their resume.
But what if you don't have any relevant work experience?
Let's see how a student uses their extracurriculars and coursework to fill out their resume:
2. Undergraduate resume example (no experience)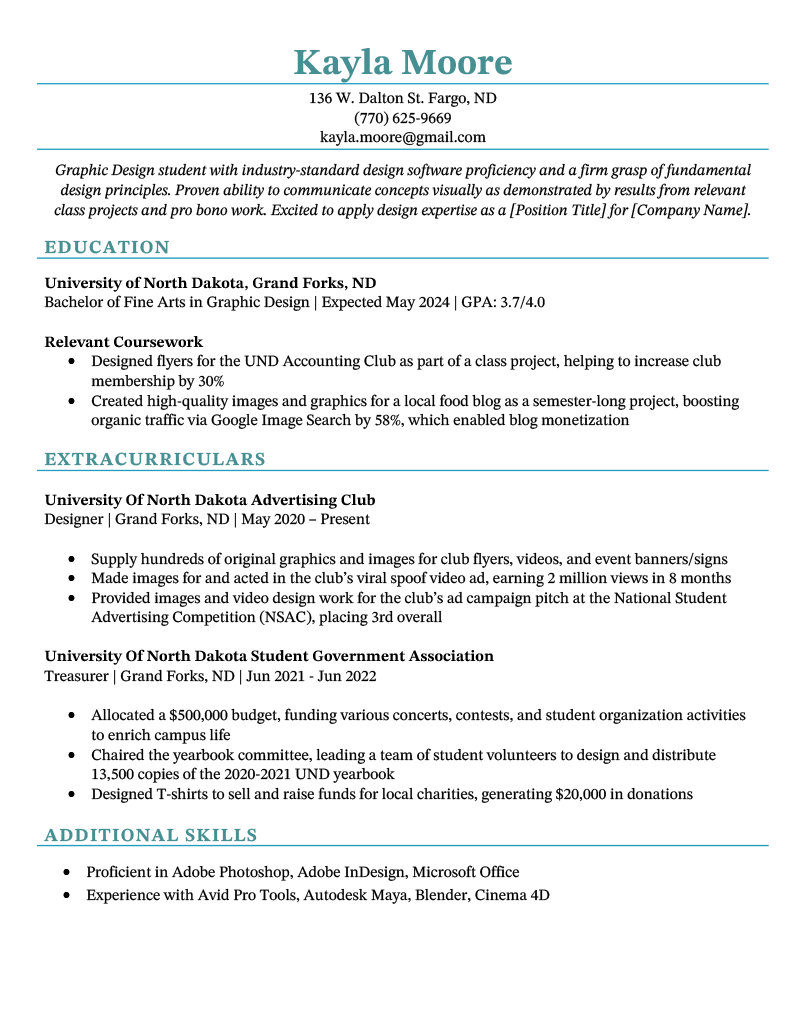 Undergraduate resume template with no experience (text version)
OBJECTIVE
Graphic Design student with industry-standard design software proficiency and a firm grasp of fundamental design principles. Proven ability to communicate concepts visually as demonstrated by results from relevant class projects and pro bono work. Excited to apply design expertise as a [Position Title] for [Company Name].
EDUCATION
University of North Dakota, Grand Forks, ND
Bachelor of Fine Arts in Graphic Design | Expected May 2024 | GPA: 3.7/4.0
Relevant Coursework
• Designed flyers for the UND Accounting Club as part of a class project, helping to increase club membership by 30%
• Created high-quality images and graphics for a local food blog as a semester-long project, boosting organic traffic via Google Image Search by 58%, which enabled blog monetization
EXTRACURRICULARS
University of North Dakota Advertising Club
Designer | Grand Forks, ND | May 2020 – Present
• Supply hundreds of original graphics and images for club flyers, videos, and event banners/signs
• Made images for and acted in the club's viral spoof video ad, earning 2 million views in 8 months
• Provided images and video design work for the club's ad campaign pitch at the National Student Advertising Competition (NSAC), placing 3rd overall
University of North Dakota Student Government Association
Treasurer | Grand Forks, ND | Jun 2021 – Jun 2022
• Allocated a $500,000 budget, funding various concerts, contests, and student organization activities to enrich campus life
• Chaired the yearbook committee, leading a team of student volunteers to design and distribute 13,500 copies of the 2020-2021 UND yearbook
• Designed T-shirts to sell and raise funds for local charities, generating $20,000 in donations
ADDITIONAL SKILLS
• Proficient in Adobe Photoshop, Adobe InDesign, Microsoft Office
• Experience with Avid Pro Tools, Autodesk Maya, Blender, Cinema 4D
Also, check out these other examples if they apply to you:
How to write an undergraduate resume
Getting hired is challenging for most people, but it's especially difficult for recent college graduates.
Recent survey data shows the job searching process is becoming increasingly competitive after a huge number of employees were laid off in sectors like tech and healthcare.
Being able to write a great resume as an undergraduate student has never been so essential to landing the job you want out of college.
Here's everything you need to know about writing each section on your undergraduate resume:
1. Add your contact information
Put your name, email, phone number, address, and relevant social media profiles in the header of your resume.
Adding contact information on your resume may seem self-explanatory, but here are some tips to help you avoid common mistakes:
Your name should be readable at the top of the page (use a bigger font).
Use a professional email address. If you don't have one yet, make a new Gmail with your first and last name (or initials) with periods or hyphens mixed in if needed.
Adjust your social media privacy settings if you have any less-than-professional photos or videos floating around.
Here's how the top of your undergraduate resume should look:

2. Open with a convincing resume objective
A resume objective is a brief 2-4 sentence resume introduction that provides an overview of your most notable qualifications, skills, and goals. Your objective is an essential part of your undergraduate resume, because it lets you explain why you're qualified despite having limited work experience.
Here are some points to remember when you're writing a resume objective for your undergrad resume:
Keep your objective short. Hiring managers scan resumes quickly, so it's important to communicate your qualifications concisely.
Write (or at least adjust) your objective each time you send out a resume.  Target your objective to the job you're applying for, referencing the most important requirements in the job ad.
In the last sentence, state your interest in the job and note how your skills and career goals make you a good fit.
Here's an example of a resume objective for an undergrad resume that would impress any hiring manager:

3. Write a detailed education section
As a recent college graduate, you probably don't have a long work history to include on your resume. To show employers what you're capable of, draw their attention to the accomplishments you do have.
To highlight your most important achievements, list your resume education section before your work experience (you'll switch the two sections on resumes later in your career).
Your education section includes the following information:
The name of your school
Your area of study
Your graduation date (or expected graduation date)
Any honors you received
Your GPA — but only if it's 3.5 or higher
Also, use your education section to highlight any relevant coursework you completed that showcases valuable skills. If possible, use hard numbers to demonstrate your achievements, like in the example below:

4. Add relevant work experience
You may not have job experience in your field yet, but you've probably worked summer jobs or part-time gigs when you were in high school. Put any jobs you've held in your resume's work experience section, as long as you can relate the experience to your target job.
For instance, if you're applying to an entry-level sales position, mention your upselling success rate when you were a waiter. If you're going into graphic design, write about the time you designed posters that grew your babysitting business by 80%.
Your work experience section is also where you can list your internships or volunteer experience. Here's an example of a strong work experience section for an undergraduate: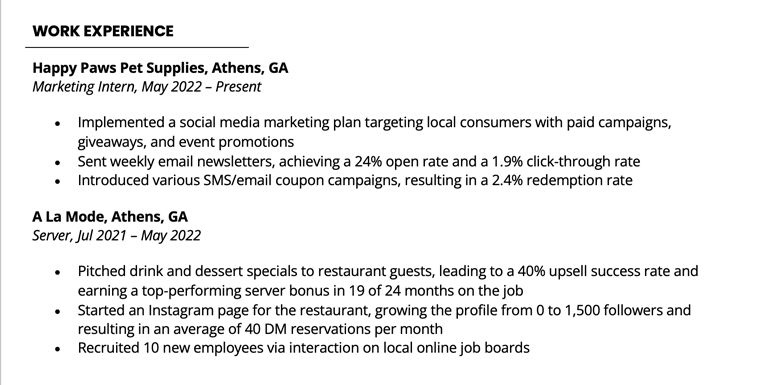 5. Include job or field-related skills
The late-night study sessions, presentations, and group projects from your college days are about to pay off. Whether you know it or not, all that work has given you a valuable set of both hard and soft skills that employers want to see on your resume.
Soft skills for undergraduates
Some soft skills you likely developed while at college and should add to your resume include the following:
Teamwork
Time management
Communication skills
Written communication
Open-mindedness
Organizational skills
Self-motivation
Brainstorming
Critical thinking
Hard skills for undergraduates
Hard skills picked up in college vary depending on your area of study. For example, a software engineering major exits school with technical skills like fluency in multiple coding languages, while a graphic design major has developed expertise in Adobe Photoshop.
No matter your major, chances are you have a few of the hard skills hiring managers often look for, such as:
Research skills
Writing and editing
Presentation
Additionally, including the skills mentioned in the job description is critical to your application's success.
Many companies use application tracking systems (ATS) to review applications. ATS software automatically deletes applications that don't include the skills the employer requires. So even if you wrote a creative masterpiece of a resume, it won't reach the hiring manager's inbox unless you include the skill-related keywords they're looking for.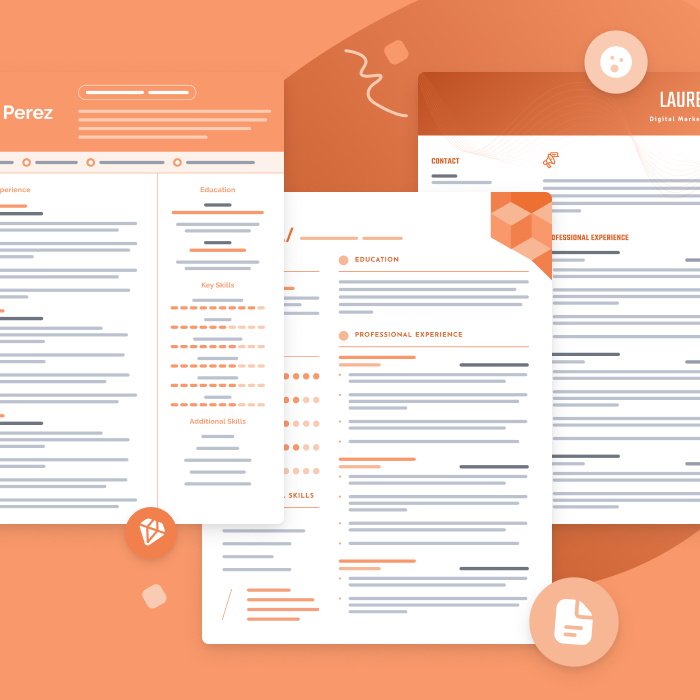 One of the best ways to make your resume is by filling out one of our free resume templates. All our templates are designed by experts and free to download for Microsoft Word or Google Docs.
6. List related extracurricular activities
If your undergraduate resume has too much blank space at the bottom, fill it with relevant extracurricular activities.
Joining optional groups like fraternities or sororities and taking part in various events indicates you're self-motivated and work well with others. If slam poetry or comedy open mics are your thing, list them — performing arts require creativity and public speaking, skills that employers love to see on a resume.
To get an idea of how you'd format your extracurricular activities section on your resume, check out this example: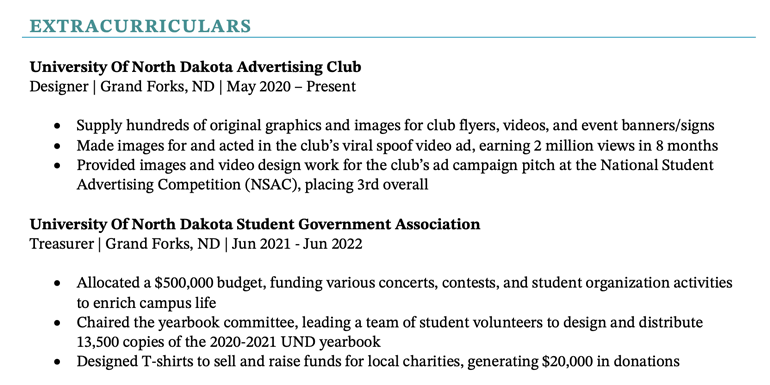 Submit your resume to potential employers
You should alter each resume you make on Word whenever you apply to a new job, highlighting your education, work experience, and extracurriculars to best match that job's unique requirements.
And before you turn your resume into a PDF and send it off, remember to proofread it. Submitting a resume with a typo or spelling mistake could mean the difference between getting hired and being rejected. So proofread your resume, send it to a friend for a second opinion, and then proofread again before submitting it.
Follow these tips for writing a flawless undergraduate resume, and you'll start your post-college career in no time.