Use our tips and examples below to write a scholarship letter that shows you're dedicated to your studies and are serious about getting the most out of a college education.
Our free-to-use cover letter builder can make you a cover letter in as little as 5 minutes. Just pick the template you want, and our software will format everything for you.
Why write a scholarship cover letter?
Scholarship committees get plenty of applicants with great grades, numerous extracurriculars, and high SAT scores. So you need to make your application stand out in order to get noticed.
Writing a scholarship cover letter gives you an opportunity to highlight your dedication, goals, and passion to the committee or organization granting the scholarship, greatly improving your chance of convincing them that you're the best candidate to receive their assistance.
You can also use your cover letter to explain some of your motivations, accomplishments, or obstacles you've overcome.
Scholarship cover letter example
Here's a strong scholarship cover letter example that you can use to inspire your own scholarship cover letter: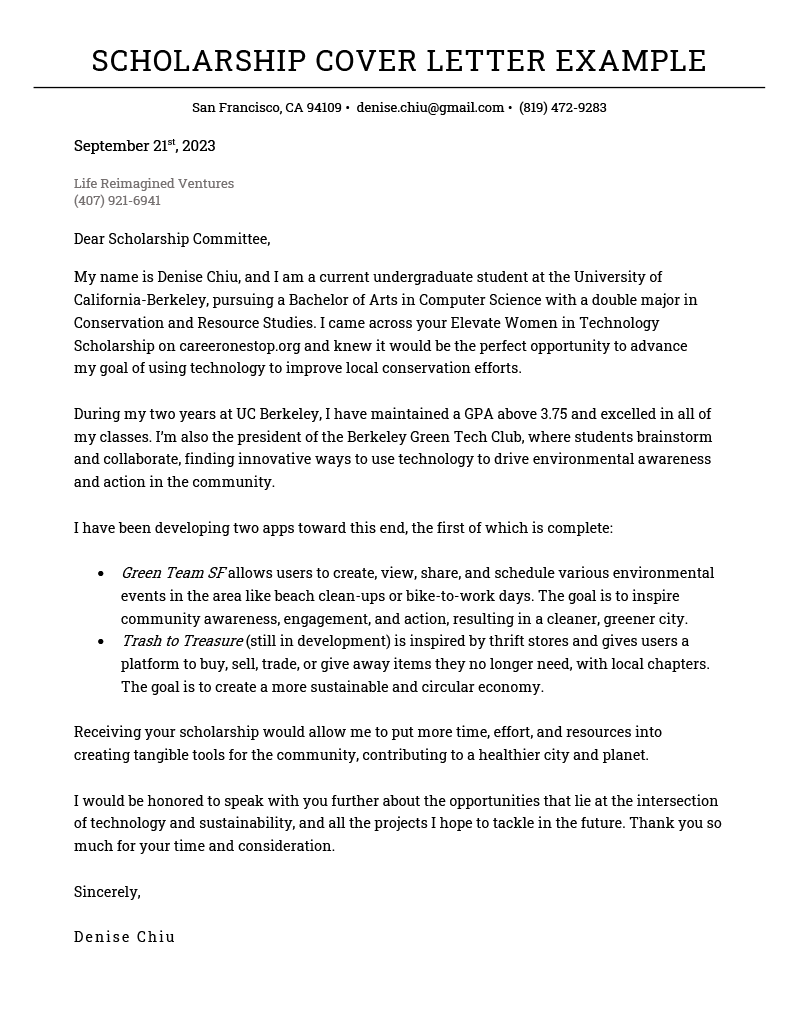 How to structure your scholarship letter
Selling yourself to a committee you've never met can be daunting. If you're having trouble knowing where to start or how to write your cover letter, start by making an outline.
Knowing how to format your cover letter is the first step. A cover letter's basic structure can be broken down into five main components:
Personal information
Salutation and opening paragraph
Body paragraph(s)
Closing paragraph (call to action)
Sign-off
Like every piece of writing, your scholarship letter should have a clear beginning, middle, and end. The template below outlines the purpose for each paragraph and what it should include:
Your Name
[Your phone number] [Your email address] [Your mailing address]
[Date] [Scholarship organization name] [Organization address] [Organization phone number]
Dear [Mr./Ms./Mx. Recipient's name] / [Scholarship Committee],
Start with an opening paragraph that briefly introduces who you are, and your relevant experience, how you learned about the scholarship, and why you are interested in applying. If writing multiple cover letters, take care to customize this paragraph to target a specific scholarship.
Next come your body paragraphs, which highlight your academic accomplishments as well as any related skills and experience. Depending on the scholarship application requirements, you may need just one body paragraph or several (always check the length requirement first). The question you are really addressing in this section is what makes you deserving of this particular scholarship, so make sure that everything you include bolsters your case.
End with a closing paragraph that restates your interest in the scholarship and why you should be a recipient. Include a call to action to inspire the committee to reach out to you – by saying you'd love the opportunity to schedule a call or a meeting, for instance.
[Sincerely / Best / Best regards], [Your name]
Tips for writing a scholarship application cover letter
Not sure where to start? No problem. Here are some tips for writing a compelling cover letter for a scholarship:
Be concise
While scholarship committees want insight into your life and motivations, that doesn't mean they want your whole life story. Your scholarship application cover letter should be focused and to the point.
To help keep your writing focused, here are the main points that you should address in your scholarship cover letter:
Give the scholarship committee an overview of who you are.
Demonstrate your qualifications and why you deserve the scholarship.
Convey your interest and enthusiasm for the scholarship.
State how you intend to use the scholarship.
Customize each scholarship application letter
When writing cover letters, it's the little touches that make all the difference.
Once you've read a stack of cover letters (like the scholarship committee has), it becomes pretty easy to judge which ones are generic cover letters and which ones have been tailored to an individual scholarship.
The easiest way to customize your cover letters is to use the introductory paragraph to address the particular scholarship you're applying for and why you're a good fit.
To give your application the best chance for success, you should also tailor your body paragraphs to target the scholarship you're applying for, even if that just means making a few minor adjustments each time.
Before writing your cover letter (or application), carefully consider what the scholarship committee is looking for and make addressing this the focal point of your letter.
Some organizations care more about academic performance, while others look at financial need or other special circumstances.
If you need a little help tailoring your cover letter, try using a cover letter generator that can quickly help you change and adjust your writing to target specific skills.