When you write your resume, the contact information section might not be your main concern.
However, correctly listing your contact information on your resume ensures that your application looks professional and that hiring managers know exactly how to contact you to schedule an interview.
Read on to learn how to write a resume contact information section that includes the basic information hiring managers need to know about you.
Our free-to-use resume builder can make you a resume in as little as 5 minutes. Just pick the template you want, and our software will format everything for you.
What contact info should be on a resume?
Here's a list of contact information that should be featured on your resume:
Your first and last name
Include your first and last name in a bold resume header to make sure your resume stands out to hiring managers, like in this example:
Email address
Most hiring managers prefer to communicate via email, and this is usually the first way they'll try to contact you.
Add your email address to the contact information section of your resume so they're able to contact you regarding interviews and other updates related to your application.
Additionally, make sure your email address is professional and easy to read. For example, if you haven't updated your email address since high school and it's still "crazygirl111@gmail.com", then it's time to make a new email address.
Your email address should just be your name or initials. Here's an example of a professional email address format:
FirstName.LastName@EmailService.com
Phone number
If employers aren't using email to let you know how the application process is going, they'll simply call you.
In case you're not sure how to write your phone number on your resume, here's an example showing the proper phone number format to use:
(801) 840-9352
LinkedIn profile
Condensing your entire career into a one-page resume can be difficult, especially if you have years of experience in your industry.
A good way to keep your resume concise while still giving employers access to a comprehensive list of your achievements is by adding your LinkedIn URL to your resume.
You can even add an icon to your resume to make your contact information section more professional, like in this example:
If hiring managers need more information about you before deciding to invite you to an interview, they can easily take a look at your LinkedIn profile.
Website or portfolio
If you're trying to secure a job as a writer or you're looking for work in a creative industry like graphic design, adding a link to your portfolio in your resume's contact information section is a great way to showcase your work.
Make sure that your website or portfolio URL is simple and professional. Here are a few good examples:
theresareed.com
alexgallagherdesign.com
shaunafosterphotography.com
These URLs are all easy to remember, and in the last two examples, it's clear what the candidates' specialize in.
The state you reside in
Today you no longer actually mail your resume, so including your full address on your resume is unnecessary.
Instead, let employers know which state you live in to show them that you're already local and wouldn't need to relocate.
Something to keep in mind before deciding to put your address on your resume is that some employers favor applicants who won't need to relocate, so if you live far away, mentioning which city you live in could hurt your chances of getting the job.
If you choose to include your full address, here's an example of how to format it properly:
3663 Margaret Street, Houston, TX 47587
Add your house number followed by your street, city, state, and zip code.
What contact info should not be on a resume?
Not all contact information is a good idea to provide employers. The following information should be left off your resume: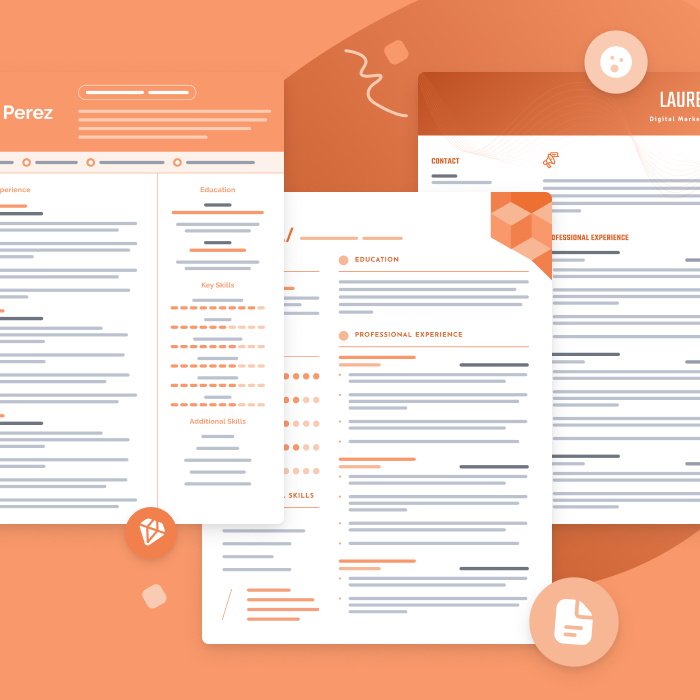 One of the best ways to make your resume is by filling out one of our free resume templates. All our templates are designed by experts and free to download for Microsoft Word or Google Docs.
Facebook, Instagram, or Twitter
Unless you're applying for a social media manager position, you shouldn't include your personal social media accounts on your resume.
While it's common for employers to look up candidates on Facebook, avoid linking to your profile on your resume. Not only is it unprofessional, but it also increases the risk of employers finding out information about you that you don't want them to know.
Email address from your current employer
When writing your contact information section, avoid using your work email from your current employer. It could lead to awkward conversations if you open your inbox at work and your manager discovers you're looking for a new job.
If you don't already have a professional email address that isn't tied to your current job, set one up before you start sending out applications.
Personal details
Personal information should be left out of your contact information section. This includes details such as your place of birth, age, and political affiliation.
Personal details like these don't help employers get in touch with you or convince them that you're the best candidate for the job, so they shouldn't be included on your resume.
How to format your contact information section
Your contact information section is usually placed at the top of your resume no matter which resume format you pick, so it's the first thing a hiring manager sees when they open your application.
This means it's important that it looks clean and is well formatted so it doesn't draw attention away from the rest of your resume.
Here's an example showing how to write a contact information section that is properly formatted:
This example of a resume contact info section clearly presents the candidate's basic information at the top of their resume, providing hiring managers with multiple ways to reach them.