Managers can make or break a company's performance. That's why recruiters and HR managers are very specific about the managerial skills they want to see listed on your resume.
Keep reading for an in-depth look at what management skills are, how to put them in your resume, and a list of the top 10 best managerial skills that will give you a competitive edge over similarly-qualified candidates.
Our free-to-use resume builder can make you a resume in as little as 5 minutes. Just pick the template you want, and our software will format everything for you.
What are management skills?
Management skills are the skills needed to manage people effectively as well as plan, organize, and oversee projects.
The types of management skills you need for your job vary across different industries, but they'll always include a mix of soft and hard skills.
Soft management skills are the personality traits of a good manager. For example, good managers should have strong organizational, communication, interpersonal, and time management skills.
Hard management skills are the technical skills necessary to perform as a manager, and are generally learned through training or work experience. These include things like public speaking, negotiation skills, and industry-specific knowledge of tools and programs.
Top 40+ management skills for your resume
Most modern theories of management are based on the ideas of Henri Fayol – a French engineer in the 19th Century. He devised five functions of management that describe what efficient relationships should look like between employees and their managers.
Using these principles, we've broken down five general management skills for your resume, each followed by a list of specific skills that are recommended you highlight on your resume.
1. Planning
Conceptual skills, including strategic planning, are key to good management. A manager's role is to plan effectively for the future while considering the strengths and weaknesses of their team, resources available, and the overall market.
Here's a list of seven management skills that demonstrate you plan effectively to meet objectives, while also devising and implementing strategies to overcome obstacles you encounter in the process.
Goal setting
Research
Forecasting
Strategic thinking
Strategic planning
Scheduling
Project management
Business development
2. Organization
Poor organization at the management level can cause problems for a business or team. That's why it's essential for managers to have the ability to stay organized no matter how stressful the situation or problem.
Describing your organizational skills involves demonstrating that you can efficiently delegate tasks that produce results, while also dealing with multiple responsibilities.
Additionally, you should showcase your ability to understand the parameters of your responsibilities. A program manager resume, for instance, benefits greatly from describing how you organized the functions of your program.
Here's a list of seven managerial skills that tell hiring managers you're an organized leader:
Prioritizing
Time management
Multi-tasking
Networking
Streamlining processes
Delegating
Logistics
3. Communication
The best managers are skilled communicators. Not just because they can give instructions to their teams and persuade others, but because they're also active listeners.
Communication is a two-way street. As a manager, you'll need to be great at giving instructions and taking them sometimes.
Here's a list of eight skills that show you have excellent communication skills as a manager:
Public speaking
Collaboration
Oral and written communication
Non-verbal communication
Active listening
Diplomacy
Flexibility
Constructive feedback
4. Giving direction
As a manager, you need to be able to take charge and provide direction for your employees, which to do correctly takes empathy and conflict management skills.
Including at least one of the following eight management skills on your resume will illustrate that you've encouraged, guided, and empowered your team in the past:
Motivating
Empathy
Giving feedback
Dividing workloads
Conflict resolution
Mediation
Problem-solving
5. Responding to feedback
As a manager, you'll inevitably need to respond to both feedback and unforeseen events, being careful to make adjustments to your strategy along the way.
Successful management requires the humility to listen to your employees when necessary and knowing how to respond to criticism professionally.
Highlight some of the following nine management skills to show potential employers that you're capable of responding to your team's feedback:
Problem solving
Mentoring
Troubleshooting
Performance appraisal
Creating reports
Recruitment
Performance evaluation
Negotiation
Adaptability
How to list managerial skills in your resume
Listing the right managerial skills in your resume skills section is a good start for displaying your management capabilities. Still, this alone won't be enough to set your job application apart from other candidates.
You'll also need to provide proof of the managerial skills you list in other sections of your resume, such as in your work experience and resume introduction.
To help you, we've provided some examples and writing tips below for highlighting your management skills in your resume.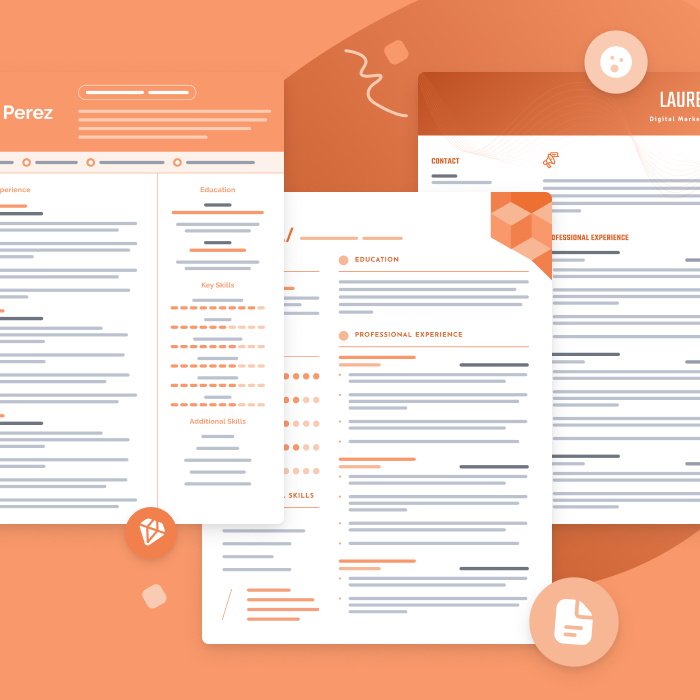 One of the best ways to make your resume is by filling out one of our free resume templates. All our templates are designed by experts and free to download for Microsoft Word or Google Docs.
In your work experience
Hiring managers will be looking for examples of your management skills in your work experience section.
A great way to showcase your management skills in your work experience is by including action verbs that show you're a leader and able to manage people, and by quantifying your accomplishments with hard numbers.
When including accomplishments on your resume, hard numbers are a must because they give the hiring manager a metric to gauge your work performance, clearly demonstrating your resume skills by showing what impact you made at work.
Here's an example of how to list your managerial skills in your experience:

In your resume introduction
Starting a resume with a great introduction that includes examples of your management skills is essential.
Hiring managers begin your resume by reading your introduction, and if they don't see examples of your management skills from the get-go, they might just move on to the next candidate.
There are several introduction styles to choose from when making a resume. However, if you're a manager with several years of experience and various notable career achievements, using a resume summary will suit you best because it's the most common introduction style.
Here's an example of a resume summary for a property manager:

When employers read the above resume summary example, they'll notice these three key management skills:
Negotiation: negotiated average of 4.7% discount from suppliers
Organization: manage a portfolio of 85 luxury properties
Leadership: oversee 39 staff members, including a security team
Including your management skills in your resume introduction helps quickly grab the attention of employers and show them you're qualified for the position.
In your skills section
Lastly, another way to improve your resume and draw in the hiring manager's attention is to visually emphasize your management abilities in your skills section.
Here's an example of how to list management skills in your resume's skills section: