A CV is an application document that provides a comprehensive overview of your educational and professional history. It's also known as an academic CV because it's used to apply for graduate school and for jobs in teaching, research, and science.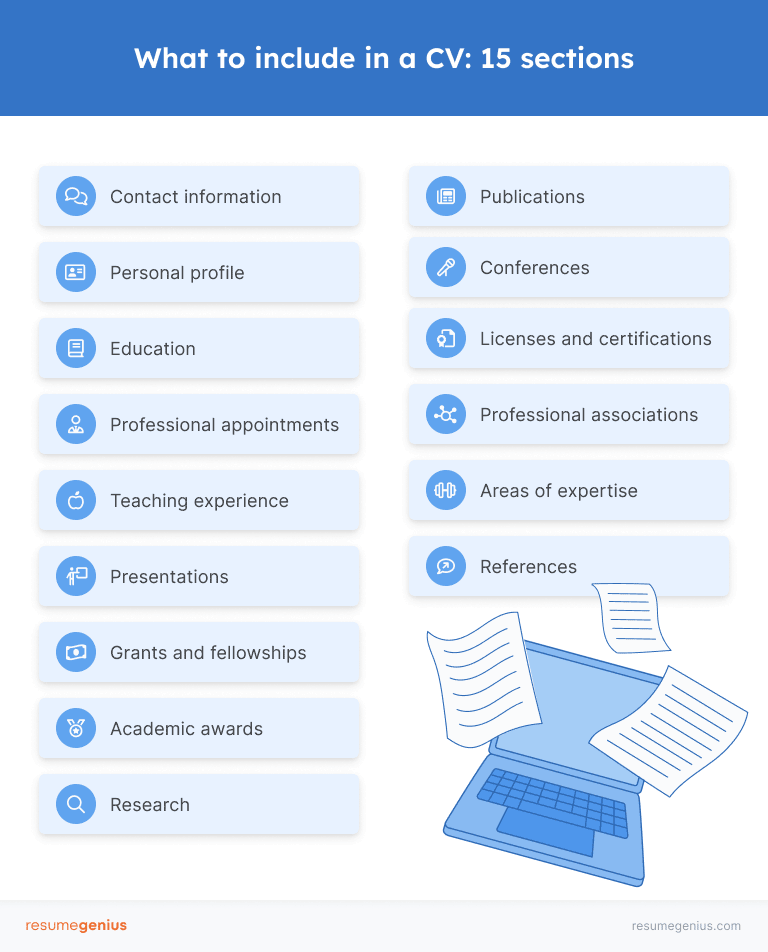 Academic CVs can be challenging to write because they include a lot of sections that aren't used in a standard resume.
To find out how to format your academic CV and what to include, watch our video below where we walk you through writing the perfect academic CV:
In this article, you'll find:
Here's what you should include in a CV:
1. Contact information
Just like a resume, your CV should include your name and contact information clearly at the top of the page. Add your address, email address, and phone number. You can also include a LinkedIn URL if your profile is up-to-date.
Using an eye-catching header is a great way to get a hiring manager's attention and make your application more memorable. Your name should appear as a header on every page of your CV.
2. Personal profile
A personal profile is a great addition for students applying for graduate programs or academics who don't have much professional experience.
Use 3-4 sentences to fill readers in on your academic achievements, experience, and professional goals. Here's an example:
Ambitious researcher with a strong academic background and a passion for advancing knowledge in the field of bioinformatics. Recognized for receiving the Outstanding Research Paper Award at the International Conference on Genomics and Bioinformatics. Seeking opportunities to pursue a Ph.D. program and further expand expertise in computational biology and genomics.
3. Education
In your education section, include your
degree titles,
institutions where you attained them, and
your dates of attendance.
You should also list your thesis and dissertation in your education section.
If you don't have much experience yet, you can add some other details to demonstrate your academic achievements, such as your GPA, scholarships, or relevant coursework.
4. Professional appointments
Professional appointments include any positions you've held in academia. For each one, include
your title,
the institution and department,
the dates you were employed, and
3–5 bullet points outlining your key responsibilities and accomplishments.
5. Teaching experience
List all of your teaching experience in this section. Include
the course title,
the institution and department,
level of study (undergraduate/graduate) and
when you taught the course.
6. Presentations
If you've given any formal presentations, this is where to put them. For each presentation, list the
title of your presentation,
where you gave the presentation (event and location), and
the date.
7. Grants and fellowships
If you've earned any grants or fellowships, include
the name of the grant or fellowship,
the awarding body, and
when you received it.
8. Academic awards
Show off any academic awards you've been given by listing
the award name,
the awarding body or institution, and
when you got the award.
9. Research
If you have extensive research experience, demonstrate your research skills in a dedicated section. You should list
your position title,
the name of the institution,
the dates you worked there, and
an overview of your research in a few bullet points.
10. Publications
If you have publications to include on your CV, create a list of citations using the preferred style of the institution or field you're applying to (and be consistent).
If you have a lot of publications, you can divide them further into subcategories by type.
11. Conferences
Add a conferences section to your CV if you've attended several, for each including
the conference name,
the institution where it was held,
the location, and
the date.
12. Licenses and certifications
To show you're a true professional, list all of your licenses and certifications on your CV. This should include the
certification name,
certifying organization,
location, and
date awarded.
13. Professional associations
If you're a part of any professional associations, list them on your CV simply by including the name of the organization.
14. Areas of expertise
In this section, list your top professional skills and areas of knowledge.
15. References
It's common to include references on a CV, so feel free to add a reference or two, including
the name and degree of your reference,
their title (or relationship to you),
the institution's name and address, and
the phone number and email address of your reference.
What does a CV look like?
To get a better idea of what goes on a CV, take a look at these professional cv examples:
Research CV example
Here's an example of a research CV: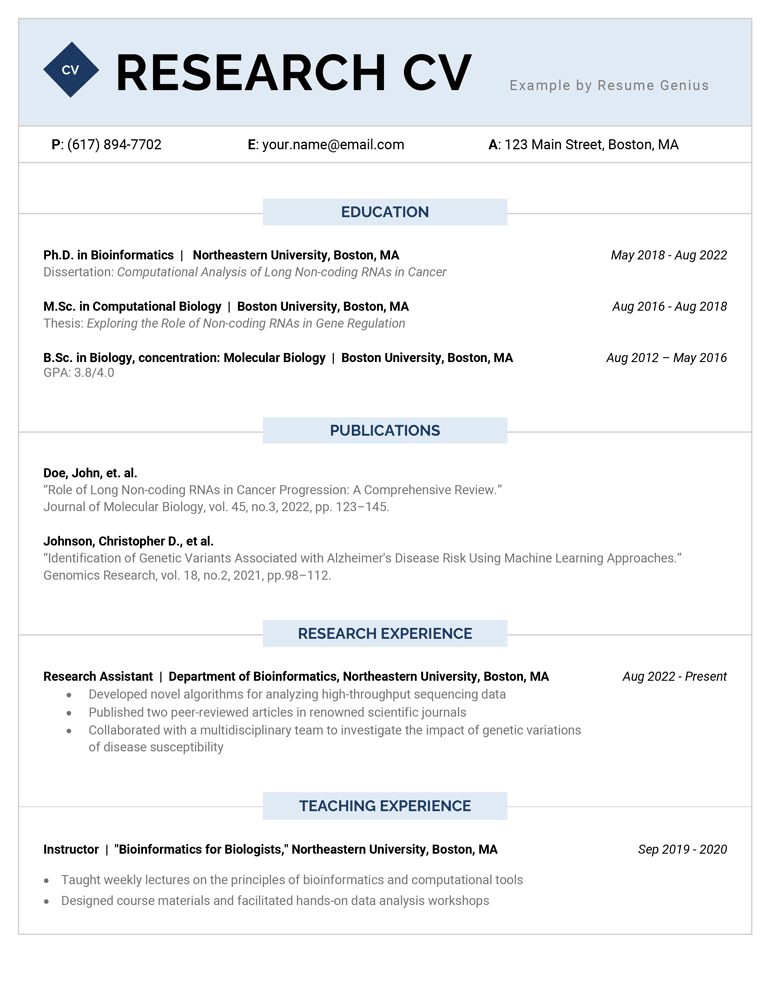 Research CV (Text Version)
P: (617) 894-7702
E: you.name@gmail.com
A: 123 Main Street, Boston, MA
EDUCATION
Ph.D. in Bioinformatics | Northeastern University, Boston, MA
Dissertation: Computational Analysis of Long Non-coding RNAs in Cancer
May 2018–2022
M.Sc. in Computational Biology | Boston University, Boston, MA
Thesis: Exploring the Role of Non-coding RNAs in Gene Regulation
Aug 2016–Aug 2018
B.Sc. in Biology, concentration: Molecular Biology | Boston University, Boston, MA
GPA: 3.8/4.0
Aug 2012–May 2016
PUBLICATIONS
Doe, John, et. al.
"Role of Long Non-coding RNAs in Cancer Progression: A Comprehensive Review."
Journal of Molecular Biology, vol. 45, no.3, 2022, pp. 123–145.
Johnson, Christopher D., et al.
"Identification of Genetic Variants Associated with Alzheimer's Disease Risk Using Machine Learning Approaches."
Genomics Research, vol. 18, no.2, 2021, pp.98–112.
RESEARCH EXPERIENCE
Research Assistant | Department of Bioinformatics, Northeastern University, Boston, MA
Aug 2022–Present
Developed novel algorithms for analyzing high-throughput sequencing data
Published two peer-reviewed articles in renowned scientific journals
Collaborated with a multidisciplinary team to investigate the impact of genetic variations of disease susceptibility
TEACHING EXPERIENCE
Instructor | "Bioinformatics for Biologists," Northeastern University, Boston, MA
Sep 2019–2020
• Taught weekly lectures on the principles of bioinformatics and computational tools
• Designed course materials and facilitated hands-on data analysis workshops
PRESENTATIONS
Unraveling the Regulatory Potential of Long Non-coding RNAs.
International Conference on Genomics and Bioinformatics, Providence, RI
Mar 2022
Advancements in Computational Genomics: A Case Study on Cancer Genomics."
Annual Symposium on Computational Biology, New York University, New York, NY
Nov 2021
CONFERENCES
International Conference on Computational Biology.
University of Toronto, Toronto, Canada
June 2021
Annual Meeting for the Society for Genomics Research.
Georgetown University, Washington, DC
Sep 2020
AWARDS
Outstanding Graduate Student Award – Boston University, Boston, MA
Mar 2016
GRANTS AND FELLOWSHIPS
Graduate Research Fellowship – The Boston Foundation, Boston, MA
Mar 2018
REFERENCES
Dr. Jane Smith, Ph.D.
Professor of Bioinformatics
Northeastern University
360 Huntington Ave,
Boston, MA 02115
j.smith@email.com
617-894-9696
Dr. Mark Johnson, Ph.D.
Professor of Computational Biology
Boston University
1 Silber Way
Boston, MA 02215
profmarkjohnson@email.com
617-220-5597
Dr. Sarah Davis, Ph.D.
Research Scientist
Boston University
1 Silber Way
Boston, MA 02215
s.davis@email.com
617-923-8854
Grad school CV example
Here's an example of a CV for applying to grad school:

Graduate School CV (Text Version)
(213) 985–1414
your.name@email.com
123 Main Street, Los Angeles, CA
EDUCATION
B.A. in Political Science
Aug 2018 – May 2022
University of Southern California
Thesis: Understanding the Impact of Political Advertising on Voter Behavior
Study Abroad Program
Semester in International Relations, London School of Economics, United Kingdom
Relevant Coursework:
Comparative Politics
International Relations
Political Theory
TEACHING EXPERIENCE
Teaching Assistant
Sep 2018 – Present
Introduction to Political Science
University of Southern California, Department of Political Science
Led discussion sections, facilitated class debates, and graded assignments
Assisted students in understanding key concepts and theories in political science
CONFERENCES
April 2022
Annual Conference on Political Science
Los Angeles Convention Center, Los Angeles, CA
June 2021
International Symposium on Global Governance
London School of Economics, London, United Kingdom
RESEARCH EXPERIENCE
Research Intern
Summer 2021
Center for Policy Analysis, Think Tank, Los Angeles, CA
• Conducted quantitative and qualitative research on policy issues
• Assisted in the preparation of research reports and policy briefs
GRANTS & FELLOWSHIPS
Research Fellowship
Institute for Political Research, Los Angeles, CA
2021–2022
HONORS & AWARDS
Outstanding Senior Thesis Award
University of Southern California
May 2022
Dean's Scholarship for Academic Excellence
University of Southern California
May 2022
EXTRACURRICULAR ACTIVITIES
President
Model United Nations Club
University of Southern California
2019–2022
Volunteer
Community Outreach Program for Voter Education
Los Angeles, CA
2018–2022
ADDITIONAL SKILLS
Spanish – Fluent
French – Conversational Proficiency
REFERENCES
Dr. Sarah Johnson, Ph.D.
Professor of Political Science
University of Southern California
University Park
Los Angeles, CA 90089
sarah.johnson@email.com
(213) 894 7706
Dr. Charles Robinson, Ph.D.
Director of Center for Policy Analysis
Center for Policy Analysis, Think Tank
1234 Maple Street
Los Angeles, CA 90001
c.robinson@email.com
(213) 776 9902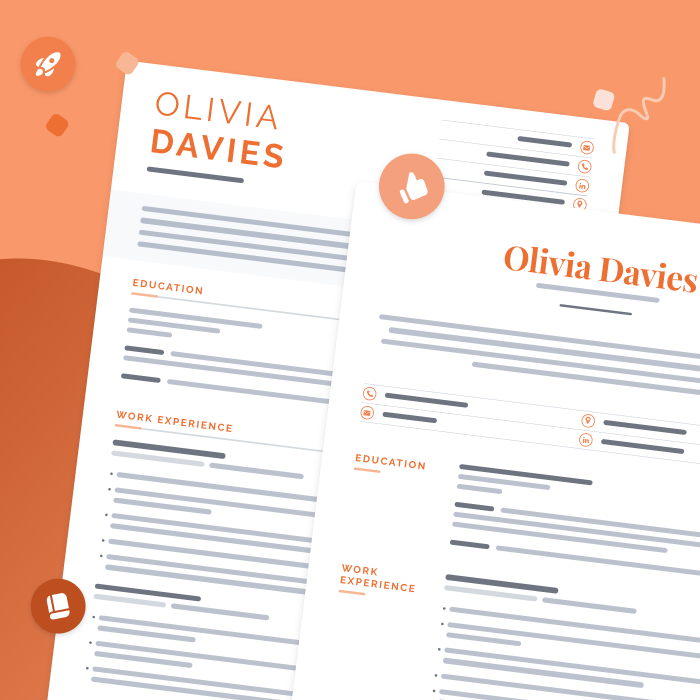 Need to make a CV? The best way to start is by downloading one of our free CV templates and filling it in with your information.
Frequently asked questions about what to put on a CV
If you've got more questions about what goes on a CV, you're not alone. Here are answers to some of the most commonly asked questions:
What should I include in a personal profile on a CV?
You should include a brief summary of your key qualifications for the program or position. While personal profiles aren't required on CVs, they can be a good way for candidates with less experience to give the selection committee information about who they are, what they've achieved, and where they want to go.
If you're a more experienced professional but want to include a professional bio, provide an overview of your research, areas of expertise, and overall teaching philosophy.
What skills should I include on a CV?
You should include the skills that are most relevant to the position you're applying for on your CV. Here's a list of great skills for a CV:
Leadership
Research
Collaboration
Data analysis
Verbal communication
Writing and editing skills
Academic writing
Public speaking
Organization
Mentorship
Language skills
Computer skills
Project management
What shouldn't I include on a CV?
Here's what you shouldn't include on a CV:
A photo
Any personal information (such as age, race, gender, etc.)
Your high school education
Any previous employment that's unrelated to academia
Any graphics or images – keep it simple and professional
Creative fonts that make your CV more difficult to read
Institution or field-specific jargon that the reader may not understand
Unnecessary administrative information (like course codes)
Too much detail – keep any descriptions of your work concise
What should I include on a research CV?
In addition to the sections mentioned above, you can also include a "Research Interests" section on your research CV.
Here are some additional tips for creating a strong research CV:
Keep the focus on your research experience by placing research projects and positions near the top of your first page, and your research-related publications and presentations to follow.
Make sure to showcase any grants you were awarded. Research always requires adequate funding, so any past experience securing grants looks really good on your CV.
Target the position you're applying for as much as possible by demonstrating familiarity and experience with the techniques and methods you'd be using in the new position.
If you want to see another sample, check out our research assistant CV.
What should I include on a scientific CV?
Aside from the sections mentioned above, here's what you should include on a science CV:
Specialized skills (you can turn this into its own section)
Job-targeting keywords that show employers you're a perfect match for the position
Remember to highlight your publications and research sections by featuring them prominently on your CV.
What should I include on a graduate school CV?
Applying for graduate school is a competitive process, so take the time to format your CV well. While you may not have much experience to list under sections like teaching, publications, or presentations, you can still make a compelling CV by focusing on showcasing your academic achievements.
Here's what you should include on a graduate school CV (where applicable):
Contact information
Education (degrees, GPA, thesis, study abroad programs, relevant coursework)
Employment (only employment that's relevant to your field of study – include research positions and internships)
Teaching experience (any TA positions)
Honors and awards
Grants and fellowships
Conferences
Presentations
Any relevant extracurricular activities or club memberships
Any relevant volunteer positions or community service