Many hiring managers expect candidates to submit a cover letter with their job application, but knowing how to write a cover letter can be difficult.
A good cover letter should introduce you as a candidate, inform employers of your qualifications and how they make you an excellent fit for the position, and finally close with an appropriate sign-off.
Below, we've included a cover letter outline template, an example, and three professional writing tips to ensure you submit a well-written cover letter with your next job application.
Our free-to-use cover letter builder can make you a cover letter in as little as 5 minutes. Just pick the template you want, and our software will format everything for you.
Cover letter outline template
Here's a basic cover letter outline you can use to get started writing:
[Today's Date]
[Hiring Manager's Name]
123 Company Address
Company's City, State, Zip Code
(xxx) xxx-xxxx
hiring.manager@gmail.com
Dear [Ms./Mr./Ms.] [Hiring Manager's Last Name],
I'm excited to see the listing for [Position Title] at [Company or Firm] on [Website Name]. As a dedicated [Job Title] professional with [# years] of experience in [job-related tasks and responsibilities], I'm confident that I would be a great addition to your [Company or Firm's] team.
I'm currently employed for [Company Name], where I [brief overview of job-relevant duties]. Your job listing mentions a need for a working professional with expertise in [industry-specific experience and skills]. My career has given me extensive knowledge in [industry-specific experience and skills], with the following notable career achievements: 
Here, list three to five of your most notable career achievements that are relevant to the job listing

Use hard numbers to quantify any accomplishments you include to give the hiring manager a clear idea of what you're capable of 

This could include monetary values, percentages, or any statistics that clearly show the end result of your work

List real-life examples that demonstrate you possess the necessary key skills and experience listed in the job description
I'm confident my proven track record in [industry-specific skills included in the above-bulleted list] will make me an asset at [Company Name], and allow me to contribute immensely to the [department you're applying to] team.
I look forward to discussing the [Job Position] and my qualifications in detail with you. I'm available for an interview at your earliest convenience. I'll be in touch next week to follow up and ensure you've received my application. 
Sincerely, 
[Your Name]
Three steps for outlining a professional cover letter
Here are three steps you can follow to ensure you submit a well-written, properly formatted cover letter with your next job application:
1. Address the hiring manager by name
Starting your cover letter by addressing the hiring manager by name shows great attention to detail and helps grab their attention because it demonstrates you made an effort to look for who to address your letter to.
If the hiring manager's name isn't listed in the job description, your best bet is to search on the company's website or LinkedIn by first looking up the company and then searching for the hiring manager.
If all else fails, it's not unprofessional to write "Dear Hiring Manager" (especially if their name can't be found). But avoid using pronouns when using generic titles to address someone. If you get their gender wrong, it can make you look unprofessional or even rude. This is why it's always a good idea to learn how to address a cover letter to make the best impression.
2. Format your cover letter correctly
You'll need to include five main parts when writing your cover letter:
Here's an example of a properly formatted cover letter outline for a customer service representative:
Cover letter outline example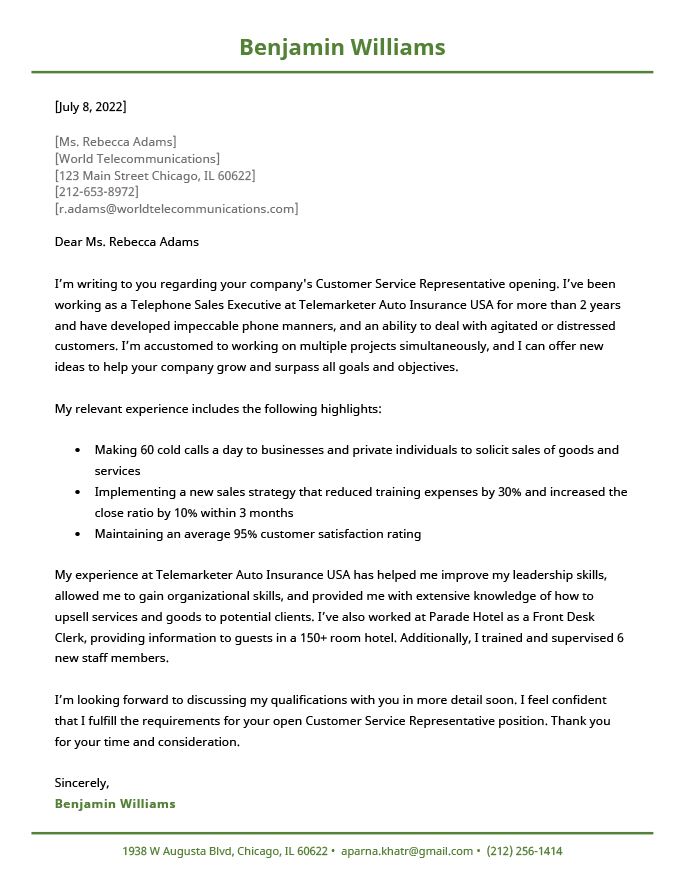 Download This Properly Formatted Cover Letter Example
3. Close with a professional sign-off
Finally, you'll need to end your cover letter with an appropriate and professional sign-off.
Typically, there are seven common, acceptable ways to sign off your cover letter:
Sincerely
Best
Regards
Thank you
Respectfully
Kind regards
Best regards
Here's an example of a sign-off on a professional cover letter sample: