What is the STAR method?
The STAR method uses your work history and qualifications to create concrete examples of times when you exceeded employers' expectations.
STAR stands for Situation, Task,  Action, and Result.
A STAR method resume contains work experience bullet points that answer the following questions:
Situation: What situation or challenge did you face?
Task: What task were you involved in? What were your responsibilities and goals?
Action: What actions did you specifically take to achieve the task? How did you contribute to your team's efforts?
Result: What was the outcome of your actions? How did it benefit your company? Can it be quantified?
STAR statements can be a single bullet point, or multiple bullet points. These bullet points don't need to be in order, although it might help to write them in order if you're using the STAR framework for the first time.
Let's take a look at our applicant's STAR statement as an Uber driver:
Completed 5000+ Uber passenger trips during COVID-19 by adhering to health guidelines and providing hand sanitizer to ensure customers felt safe and at ease, resulting in a 5-star rating from January to December 2020
In some instances, Situation and Task can be categorized together.
Multiple STAR bullet points (for one job experience)
Situation/Task:
Completed 5000+ Uber passenger trips during COVID-19 in San Francisco and San Jose neighborhoods
Action:
Provided hand sanitizer and extra face masks for 20–30 customers a day to ensure they felt safe and at ease
Result:
Obtained a 5-star rating from January 2020 to December 2020
Our free-to-use resume builder can make you a resume in as little as 5 minutes. Just pick the template you want, and our software will format everything for you.
Why should I use the STAR method on my resume?
There are many benefits to using a STAR method resume. Even though listing your job responsibilities is important for all types of resumes, employers are especially impressed by accomplishments that show:
a solid understanding of your own job qualifications and work history
specific, practical experiences that are relevant to the role you're applying for
your ability to communicate your value concisely and confidently
A STAR statement achieves all of these goals and proves that you have the skills and knowledge needed for the position.
So, instead of saying you're an effective leader, use a STAR bullet point to give clear evidence to hiring managers of your excellent leadership skills. Here's an extract from a marketing manager's resume:
A marketing manager's STAR statements
Situation/Task:
Created daily check-in schedule and weekly Zoom meeting agendas to manage team of 18 marketing associates and creatives
Action/Result:
Supervised the launch of 24 new campaigns for Shopify website, which increased revenue by 93% and met all KPIs from Q1 through Q3
Finally, writing your resume with STAR statements gives you an advantage over generic resumes because it shows you put time and effort into personalizing your application.
How do I create a resume using the STAR method?
To create a STAR method resume, write accomplishment-oriented statements that are relevant to your application.
Have a look at our STAR method resume guide:

Here's how to use the STAR method when you write your work experience section:
1. Study the job description carefully for the position you want and choose 1–3 key achievements, behaviors, or qualities to highlight on your resume.
For instance, our recent graduate doesn't have work experience yet but wants to use their school work to boost their resume and highlight their strong writing skills.
2. Think of how those key achievements and qualities relate to your job history. List previous job roles that match the skills you want to highlight on your resume.
For example, the recent graduate worked on multiple essays during college.
3. Brainstorm and create a written outline of what you've accomplished in your previous jobs.
Use the STAR method as a guide to recreate a scenario that employers can clearly visualize.
Situation: Recent graduate (2019) looking to enter a competitive job market with a Literature degree
Task: Write 10 essays per semester
Action:

Studied 15+ hours a week, researched how to make better copy, and wrote high-quality essays

Result:

Received a perfect score on 9 out of 10 English essays, resulting in a 4.0 GPA
4. Think of accomplishment-oriented resume statements that match the STAR strategy.
Don't forget to use hard numbers in your resume. Hard numbers command attention and provide specifics about your resume achievements.
Also, try starting your bullet points with resume action verbs like "crafted," "conducted," and "established" to make your statements descriptive and persuasive.
For instance, "Crafted 10+ high-quality essays" is more impactful than "Wrote high-quality essays".
Here are our finished STAR bullet points for a recent graduate: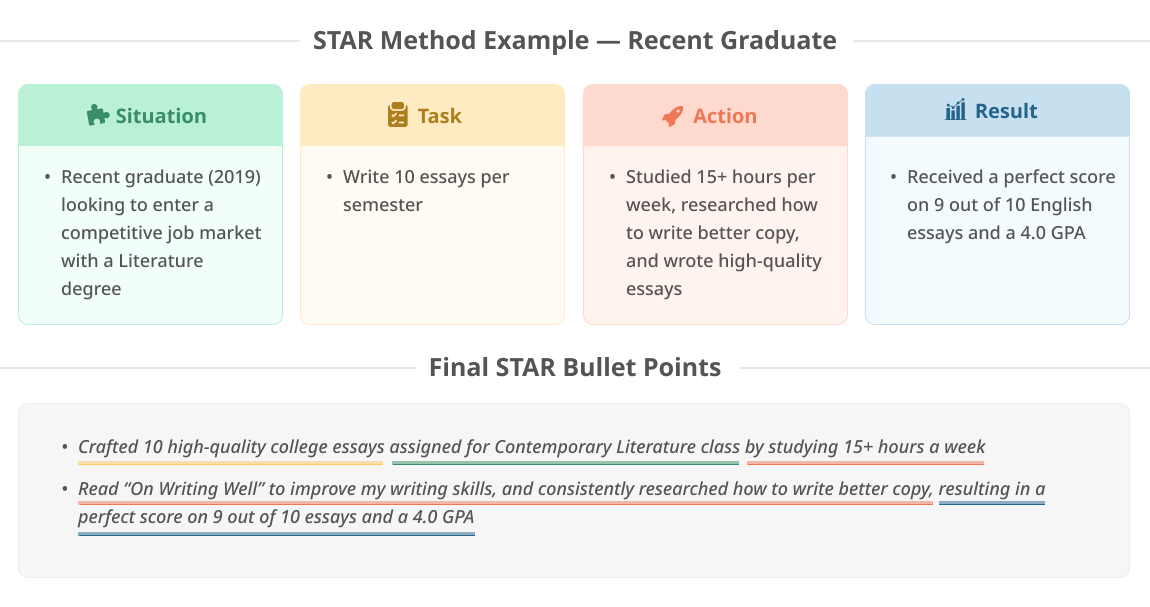 Here's a second STAR method example showing how an experienced job applicant would write their STAR statements:
When writing your STAR method resume, remember to use the active voice instead of passive voice.
"Successfully hired and onboarded 50+ employees" sounds more impressive and dynamic than "50+ employees were successfully hired and onboarded".
Writing a STAR method resume is well worth it because you'll understand how to showcase your best accomplishments and convey them to others.
After you've learned how to use the STAR method, you'll know how to effectively list your work experience for future employers, and have specific stories and examples to discuss.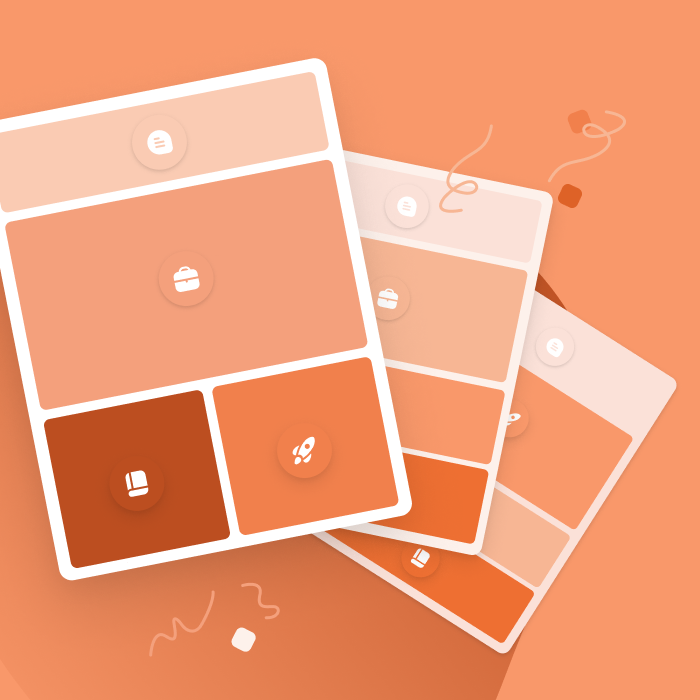 Learn how to pick a resume format that highlights your strengths and downplays your weaknesses by reading our HR-approved guide.
If you're still unsure how to use the STAR method, check out industry-specific resume samples to get an idea of how to present your accomplishments properly.
You can also try using our pre-formatted resume templates to save time, or have a look through our resume tips so you can get to work on perfecting your STAR statements and writing a memorable resume.