What are core competencies on a resume?
Core competencies, also known as core qualifications, are your most marketable hard and soft skills. Listing these skills on your resume in a core competencies section quickly shows hiring managers the value you'll bring to their company if hired.
Your core competencies should be listed front and center on your resume, right underneath your name in the resume header. This ensures that they're one of the first things hiring managers see.
Here's an example of what the core competencies section should look like: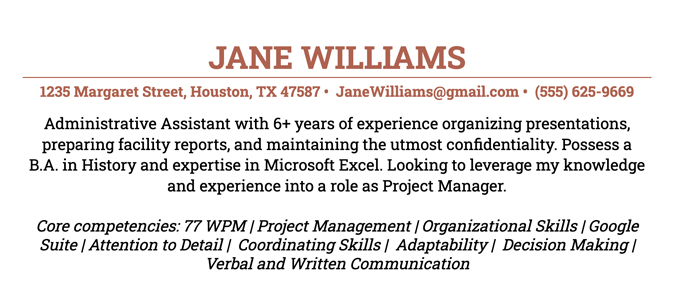 Our free-to-use resume builder can make you a resume in as little as 5 minutes. Just pick the template you want, and our software will format everything for you.
How do resume core competencies differ from key skills?
While skills and core competencies are similar because they both are relevant to the job position, what differentiates key skills from core competencies is their scope:
Skills are abilities you have acquired because of practice and experience. They may be natural personality traits, known as soft skills, or they may be things that you have worked hard to improve, known as hard skills.
Core competencies are broader in scope and include skills, knowledge, and other qualities that make you an expert in your field.
Why should you list core competencies on your resume?
Listing core competencies on your resume increases your marketability and shows hiring managers that you're broadly qualified for the position.
Listing your core qualifications also helps you write an ATS-friendly resume because core competencies will often overlap with keywords that the hiring manager is looking for. ATS, or Applicant Tracking Systems, are software systems that large companies use to scan for resume keywords and eliminate unqualified candidates.
Including core competencies on your resume is a good way to make sure you're including some important keywords and improving your chance of getting through ATS software. Additionally, your core competencies will immediately catch the attention of employers.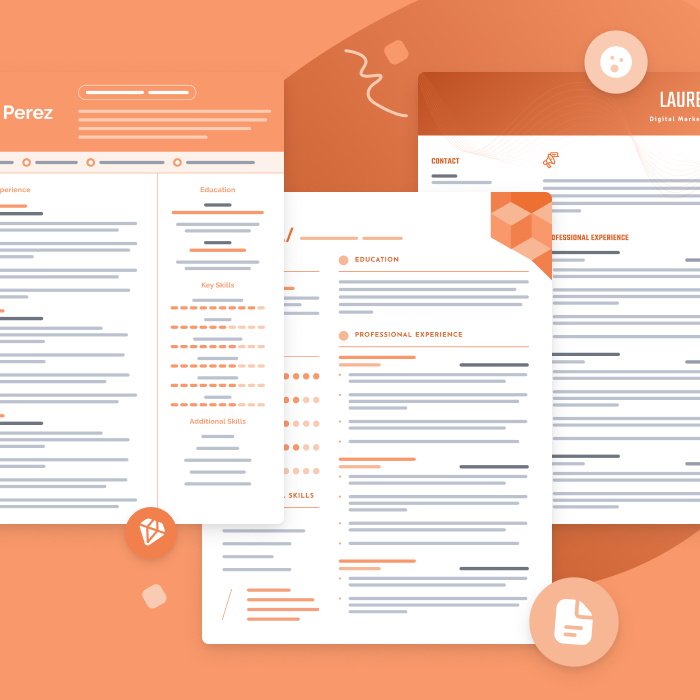 One of the best ways to make your resume is by filling out one of our free resume templates. All our templates are designed by experts and free to download for Microsoft Word or Google Docs.
79 resume core competencies
To help start your resume off strong, here are the fifteen most valued core competencies to include on your resume. Find out what these competencies mean, why they're exciting to employers, and some specific sub-skills of each.
Communication
Communication skills are your ability to clearly relay needs, directives, and ideas to other people. They show employers that you're good at interacting with everyone from customers and clients to peers and managers.
List on your resume: Email Writing, Telemarketing, Negotiation, Public Speaking, Verbal Communication
Customer service
Customer service skills prove to employers that you know how to provide great service, help customers walk away happy, and represent the company in a positive way.
List on your resume: Customer Support, Problem Solving, Phone or Email Correspondence, Time Management, Patience
Leadership
Leadership skills show that you know how to achieve goals, meet deadlines, and motivate the people around you. They also mean you have the potential to grow within and support the company, so employers are always looking for candidates with strong leadership qualities.
List on your resume: Delegating, Giving and Receiving Feedback, Conflict Resolution, Organization, Motivating Others, Mentorship
Adaptability
Adaptability shows that you can adjust to new situations quickly and tackle the challenges these situations present. Core competencies in your resume that demonstrate adaptability are especially valuable in industries like tech or media, where new technology and current events can have sudden, unexpected impacts.
List on your resume: Fast Learner, Problem Solving, Communication, Analytical Thinking, Strategic Planning
Innovation
No matter where you work, you'll encounter problems at some point. That's why innovation is important.
Innovation means that you can think creatively and help the company develop original solutions to new issues
List on your resume: Creative Thinking, Problem Solving, Brainstorming, Idea Development, Analytical Thinking
Problem solving
Problem solving is necessary for every industry. Employers love any core competency that demonstrates a candidate's ability to solve problems because it means they're capable of handling high-pressure situations and coming out with actionable solutions.
List on your resume: Critical Thinking, Brainstorming, Decision-Making, Risk Assessment, Mediation, Conflict Resolution
Cost reduction
Listing core qualifications that showcase your ability to reduce costs is instantly attractive for any company. When hiring managers see that you can save their company money and become an asset beyond the value of the average hire, they'll be ready to call you in and learn more.
List on your resume: Budgeting, Critical Analysis, Efficient Employee Management, Cost Analysis, Negotiation, Decision Making
Salesmanship
Most companies provide a product and/or service. Highlighting your ability to make sales, whether through direct marketing, face-to-face, or online, makes a hiring manager more confident in your ability to contribute to the company's success. However, this core competency only applies to positions where the ability to sell products is important.
List on your resume: Direct Marketing, Communication, Rapport Building, Negotiation, Customer Service
Technical skills
Including core competencies on your resume that highlight your technical skills proves you have the specific knowledge required to actually do the job you're applying for. If you're applying for positions in tech or engineering, showcasing your technical competencies is essential.
List on your resume: Forklift Operation, Android or iOS Development, Encryption Algorithms, Ion Light Board Programming, Hand and Power Tools Expert
Teamwork
Collaboration and teamwork skills are essential to the success of any workplace. That's why hiring managers love candidates who are great at joining forces with their coworkers to achieve the company's mission.
List on your resume: Mediation, Communication, Delegation, Attention to Detail, Networking, Empathy
Research
Any job that relies on quality information needs someone who knows how to find and analyze reliable resources.
Listing a competency that highlights your core skills as a researcher improves your application because research is a skill that requires critical thinking — something employers value in their new hires.
List on your resume: Phone and Email Skills, Critical Thinking, Fact Checking, Attention to Detail, Data Analysis
Decision making
Sometimes tough and immediate problems come up and decisions have to be made at a moment's notice. An employee who can keep calm and make clear decisions is a valuable asset.
List on your resume: Analytical Thinking, Problem Solving, Leadership, Professionalism
Computer skills
Software or hardware computer skills are highly valuable for just about any office job but are especially important if you work in tech, engineering, or design.
If you already know the software needed for a position, then the employer won't have to spend money training you in them — making you a more attractive candidate. However, if you're not sure what computer skills an employer is looking for, check the job description to see if there's any specific software that's mentioned. If there is, be sure to include it in your resume competencies list.
List on your resume: Python, Adobe Creative Suite, HTML/CSS, Social Media, Content Management Systems (CMS), Cloud Management
Organizational skills
Organizational skills prove that you know how to manage your time, prioritize tasks, and get work done with minimal supervision so your boss can spend more time on their own work.
List on your resume: Coordination, Scheduling, Attention to Detail, Cleaning, Facilitation
Interpersonal skills
Interpersonal skills are how we behave when interacting with other people. An employee who has great interpersonal skills is invaluable when dealing with clients, customers, or coworkers.
List on your resume: Non-Verbal Communication, Emotional Intelligence, Active Listening, Negotiation, Reliability.
Examples of core competencies resume sections
Here are a few examples of core resume competencies for career-specific resumes. Use them as a reference for what core competencies you should list on your own resume.
Just remember that your core competencies should always be directed at your own strengths — ones that meet the specific requirements of the position.
Martha Jones
martha.jones@email.com | (123) 555-4646
Emotional Intelligence | Non-Verbal Communication | Attention to Detail | Professionalism | Patient Care | Adaptability | Handling Pressure | Time Management
Business Professional Core Competencies
Rose Tyler
rose.tyler@email.com | (987) 555 – 2233
Core Competencies: Negotiation | Strong Work Ethic | Problem Solving | Commitment to Excellence | Leadership | Business Management | Collaboration | MS Office Suite
Restaurant Server Core Competencies
Donna Noble
donna.noble@email.com | (456) 555 – 9182
Teamwork | Customer Service | Aloha & Micros POS Terminals | Communication | Fast Learner | Strong Memory | Salesmanship | Conflict Resolution