The skills you should put on LinkedIn depend on your job and area of expertise, but many of the skills hiring managers are looking for can be developed in a number of industries.
To put together this list of LinkedIn skills, we pulled data from our survey on in-demand job skills and gathered industry expert opinions.
Surveyed hiring managers said these 5 general skills are especially important (regardless of industry) and help you stand out from other candidates: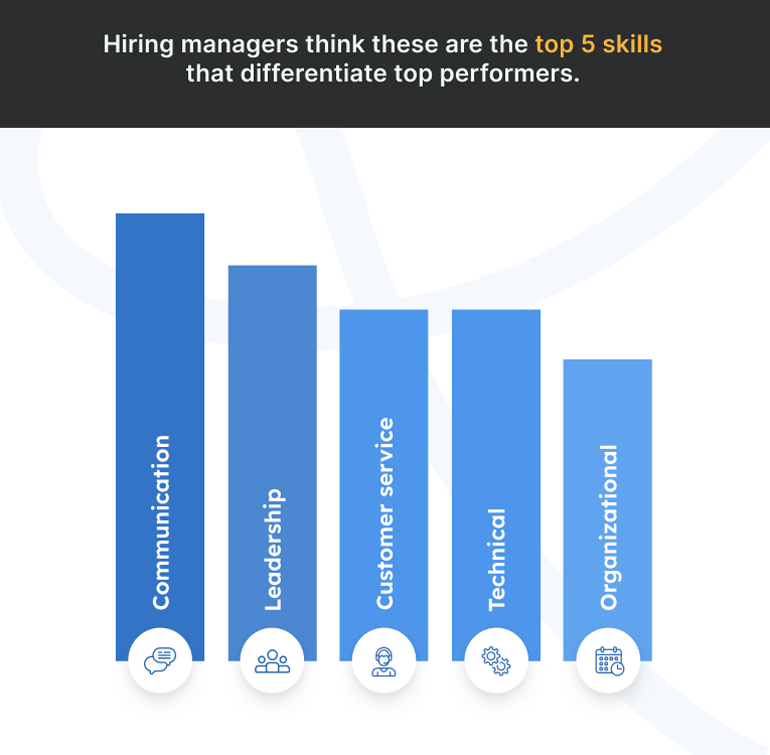 If you're struggling to find a job that's a perfect fit, give your LinkedIn profile a boost by emphasizing some of the skills you possess from the list below.
Communication
Useful in nearly every industry, communication skills allow you to articulate your ideas clearly, prevent or resolve conflicts, and build strong working relationships.
Communication skills are among the most sought-after skills in 2023, particularly in a hybrid or remote work environment. Consider adding some of these relevant skills to your LinkedIn:
Public speaking
Active listening
Writing
Negotiation
Foreign language skills
Email correspondence
Conflict resolution
Interpersonal skills
Information technology (IT)
IT skills are essential for developing new technology, safeguarding information, and maintaining hardware and software that allow businesses to operate.
Because these skills require specific training, hiring managers will likely use search filters to find candidates that possess the technical skills they need.
Help your LinkedIn profile stand out by adding relevant computer skills such as:
Programming
Database management
Cybersecurity
Machine learning
Data analytics
UI/UX design
Troubleshooting
Cloud computing
Leadership
Whether you have experience leading teams or projects, hiring managers want to know you have what it takes to make strategic decisions and inspire your colleagues to do their best work.
Show them you can help a business reach its goals by including these leadership skills in your profile:
Delegation
Motivation
Strategizing
Empathy
Decision-making
Prioritization
Conflict resolution
Mentoring
Problem-solving
Hiring managers want to see you can overcome obstacles and improve processes at work.
Particularly in sectors like healthcare and engineering where you have to find solutions to complex problems, the following skills are great to emphasize:
Critical thinking
Creativity
Flexibility
Decision-making
Data analysis
Risk assessment
Marketing
Marketing skills help businesses connect with their target audience and promote their products or services.
To show you can drive engagement and help an organization meet their targets, highlight some of these key marketing skills on LinkedIn:
Content creation
Social media management
SEO/SEM
Brand development
Customer relationship management (CRM)
Market research
Data analysis
Adaptability
In today's workplace, it's essential to be able to adapt to new innovations and conditions.
To stay on top of emerging trends and adjust your workflow accordingly, you need to have the following skills:
Open-mindedness
Flexibility
Creativity
Stress management
Proactive learning
Curiosity
Innovation
Sales
Sales skills are integral to a number of industries, from food and beverage to real estate.
Demonstrate that you can build customer loyalty and drive revenue growth using these skills:
Customer service
Confidence
Product knowledge
Enthusiasm
Tenacity
Negotiation
Emotional intelligence
Networking
Teamwork
Most roles require some level of collaboration to get the job done. Teamwork skills are especially valuable in industries like healthcare and hospitality.
Consider adding some of these skills to your LinkedIn to show employers you work well with on a team:
Collaboration
Relationship building
Conflict resolution
Digital collaboration tools
Effective communication
Work ethic
Self-awareness
Analytical skills
Analytical skills involve collecting, interpreting, and applying data to make decisions and help your business improve efficiency. Analytical abilities are valuable in a number of industries, particularly finance and IT.
Show off your analytical skills on LinkedIn using suggestions from the list below:
Data analysis
Critical thinking
Attention to detail
Forecasting
Report writing
Research
Project management
Project management skills allow you to oversee projects and ensure they're completed on time, within budget, and according to brand standards. These skills are crucial in fields like construction, event planning, IT, and any other field that involves project work.
Demonstrate effective project management using several of the skills in this list:
Organization
Budgeting
Time management
Leadership
Communication
Planning
Risk management
Other industry-specific skills
The skills in this list are a little more specialized, but highly sought after in today's job market.
If you have the relevant experience and training, be sure to add these skills to your LinkedIn profile:
Audio and video production
Financial analysis & reporting
AI
Environmental impact assessment
Python
Java
Talent management
Regulatory compliance
How to get endorsements for your skills
Skill endorsements on LinkedIn are one way to assure potential employers you possess the skills listed in your profile.
To get a skill endorsement, you just need to ask one of your LinkedIn connections (ideally a former manager, colleague, or client) to click on the "Endorse" button under a skill on your profile to indicate that they've seen you demonstrate this skill.
Much like providing a hiring manager with references, skill endorsements add credibility to your profile, so you should try to get one or more endorsements for each skill you add to LinkedIn.
Using LinkedIn skill assessments
LinkedIn also provides short, standardized tests in specific skills such as cybersecurity, Microsoft Excel, and machine learning.
An assessment usually has 15 multiple-choice questions that you have to complete in one sitting. When you score in the top 30% for a given skill assessment, you'll earn a badge to display on your profile.

You can answer practice questions without affecting your score and retake the quiz once if you don't earn a badge on your first try.
Skill assessments show recruiters you're highly skilled in a certain area and you've taken the initiative to display your qualifications on your LinkedIn profile.