A resignation letter is a formal document or email that lets your employer know you're leaving your position.
Even if you didn't like your job, you should always write a letter of resignation because it's polite and gives your manager time to find a replacement.
Additionally, submitting a resignation letter increases your chances of getting a letter of recommendation from your manager and receiving positive reviews during reference checks.
Our free-to-use resume builder can make you a resume in as little as 5 minutes. Just pick the template you want, and our software will format everything for you.
What to include in a resignation letter
Here's a resignation letter example that shows you what to put in yours, followed by detailed explanations of each item in the letter:​​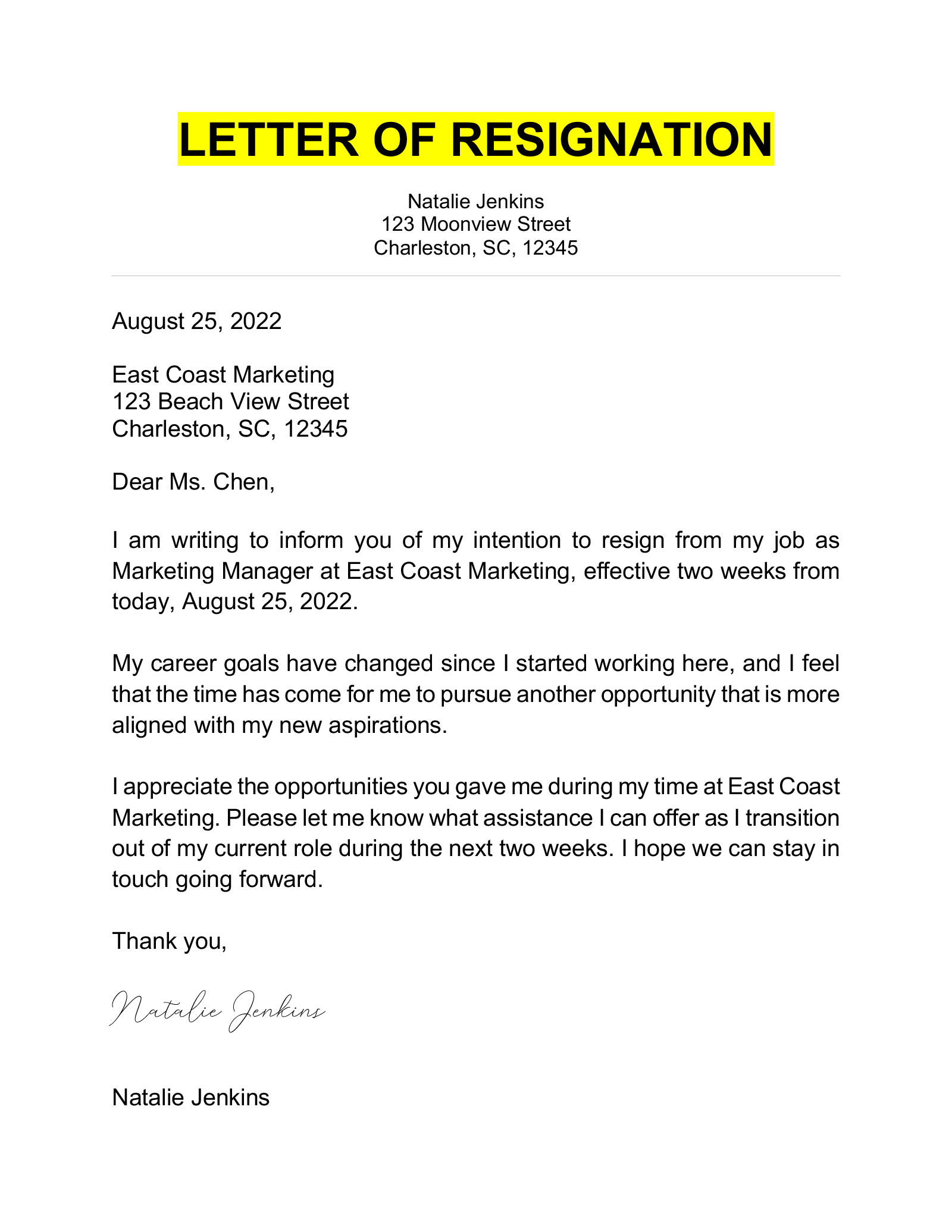 Download Resignation Letter Example (Word)
To help you draft your resignation letter like the example above, here's a checklist of what to include:
Your name and address – Use proper business letter formatting and place your name and address in a centered list at the top of the page.
The date – Left-align the date you submit the letter under your address. Listing the date is important because your company will use it to officially begin your notice period.
The company address – Put the company name on the first line, followed by the street address, city, and ZIP code.
A proper salutation – Typically, you should address your manager, but if necessary you can address a whole unit, team, department, or company.
Your final workday – Tell your employer the exact date you want to quit. Doing so lets them immediately begin planning their next steps, and it helps you avoid the stress of not knowing when you'll get to leave.
Your reason for leaving (optional) – Acceptable reasons for leaving a job range from general health concerns and spending more time with family to relocation, retirement, and career changes.
A thank you to your employer – Thank your employer for the opportunity to work with them. Optionally, offer to help with the transition process, or note your desire to keep in touch.
A polite signoff – Write a professional signoff, like "Sincerely," or "Thank you," followed by your name — signed and typed if you're submitting a hard copy, or just typed if you're sending a digital resignation letter.
What not to include in a letter of resignation
Knowing what to put in your resignation letter is key to ensuring you leave the company on good terms, but it's equally important to know what not to include. Here's what to avoid:
A critique of your employer – Just like when writing a goodbye email to your coworkers, it's best to keep a positive tone. A resignation letter isn't the place to say that you're unhappy with poor management.
Foul language – Again, even if you're leaving because of issues with your boss or coworkers, keep your resignation letter professional. This will prevent you from burning any bridges that could lead to future job opportunities.
Information about your upcoming plans – Avoid including information about where you're going next. Your manager doesn't need to know, and adding it puts you at greater risk of being sabotaged by a disgruntled former employer.
Spelling mistakes – Before you send off your resignation letter, check it for spelling mistakes.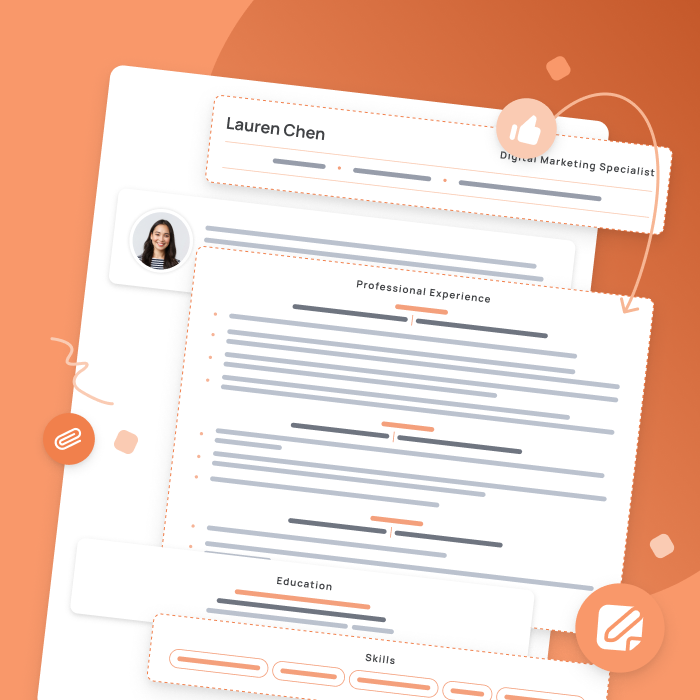 Read our guide to learn everything you need to know about how to make a resume that highlights your skills and impresses employers.
Resignation letter template
Here's a templated letter of resignation you can download as a Microsoft Word document (or click the dropdown below it to copy and paste a text version into another writing program):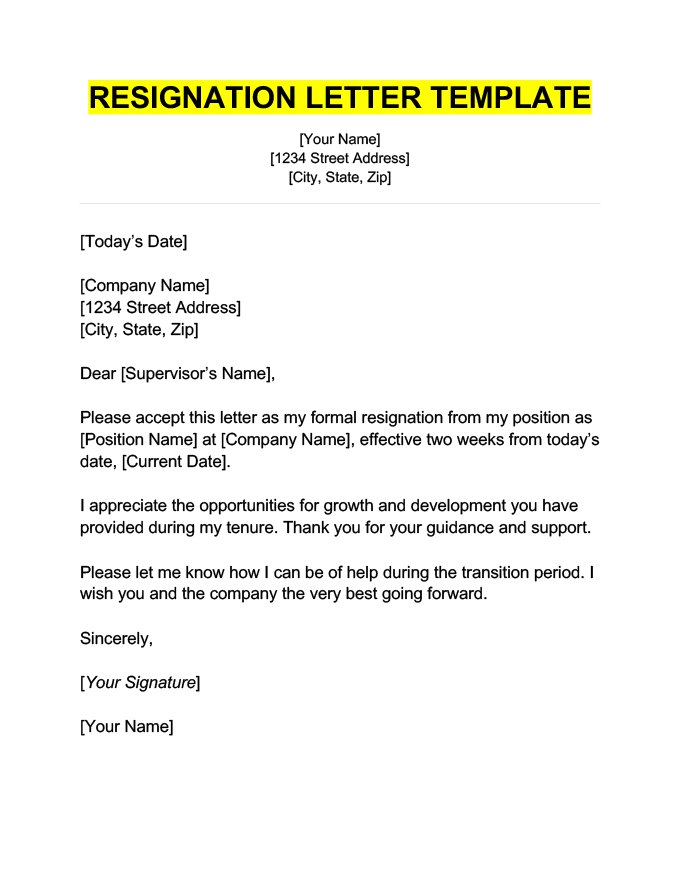 Download Resignation Letter Example (Word)
Resignation letter template (copy & paste)
Letter of Resignation
[Your Name] [1234 Street Address] [City, State, Zip]Dear [Supervisor's Name],
Please accept this letter as my formal resignation from my position as [Position Name] at [Company Name], effective two weeks from today's date, [Current Date].
I appreciate the opportunities for growth and development you have provided during my tenure. Thank you for your guidance and support.
Please let me know how I can be of help during the transition period. I wish you and the company the very best going forward.
Sincerely,[Your Signature][Your Name]
Resignation letter examples
Here are some more specific resignation letter samples you can use to get ideas for writing your own letter of resignation:
Resignation letter examples: two weeks' notice
Just need a short, simple resignation letter template? The below sample is a basic two weeks' notice that you can use for any job.
Click the button below the example to download and customize any of our two week resignation letter templates for free and leave your job on a professional note.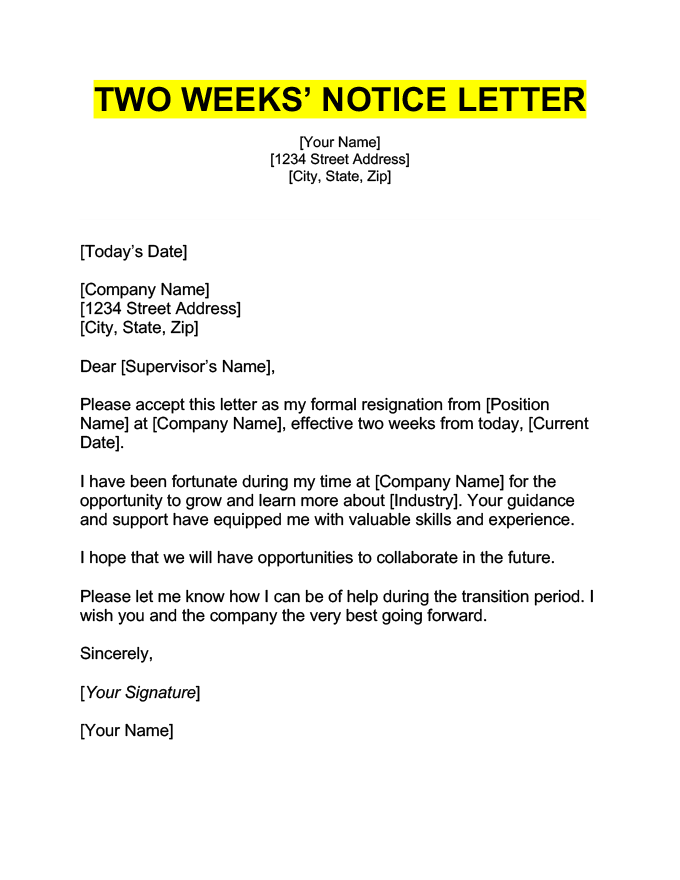 View All Two Weeks' Notice Templates
Resignation letter examples: life situation
Whether you're a recent college graduate or senior executive, personal issues can force you to resign. Writing resignation letters to explain such issues can be hard because of the personal reasons involved — but the resignation letter template below can help.
View All Life Situation Templates
Resignation letter examples: career-specific
Below is a resignation letter template designed for a nurse. Additionally, we have a variety of other career-specific resignation letters available (just click the big orange button below). If you don't see your position listed, you can still download them and alter them to match your industry.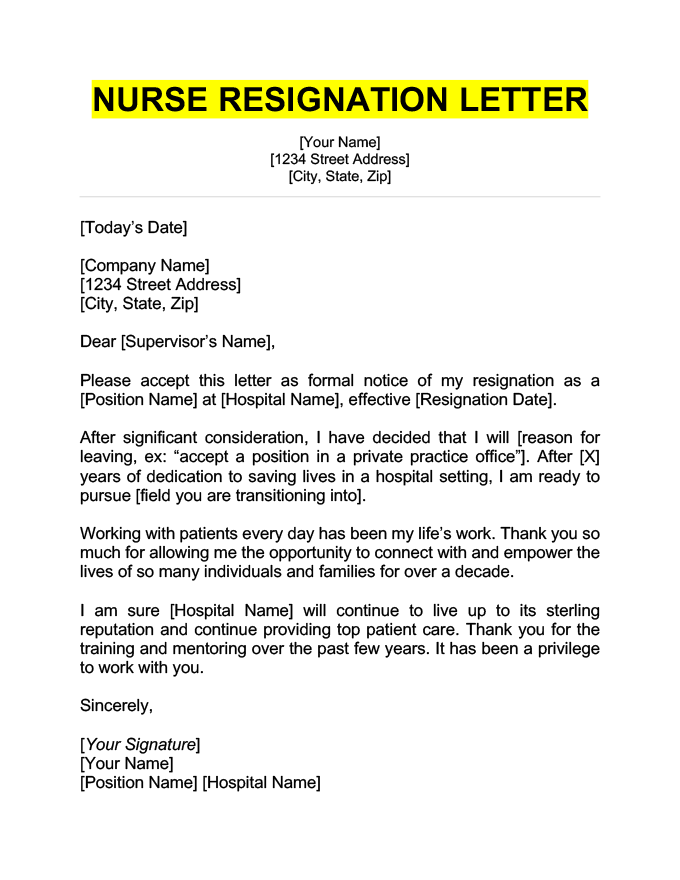 View All Career-Specific Templates
4 common questions about resignation letters
Still have questions about your resignation letter? We've answered four of the most frequently asked questions about letters of resignation below:
1. When should you write a letter of resignation?
You should write a letter of resignation at least two weeks in advance, but you might need to give your manager a longer notice period if your contract requires it or you have a lot of work to finish before you go.
And while it may be tempting to go on LinkedIn and write a new job announcement as soon as you accept a job offer, you should inform your current employer that you're leaving first.
2. How should you submit a resignation letter?
You should submit your letter in a face-to-face meeting with your manager when possible. But if you're working remotely or your boss is out of the office, you can submit your letter in an email — either as an attached file or as text in the body of the email.
3. What should your resignation email's subject line say?
Your resignation email's subject line should say your name and that you're resigning.
Stating your intentions in the subject line lets your manager know how important your email is as soon as they open their inbox.
These are good examples of resignation email subject lines:
Resignation Notice — [Your Name]
[Your Name] Resignation Notice
Two Weeks' Resignation Notice: [Your Name]
4. How long should a resignation letter be?
A resignation letter should be one page or less. If your manager needs more details after reading your letter, they'll request them.
More resources for resigning from your job
Transitioning from one job to the next is challenging. So here are some resources to help you through your career change: