Resignation Letter Example
Here's a good example of resignation letter formatting and content, and we also have a free resignation letter template below that you can copy and use to write your own: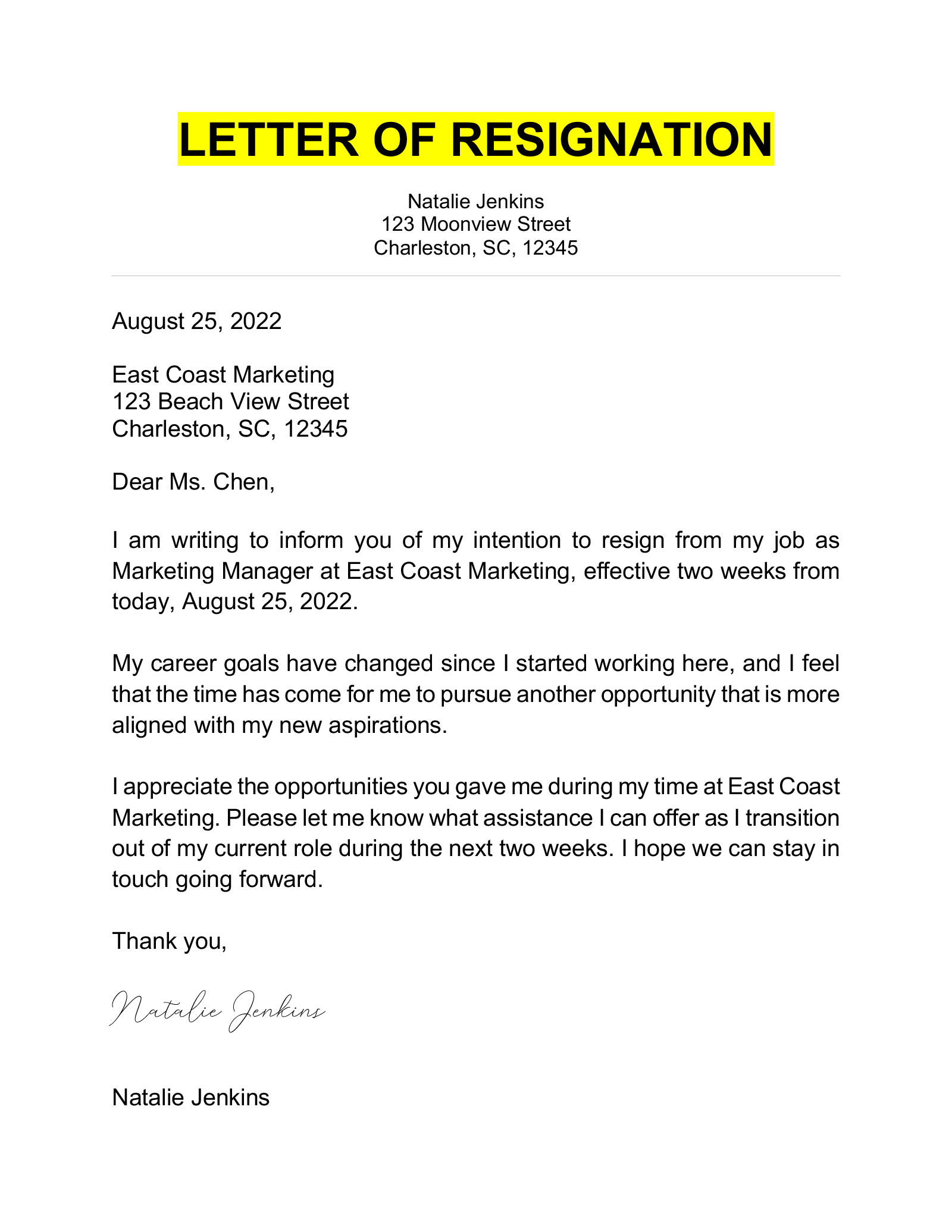 Download Resignation Letter Example (Word)
How to write a resignation letter
Here's how to write a resignation letter that helps you smoothly exit your current job:
1. Put your name and address at the top
To follow proper business letter formatting, place your name and address in a centered list at the top of the page.
2. Include the date
Left-align the date you submit the letter under your address. Listing the date is important because your company's HR department will use it to officially begin your notice period.
Below is an example of how to format your resignation letter date:
3. List the company address
Use professional business letter formatting to list your company's address. Put the company name on the first line, followed by the street address, city, and ZIP code, like this:
East Coast Marketing
123 Beach View Street
Charleston, SC 12345
4. Address your boss by name
Unsure how to address your resignation letter? Typically, you should address your manager, but if necessary you can address a whole unit, team, department, or company.
If you're on a first-name basis with your boss, use their first name. Otherwise, use their formal title and last name (for example, "Ms. Chen" or "Dr. Jones").
Here are two examples of how to address a resignation letter:
Dear Mr. Jacobsen,
Dear GenTech Finance Team,
5. Say that you want to resign
Don't stress about how to start your resignation letter. Just make it clear that you're resigning from the first sentence. Your manager will appreciate your straightforward approach.
6. Set your final workday
Tell your employer the exact date you want to quit. Doing so lets them immediately begin planning their next steps, and it helps you avoid the stress of not knowing when you'll get to leave.
7. Give your reasons for leaving (optional)
In the body paragraphs of your resignation letter, provide reasons for leaving your company. Acceptable reasons range from general health concerns and spending more time with family to relocation, retirement, and career change.
But if you don't want to share the reason, you don't have to. Just like when writing a goodbye email to your coworkers, it's best to keep a positive tone. A resignation letter isn't the best place to say that you're unhappy with poor management or reveal private information.
8. End by thanking your employer
This is how to end your resignation letter:
Thank your manager
If you feel grateful, acknowledge the opportunity your employer gave you
Optionally, offer to help with the transition process, or note your desire to keep in touch
9. Sign off
If you submit a hard copy of your resignation letter, sign above your typed name. But your typed name is all you need for a letter of resignation attached to or written in the body of an email.
Resignation Letter Templates: Two Weeks' Notice
Writing a resignation email, or just need a short, simple resignation letter template? The below samples were designed by career experts and HR consultants. Download and customize any of these templates for free and leave your job on a professional note.
View All Two Weeks' Notice Templates
Resignation Letter Templates: Life situation
Whether you're a recent college graduate or senior executive, personal issues can force you to resign. Writing resignation letters to explain such issues can be hard because of the personal reasons involved — but the resignation letter templates below can help.
View All Life Situation Templates
Resignation Letter Templates: Career-Specific
Below are seven resignation letter templates designed for specific job titles. If you don't see your position listed, you can still download them and alter them to match your industry.
View All Career-Specific Templates
Common questions about resignation letters
Still have questions about your resignation letter? We've answered the most frequently asked questions about letters of resignation below:
What is a resignation letter?
A resignation letter is a formal document or email that lets your employer know you plan to leave your position. Resignation letters typically include a timeframe and reasons for leaving, and a thank you for the opportunity to work for the company in 3–4 paragraphs.
Why should you write a resignation letter?
You should write a resignation letter to professionally inform your company that you're resigning. Following proper procedures for resigning increases your chances of:
getting letters of recommendation from your manager
receiving positive reviews during reference checks
being able to return to the company
When should you write a letter of resignation?
While it may be tempting to go on LinkedIn and write a new job announcement as soon as you accept a job offer, you need to first inform your current employer that you're leaving.
You should write a letter of resignation at least two weeks in advance, but you may need to give your manager a longer notice period if your contract requires it or you have a lot of work to finish before you go.
What's a good letter of resignation template?
This is a good letter of resignation template:
Letter of Resignation Template
[Your Name]
[123 Your Street]
[City, State, Zip]
[Today's Date]
[Company Name]
[123 Company's Street]
[City, State, Zip]
Dear [Supervisor's Name],
Opening paragraph: Inform your supervisor that you'll be resigning, and set a timeline for when you'll be leaving your company (for example, "two weeks from today").
Body paragraph(s): In 1–2 paragraphs, explain your reasons for leaving. But if you're uncomfortable sharing your reasons, you can cut this section from your resignation letter.
Closing paragraph: Use the final paragraph for a polite goodbye message. You can offer to help with the transition, express a desire to stay in touch, or just say thanks for the job opportunity, depending on your situation.
Sign-off: Write a polite sign-off (such as "Thank you," or "Sincerely,").
[Your Signature (if you submit a hard copy)]
[Your Typed Name]
To use this resignation letter template:
copy and paste the text into your word processor
replace the templated information with your own
follow the advice for what to include in your resignation letter to write each paragraph
How should you submit a resignation letter?
You should submit your letter in a face-to-face meeting with your manager when possible. But if you're working remotely or your boss is out of the office, you can submit your letter in an email — either as an attached file or as text in the body of the email.
What should your resignation email's subject line say?
Your resignation email's subject line should say your name and that you're resigning. Stating your intentions in the subject line lets your manager know how important your email is as soon as they open their inbox, which helps you resolve the situation as quickly as possible. These are good examples of resignation email subject lines:
Resignation Notice — [Your Name]
[Your Name] Resignation Notice
Two Weeks' Resignation Notice: [Your Name]
How long should a resignation letter be?
A resignation letter should be one page or less. If your manager needs more details after reading your letter, they'll request them.