Retirement is an exciting time to look forward to after years in the workforce. But before you leave your job, you'll need to provide your employer with a retirement letter that officially announces your retirement date and expresses your gratitude toward your company.
Below we provide resources on how to write a retirement letter correctly using our downloadable sample, helpful guide, and template.
What is a retirement letter?
A retirement letter (also known as a retirement resignation letter) is a formal written document or typed email informing your employer about your decision to retire.
Writing your employer a retirement letter (with the date you'll leave the company) is helpful because it:
ensures smooth communication between you and your employer
gives your company advance notice as they prepare for your departure (e.g., finding a replacement for you, sorting out your retirement benefits, planning a goodbye celebration)
expresses your gratitude for the opportunities and experiences you received in your career
helps you reflect on your time and what you've accomplished
Sample retirement letter to an employer
If you're interested in seeing what a formal letter of retirement looks like, you're in the right place.
Below is a retirement letter example for you to view and download instantly: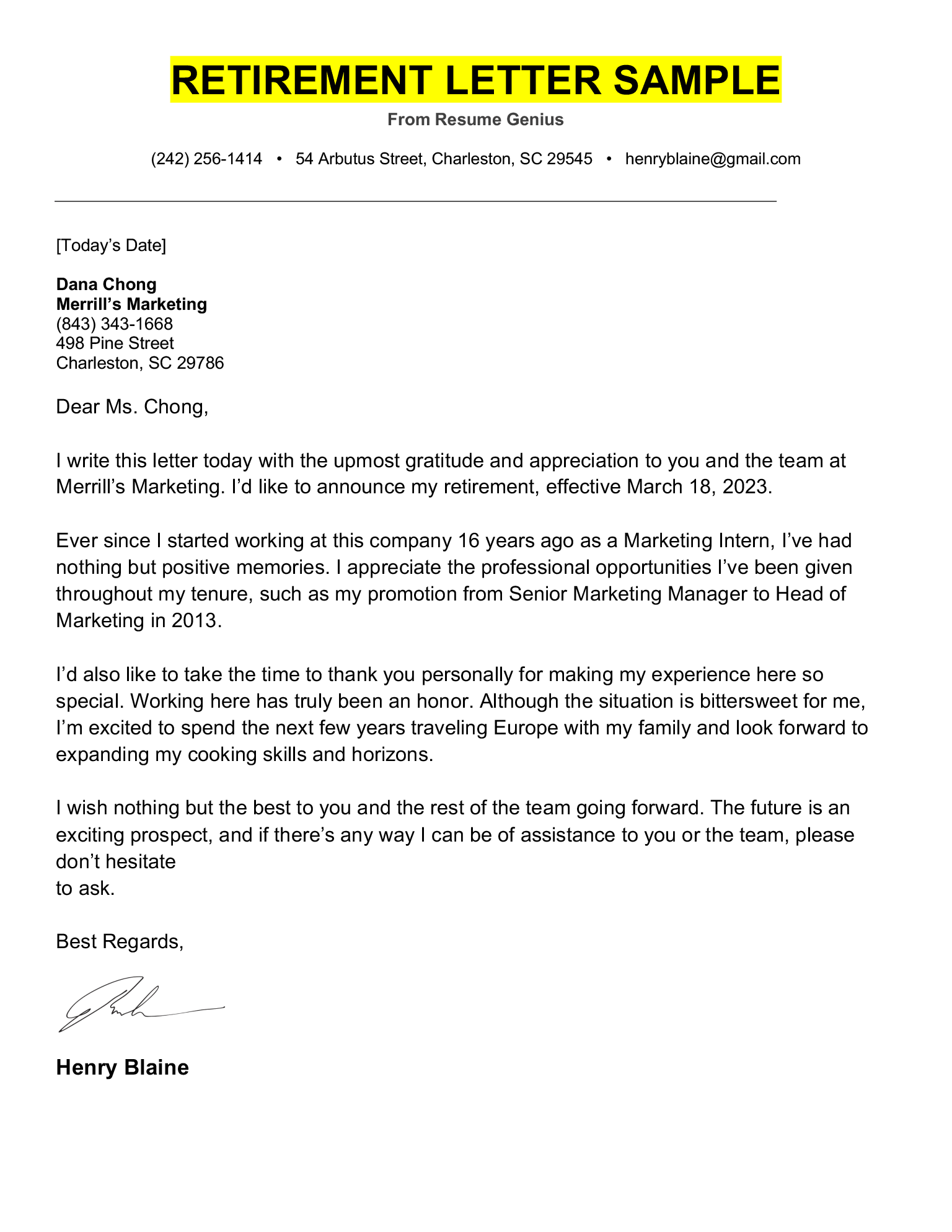 Download Free Retirement Letter
What to include in a letter of retirement
Unsure what sections belong in a retirement letter?
Below are the five essential components of a standard retirement letter, along with an illustrated example:
Contact information
Salutation and introduction
Body paragraphs
Closing paragraph
Sign-off
How to write a retirement resignation letter in 7 steps
To ensure you prepare an effective letter of retirement for your employer, we've compiled seven essential steps to guide you through the writing process:
1. Format your retirement letter correctly
Using appropriate formatting on your retirement letter ensures your employer (and HR) will fully understand what you're communicating to them.
Here are several tips to assist you with your retirement letter format:
Use a readable, professional font and keep your font size between 10–12 to avoid it from looking too empty or crowded. Typically the best fonts for a letter are Times New Roman, Arial, or Verdana.
List your up-to-date contact details at the top center or top left of your letter (e.g., first and last name, mailing address, email address, and phone number) in case they need to reach you about work-related matters.
Left-align today's date on a separate line after writing your contact details so you have a record of when you sent your retirement letter.
Add your employer's contact information underneath the current date to show you're following correct letter writing procedures (e.g., your employer's first and last name, company name and address, phone number, and email).
Greet your employer respectfully by starting your letter with "Dear [Mr./Ms./Mx] [Last Name]" so it's obvious who you're addressing. You can also address your team, department, or company if necessary.
This is an example of the top half of a professionally formatted retirement letter:
Taylor Winston
Director of Operations
(510) 213-3232
1871 W San Carlos St, San Jose, CA 95028
taylor-winston@gmail.com
September 30, 2022
Kathy Das
CEO
Genesis Consulting
(510) 491-7599
1577 Meridian Ave, San Jose, CA 95127
kathydas@genesisconsulting.com
Dear Ms. Das,
2. Let your employer know when and why you plan to retire
After greeting your employer, state your intent to retire and include the date when you'll leave the company.
Giving your employer notice when you're retiring shows you respect their time and allows them to inform HR so the company can start your exit process immediately.
Take a look at this straightforward retirement letter opening:
Dear Ms. Das,
I'm writing this letter to let you know that I'll be leaving Genesis Consulting, effective February 15, 2023.
3. Express your appreciation by thanking your employer
Retiring from a company you've spent time and energy at can feel bittersweet.
Even if you're excited to leave, you should always thank your employer for the experience over the years and keep your tone positive.
Here's an example of a simple thank you statement you can say in your retirement letter:
Thank you for giving me the opportunity to work at this company and for mentoring me over the years.
4. Describe your history at the company
Although optional, writing about your work history with the company is a great way to remind your employer of your contributions and the good memories you've had with them.
For example, if you've made a substantial impact on their company or spent years there, you might want to talk about how these experiences have shaped you.
Below is an example of what a consulting professional wrote regarding their work experience:
I started working at this company back in June 2004 and have watched our humble consulting firm grow from 10 employees to more than 250 staff. I've greatly enjoyed training our consultants and have been the proud host of 300+ seminars, workshops, and mentorship sessions.
5. Mention your future plans and discuss what you need from the company
Making your intentions clear from the start with your retirement letter is important so there's no miscommunication.
So ask your employer directly if you need any assistance with action items, such as:
receiving retirement benefits
collecting pension
using up leftover sick days or vacation time
collecting your final pay check
And if you want, you can briefly mention your plans to your employer — especially if you're leaving on great terms and have close relationships with your team members.
For example, you could mention in your letter that you want to:
go on vacation to a new country
spend time with your loved ones
move to a new city
start a fun hobby
take care of your health
Have a look at this example sentence discussing our retiree's future plans:
After retirement, I plan to stay in San Jose and improve my lifestyle by making yoga, meditation, and swimming a part of my daily routine.
6. Offer to assist with the transition
Employers will appreciate if you state you're happy to help make the transition easier.
So whether you're providing paperwork, handing over your equipment, or training a new employee on how to take over your role, add a specific sentence about how you can assist them or that you're happy to stay in touch.
Here's an example of a statement that you can write about assisting your company:
It'll be my pleasure to onboard the next Director of Operations before my final day, so please feel free to reach out if needed. I'll miss working here, and I'd love to stay in touch with you and the rest of our team.
7. Sign off and deliver the letter personally
Now that you've finished writing your retirement letter, remember to end your letter professionally with a sign off like "Best Regards," and then write your signature above your typed name if you're printing out your letter.
However, typing out your name once is enough if you're writing an email instead or attaching a Word or Google Docs retirement letter to the email.
And although delivering your retirement letter in person is always best, sometimes it isn't possible (for example, if you work remotely).
Your other option is to email your retirement letter to your employer and also forward a copy to HR.
Retirement letter template
Wanting a headstart on writing your retirement resignation letter or email?
Feel free to copy, paste, and customize this simple retirement letter template to suit your needs:
Your Name
Your Company Title
(xxx) xxx- xxxx
Your address, city, and ZIP code
your-email@email.com
Today's Date
Contact Person's Name
Company Name
(xxx) xxx-xxxx
Company address, city, and ZIP code
Contact person's email address
Dear [Mr./Ms./Mx.] [Contact Person's Last Name],
I'd like to officially announce my retirement, effective [MM/DD/YYYY] from [Company Name].
Thank you for all the opportunities and wonderful memories we shared as colleagues over the last [Number of years] years.
Please let me know if I can be of any assistance going forward. You can reach me by phone at [(xxx) xxx-xxxx] or by email at [your-email@email.com].
Best Regards,
[Your Name]