Imagine you're in an interview. It's going well, but then the interviewer asks you to describe what you liked least about your last job.
If you find this question difficult to answer, you're not alone. Many job seekers struggle to respond to "what do you like least about your job?" because it's difficult to answer without coming across as negative.
To ensure you craft a positive and informative answer to this classic interview question", we explain why employers ask this question, include steps on how to respond, and show you four sample answers you can use to help you plan your own response.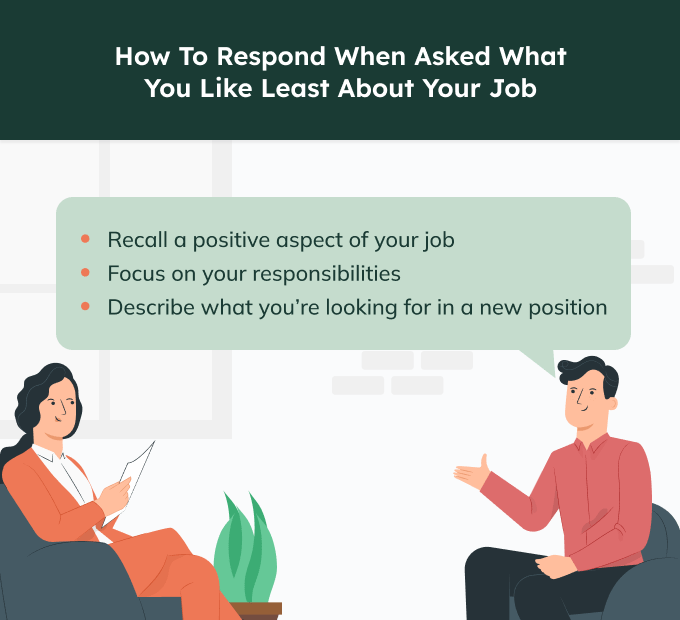 Why do employers ask "What did you like least about your job?"
Employers ask this common interview question to understand your attitude toward your current or previous employer.
The hiring manager doesn't want a negative response from you. Instead, they want to understand why you're leaving your current position and what you hope to get out of a new role.
Additionally, asking you what you dislike about your job is a good way for the employer to catch any potential red flags. If you start to rant or get overly negative about people at your job (your boss in particular), this sends a warning sign to the interviewer that you lack professionalism.
Try using the STAR method interview technique when answering interview questions. STAR stands for "Situation, Task, Action, Result" and provides helpful context to interviewers by turning your answers into positive, action-oriented statements.
How to respond in an interview when asked what you dislike about your job
Here are three tips for providing a positive answer when an interviewer asks you, "what do you like least about your job?":
1. Recall a positive aspect of your previous job
Whether you're writing a new job announcement, turning in your resignation letter, or discussing your least favorite aspects of your current job with an interviewer, you should always try to avoid coming across as overly negative.
Before you focus on the negatives of your current job, it's important to show the interviewer that you value your current position and are making an informed, thought-out decision to leave.
You should start your response on a positive note by briefly highlighting some of the details you like about your job first.
If you're not sure what to focus on, here are some details that you might like about your present job:
Company culture
Relationship with coworkers and boss
Leadership style of upper management
Job duties and responsibilities
Opportunities to advance in your career
Just like when providing constructive criticism to a person, it's important to pair a critique with a bit of praise to avoid coming across as overly negative or harsh. Talking about your current job is no different.
Here's an example of how to start your response off with a positive:

2. Focus on your responsibilities and duties, not the people
You're bound to run into people you dislike at any job. And while it can be challenging to work with people you don't get along with, it's best not to mention that in an interview because it can make you appear hard to work with or not a team player.
Instead, focus on specific responsibilities, duties, tasks, or particular scenarios you were involved in that you disliked. This takes the focus away from individuals (which you can't change and will likely run into again at your new job) and instead highlights what you disliked about the job itself.
If you have to mention people at your job in your response, never refer to them by name because this comes across as unprofessional.
Here's an example of how to explain what you dislike about your current job without focusing on people:

3. End with what you're looking for in a new position
When you're ending your response, express to the interviewer what changes you're looking for in a new position.
This is an essential part of your answer because it allows you to highlight your desire to grow in your career and how this new position fits into that growth.
Additionally, explaining what you're looking for in a new position shows the interviewer that you'd be a good fit for the company, and helps them answer the question "why should we hire you".
Ensure you also highlight what motivates you to get started in the new role you're applying for.
Here's an example of how to describe to the hiring manager what you're looking for in a new position:
Showing the hiring manager you've taken time to think about your current job and what aspects of it you want to avoid in the future highlights that you think critically about your career.
Here's a TikTok that summarizes the tips and gives an example answer for the interview question "What do you like least about your job?":
4 sample answers
Here are four good example responses to being asked about what you dislike about your job.
Each answer focuses on a different aspect of a job that the candidate disliked. When thinking about your own answer, keep in mind exactly why you're changing jobs.
1. Career growth
2. Management style
3. Schedule conflict
4. Career change
Other interview resources
Now that you've mastered "what do you like least about your job?", check out some of the interview resources below to help you prepare for whatever the hiring manager might ask: