Table of Contents:
Warehouse Worker Sample
Candidate is applying for a mid-level warehousing position
Candidate has 4+ years of experience working in warehouses
Candidate has several industry related skills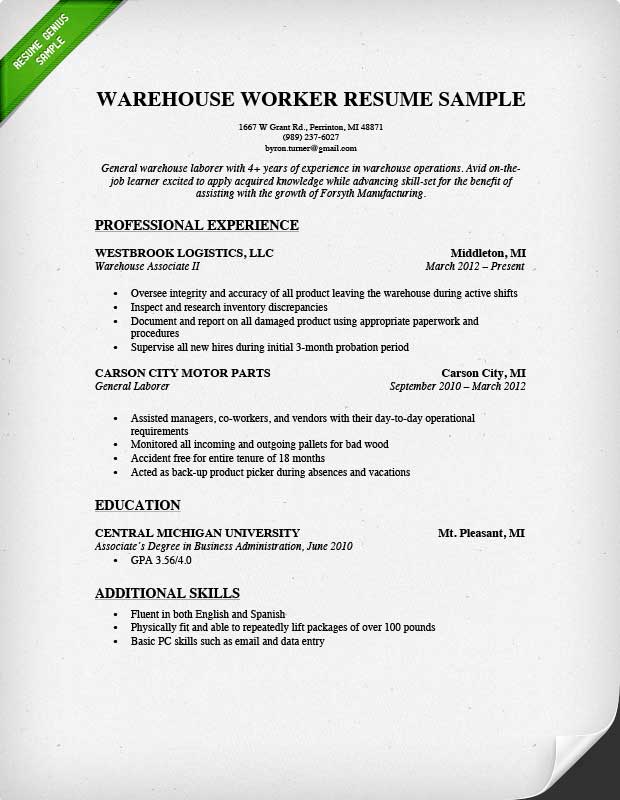 Click Here To Download
This MS Word Warehouse Worker Resume
SEE ALSO › Popular Resume Samples By Industry
Related Resumes
Click the following images to view the resume sample.
SEE ALSO › Popular Resume Samples By Industry
Warehouse Resume (Text Format)
1667 W Grant Rd., Perrinton, MI 48871
(989) 237-6027
byron.turner@gmail.com
General warehouse laborer with 4+ years of experience in warehouse operations. Avid on-the-job learner excited to apply acquired knowledge while advancing skill-set for the benefit of assisting with the growth of Forsyth Manufacturing.
*To read more about how to format your Career Objective like the one above, click here.
PROFESSIONAL EXPERIENCE*
WESTBROOK LOGISTICS, LLC Middleton, MI
Warehouse Associate II March 2012 – Present
Oversee integrity and accuracy of all product leaving the warehouse during active shifts

Inspect and research inventory discrepancies

Document and report on all damaged product using appropriate paperwork and procedures

Supervise all new hires during initial 3-month probation period
CARSON CITY MOTOR PARTS Carson City, MI
General Laborer September 2010 – March 2012
Assisted managers, co-workers, and vendors with their day-to-day operational requirements

Monitored all incoming and outgoing pallets for bad wood

Accident free for entire tenure of 18 months

Acted as back-up product picker during absences and vacations
*To read more about how to quantify your resume, click here.
EDUCATION
CENTRAL MICHIGAN UNIVERSITY Mt. Pleasant, MI
Associate's Degree in Business Administration, June 2010
ADDITIONAL SKILLS*
Fluent in both English and Spanish

Physically fit and able to repeatedly lift packages of over 100 pounds

Basic PC skills such as email and data entry
*To read more about the skills that a warehouse worker needs, click here.
Warehouse Worker Resume Tips
Working in a warehouse is a position that requires much more than simply moving boxes around. While it's true that loading, unloading, and moving packages is a large part of what a warehouse worker does, it's not the only task they perform.
Other important parts of the job, depending of course on the exact position, might include:
Entering and editing inventory in computerized databases
Ability to work in small teams and communicate effectively with co-workers
Operating warehouse machinery such as hand trucks, pallet jacks, and forklifts
There is also a large
range of qualifications required depending on the level of position for which you're seeking to gain employment.
Entry-level package handlers are usually only required to have the ability to lift a specific weight, like 60 pounds, while a supervisor would most likely need reasonable PC skills for arranging schedules and working with digital inventories.
Regardless of the level of position you are applying for, you'll want to have a professional and well-written resume.
1. Education and Additional Skills
Many warehouse positions don't require a higher education, but some do, and almost all of them require at least a high school diploma. That means you should definitely include an education section.
The main purpose here is to show that you do have, at a minimum, the necessary requirement for the position you're applying for. Adding your GPA is okay too, as long as it was fairly high. Otherwise, just listing your school, what you graduated with (high school diploma or field of study for a university degree), and the date you completed your studies is enough.
For warehousing, the additional skills section is usually more important than the education section
For warehousing, the additional skills section is usually more important than the education section. Make sure you have one.
The more relevant skills you list in regards to the warehousing industry the better. Some relevant skills that you will want to consider are:
But, as mentioned earlier, don't get overly rambunctious and start listing skills that you do not actually have.
 2. Target Your Career Objective
A very easy way to show a hiring manager that you are not just looking for any job but want to specifically work for their company is to target your resume to each particular company you are attempting to land a job with.
Luckily, it isn't nearly as daunting of a task as it sounds. The trick is to use an easily editable career objective.
This is exactly what our applicant Byron Turner does. His career objective starts in a very standard way that is acceptable for any company that he applies to. However, the following sentence goes into a little more detail about what position he is looking for.
Don't use empty or weak clauses:

Looking forward to join your team.
Do write what you offer the potential employer, and use their company name:

Avid on-the-job learner excited to apply acquired knowledge while advancing skill-set for the benefit of assisting with the growth of Forsyth Manufacturing.
This type of fine-tuning really makes your resume stand out from all of the generic ones that pass through HR offices. Also, matching the wording of your career objective to the exact same wording that each specific company uses on their job posting is great for two reasons.
First, it ups the chance your resume will make it through an applicant tracking system should the company use one for prescreening. Second, it shows hiring managers that you did at least a little research into what they are looking for and that you're not just mass applying all over the place with the same generic resume.
Spending a few extra minutes making these minor customizations greatly increase your chances of getting called in for a face-to-face interview, which of course if the first step toward getting hired.
3.Look for Ways to Quantify Your Experience
People working in human resources departments love to see numbers on resumes, as it helps them quantify applicants' experience and accomplishments. Unfortunately that isn't as easy for those in the warehousing industry as it is for people in fields like finance.
That doesn't mean it is impossible though. You just need to get a little creative.
Byron Turner quantifies his experience in a couple of different ways.
One way is that he shows he is responsible for new employees' acclimation and training for a set time period.
"Supervise all new hires during initial

3-month

probation period"
Aside from the fact that this bullet point shows he has some supervisory responsibility, it uses the specific number of 3-months. The use of the number both acts as a honing beacon for hiring managers' eyes, and also as a way to quantify just how long he is responsible for each new hire.
Byron also understands that although he does have some supervisory tasks, he is not a manager. Thus, he doesn't really have the title or means to mention budgets or other easily quantifiable financial numbers.
Instead, he sites a very important number that anyone working in a warehouse, from a part-time loader to a warehouse manager can understand.
"Accident free for entire tenure of

18 months"
In an industry where workplace accidents are all too common, having a quantifiable measure of safety is extremely important. And, instead of simply mentioning that he was accident free, Byron makes sure to use hard numbers.
It's not always easy finding a way to squeeze some numbers into a resume for a warehouse worker, but even using this type of quantified bullet point once or twice makes a big difference when compared to generic nonspecific ones.
4. Action Verbs for a Warehouse Worker Resume
| | | |
| --- | --- | --- |
| Conducted | Loaded | Packaged |
| Coordinated | Measured | Performed |
| Documented | Monitored | Stocked |
| Handled | Moved | Supervised |
| Inspected | Operated | Verified |
Like the list above? There's more where that came from. Check out the longest action verbs list in the universe!
Spending hours upon hours making your resume for an entry-level warehouse position might seem like a bit of a chore, but you will definitely want the highest quality resume you can make for more advanced positions.
Also, if you are chasing an entry-level position now, you won't be in a couple of years. Having a quality core resume to build off of when you gain more experience is absolutely worth the time investment now.
Additional Resource for Warehouse Workers