Recruiters only spend a few seconds reviewing a candidate's resume and cover letter before moving to the next one.
By adding bullet points to your cover letter, you ensure employers don't miss some of your greatest qualifications.
Learn how to write a cover letter with bullet points by using our writing tips and examples so that you can highlight your best qualities and increase your chances of an interview.
Our free-to-use cover letter builder can make you a cover letter in as little as 5 minutes. Just pick the template you want, and our software will format everything for you.
When should I use bullet points in a cover letter?
You should use bullet points in a cover letter every time you write a cover letter.
Using cover letter bullet points:
provides a brief snapshot of your most valuable skills and accomplishments to an employer
features specific keywords or phrases for an employer to see
helps to break up the content of your letter to make it more scannable
Consider using bullet points in a cover letter in the following situations:
1. When you want to highlight your strongest professional skills
If a recruiter only spends a few seconds reviewing your application, you don't want them to miss any key information that makes you appear more hireable.
Showcasing your top hard and soft skills and accomplishments with bullet points ensures the recruiter can immediately understand what makes you the most suitable candidate for the role.
2. When you need to narrow down your top achievements
Starting a cover letter can be difficult. If you aren't sure what aspects of your career to highlight on your cover letter, you can use bullet points to narrow them down to the top three.
A single bullet point can highlight multiple skills and capabilities more directly and impactfully.
3. When you want to make your cover letter more readable
Bullet points are a great way to enhance both your resume and cover letter for applicant tracking systems (ATS) without making it obvious.
So, optimize your cover letter using job-related keywords and action verbs in your bullet points and give yourself the best chance of getting past a company's ATS software.
Additionally, these bullet points make your cover letter more readable for actual humans — like your future employer.
Cover letter with bullet points (example)
A cover letter can improve your application in today's competitive marketplace by giving an employer an idea about who you are as a potential employee.
Here's an example of a cover letter with bullet points for a sales role: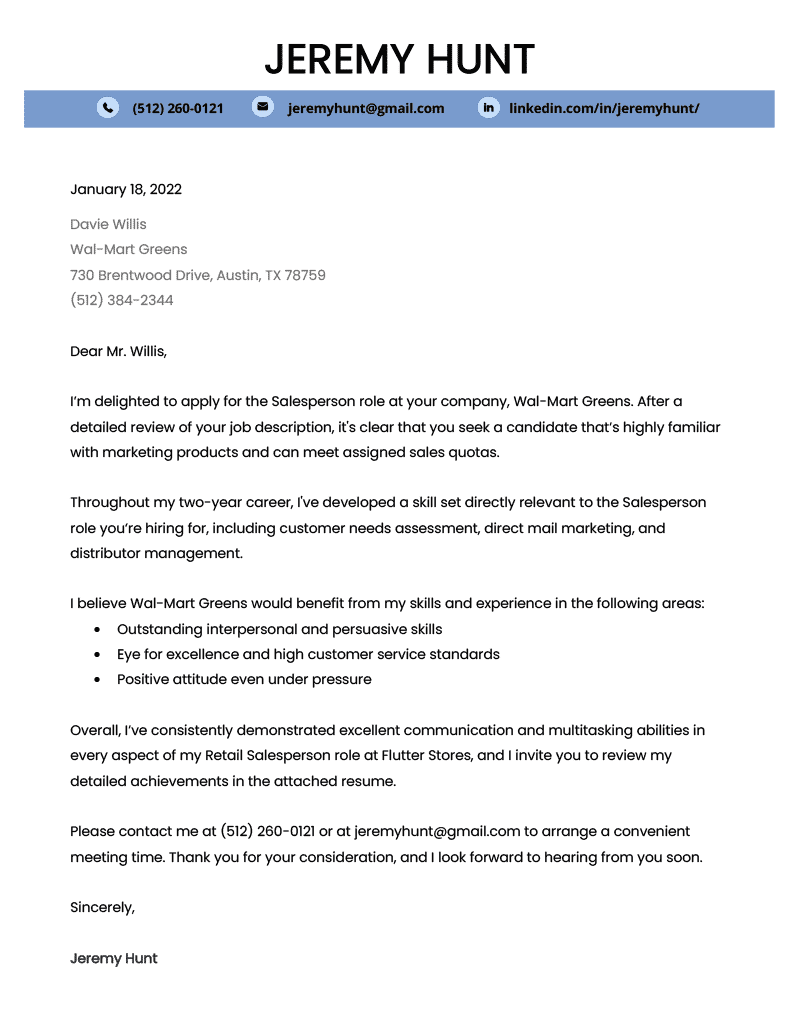 Cover Letter With Bullet Points Example (Text Version)
Dear Mr. Willis,
I'm delighted to apply for the Salesperson role at your company, Wal-Mart Greens. After a detailed review of your job description, it's clear that you seek a candidate that's highly familiar with marketing products and can meet assigned sales quotas.
Throughout my two-year career, I've developed a skill set directly relevant to the Salesperson role you're hiring for, including customer needs assessment, direct mail marketing, and distributor management.
I believe Wal-Mart Greens would benefit from my skills and experience in the following areas:
Outstanding interpersonal and persuasive skills
Eye for excellence and high customer service standards
Positive attitude even under pressure
Overall, I've consistently demonstrated excellent communication and multitasking abilities in every aspect of my Retail Salesperson role at Flutter Stores, and I invite you to review my detailed achievements in the attached resume.
Please contact me at (512) 260-0121 or via email at jeremyhunt@gmail.com to arrange a convenient meeting time. Thank you for your consideration, and I look forward to hearing from you soon.
Sincerely,
Jeremy Hunt
Download This Free Resume Sample
Email cover letter with bullet points (example)
Following the company's instructions on how to submit your cover letter is critical.
For instance, some employers may request you to submit your cover letter as an email.
Here's an example of an email cover letter that uses bullet points to highlight the candidate's most relevant experience and professional talents: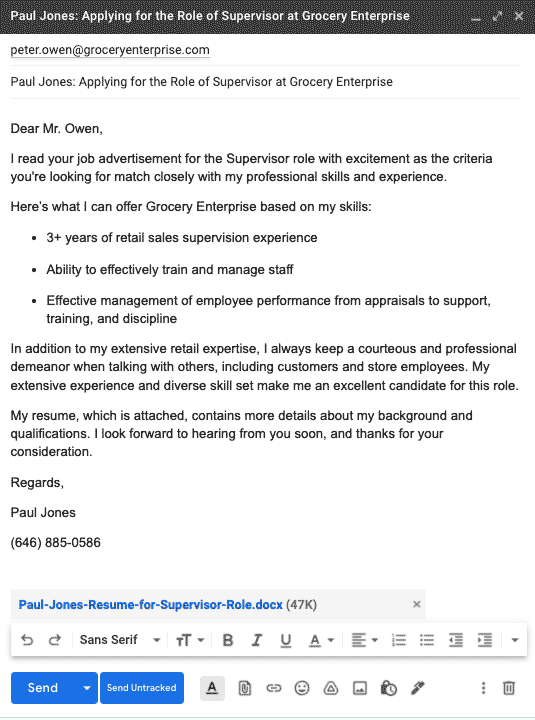 Cover Letter With Bullet Points Email Example (Text Version)
Dear Mr. Owen,
I read your job advertisement for the Supervisor role with excitement as the criteria you're looking for match closely with my professional skills and experience.
Here's what I can offer Grocery Enterprise based on my skills:
3+ years of retail sales supervision experience
Ability to effectively train and manage staff
Effective management of employee performance from appraisals to support, training, and discipline
In addition to my extensive retail expertise, I always keep a courteous and professional demeanor when talking with others, including customers and store employees. My extensive experience and diverse skill set make me an excellent candidate for this role.
My resume, which is attached, contains more details about my background and qualifications. I look forward to hearing from you soon, and thanks for your consideration.
Regards,
Paul Jones
(646) 885-0586
3 tips for writing a cover letter with bullet points
Now that you know how valuable bullet points can be, here's how to write a cover letter with bullet points that showcases your top resume skills.
1. Make your bullet points relevant and targeted to the job
Because bullet points are the part of your cover letter that will likely catch a recruiter's attention, they should:
contain your most valuable skill and work experience
list your qualifications clearly
convey your value to the employer
But you shouldn't just list any qualifications or experience. The qualifications you include in your bullet points should correspond to the job description's requirements.
So, carefully check all your bullet points to ensure consistency with the rest of your cover letter.
For example, if you highlighted interpersonal skills in your cover letter, a good way to build on this is to introduce bullet points on how being a people person helped you to reduce complaints from customers.
2. Highlight your strongest professional accomplishments
Determine the skills that emphasize your qualifications for the role and elaborate on them. These skills can include abilities, work accomplishments, or job responsibilities.
Consider what you've done in the past that's relevant to the position you're looking for.
For example, if the job description calls for a candidate with a wide range of advanced technical skills, write cover letter bullet points that outline your top examples of these skills.
3. Don't repeat your resume
A cover letter shouldn't be another resume. Instead, a cover letter should expand upon your resume and provide context into your specific skills, work ethic, and personality.
So avoid the temptation of repeating the same information on your resume in your cover letter's bullet points.
Recruiters will likely give your resume and cover letter a more extensive look if you meet the requirements.
So use different words and experiences to describe yourself in your resume and cover letter so your application appears detailed and well-thought-out.