Our free-to-use cover letter builder can make you a cover letter in as little as 5 minutes. Just pick the template you want, and our software will format everything for you.
15 custom cover letter templates to download in Word
The first step to getting your application noticed is to use a modern cover letter template that's professional, easy to read, and leaves hiring managers with a great first impression.
Below are some of our favorite free custom templates for Word that you can easily pair with a matching resume template for Word.
1. Standard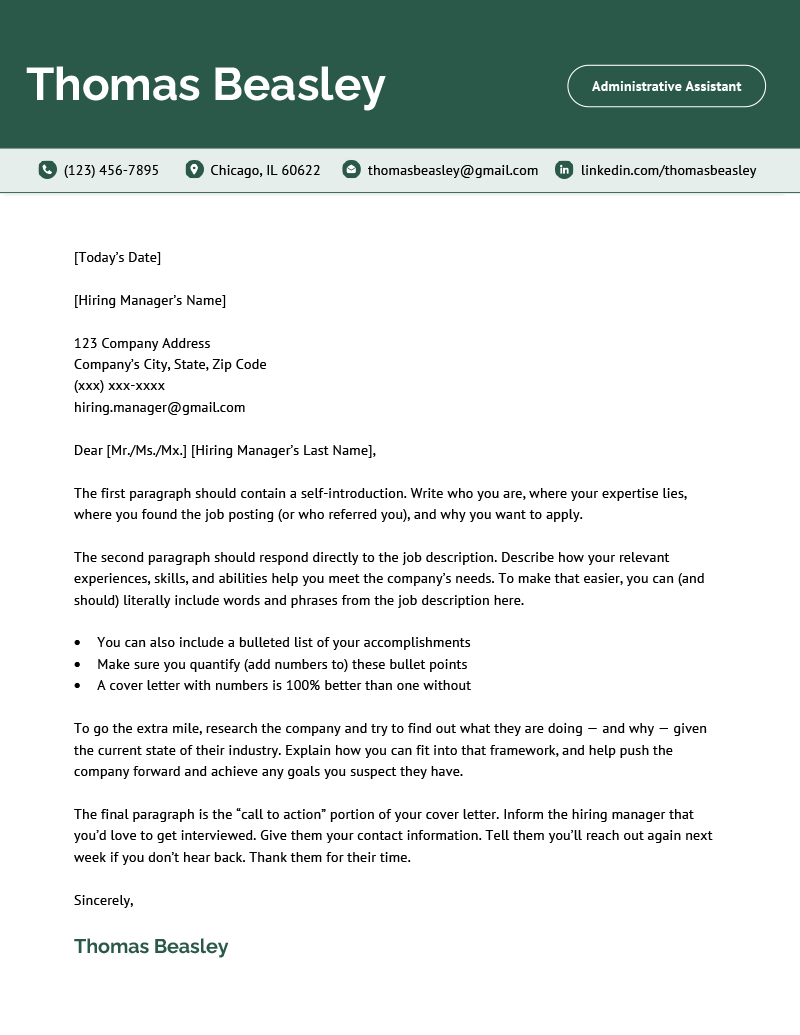 One of our favorite things about the "Standard" template is how the color choices feel fresh and interesting compared to most of the cover letter templates available online.
Hiring managers will also appreciate how this clean design neatly organizes all your information neatly in the cover letter header.
2. Classic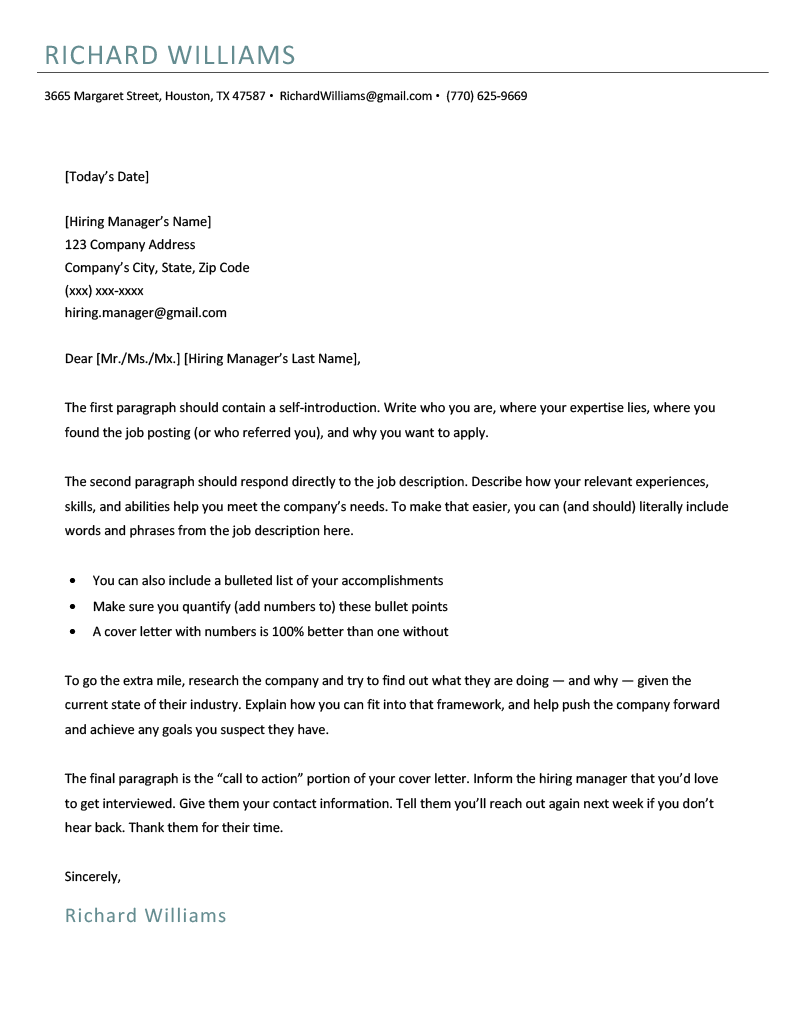 You simply can't go wrong with the "Classic" cover letter template. With six color choices to help your name stand out (including black for a truly minimal cover letter), this template design works no matter what type of job you're applying for.
3. 2023
No matter what kind of job you're applying for, the "2023" template is an excellent choice for modern job seekers.
The colored header draws just enough attention to your name while leaving plenty of open space below to highlight your achievements.
4. Quick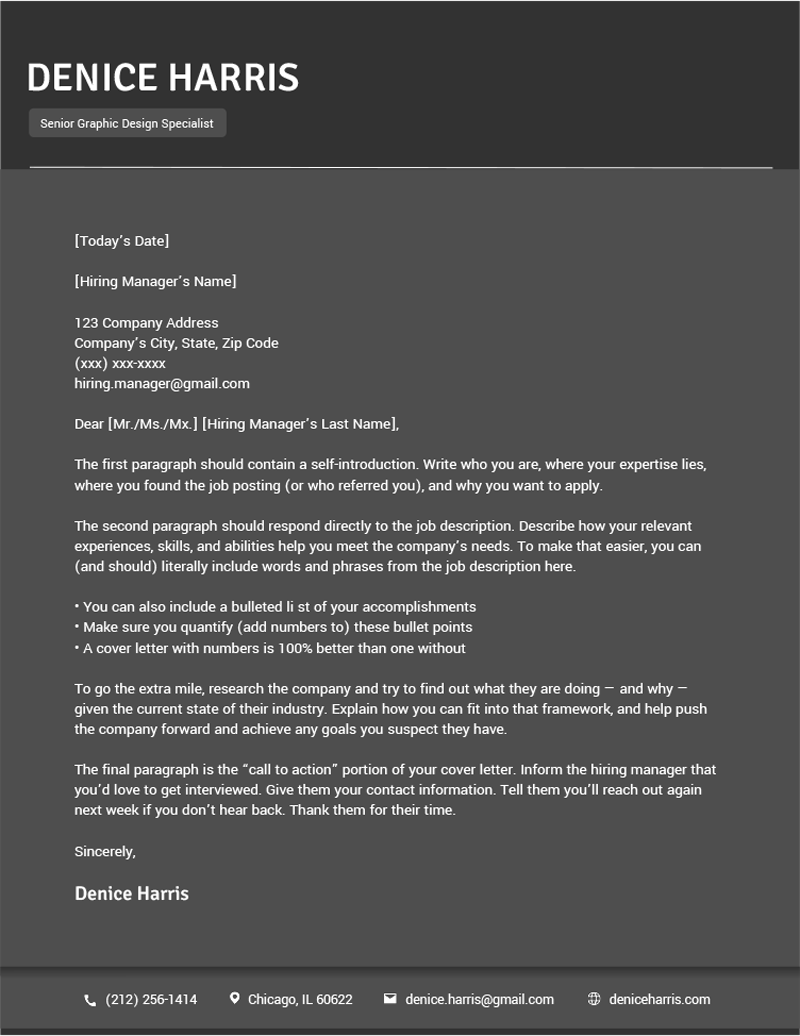 This template uses white text over striking full-color backgrounds to create a fresh look that's sure to get you noticed.
With color options like charcoal and cobalt, the "Quick" cover letter template lets employers know you have something unique to offer.
5. Westminster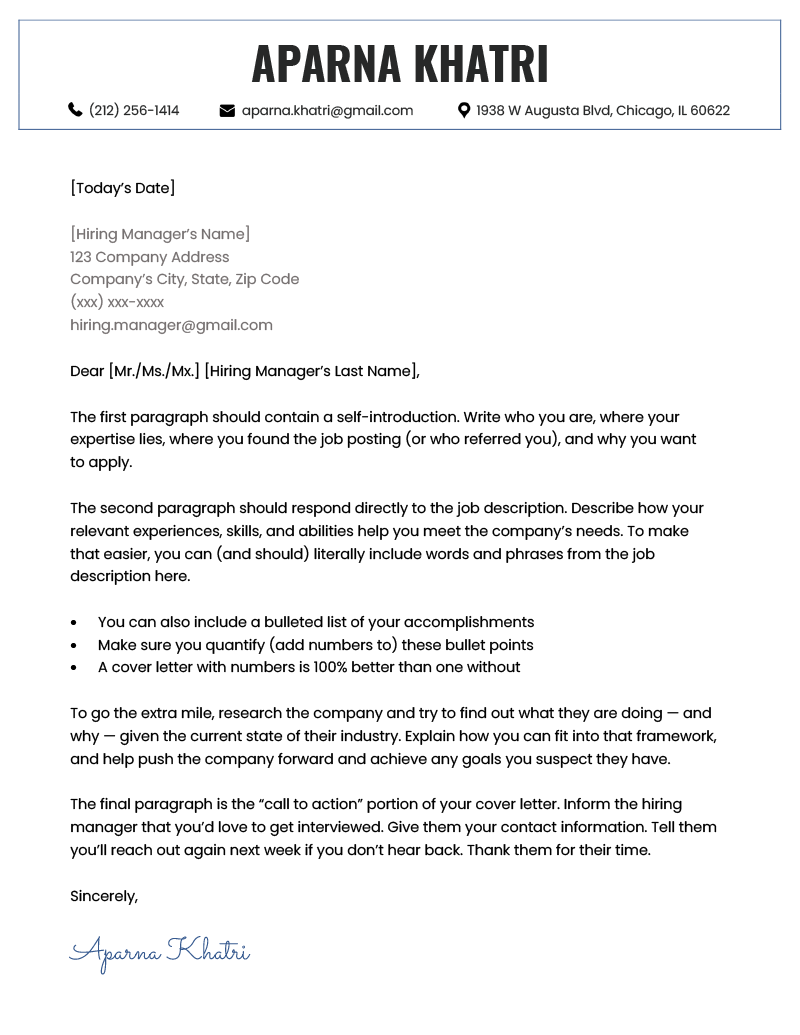 The "Westminster" template uses subtle color accents in the header and a stylized font for your signature to add some style to an otherwise formal cover letter design.
This cover letter template is simple enough to appeal to more formal hiring managers but has enough flair to catch the attention of hiring managers across a variety of industries.
6. Minimalist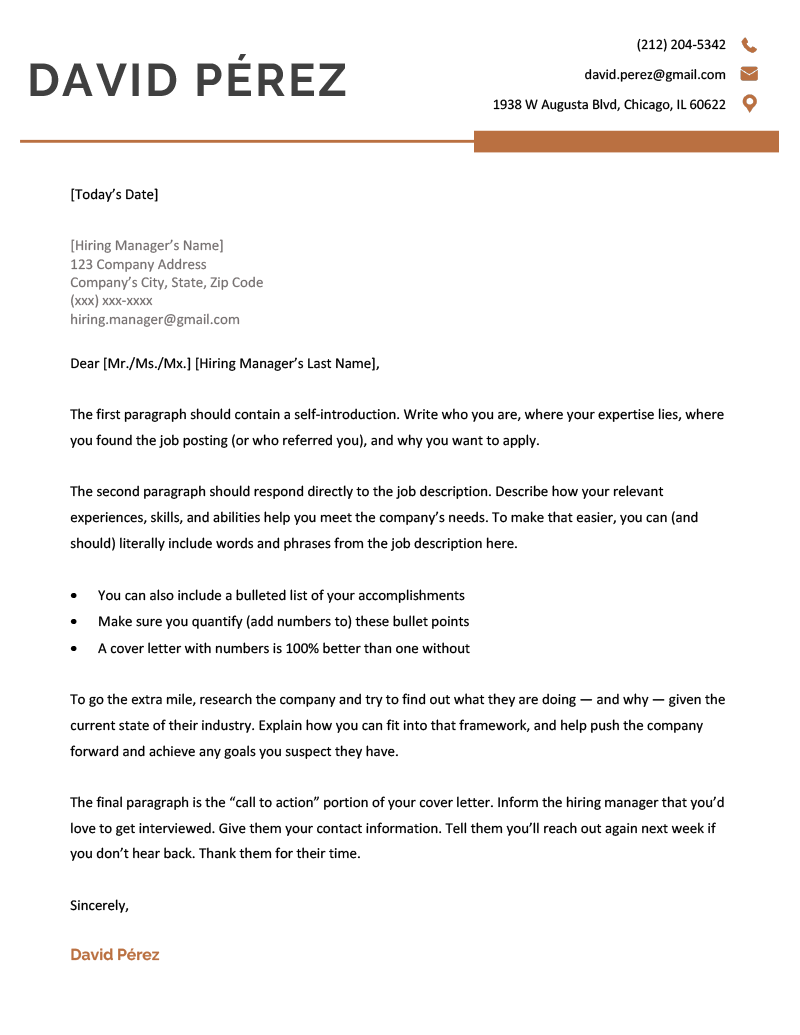 If you're looking for a clean cover letter design, the "Minimalist" template is for you.
Select your favorite color for the accent header bar and let your cover letter content do the heavy lifting.
7. Notre Dame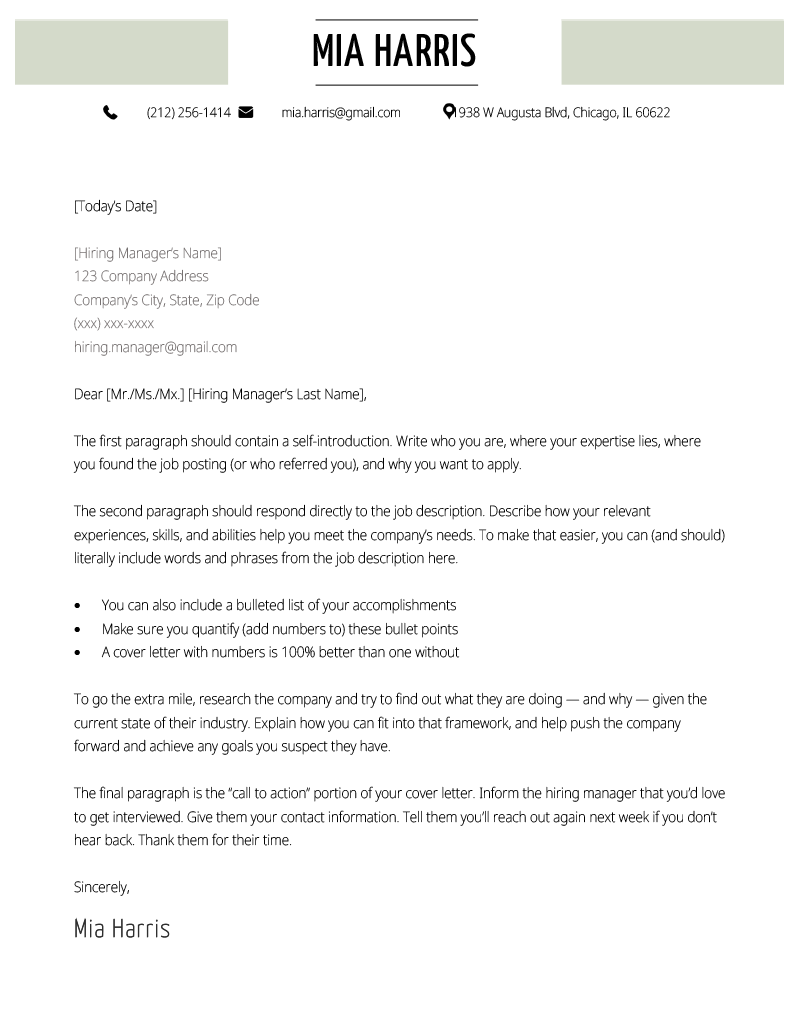 The "Notre Dame" cover letter template uses muted colors to give an elegant feel to your application.
This template is ideal for a job that values both style and professionalism like advertising, fashion, and PR.
8. Fresh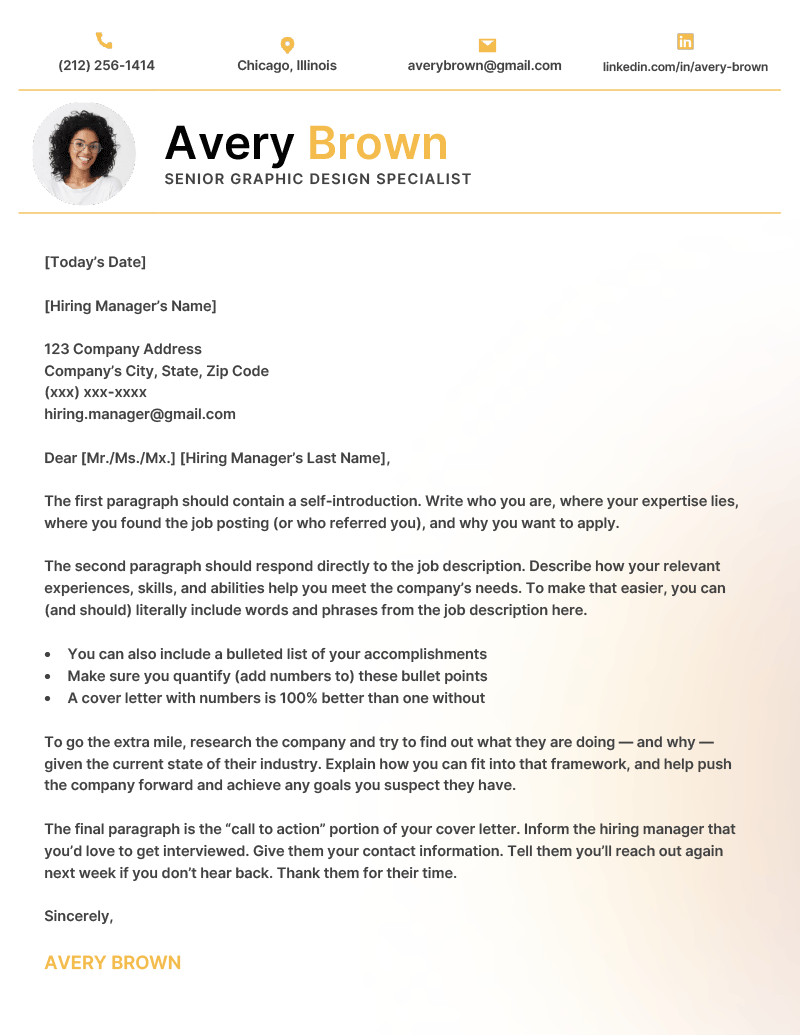 The "Fresh" cover letter template has a nice color gradient background and a space for a headshot to add some visual interest to your cover letter.
If you don't need a headshot for your application but like the look of this template, try filling the space with your initials instead or simply deleting it in Word.
9. Writer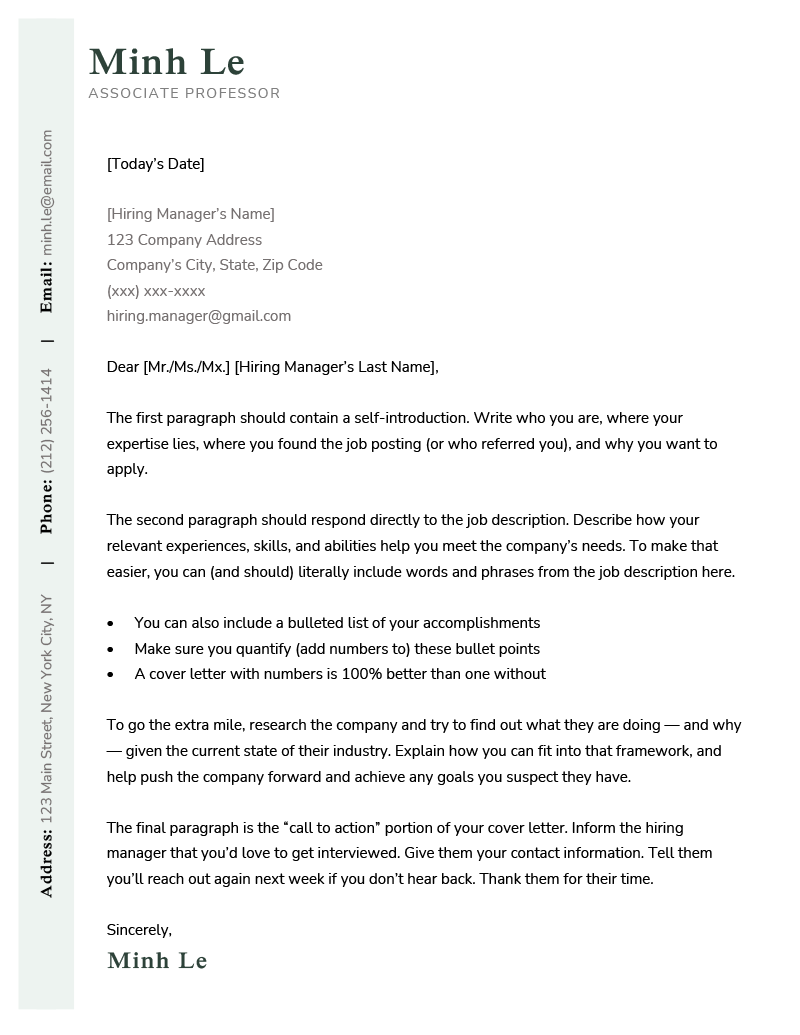 This minimal cover letter template uses a clean sidebar for your contact information that doesn't take up too much space, so it's perfect for a longer cover letter.
With muted colors and an elegant serif font, the "Writer" template is perfect for academics and professionals alike.
10. Visual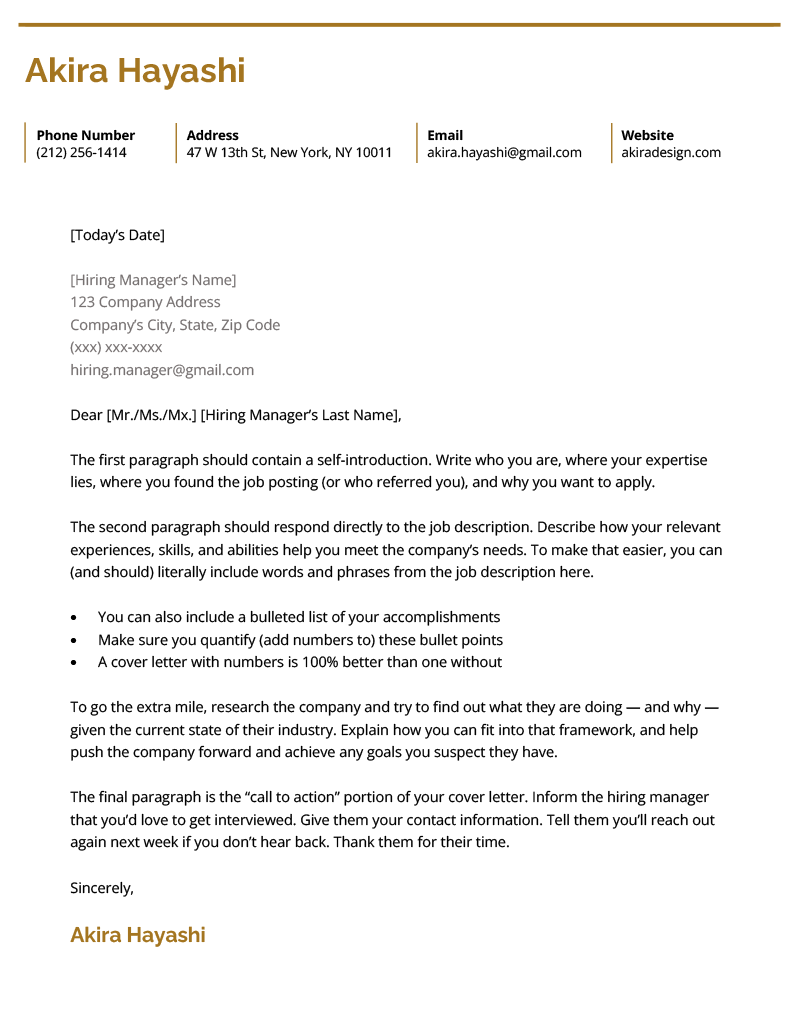 With vertical dividers that draw attention to your contact information, the "Visual" cover letter template for Word is a clean and stylish option for those who prefer a more minimal header.
11. Aesthetic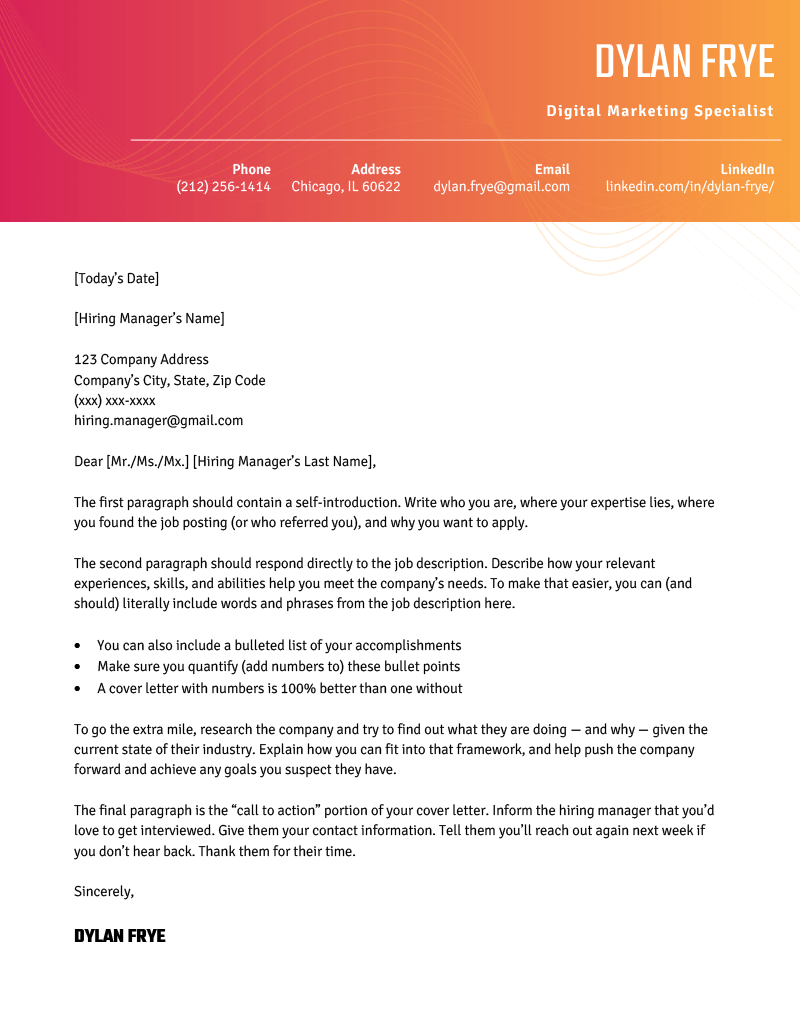 The "Aesthetic" cover letter template features a modern-looking gradient header bar that's available in six different colors.
The eye-catching design is balanced out by an otherwise simple template that lets the hiring manager focus on the content of your cover letter.
12. Premium
The "Premium" template's layout is well-organized and professional without being too serious.
A great choice for both new grads and mid-career applicants, this cover letter template includes additional colors like sky blue and violet.
13. Easy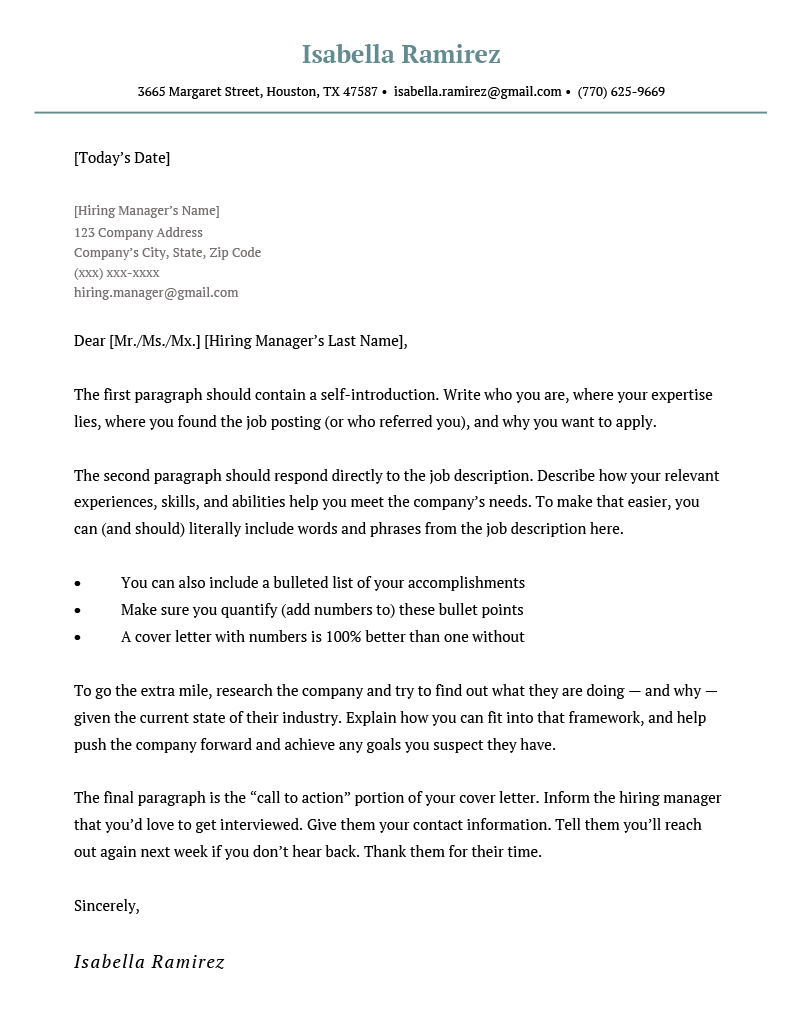 With a clean serif font, centered header, and classy color options, this is the perfect no-frills cover letter template.
The "Easy" template is great for more formal industries or for anyone who prefers the look of a classic cover letter.
14. Current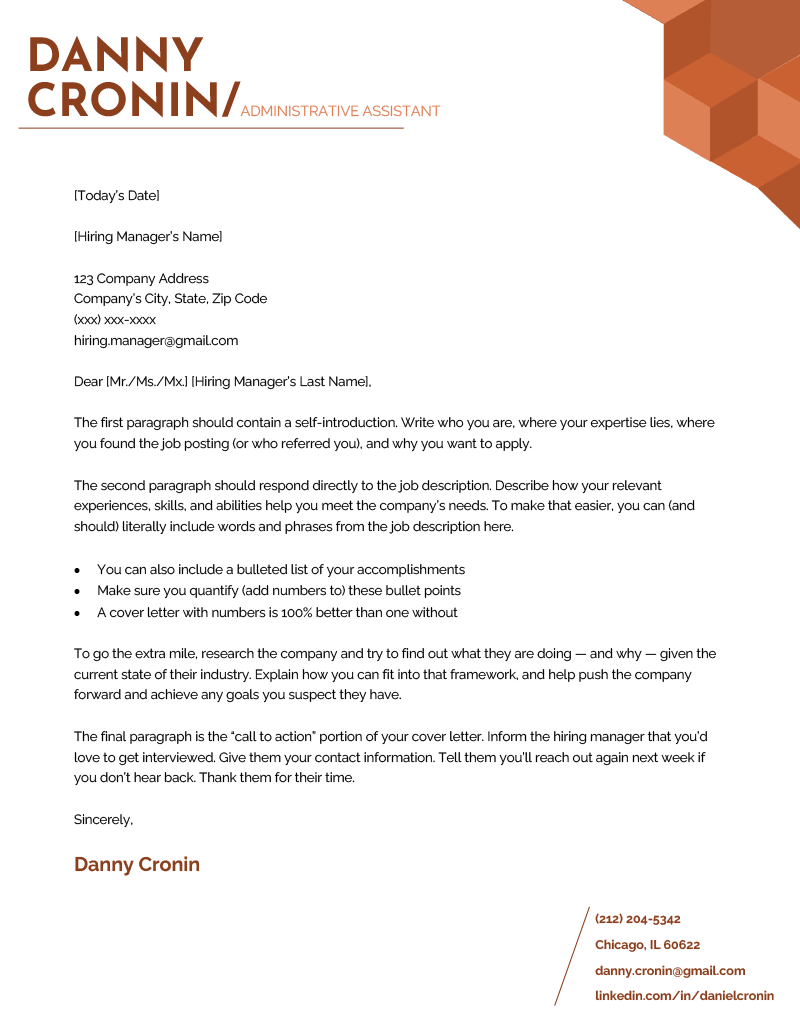 The thoughtful design of the "Current" template makes your application stand out without going overboard. With unique background graphics and diagonal lines, your cover letter is sure to grab attention.
15. Corporate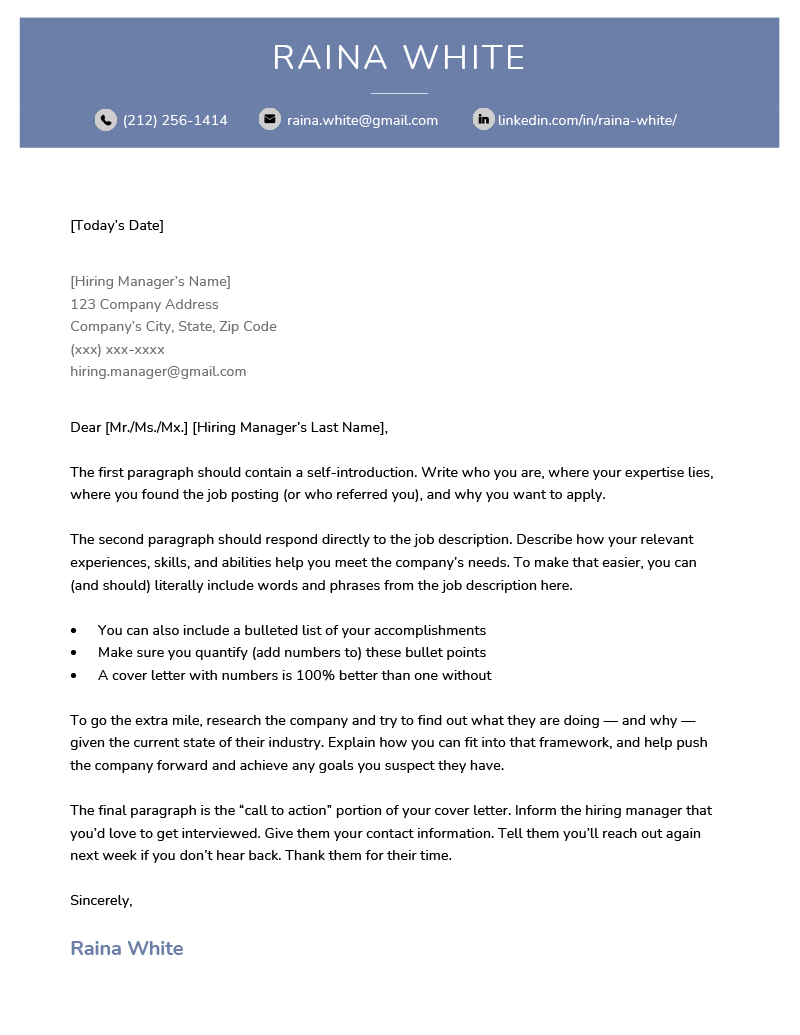 Though this cover letter template is sophisticated enough for any corporate job, the simple design makes it perfect for job seekers in a variety of positions.
Use the "Corporate" cover letter template to make sure hiring managers focus on your qualifications right away.
How to choose a cover letter template in Microsoft Word
Word offers a number of templates you can use to write your cover letter from scratch. Follow these steps to choose a cover letter template in Microsoft Word:
Step 1: Open Microsoft Word, then click "New" from the menu bar on the left side of the window. Or you can go to "File", then click on "New from Template…" from the dropdown menu.
Step 2:  Use the search bar at the top right of the window to narrow down the results to just cover letter templates.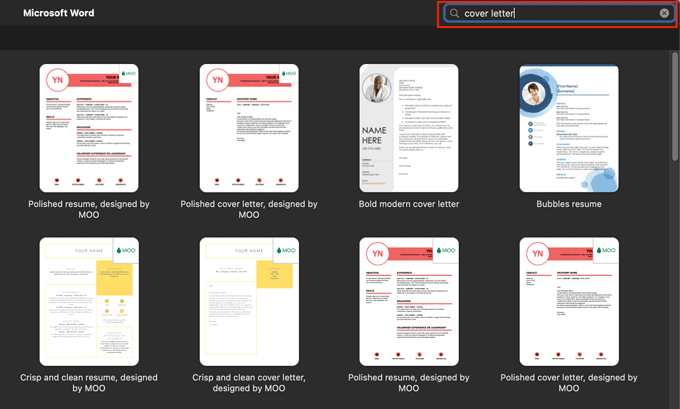 Step 3: Finally, double-click on your favorite cover letter template to begin customizing it. Or you can select the template first, then click on the "Create" button at the bottom right.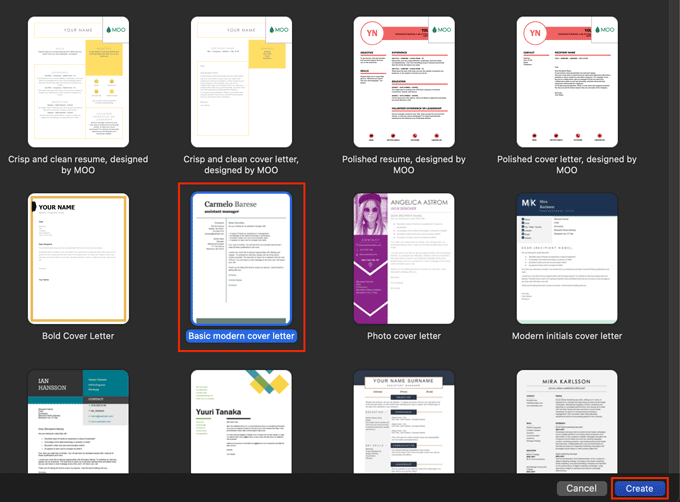 10 original cover letter templates available for free in Word
If you prefer to start with a cover letter template that comes preloaded in Microsoft Word, we've selected 10 more of our favorite Word cover letter templates to help you decide.
1. Creative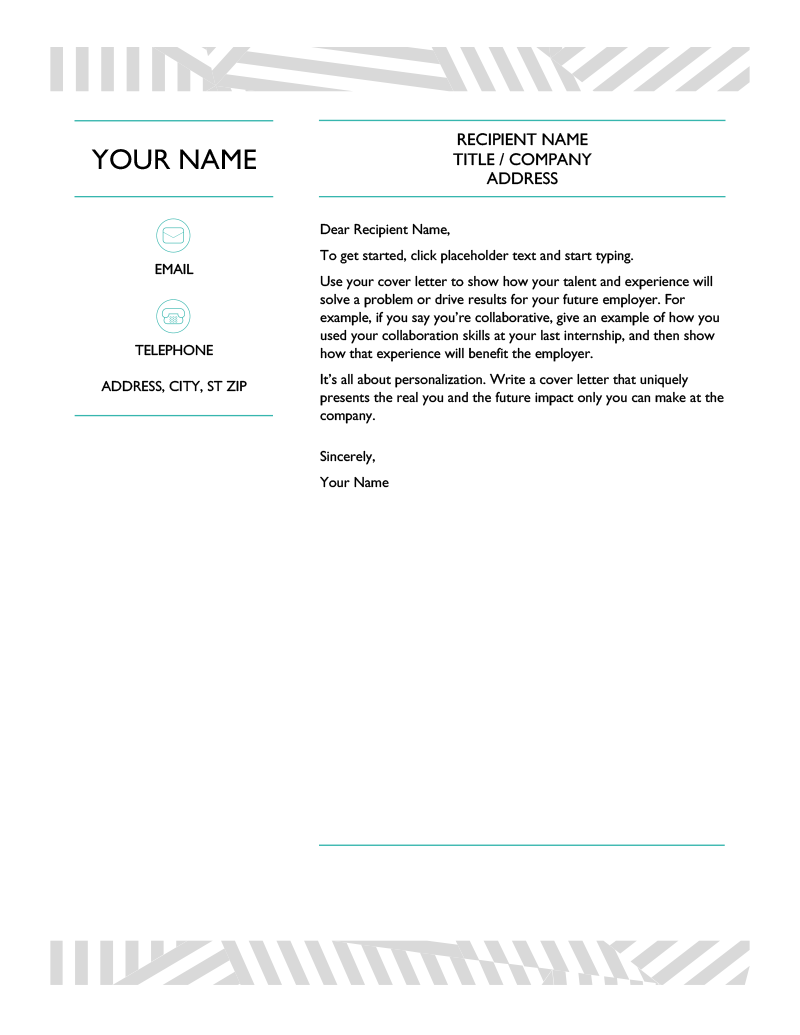 The "Creative" cover letter template for Word uses a modern color scheme and a fun patterned header and footer.
This Word template is perfect for writing a retail cover letter or applying to jobs in any field where hiring managers like to see a little personality in your application.
2. Swiss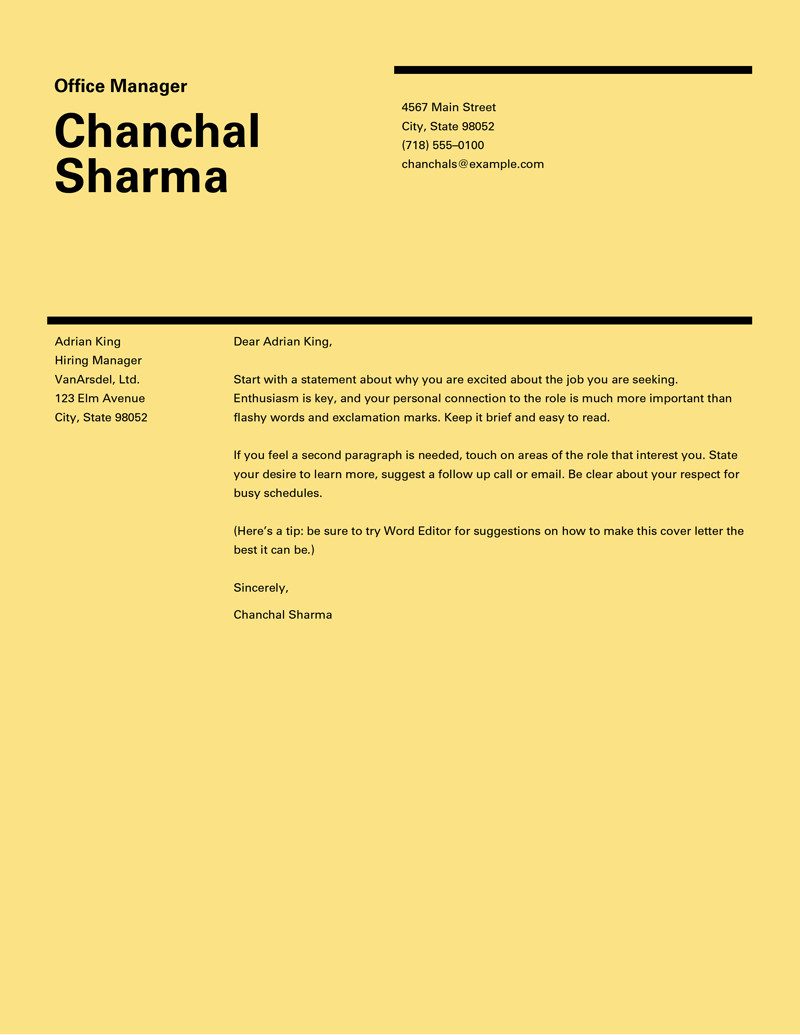 The "Swiss" Word cover letter template is a great option if you want to make an impression.
Featuring a yellow background, this template stands out from other cover letter designs. However, the font and layout of this template are confident and professional, helping balance out what's otherwise a nontraditional-looking design.
3. Polished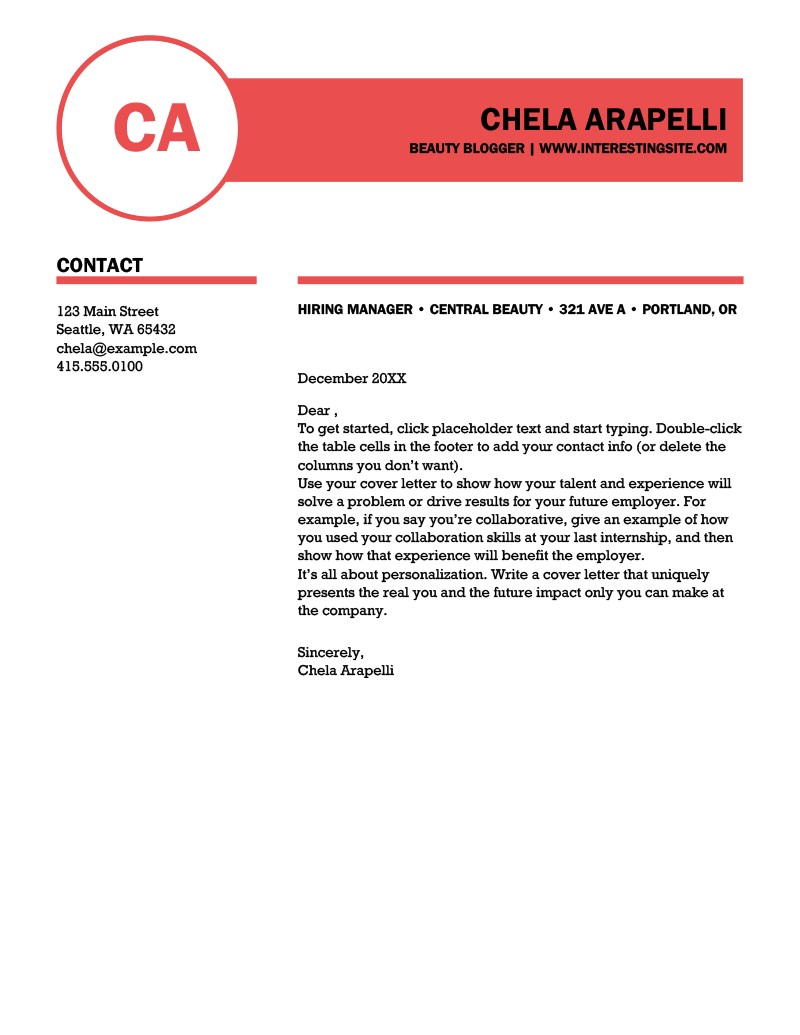 This MS Word template uses clean lines and a bright red header to create a striking yet refined cover letter.
This cover letter template could work well for a number of industries, but we'd recommend it for digital and creative jobs (like a social media manager's cover letter) where unique font pairings and bold colors are welcome.
4. Modern
This clean and tasteful Microsoft Word template features a subtle font pairing and a light gray sidebar for your contact information.
Even if you don't need to include a headshot with your application, the photo placeholder could easily be replaced with a logo or your initials.
5. Stylish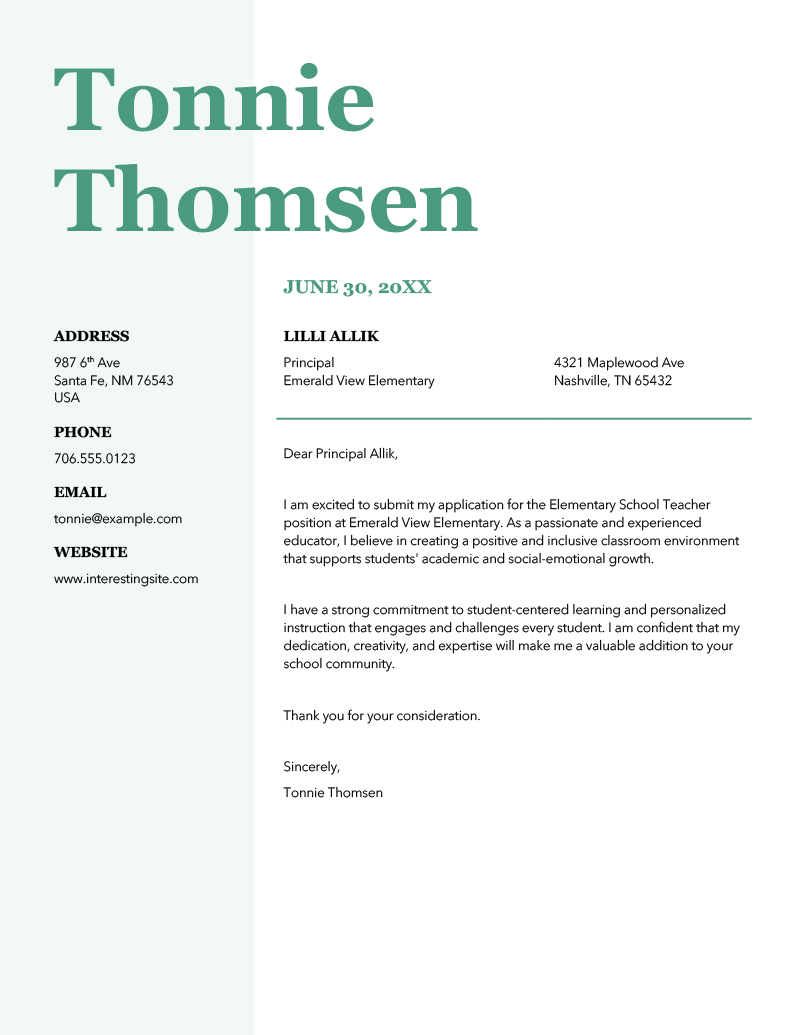 This Word cover letter template is a good choice for nearly any industry, but would be perfect for an application where aesthetics matter, like a designer's cover letter.
We especially like how the "Stylish" template combines vertical and horizontal lines to draw your eye across the page.
6.Crisp and clean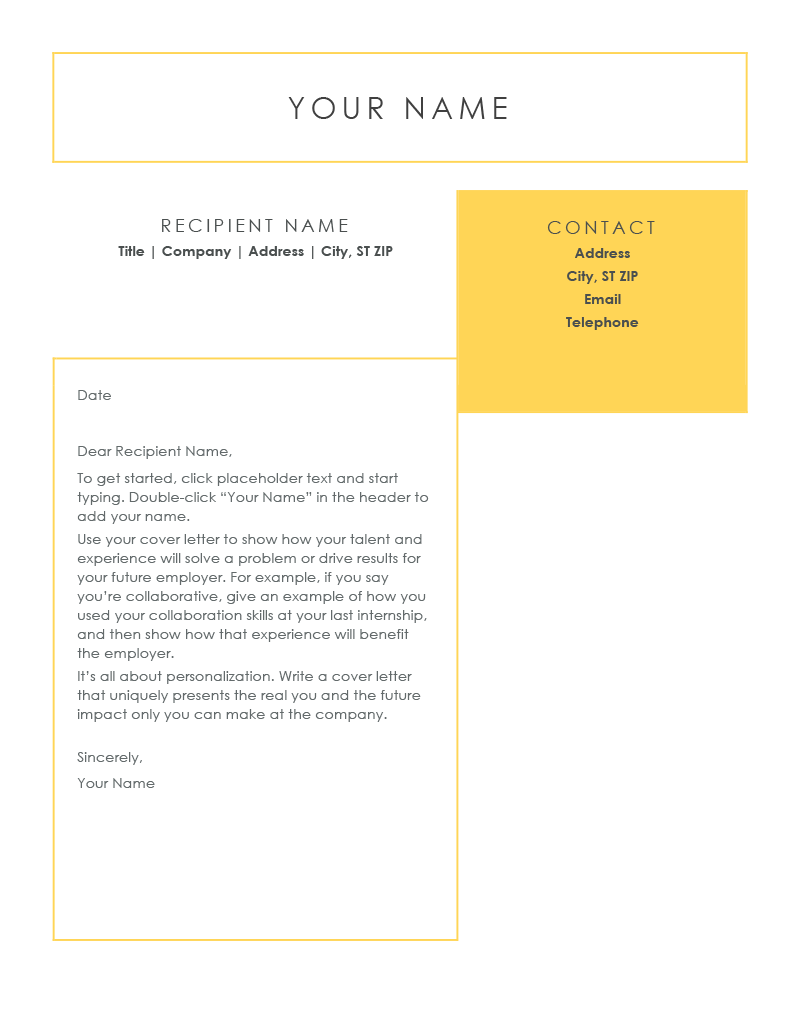 This MS Word template's sunny color scheme and unique geometric layout is sure to make you stand out. The design is also great for writing a short cover letter that shows hiring managers you value their time.
Try out this vibrant template if a friendly demeanor is an important qualification, like on a cover letter for a receptionist.
7. Geometric
With three color variations to the unique tiled accents in the header and footer, this cover letter template from Microsoft Word is perfect for selling your personal brand or adding a touch of creativity to your application.
8. Organized
If you're looking for an updated take on the classic cover letter, MS Word's "Organized" template is for you.
This cover letter template has a large navy header for your name and contact information with subtle light blue accents.
9. Playful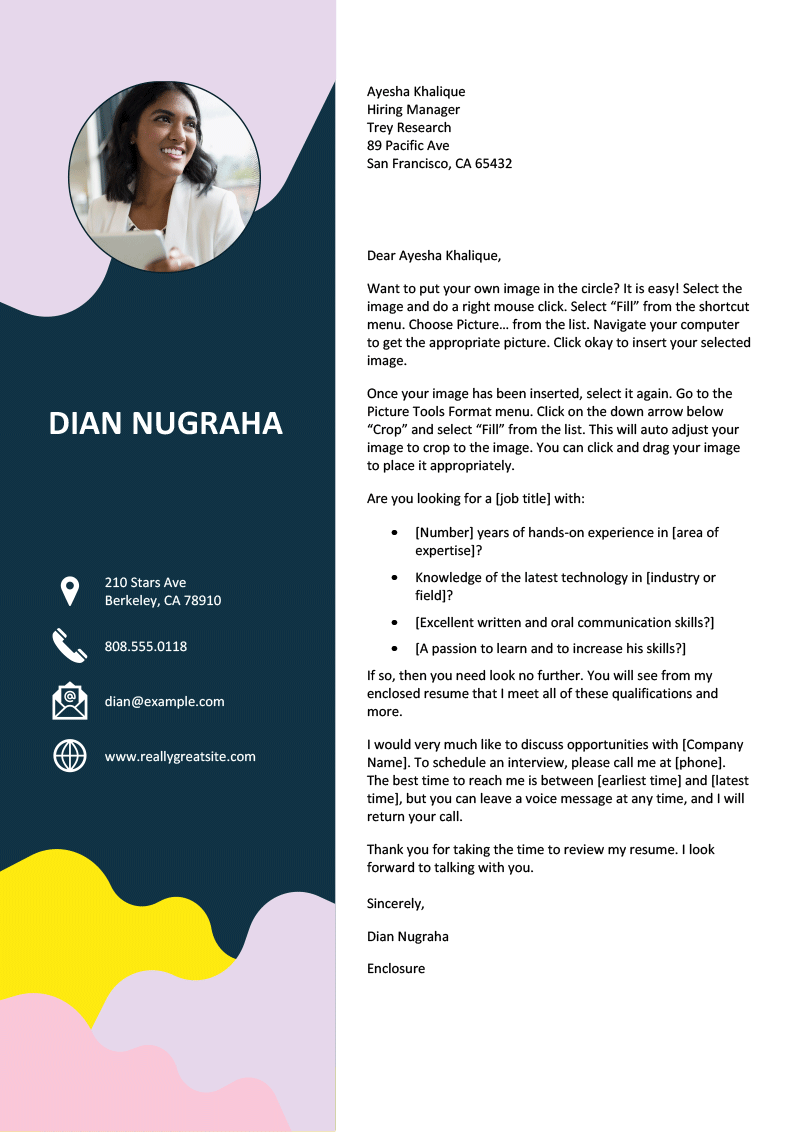 With fun colors and organic shapes, the "Playful" template from Microsoft Word makes you stand out as a modern professional.
Try this template in a competitive, creative industry where you need to make a great first impression.
10. Clean Elegant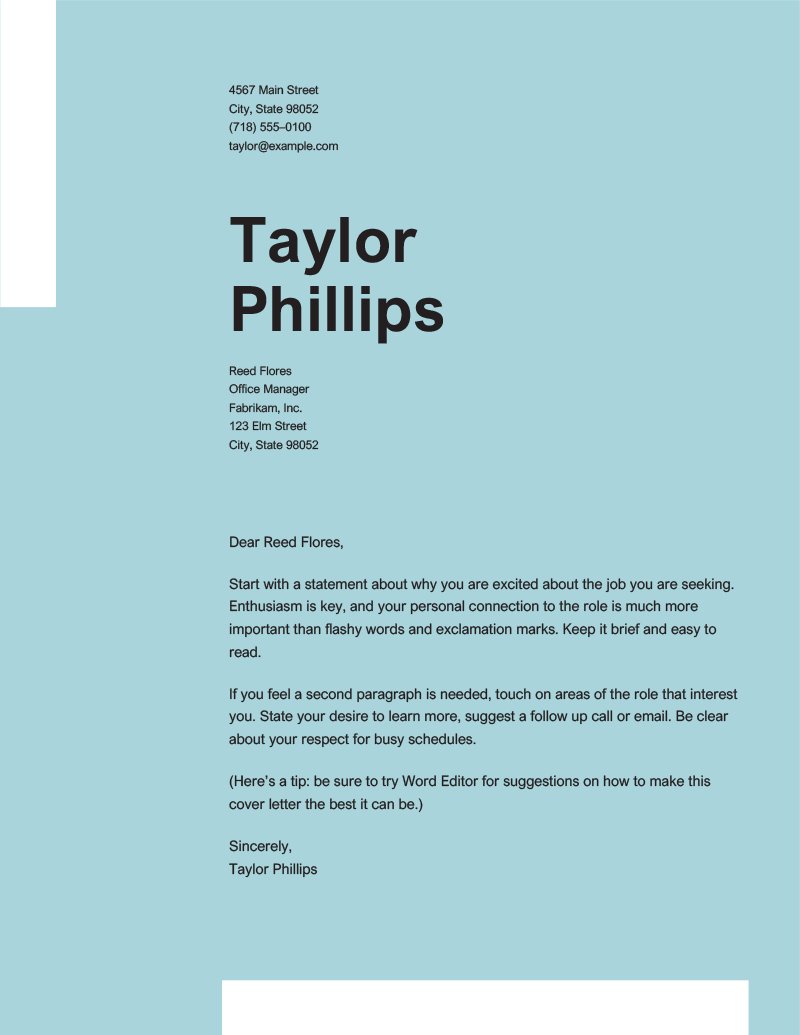 If you like the look of a colored background template, the "Clean Elegant" cover letter from Word is a great option.
Customize your cover letter with three color choices and a free-form design that lets your qualifications (the most important part of your cover letter) shine.