Resumes look different depending on which part of the world you're located in. Sometimes, what's seen as professional in one country is considered unprofessional in another.
We'll help you navigate the US resume writing process from beginning to end. The tips below will equip you with the knowledge you need to write an application that maximizes your chances of landing a job in America.
Our free-to-use resume builder can make you a resume in as little as 5 minutes. Just pick the template you want, and our software will format everything for you.
US resume format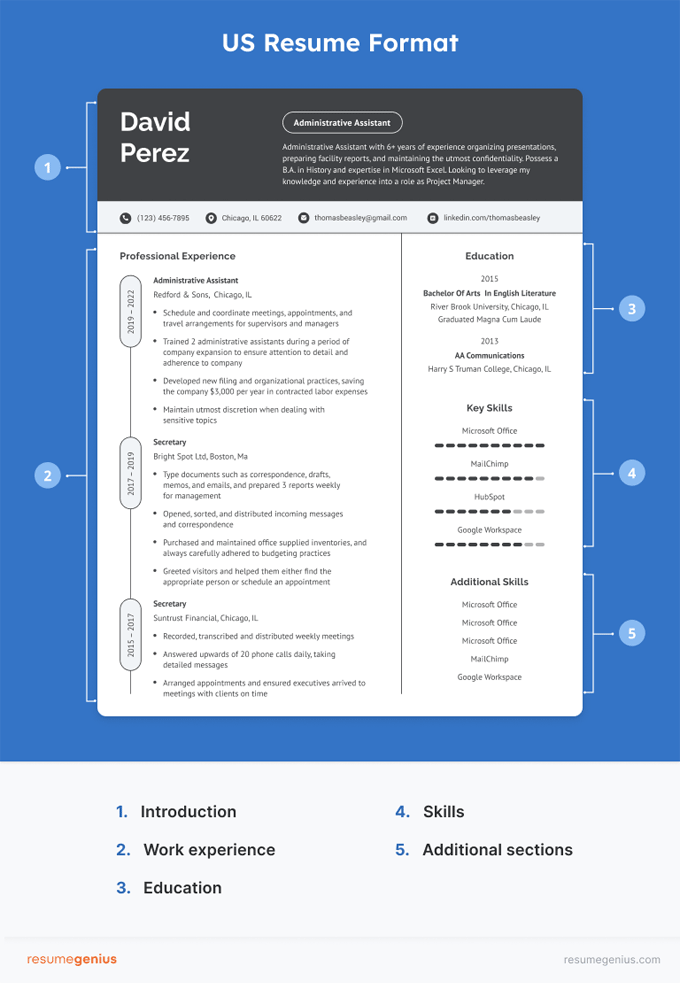 Most American resumes are written using a chronological resume format, which means that your work experience is listed in the order you've held each of your jobs, with the most recent position at the top.
This is what a chronological resume layout looks like:
1. Resume introduction
US resumes have an introduction placed at the top of the page, underneath the header. What type of introduction you should use depends on your level of experience.
These are the most common ways to begin a resume:
Career objective
A career objective is ideal if you're a recent graduate applying for an entry-level position, or if you're changing careers. It allows you to focus on the transferable skills and experience you have that make you suitable for the position instead of job-related accomplishments.
Resume summary
Resume summaries are the most common resume introductions hiring managers see, because they can be used by anyone with relevant work experience. This type of introduction summarizes your professional background and highlights one or two achievements from your career.
Resume profile
Opt for a resume profile if you're writing a general resume to upload to online job boards like LinkedIn. It doesn't target a specific role but provides an overview of your skill set and achievements.
Summary of qualifications
Qualifications summaries are best suited for seasoned professionals. So, if you've got several years of experience in your field, use a resume summary to introduce yourself and your greatest accomplishments.
2. Work experience
In the work experience section of your resume, list your job titles from most recent to least recent. Under each entry, include 3-5 bullet points that showcase your strengths. Hiring managers look for evidence that you'll be an effective employee, not just a list of previous job duties.
If you're applying from abroad it's especially important to have a compelling application to be able to compete with American candidates, because bringing in foreign talent is more complicated than hiring someone locally.
To convince hiring managers that you're worth the extra effort, make sure that each of your bullet points highlights skills and accomplishments that prove you're the most qualified candidate for the job.
3. Education
The education section of a resume for a job in the US should provide a quick overview of your educational background. Include the following information:
Name of your school or university
Degree
Major
Graduation year
GPA (if you graduated from an American university)
If your country's education system doesn't use GPAs (grade point averages), don't worry about converting your grades. Employers care more about your degree and work experience, so having a GPA on your resume is optional.
4. Skills
Use this section to list your top relevant skills. You don't need to list every skill in your arsenal, simply focus on the ones that will help you execute the responsibilities of your target job.
Having a mix of hard skills and soft skills on your resume is typically recommended, but depending on the type of role you're applying for you might want your skills section to include more of one or the other.
For example, a software engineer will want to focus more on hard skills like integration testing and debugging, while a customer-facing professional should highlight soft skills like conflict management and communication abilities.
5. Additional sections
Sometimes it's necessary or beneficial to add other sections in addition to the ones mentioned above. Some examples of additional resume sections to include are:
Keep in mind that these sections are optional. If they're not relevant for the position you want, it's better to not include them.
However, if you just graduated from university and are struggling to fill an entire page, demonstrating what you learned from a volunteer position or personal project can help you add length to your resume while showcasing your skills at the same time.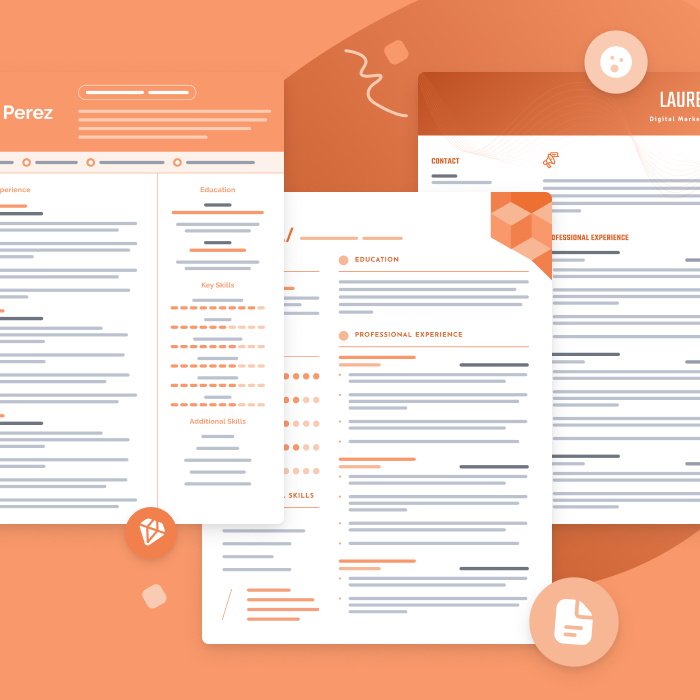 One of the best ways to make your resume is by filling out one of our free resume templates. All our templates are designed by experts and free to download for Microsoft Word or Google Docs.
US resume sample
Below is a US resume example that follows the traditional chronological format: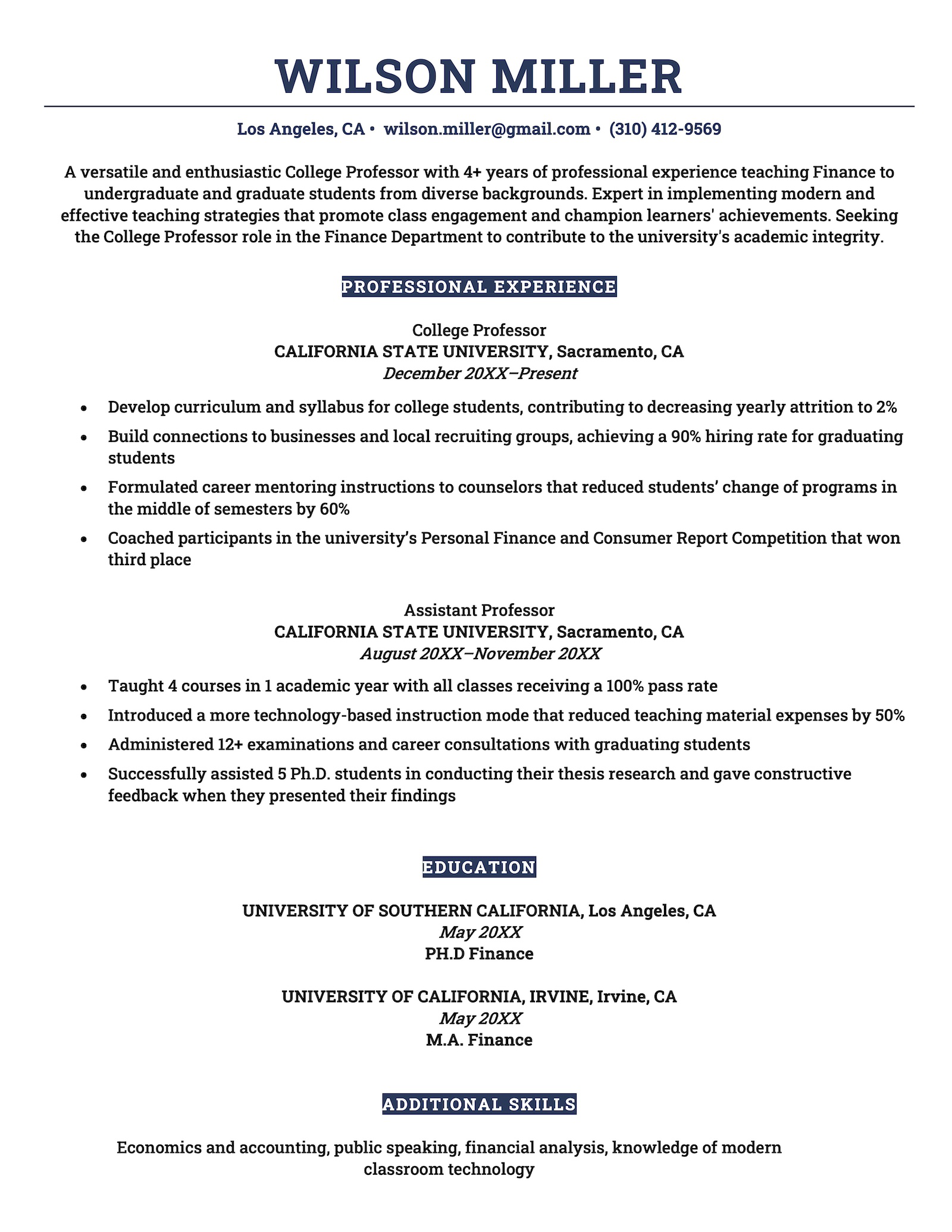 American resume writing tips
Now that you know what a US resume looks like, here are a few tips to help guide you as you put your resume together:
Choose the right formatting – A standard American resume has ½"–1" margins and a font size of 10-12pt.
Use American spelling – Remember to use American spelling when writing your US resume. If you're used to British spelling, changing your Google Docs or Word settings to American English can help you prevent mistakes.
Limit your resume to one page – Keep your resume to one page to ensure hiring managers read it from beginning to end.
Use simple language – Avoid the temptation to show off the full range of your vocabulary. Let your accomplishments speak for themselves and stick to simple, straightforward language.
Write a targeted resume for each position – Look for resume keywords in the job ad to incorporate into your US resume. This tells employers you've done your research and understand the needs of the company.
What not to include on a resume in the US
Finally, here are four things you shouldn't include on your resume when applying for a job in the US:
Personal information – Employers don't need to know about your sexual orientation, age, race, or religious beliefs. Employment discrimination based on these factors is illegal in the US, but it's better to leave such information off your resume anyway.
Photo – In some countries it's common to have photos on your resume, but not in the US.
Graphics – Graphics can distract from your achievements and make your resume harder to read.
Immigration status – Employers shouldn't inquire about your citizenship or ask you to provide evidence of your employment eligibility before extending a job offer. However, if you want to make it clear that you're applying from abroad (or mention that you don't require employment sponsorship), write a cover letter to submit with your resume that explains your circumstances.